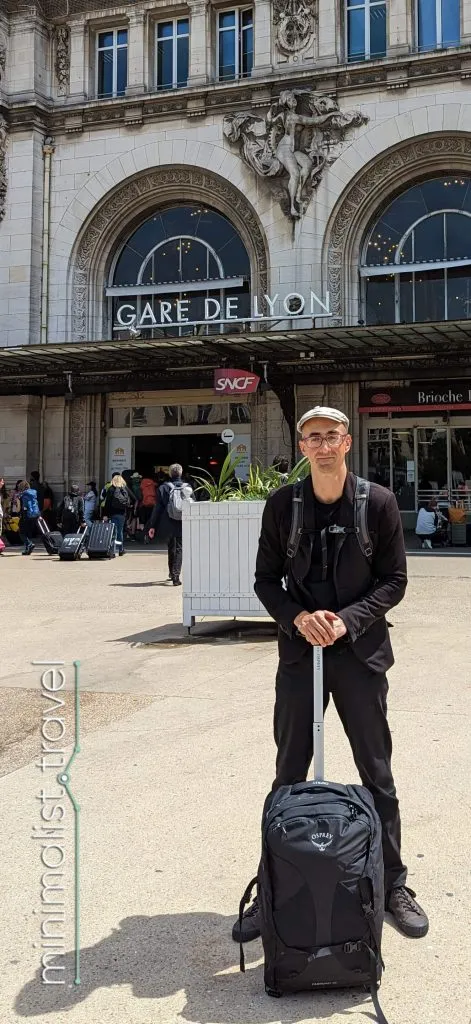 It rolls! But it's a backpackers' pack! And it's also small enough to be a carry-on!
This, for my minimalist travel, is the sweet spot.
I've traveled constantly with one small rolling backpack or another for the past decade. I have also been updating this article for years as we try out different wheeled backpacks. Aside from our testing, we have continuously analyzed brand reliability results from consumer testing organizations across Europe and North America, and we continuously read about others' experiences on travel blogs in a variety of languages and talk to others on the road carrying (and rolling) wheeled backpacks.
Mainly my favorites to recommend here have been Osprey bags because they're thoughtfully designed for travel and hold up against rough conditions fabulously. We do detail some cheaper (and more expensive and good, but also heavier) options later in this article.
This article focuses on all-in-one rolling backpacks for travel. We also have articles more focused on full-sized (checked luggage) wheeled travel backpacks, on rolling backpacks for kids for school, rolling backpacks with girlier designs, and rolling laptop bags and rolling purses and laptop bags for women.
Our Current Recommended Rolling Travel Options: The Osprey Farpoint and Fairview Wheeled Backpacks
I've used various models of Osprey rolling backpacks for many years of constant world travel, so I feel well-placed now to recommend them and describe a few minor complaints as well. Overall, I still haven't found a better option, though I continue to try out other brands whenever I can get my hands on them. (Often wheeled backpacks don't stay in production for long, so we've also recommended various brands that have come and gone over the years.)
Use the

below to expand for more info.
The Advantages of the Osprey Wheeled Rolling Travel Backpacks
The Osprey Farpoint/Fairview Wheeled Travel Packs meet our most key criteria. We'll go into more detail later, but in a nutshell:
• These are extremely durable packs designed by a company with decades of experience in meeting the needs of demanding travellers. They are backed by a lifetime warranty. Travel pieces with both wheels and backpack straps necessarily have more parts that could break, and so good design and materials are key. Over the years, many of my lesser luggage pieces have quickly broken, but my Osprey pieces have endured and never required use of that very generous warranty.
• The designs fit with our minimalist aesthetic and style without a lot of silly extras that could add weight or too many pockets to lose things in. The pockets that it does have make sense.
• The wheels are large and inset, ready to roll with clearance over rough terrain.
• The backpack and hip straps enable quite comfortable carrying over long distances in nature, while biking, or on stairs. I tend to also use them on arrival at train stations in Europe, from where I will grab a city bike for a euro or two to get to my final destination. This would be impossible without the backpack straps.
• The materials, including the durable aluminum frame, are lightweight; the packs themselves add little to your load (or to your weight limits on airlines).
• It is possible to attach a daypack like the Daylite or (recommended) Farpoint Fairview Travel Daypack. I personally always travel with a daypack, and it's much more convenient to be able to attach it to my main pack to have a single unit to roll and keep track of.
• Internal and external compression straps: If you go a bit too wild with your packing and need to cinch your luggage down, there are straps for this purpose both inside the main compartment and outside the bag.
A Few Drawbacks — But They Don't Hold Us Back
The Osprey Farpoint and Fairview Wheeled Travel Packs are not exactly cheap, even taking into account that we expect them to hold up for decades. For me, after replacing a few of the cheaper bags I mentioned earlier, the cost is worth it—but if you don't travel much these may not be worth it for you.
The shoulder harness and hip belt for backpack carry are perhaps overly elaborate. Simpler backpack straps and no hip belt would have been fine in my opinion for most users. When you have wheels, you mostly use them and so the shoulder straps and hip belt may not get used all that often. At the very least, Osprey excels in making these ultra-comfortable for long periods of back carrying and they add very little weight to the unit.
I would prefer interior (side) pockets for organization during long periods of travel. This can be remedied with packing cubes and organizers though.
How Osprey Luggage Rolls: Large Wheels, Excellent Clearance
Osprey is mainly known for its lightweight-but-tough packs for the back country, but when they do wheels they do them right: slightly oversized wheels set into the frame on sealed bearings. These are not flimsy plastic wheels that will pop off the first time the bag hits a conveyor belt, nor are they the controversial "spinner wheels" (pro: you can push your carry-on ahead of you, and supposedly turn easier; con: they take up more space, and break off easily). This means that as with any convertible carry-on you're simply going to pull the Osprey Farpoint/Fairview wheeled options behind you.
Osprey wheels are particularly notable for the higher clearance of the wheel housing, so you can pull it over bumpier paths with no problem. The handle is similarly well built—this is a frequent sticking point, literally, on many suitcases and I've yet to see this problem with this Osprey design which seems to have been unchanged over many years and models.
How it Carries: Comfortable Shoulder, Sternum, and Hip Straps
You unzip the back panel of the Farpoint / Fairview Wheeled Packs to quickly reveal shoulder and sternum straps. These are quite adjustable to differently sized backs and shoulders; once you get the right adjustment you are set, and can leave them ready for use or hidden away behind their panel so that they don't catch on anything when not needed.
The sternum strap features a safety whistle that is integrated into the buckle. It's clever and works fine but in my book would be much less effective than yelling loudly if you're in trouble.
Easy-Access Pockets
Both the 65L and 36L versions of the Farpoint and Fairview Wheeled Travel Packs have two external mesh pockets that are ideal for water bottles, an umbrella, or a small wet towel or windbreaker that needs separating from your main luggage.
These pieces also have a top pocket for easy access to essentials—just be aware that what is easy for you to access is also easy for pickpockets in crowded places if you're carrying the piece behind you. It is better in my book to carry valuables in a daypack, which can be worn in front of you or clipped to the front of the shoulder straps if you are wearing the main pack on your back.
Fitting as a Carry-On — For Most Airlines
For most airlines around the world, the carry-on versions of the Fairview and Farpoint 36 Wheeled Packs pose no problem, but airlines love to mess with us, so check each one specifically before travel. The dimensions are in the table earlier in this article.
Also keep in mind that any backpack's stated dimensions are going to be a bit squishy, just like the pack itself; even hard luggage is pretty complicated to measure, as Consumer Reports found when using lasers to do so. You can do your own checking, as airline size requirements for carry-ons vary within the USA as well as abroad.
Note also that now some airlines, including especially some budget airlines, have been reducing the allowed sizes of their carry-ons. If you get the cheapest fare on Polish budget airline Wizzair, for example, you can only carry a bag much smaller than the standard carry-on; it must fit under the seat in front of you. Traditional carry-on sizes like the Farpoint and Fairview are unlikely to be accepted for this purpose; you'll need to use a daypack.
The Osprey Farpoint and Fairview Wheeled Travel Packs are small enough to fit in the overhead bins on our much-preferred modes of transport: buses and trains. And the carry-on versions are fine for the budget trains like Ouigo that charge extra for full-sized luggage.
Men's and Women's Versions of the Wheeled Travel Backpacks
The Farpoint is designed for men and the Fairview for women. With Osprey's trekking packs, this gender distinction means that the straps for the hips for women are a bit more angled. Normally for such Osprey packs, the torso is also a bit longer and narrower on men's bags but in this case the dimensions, weights, and volumes for the Osprey Farpoint and Fairview Wheeled Travel Packs are exactly the same.
Durability: A Pack for Life
Our experience with Osprey pieces in general over a decade has been excellent. They're expensive, but you can expect them to last.
We're not the only ones to like Osprey. The brand gets great raves from bloggers, consumer reviews, and online travel magazines. For travel writers who cover luggage, the Osprey brand has long been at or near the top of reviewers' lists. They report that particularly Osprey's zippers, handles and wheels in sealed bearings stand up to heavy use, and generally appreciate the same features we have commented on ourselves.
In our research for this article we also consulted results from consumer testing organizations in Europe (Which?, Que Choisir, 60 Millions) and America (Consumer Reports), which, although do do not cover this particular subcategory of carry-on, do offer pointers in terms of quality, rolling design, and durability, as well as some limited specific brand testing insight.
Add to these experience's Osprey's "All Mighty" Guarantee ("any reason, any product, any era"), which puts it among the top few luggage manufacturers in standing by its work. If a handle, buckle, zipper, whatever breaks on the road, you can get it repaired and sent back to you free of charge, and if they can't fix it they'll replace the bag. You pay only to send it in. If you're on the road, just contact the international customer service center closest to you. Importantly, travelers have reported in that Osprey actually follows up on this promise, quickly, without fuss, and for free. We've never had reason to contact Osprey's warranty department ourselves.
A Key Add-On Feature: A Great Daypack
A good daypack is essential for travel; you'll actually use it more than your main luggage piece as you carry lunch and water through green landscapes, wander around in a new city with a few essentials, take a laptop to work in a café or co-working space, or even pack a change of clothes for a short overnight trip. So you want your daypack to be a good one.
cover a full range of Osprey daypacks here
, but if you're looking for one to add onto the Farpoint / Fairview Wheeled Travel Packs, the choice is obvious: the
Osprey Farpoint Fairview Travel Daypack
, which is fully compatible with The Farpoint or Fairview Wheeled Travel Packs in that it can
clip onto the front or back
. You'll likely want to wear it on the front when using your main pack as a backpack, because this provides better balance, is more comfortable, and keeps your valuables in front of you where you can keep an eye on them when in a crowded area like city transport. You'll likely attach it to the back of the pack when rolling.
There are two outer stretchy pockets that work well for water bottles, a sandwich, banana or other snack, or a collapsible umbrella. For many critics of other luggage this is a very appreciated feature of daypacks but one that is also a key stress point; often the poor-quality mesh material of the water bottle pockets on backpacks is the first thing to fall apart. On Osprey daypacks, these pockets are made from very durable yet light solid and stretchy and quite tough material. They show no signs of wear on our daypacks yet, and we're certainly not expecting them to give out the way such mesh pockets often do.
Offering an attachable/detachable daypack seems obvious, but many of the other rolling backpacks that we review later in this article simply lack this feature. This allows you to roll all of your stuff as one unit, as well as leave the main piece and unclip the daypack with your essentials when that's all you need.
Aside from the convenient carry options, an attachable daypack has also proved wonderful at times for getting through different airline carry-on restrictions:
If the airline allows a personal item, you can use the daypack as your personal item and more fully stuff both it and the main carry-on if needed.
If the airline does not allow a personal item, you can attach the daypack to the main piece and voilà, you have only a single carry-on. Just be careful not to overstuff the pack and exceed the dimensions for that particular airline.
If an airline then decides it wants to gate-check your carry-on at boarding, you can detach the daypack with your valuable essentials and laptop and keep it with you while allowing the airline to gate-check your main carry-on. (One airline worker in France was very surprised and impressed when he saw me doing this.)
Water Resistance of the Osprey Farpoint / Fairview Wheeled Travel Packs
These packs are treated with DWR, or Durable Water Repellant, which is what keeps water out of your pack if you get stuck in the rain. My experience so far has been that Osprey's repellants do a good job when I've been stuck in brief downpours; we'll do a test with the new DWR and report back soon.
The Osprey DWR is PFC-free (that is, no perfluorinated chemicals, which are harmful for people and the environment).
direct from Osprey USA
,
Osprey Europe
, or from
Amazon
), available in different sizes and in black as well as high-visibility options.
A Video: Opening up the Osprey Farpoint and Fairview Wheeled Travel Packs
Here's a promotional video from Osprey that helps to give a good idea of the Farpoint and Fairview wheeled packs in all their glory.
Other Rolling Carry-On Backpacks
If you're looking for something simpler, slightly different features or styling, or want to spend less, there there are a few other options worth considering. You can also check out our article focused on larger (checked luggage) travel options with both wheels and backpack straps.
High Quality but Not Quite the Right Features: Eagle Creek Wheeled Backpack Carry-Ons
We find that Eagle Creek's convertible rolling cabin bags come in at a very close second to Osprey's. Eagle Creek has a solid reputation for durability and tops the list for luggage brand satisfaction in surveys by consumer organizations. Also, like Osprey, Eagle Creek offers a solid lifetime warranty and has repair centers around the world. If something goes wrong you pay to get the bag to a repair center, and they take care of the rest.
Eagle Creek bags are fabulous in terms of quality but slightly heavier and with different features.
Eagle Creek Caldera Convertible International Carry-On
(check the link, but it's out of stock as of this update). It offers a detachable daypack, excellent rough-and-tumble wheels with good clearance, and to my taste at least the Caldera's daypack is sleeker and smarter-looking.
The downsides to the Caldera are that there are no water bottle pockets, and it tends to be a bit more expensive.
The Eagle Creek Expanse 2-Wheel Convertible International Carry-On is a bit cheaper while maintaining high quality construction and materials. It lacks a detachable daypack and some other features; the backpack straps are quite simple and there is no hip belt. That's not necessarily a bad thing; you're not likely to carry the bag for long distances on your back since you have wheels.
For more on these, see our comparison review of the Caldera International, Gear Warrior, and Expanse International.
Cheaper Wheeled Backpack Carry-Ons from Samsonite
If you're looking for much cheaper options from a well-rated brand, Samsonsite is an obvious place to look for wheeled backpacks, particularly since Samsonite luggage has been generally reasonably well-rated by consumer organizations for its durability (and the British organization liked some of its rugged hard luggage).
That said, the materials and construction of the bags we've seen here do not seem at all as durable as our top choices we make in this article. The water bottle pockets are of a flimsy mesh material that often tears quickly and catches on things, and the wheels are not as large and with not as much clearance for rough roads as with Osprey options. Generally Samsonite does not even list the specific materials aside to say "polyester" and sometimes "recycled fabric", without giving the type and grade.
That said, these are much cheaper options and worthwhile if you only travel occasionally, or want to experiment with the rolling+backpack travel life before committing to a more expensive bag.
Samsonite Wheeled Backpack
, which has a pull handle, organizational side pockets and water bottle pocket, a front pocket, and a laptop sleeve for 17″ laptops. The shoulder straps are padded. It is carry-on sized, at 8 x 14 x 21 inches (20.3 x 35.6 x 53.3 centimeters).
Samsonite MVS Rolling Backpack
is an option.
We don't use spinner wheels ourselves as they take up space, break off more easily and don't serve much of a purpose, particularly with smaller carry-ons like this one that you will never end up pushing in front of you. I also think that at 19 x 12 x 12 inches (48.3 x 30.5 x 30.5 centimeters), this is a bit oddly sized and shaped for a standard carry-on and yet too large to fit reliably under the seat in front of you as a personal item, particularly with the wheels.
A bit more travel-oriented is the Samsonite Detour Convertible Wheeled Hybrid Backpack directly from Samsonite, which measures 22 x 14 x 10 inches (55.6 x 35.6 x 25.4 centimeters). It has a range of both inner and outer organizational pockets including for a 15.6″ laptop.
There are well-padded backpack straps with a shoulder harness and a fabric flap that can cover the wheels to keep you clean when you're using the pack on your back. I like that there is a divider that creates multiple compartments but this may not be to your taste if you like to have everything in a single main compartment in small bags like this one.
The Samsonite Tectonic Nutech Wheeled Backpack is a more expensive and likely more durable wheeled backpack carry-on of similar dimensions; it uses 1680D ballistic polyester fabric, including for the side water-bottle pockets (as opposed to flimsy mesh material).
There is a sturdy, two-bar pull handle and more plastic reinforcing around the wheel housing.
As with the other Samsonite options, there are quite a lot of external and internal organizational pockets. It opens out flat so it's easy to get at everything.
The shoulder straps are padded (but no sternum strap, making it uncomfortable to carry significant weight for long) and there is a fabric covering for the wheels when you're using the pack on your back.
These Samsonite luggage options come with a 10-year limited warranty.
Direct Links for Samsonite Wheeled Backpacks
Other Well-Rated, Cheaper Rolling Backpacks for Travel
The following wheeled bags are the cheapest we have found that still have reasonably good ratings—but we think most people will be happier with our other picks above.
We think it's best to ignore any of these brands dodgy claims of "waterproof" or "water resistance" on Amazon as they are not backed up by a specific IP rating for a specific, testable degree of water resistance.
Rolling Backpack with Wheels
that has a removable handle and wheels—making it more like a
luggage cart/trolley
with a backpack included. The bag has a sleeve for laptops of up to 17 inches and a variety of compartments and pockets. There is a USB jack which serves no real purpose (no battery is included—it simply allows you to run a cable from the inside to the outside of the bag) and yet may still arouse suspicions from airlines that reject bags with integrated batteries. Most customers seemed more or less happy with it though some complained that it is unstable on its rolling stand.
Glodiar Aoking Rolling Backpack
, and is perhaps just slightly tall for some carry-on requirements at 23.6 x 14.5 x 9.84 inches (60 x 37 x 25 centimeters). The wheels are extremely oversized, giving it a bit of a crazy (and I think classy) look, but of course that eats into some of the valuable internal capacity a bit.
There are lots of internal pockets and sleeves, including for a 17″ laptop. The shoulder straps are padded and can be hidden when not in use; there is no sternum strap.
Aocrin Rolling Backpack
. There is, again, lots of internal organization including a sleeve for a 17″ laptop. There is also, unfortunately, a silly USB plug integrated into the bag. The piece measures 18.5 x 13.3 x 9.4 inches (47 x 33.8 x 24 centimeters). It's worth checking out mainly for the hilarious pictures of "businessmen" modeling it in spite of the oversized wheels and backpack straps.
Wrap-Up: The Best Rolling Backpacks for Most Travellers
We love to hear about your experiences with these and other rolling carry-on backpacks in the comments.
You can browse the full current lineup wheeled backpacks at Osprey USA (or the same at Osprey Europe and Osprey UK). We recommend their Farpoint/Fairview 36 for carry-on travel and the 65 liter version if you need more space and are willing to check a bag; in both cases we highly recommend also using a daypack, especially the Farpoint Fairview Daypack, which attaches to the front and back.