After a bit of failure, here's the portable standing desk setup that I've finally arrived on, designed to go anywhere and still work while standing up with good posture: the monitor at eye height and the keyboard just below elbow height.
My requirements for a portable standing desk were:
Two monitors (for vastly improved productivity)
As lightweight as possible; foldable and fits in luggage
A keyboard a bit below elbow height when standing
The screens at approximately eye height so I'm not looking down
The pros to my setup are that it is:
Easy and quick to install on any table, and I can adjust the height
Light: The total weight of all elements pictured, except the phone and laptop themselves, is 3.65 kg or 8.05 pounds; the laptop tray is more than half of this unfortunately
Flexible: Can convert easily to a sitting desk
Cheap: Total cost without the laptop and phone is approximately US $300; most of that is the second screen.
It's really the only good solution I've found for two monitors + portability + standing up
The cons of my setup:
The mouse is not at typing height; I have to either reach down a bit for it or reach up a bit for the laptop's trackpad. I tend to alternate between both; it's not much of an issue, and actually also a nice change of movement.
Ideally some smart product engineer will eventually build an all-in-one setup that is lighter and more stable than this cobbled-together solution that is more stable. I haven't had any issues with this falling over, but a single solution would be hopefully more stable, as well as lighter.
Elements pictured:
A Chromebook laptop: I've used a Chromebook as my sole laptop for more than five years. They tend to be fast, worry-free, and easily replaceable if something goes wrong (you've got everything in the cloud).
An attached second screen (0.808 kg. / 28.5 ounces): This attachable/removable slide-out screen is a key to the whole setup. I'm using the Mobile Pixels Duex Pro reviewed here.
A clip for a screen/phone: Pretty optional but nice if you like to take video calls from your phone rather than your laptop, and save your laptop screens for whatever is being discussed. But not a good idea if having the phone there tempts you to multitask and get distracted with phone alerts.
A phone: My Pixel 3a is still working great.
A Nexstand laptop stand (0.238 kg. / 8.395 oz.): This stand is lovely for seated work as well. Notice below how the laptop is moved over to one side a bit, rather than in the middle of the stand. This is to balance the weight of the second screen. Yes, I was worried at first, but it's pretty stable and I haven't knocked it over in three months of use, nor has the sometimes strong wind outside.
A portable folding laptop table (1.93 kg. / 4.2 lbs.): This is designed for people who use their laptops on a sofa or bed, but this one works well enough for standing. Importantly, it is adjustable in height. Ideally I would find a tray that is a bit more square-shaped to accommodate both the Nexstand and a mouse. And lighter, and that folded down smaller. Or an all-in-one standing portable laptop stand, if any engineers out there are listening…
A portable external keyboard (0.417 kg.or 14.71 oz.): This Logitech model is the best tradeoff I've found between portability and a full typing experience. Ideally I would like to find an ergonomic portable keyboard, but the only truly portable one I've tried was too cramped to do useful typing on.
A portable external mouse (0.132 kg. / 4.656 oz.): I'm more likely to use this when seated than standing, though I do use it some standing. It's not at an ideal height in my current setup when standing.
A travel adapter and multi-plug with USB-C (reviewed here) (0.126 kg / 4.45 oz.): be prepared to mate any plug with any socket, wherever you end up.
The elements of my portable standing desk all packed up can go in any daypack or carry-on, except for the laptop tray, which is a bit big for that.
Seated Version: Two Monitors at Eye Height on a Portable Stand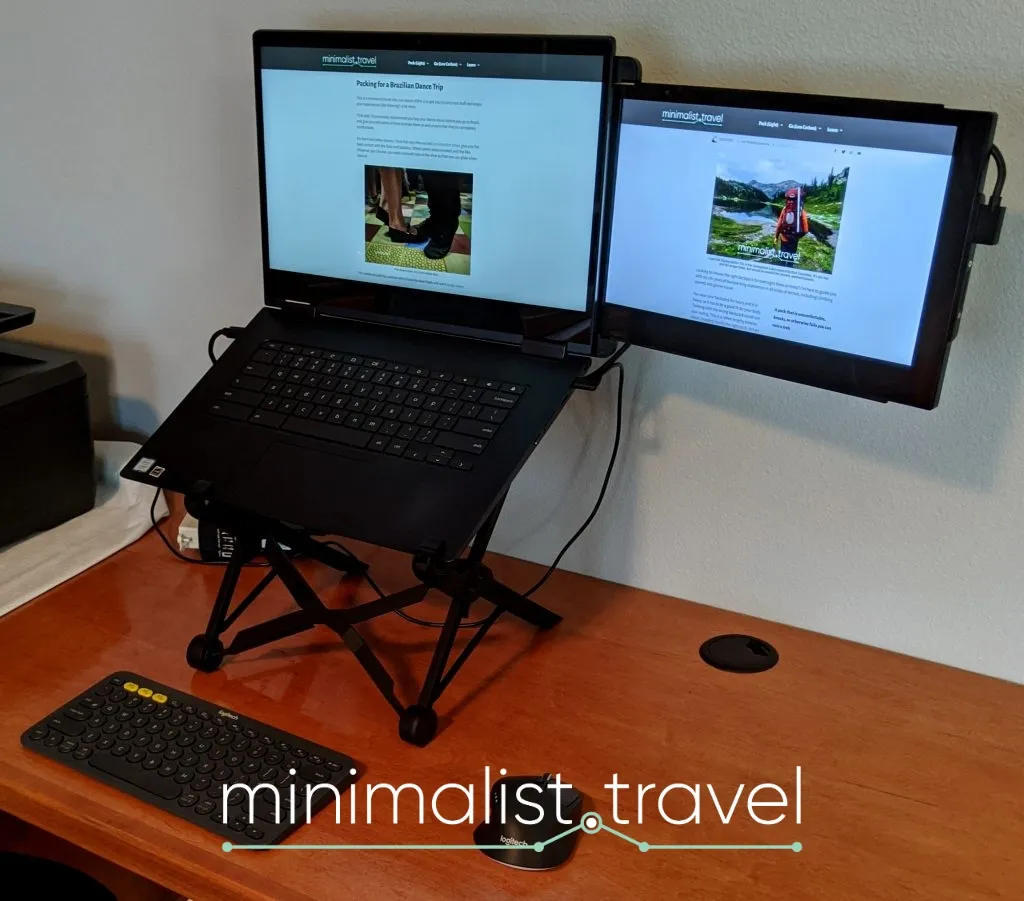 Just slide the laptop tray out from under the setup and you're in business to work while seated on your lazy, weak derrière. If your chair is not adjustable, your Nexstand is, so you can get your screens at just the right height.