For years I've ridden everything from the local S-Bahn to the bougie ICE trains that whisk you around Germany, so I know what to expect in terms of amenities. 
With that in mind, I hereby present you with my guide as to what you can expect on their fleet as well.
The Deutsche Bahn ferries seven million people around Germany, but still manages to make the experience quite comfortable.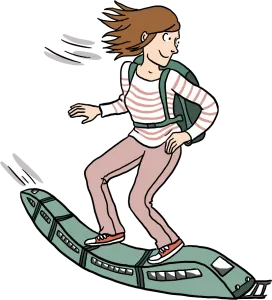 Its regional, inter-city, and high-speed trains are loaded with amenities that make these trips quite pleasant — but each type is a bit different, so we'll look at them separately.
You can purchase your ticket in person at train stations, online directly from Deutsche Bahn, or get the same route options and an easier booking experience on the private portal Trainline (recommended, but charges a booking fee of about 3%).
However you do it, you will be offered the option to make a seat reservation in addition to your ticket, which is nice but not totally necessary. It's unusual for these trains to be so crowded that you can't find a seat. And if that does happen, you'll get your chance once passengers disembark at the next stop.
Update History of This Article
This article was originally published on September 1, 2018. It was given a full update on Aug. 10, 2022.
Are German Trains Really So On Time?
German trains are famous for sticking to their schedules, and do do well as self-reported Deutsche Bahn, though the latest numbers of on-time arrivals were even better thanks to the pandemic, which meant fewer riders and therefore less delay at train stops waiting for people to get on and off.
DB Regio trains reported an on-time rate of 95.6% and overall regional and long-distance trains had an on-time rate of 81.8%. We'll see if Deutsche Bahn can continue this level of performance as more riders return to the rails.
The Amenities on S-Bahn and Other Regional German Trains
The S-Bahn and other regional trains have cushy seats for your comfort and trash bins that keep them neat and tidy — except for immediately after a soccer (sorry, Fußball) game, when you might find them overflowing with beer bottles.
Upcoming stops and connections to other local and regional destinations are announced in German and sometimes in English as well. If you don't speak German, you might find the announcements a little difficult to understand. After all, there are stops like Gschlactenbretzingn and Mönchengladbach. If your German is a little rusty, you can check the screens or the posters that can be found throughout the cars. If you're still not sure, ask your fellow passengers. Most Germans speak English and are happy to help you out.
Tickets for this category of train are flexible, so if you do happen to miss your connection or want to spend a little more time exploring, you can just hop on the next one that comes along.
Dogs, bicycles, and luggage are all welcome aboard the S-Bahn and regional trains! My dog travels with me and thrives on the attention she gets from the German passengers. Dogs are so loved in Germany, you'll not only see them on buses and trains but also tagging along in other public spaces like beer gardens and shopping centers.
Amenities to expect on Intercity (IC) and Eurocity (EC) Trains in Germany
The Intercity (IC) and Eurocity (EC) trains have 1st class and 2nd class compartments. Seat reservations are recommended for the 2nd class compartments and are automatically included with 1st class tickets.
Also included with your 1st class ticket is access to a separate area in the DB Lounge at select stations. If you find yourself in one of these stations with a 1st class ticket in your hand, you can rest in a leather armchair, treat yourself to complimentary hot and cold drinks, and recharge devices at one of the many outlets available throughout the lounge. Some of the lounges also offer snacks and alcoholic beverages for purchase.
I find seating in both the 1st and 2nd class compartments on the IC and EC trains to be comfortable and spacious. Special seating is available for parents with strollers and cyclists who want to bring their bike on board.
As with the S-Bahn and regional system, the routes are prominently displayed and upcoming stops with connections are announced.
Air-conditioning and on-board restaurants or bistros make traveling in Germany and to neighboring countries a comfortable, convenient experience. The newest trains in the IC fleet, the Intercity 2, are double-decker and a seat on the upper floor makes for great sightseeing!
For more, check out this cool 360-degree tour of the Intercity 2.
There are restrooms with toilets and sinks on IC and EC trains and many are handicapped accessible. Parents will be happy to see that infant changing tables are included in restrooms on the Intercity 2 trains as well.
The Amenities on the More Fully Outfitted ICE and ICE Sprinter Trains
The top-of-the-line ICE and ICE Sprinter trains are the quickest way to zip around the country.
In addition to all of the features riders can find aboard the rest of Deutsche Bahn's fleet, ICE trains are equipped with free WiFi, power outlets and USB ports at every seat, and on-board catering. Luxury!
First class passengers can order food and beverages from the comfort of their seats and request a free newspaper to read while they wait for the order to be delivered. If you've ever wanted to do your best Don Draper imitation, this is your chance.
You can kill time with the complimentary access to the ICE Portal, which offers a wide range of digital magazines, newspapers,  audiobooks, and games for kids and adults.
Business travelers can work at their seat on flip-down tables similar to those found on most airplanes. There are also designated mobile phone and quiet zones.
The newest member of the ICE family, the ICE 4, has ergonomic seating designed for passenger comfort, family areas, and children's areas, as well as additional space for storing luggage.
No matter which train I take, I generally find the Deutsche Bahn's local and long-distance fleets quite comfortable and convenient.
The smartest way to book train tickets