If you're used to travelling by plane and thus conditioned to worry about the size, weight, and contents of your baggage, you're in for a treat. Luggage restrictions for French trains are generally much more relaxed.
The main rule is to not be taking so much that you can't carry and stow it on your own. There are a few notable trains with more baggage restrictions such as the Eurostar trains to the UK and the budget trains Ouigo. We'll get into these and more below.
Update History of This Article
This article was first published on May 31, 2019.
Luggage Restrictions by Train Type in France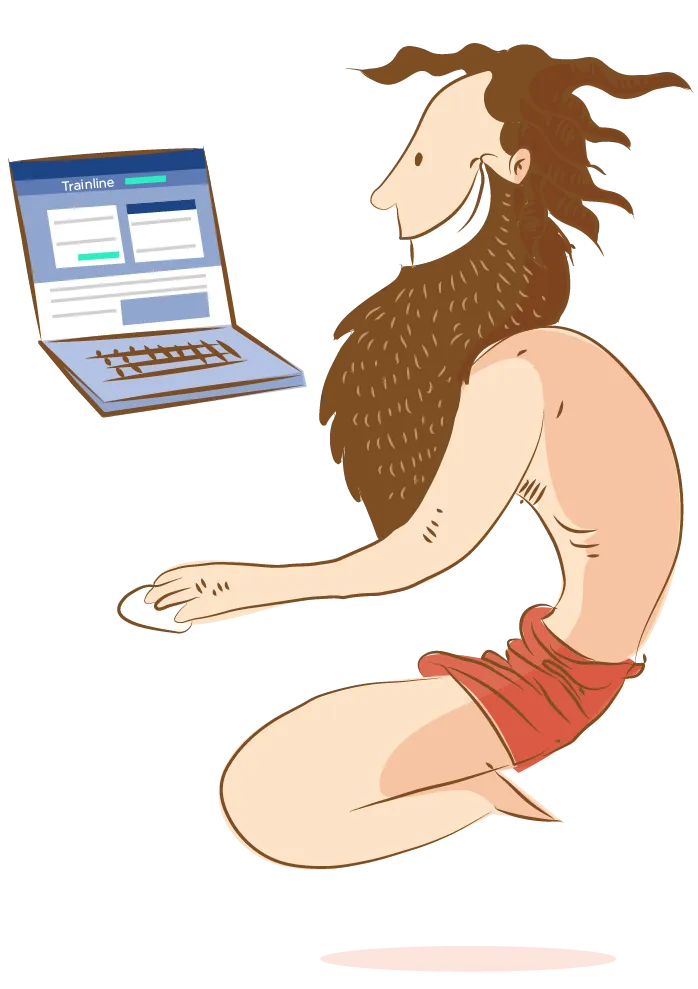 There are a range of train types offered by the SNCF, or French rail company. If you're doing as we recommend and booking your French train tickets on Trainline (sometimes cheaper, and definitely easier-to-use than the SNCF itself), you'll see the name of the train type alongside the ticket search. All you need to know is the names of the cities you want to visit.
Check Trainline
You can also book train tickets directly with SNCF Connect but as our readers always point out, there are plenty of website errors and payment issues at that site. And RailEurope is the SNCF's official site for foreigners but often has exorbitant markups.
General Rules for Luggage on French Trains
The English version of SNCF Connect dealing with luggage is as incompletely translated as the rest of that site. I speak French and have taken this information from the French version. I also spoke with our resident French train ticket inspector for real-life insight on what actually draws the attention of these contrôleurs for potential problems with luggage.
Here are the general guidelines:
Label your luggage: France is nervous about terrorism and unlabeled luggage arouses suspicions. Labels with your name, address, phone, and email should be placed both inside and outside your luggage.durable luggage tags like these.
Don't bring more than you can carry: You should be able to put it on the train and in the luggage racks on your own.
If you're bringing a pet, there is a small fee to be paid on certain trains. See our recommended dog carriers and other advice on pets on trains in France. Our resident train inspector asks me to remind readers to please not let their pets defecate on French trains.
Place heavy baggage in the luggage racks at the end and middle of train cars. Suitcases might get stacked on top of each other so if you have a soft pack this might not be the place for it. Place lighter luggage on the overhead shelves.
Our ticket inspector says that the most annoying passenger luggage issues are incredibly bulky things (you're not allowed to use the trains to professionally transport merchandise, for example), hen/stag parties with balloons, and stinky food.
I've personally been stopped coming into Paris on a train from Amsterdam and had my luggage searched for drugs by the French national police. They don't in theory have the right to do this without cause, but one of the very young police officers executing the search told me that they do it anyway and can always find some excuse to require a search when they want to.
Keeping Your Luggage Secure on French Trains
In my decades riding French trains, I've never had anything stolen nor have I seen anything like this go down. But thefts do happen, and you should obviously take steps to protect any valuables.
Many fast trains now have luggage storage at the center of the train car, rather than just at the entrances to the car. Make use of these storage racks; they're more visible and likely also closer to your seat. This way you can keep an eye on your bags and they'll be less likely to disembark at a stop without you.
Anything that would cause you major expense or hassle to replace (such as money and passports) should be with you at all times — another great reason to have a detachable daypack with enough room to carry all the basics. There are hooks in train restrooms where you can hang such a bag, so it's easy to keep it with you for the entire trip.
lightweight but tough luggage lock
. All such locks can be broken or cut (or suitcases can be slashed), but they at least require a bit more effort, time and noise to open, drawing attention. Of course, such a lock does not mean you can leave your luggage unattended in train stations or other public places, and doing so could in any case trigger a bomb scare and cause your luggage to be destroyed by French police.
You're much more likely to encounter scam artists, pickpockets, and thiefs in and around train stations than in the train itself. Keep your wits about you in stations and take an official licensed taxi if you feel you need to.
Luggage Rules for France's TGV Trains
Most long-distance trains you'll now take in France are TGV, or high speed trains. There are large luggage storage areas just inside the entrance to each car, and as well as smack in middle the train cars themselves, where you can keep a closer eye.
And there are overhead storage shelves on either side of TGV trains above the seating areas where you can heft carry-on sized bags and soft backpacker packs.
Bicycles on TGV trains must be dismantled and placed in a carry bag. Likewise for waterboards.
Strollers should be folded up.
Skis should be in a carry bag designed for that purpose.
Luggage on Intercités Trains
The Intercités, or regular (not high-speed) long-distance trains, also have storage for large suitcases at the end of each car and usually in the middle. There is storage for smaller packs and carry-on sized items above the seats.
Luggage on Thalys Trains: More Specific Restrictions
The Thalys are high-speed trains centered on Brussels and serving France, Belgium, Germany, and the Netherlands. Their system allows you to take one carry-on and two larger pieces of luggage.
The large luggage pieces should weigh a maximum of 32 kg. each and measure a maximum of 158 cm (adding together length+height+width).
In addition, you may carry a stroller free of charge on Thalys. It must be folded up and stored alongside the suitcases in the car where you are seated.
Musical instruments should be in cases, preferably hard ones, whose measurements do not exceed 1.2 by .9 meters according to the SNCF's site, or 2 meters according to Thalys.
Skis, surfboards, and waterboards should be in carrying cases not exceeding 1.2 by .9 meters, according to SNCF. But note that on another page SNCF claims that they may be up to 3 meters long, and on Thalys' site the limit is listed as 2 meters.
Bicycles on Thalys trains must be dismantled (both wheels removed) and stored in carrying cases measuring a maximum of 135 x 85 x 30 cm. If travelling with a bicycle you must present yourself at the platform 30 minutes before departure. Folding bicycles are treated as standard luggage as long as they fit within the dimensions of the standard suitcase listed above.
The areas for storing your luggage on Thalys are similar to those for the TGV described above; there are luggage racks at the ends and in the middle of train cars for heavy luggage, and overhead shelves for lighter packs and carry-ons.
Luggage on Eurostar
Eurostar doesn't have a luggage weight limit but you must be able to carry your own bags and store them.
The widest measurement for a bag or suitcase is maximum 85 cm.
Regular adult tickets allow two regular such large luggage pieces, and one small piece of hand luggage.
Business premier tickets allow for three large luggage pieces and one small hand luggage.
Children's tickets allow for one piece of large luggage and one hand luggage. Children under the age of four travel for free, sit on a grown-up's lap, and have no additional luggage allowance.
Wheelchairs and strollers are allowed for free in addition to the above luggage allowances.
Skis and snowboards are allowed in addition to the above limits on the direct ski train.
There is luggage assistance available for those with disabilities as well as those travelling with children.
Luggage on Ouigo (Budget Train Line)
One of the disadvantages of France's budget train offering Ouigo is that you are very limited in terms of luggage. And yes, the Ouigo staff is vigilant about enforcing these limits as you pass through the gate to go to your train.
On Ouigo trains you can have one carry-on and one piece of hand luggage. You can book larger luggage pieces for €5 each; this is possible when booking via Trainline.
See here for the specific measurements for Ouigo luggage in English, and other details.
Luggage on Ter Regional Trains in France
There are no specific luggage restrictions given for Ter trains, the small regional trains in France. SNCF has answered questions about this by simply saying "nothing excessive"; so just recall that you're not allowed to transport merchandise for commercial purposes and must be able to carry it yourself (staffing is limited in any case at small regional train stations).
Bicycles go for free on TER trains and should be suspended from the hooks that are designed for them.