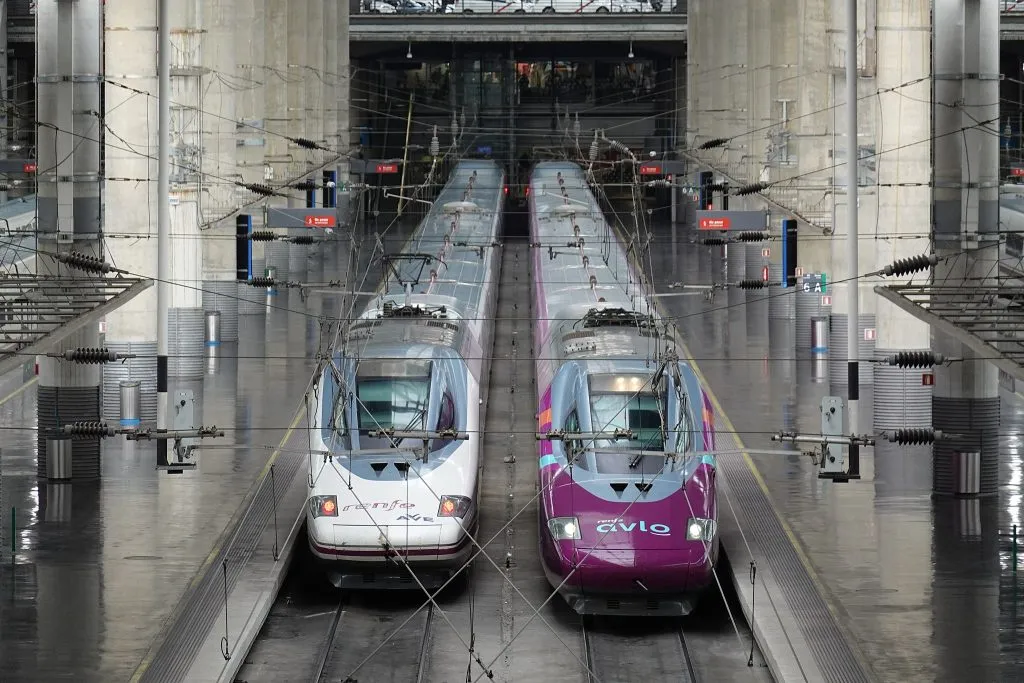 We're spoiled for options for crossing Spain and Catalonia by train. There are four operators running daily high-speed trains here and all of them are comfortable, fast, and often pretty cheap.
The standard-bearer from the national operator is Renfe's Ave service; Renfe also now has it's own budget version which is often very cheap, Avlo. The French national operator SNCF operates its budget service Ouigo as well, and finally the private train operator Iryo offers an alternative, slightly more high-end option (though still pretty competitive on price. We've taken all of these and review the experiences at those links.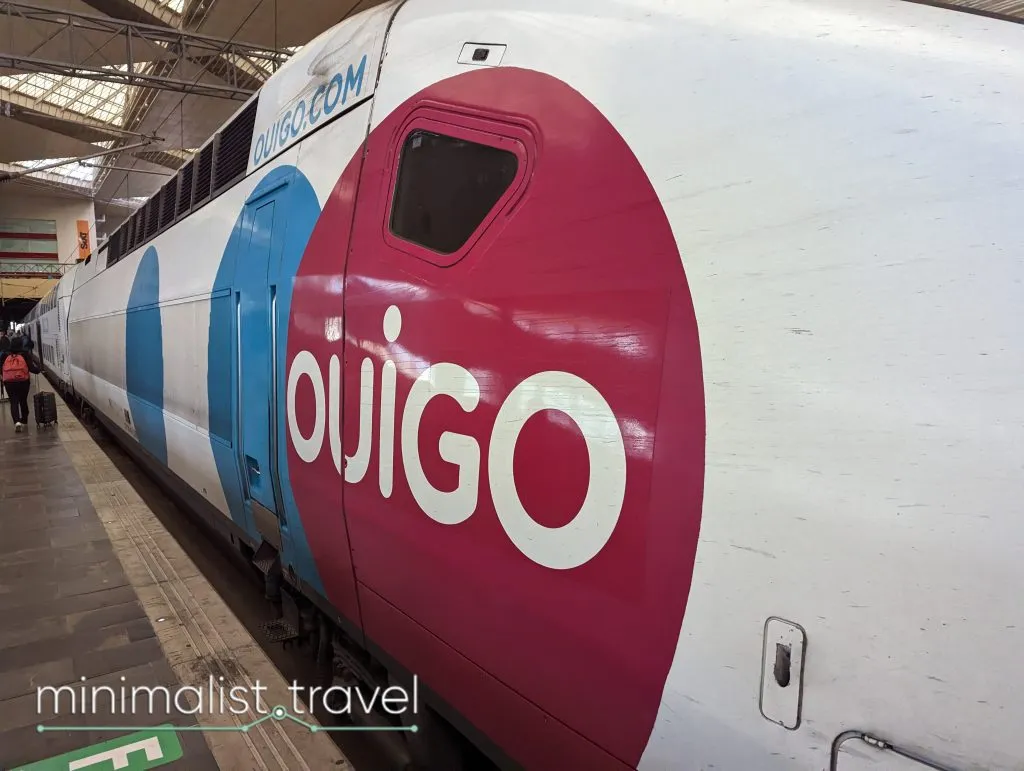 I personally enjoy taking any of these. There are a few considerations (a larger luggage allowance, a bar car where you can go grab an espresso or beer and chat to fellow passengers, the option of a roomier seat in first class…) besides price that might sway you towards a particular operator; I've summarized the main points in the table below.
So which train should you take in Spain: Ave, Avlo, Ouigo, or Iryo? I like and take all of them; I tend to just compare for a given date and route on Trainline and going and grab the most convenient / cheapest.
Trainline is a search and ticketing platform for European trains that can save a lot of time and hassle for Spain in particular because it compares everything all at once: Ave, Avlo, Ouigo, and Iryo, plus bus options. And for complex trips changing between trains or crossing borders, Trainline produced the best price results for Spain in our tests.
But another platform that works just fine for comparing Ave, Avlo, Ouigo, and Iryo prices is Omio (it also shows flights, though these are really not necessary for travel within Spain).
Which Spanish Train Is Best?
If by "best" you mean "fancy", go for Iryo or Ave; these have luxurious first-class options where you have more room, with three seats per row rather than four, and attendants at the seats with food service.
Ave is the best in the sense of offering the most extensive coverage, both in Spain and beyond. Iryo comes in second.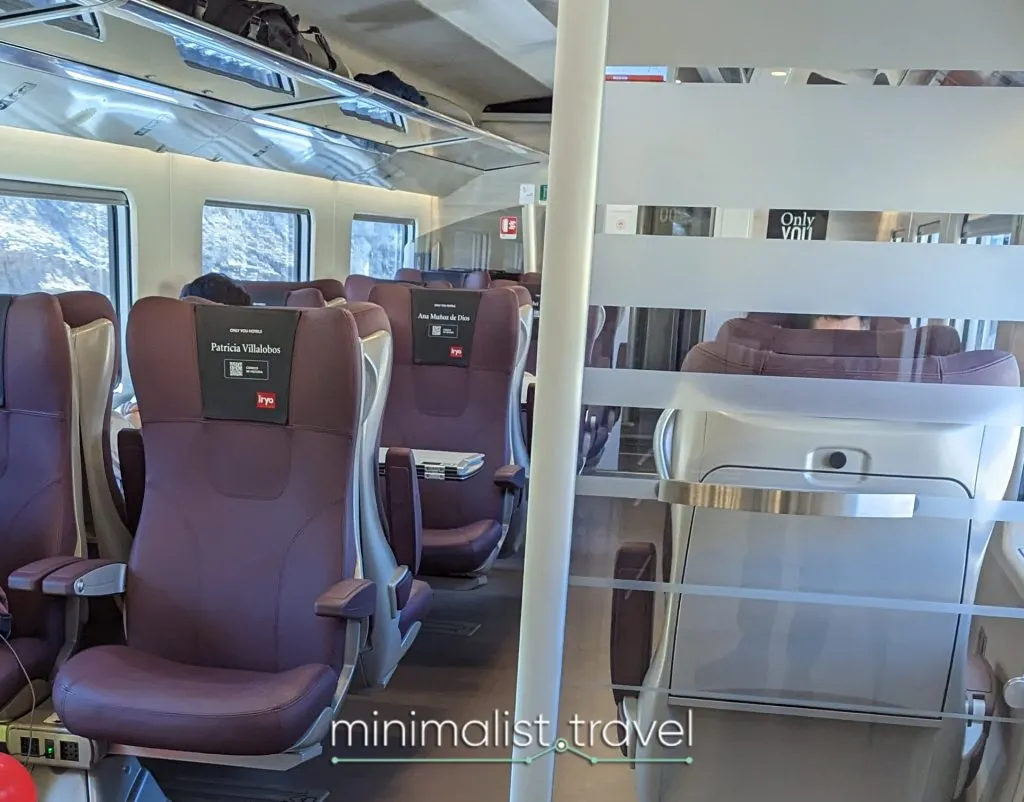 What Is the Difference Between Renfe's Ave, Avant, and Alvia Trains?
Ave is the traditional long-distance service offered by Spain's national operator Renfe. Avant trains cover medium-distance routes between regions. And finally, Alvia trains run on routes that have high speed lines mixed with conventional lines, and so only go high speed part of the way.
Which Are the Ugliest Trains You Can Take in Spain? The Prettiest?
Ouigo's aggressive color scheme is lively, but the screaming pink and blue get on my nerves. After a couple of hours riding, these colors get tiring, as do the silly slogans posted all over the place.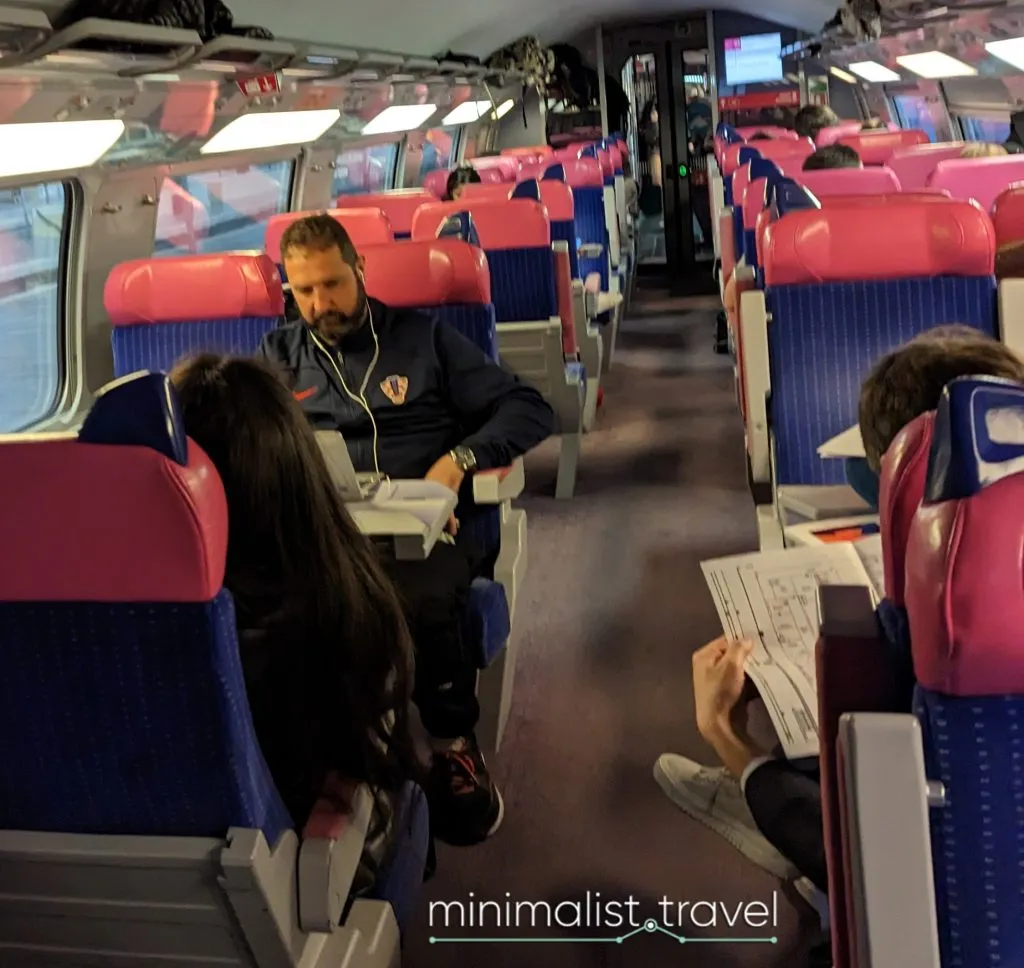 I could take or leave grey Ave. Avlo trains are a pretty deep purple.
The exterior of Iryo trains are aggressively red, in a way that is kind of entertaining, and makes them easy to spot in the sea of Renfe's grey fleets, while not as silly as Ouigo's color scheme. And Iryo's interior has classy, subdued purple and the décor feels quite new and fresh.
Which Spanish Train Is Best for Carrying Luggage?
All four high speed train operators have luggage restrictions; Avlo and Ouigo are more restrictive and similar to taking an airline, where you pay extra for a full-sized suitcase.
With Avlo and Ouigo your personal item and small, carry-on-sized suitcase or pack are free with your ticket and you pay extra for a large suitcase. Be sure to book this suitcase in advance; it's €10 on Avlo and €5 on Ouigo. These are small extra fees, but they can mean that it is actually cheaper in some cases to travel on Ave or Iryo.
Ave and Iryo both allow larger suitcases with specific dimensions discussed and details linked to in the table above. In my experience, Ave and Iryo are rather unlikely to carefully check the sizes and weights of luggage of boarding passengers; the key is that you should be able to handle your luggage yourself and not appear to be abusing the system to transport merchandise.
Which Operator Is the Most Reliable?
Ave, Avlo, Ouigo, and Iryo all run on the same lines crossing Spain, so delays in stations or on tracks due to weather and other incidents or with railway personnel (strikes) are likely to affect all operators.
Which Is Best for Children?
Entering your own and your children's ages in a Trainline search will quickly tell you which operator has the best fare for your particular traveling family. But if you want to understand and get into the weeds…
Basically for Renfe Ave and Iryo are better for babies aged 0-3, who ride for free on a lap, but once your little toddlers are 4 and up you'll pay for their seat no matter the train operator. And then Avlo and Ouigo's €5 tickets for children start to look pretty good. The specifics:
Renfe has youth discount cards for those under the age of 25 that, for an annual €50 fee, give 25-30% off. For Renfe Ave trains, ages 0-3 ride free but need to sit on a lap as they don't get their own seat. Ages 4-14 get a 40% discount.
For Avlo, everyone under 14 pays €5 and gets their own seat. (Those operating Renfe's own Twitter account don't seem to understand their pricing for babies and gives conflicting information, but searches on Renfe or Trainline show that even babies are charged €5.)
For Ouigo, those aged 0-11 pay €5 and get their own seat.
For Iryo, babies aged 0-3 ride for free on a lap, but there is no discount for older children.
Which Spanish Train Has the Best WiFi?
We've tested WiFi in all of the high speed train options—Ave, Avlo, Ouigo, and Iryo—and it's great that it's free, but don't hope for much. On all four operators we were able to send some emails but the connection was never fast or stable enough to, for example, watch a video. The countryside is beautiful in Spain and high speed trains are a joy, so in any case being glued to a screen doesn't make a lot of sense.
Iryo advertises a "5G" connection and it's possible that it's slightly more stable than the others, though it's hard to say since it was certainly cutting out all of the time and often slow. I tested a few times on an Iryo trip from Barcelona to Zaragoza, and the best result I got was 4.81 Mbps download / .33 Mbps upload.
There are a lot of tunnels in Spain and of course WiFi cuts out completely every time a fast train goes through a tunnel.
On Renfe Ave, my WiFi stopped working completely once the train crossed the border into France.
If you connect to WiFi on trains, in stations, and at hotels, it's wise to get a VPN to prevent snooping on your data. I use and recommend NordVPN which is reasonably priced and tends to work great; it also allows you to simulate visiting websites from pretty much anywhere in the world.
If you are interested in the train WiFi because you will be traveling in Spain without an internet connection on your phone, I HIGHLY encourage you to instead unlock your phone and pick up a local SIM card; it makes a big difference in being able to navigate with maps, get information, and connect with the lovely Spaniards you meet while on the rails. Those with an American payment card can also use Google Fi (what I use), which works the same in any country. Honestly, I would never have connected to any of these train WiFi services if I hadn't been testing them out for this article.
Which Spanish Trains Have the Best Eating and Drinking?
Most fast train trips are quick enough that you don't really have to plan to have a meal on them. But if you do get peckish or want a drink, there are bar cars in Ave, Iryo, and Ouigo trains. You eat standing up or at stools, as you would in a neighborhood Spanish bar. Staff also come around to seats with a cart serving basic drinks and snacks. In Iryo first class, there is a more elaborate in-seat dining option.
On Avlo, you're out of luck, there is no bar car, though there are some vending machines at the end of cars.
Train food is not particularly impressive. It's overpriced, not particularly healthy (heavy on white bread sandwiches), and not very tasty. Pack your own meal if you want to eat well, or wait until you get to the destination.
I personally enjoy getting up and having the excuse to get an espresso midway through the ride. It can be a good chance to practice my languages too.