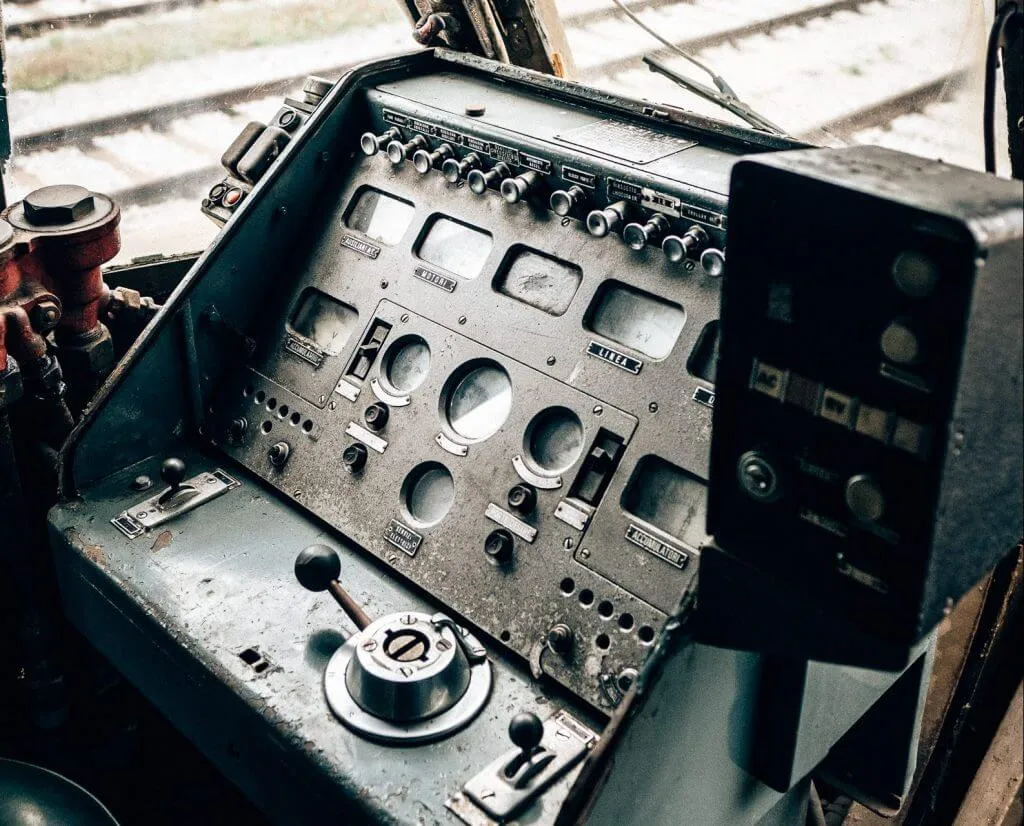 If you are blocked by error messages on OUI.sncf or Ouigo.com, you're not alone. The websites have lots of redirects and undergo constant updates that can render them in some cases nearly unusable.
For example:
Fortunately, there are easy solutions as well: options for buying French train tickets from private portals. You can get the same tickets at exactly the same prices without the hassle of the SNCF's — how shall we put this? — highly "varied" levels of website usability and customer service.
Don't get us wrong, we still use the official SNCF site in some cases, and especially use it for initial searches for cheap tickets within France for its "flexible dates" feature to decide on what date to travel on for the best prices.
But ultimately when it's time to book we usually switch over to a private platform to buy at the same price without the website errors and redirects.
Solutions for the OUI.SNCF website errors
The easiest solution is just to avoid SNCF sites entirely. The easiest-to-use train ticketing portal for France (and mainland Europe) is
Trainline
. Its pricing follows the dynamic rates offered by the SNCF itself, and sometimes Trainline finds even better routes, saving a bit of money. There is, however, a small booking fee of a couple of euros tacked on at the end. But it's well worth it for the smarter routing and to avoid the SNCF website errors, plus Trainline offers the
smoothest experience of any European train booking portal
, good customer support, and the smartest routing.
Another decent alternative is RailEurope.co.uk (formerly Loco2), which is also quite user-friendly and error-free. However, it doesn't offer the complete range of French train tickets including the low-cost Ouigo routes, and the booking fee tends to be just a bit higher.
There are other solutions that sometimes work for SNCF website errors. If your ticket purchase is not urgent, you can clear your browser cache and try back later. You can use a VPN that allows you to pretend that you're in France. And finally, if you are already in France, you can go to an SNCF office or train station to purchase tickets the old fashioned way, with lines and cash.
Update History of This Article
This article was published on March 22, 2018. It underwent a major rewrite on September 19, 2018. It was updated concerning Trainline fees on April 22, 2019. It was given a thorough update on November 15, 2019.
The Frequent Complaints About the SNCF Websites for Buying Train Tickets
Any recent Twitter search or review of travel forums and blogs shows vast swaths of the French and foreign train-travelling public griping about the site errors that prevent them from getting information and the tickets that they want.
Even French people themselves have lots of trouble with the site and complain about it constantly, which is why we think our main pick above is now a better option even for them.
I myself have frequently traveled on French trains over the past decade, and just as frequently been appalled by the problems with the SNCF websites and apps.
Credit card problems with SNCF
Latin American, USA, Australian, Canadian and other international credit cards are often rejected by SNCF sites; see that article for more on those issues. And even Trainline has been obligated by Ouigo to reject certain countries' cards for its tickets. In some cases it can help to contact your card issue and authorize the purchase if you have a non-European card and are purchasing on Trainline or SNCF sites.
Geographical Redirects on OUI.sncf to More Expensive Websites
OUI.sncf sells tickets to foreigners, but also have in the past redirected some of these users based on their IP locations to the much more expensive and less complete websites run by the SNCF for other countries, especially RailEurope.com (not to be confused with the RailEurope.co.uk, which works fine). And while RailEurope.com is better translated and generally accepts non-French payment options, the problem is that this SNCF-affiliated website tacks on huge fees and has fewer routes. Add to that, the SNCF's Eurostar site was caught vastly overcharging senior citizens and young people for tickets.
You can refuse the redirects like the screenshot shown above. And if necessary use the language menu at the top right to choose France or another language.
If you don't speak French, choose "Europe (other countries)". This will keep you on the regular OUI.sncf site with the same prices, but the user experience will be (mostly) in English. Definitely don't choose "Russia" or "Rest of the World" as these can lead to much higher fares.
Note however that if you're outside of France and you do manage to purchase your tickets through the official SNCF site, they cannot be mailed to you outside of France. You must do an E-ticketing option.
Overall, rather than all of this, we think you're much better off with the private ticketing option mentioned at the top, Trainline, for the same fares, better routing, E-tickets, and no re-directs to other sites. The only disadvantage is its small booking fee, but it's well worth it if you're getting error messages, or if you eventually need to return a ticket.
Handling the Error Messages on OUI.sncf
There are error messages that pop up in French (no matter that you're using the site in English), like "L'accès au service de réservation de billets de train est actuellement indisponible." ("The access to train ticketing reservations is currently unavailable.") Usually any trips that you have saved are then lost and you have to start over.
Google Translate offers browser extensions that can help you with reading untranslated portions of the site, and sometimes its machine translations can even be more comprehensible than the SNCF's supposedly human-translated English version.
Here are some more error messages in English we got during our annual survey of prices of European rail booking options: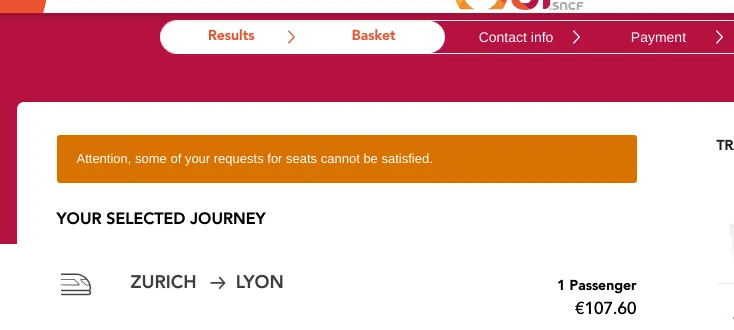 There are many other error messages, often containing no explanations, or infuriatingly vague or useless instructions.
SNCF is infamous for not providing any useful response to such customer inquiries via their website support. The only option when these things happen is generally to try back later, or, as we said up top, the private booking sites that offer the same rates.
Some of my Own Horror Stories with SNCF Booking
I speak fluent French so the language oddities of the SNCF's sites haven't been a problem. But I still have had plenty of issues.
I once ended up with a ticket purchased from the SNCF website that said that it had to be withdrawn from a ticket machine in a station. But when I went, the ticket machine produced an error and was unable to print my ticket and said to see station staff. The staff was also unable to produce my ticket and said that I would have to come to the station in Nantes at 6am the next morning to speak to a manager. The manager was not to be found the next morning, and so I was issued a ticket at the counter for the non-existant train car. It was a valid ticket so I was still allowed to board the train, but this caused quite a bit of confusion for the ticket inspectors, who photographed my ticket and sent it in to the station.
On a separate incident, I was once promised at a train station that a full refund for a mistaken credit card charge from the SNCF site would be mailed to me. Instead, however, I received coupons for future train trips. I was unable to use most of them before they expired, and the so the SNCF still owes me about €160. Dearest SNCF, if you're reading this website and you don't like it, how about refunding me some cash? And taking care of your countless other customer complaints on Twitter and other sites?
Conclusion: Our Favorite Alternative to the Error-Ridden SNCF websites
I've been personally much happier since I switched to Trainline, which isn't perfect but avoids all of the problems above, and has relatively great customer service. Their main issue is couple-of-euros booking fee they now add on to most tickets. (But see also our general tips for cheap French train tickets.)
Once you board a French train, though, and get a croissant and café in the bar car, all the hassle seems worth it as the beautiful countryside slips past your window.