We ran dozens of pan-European searches on our two favorite train booking platforms, Rail Europe and Trainline, and compared the results. The goal: determine which booking experience is smoother and results in better and cheaper routes.
We have found that both of these platforms are better than booking directly from mainland Europe's national train companies. They charge the same base prices for any particular train ticket, and often find better routes, which saves money. The catch: in many cases they add on small booking fees of a couple of euros. But overall they're far easier to use than most European train booking sites, which can cause issues, particularly for those outside of a particular country, and even be impossible to use with foreign credit cards.
So which is better, Trainline or Rail Europe?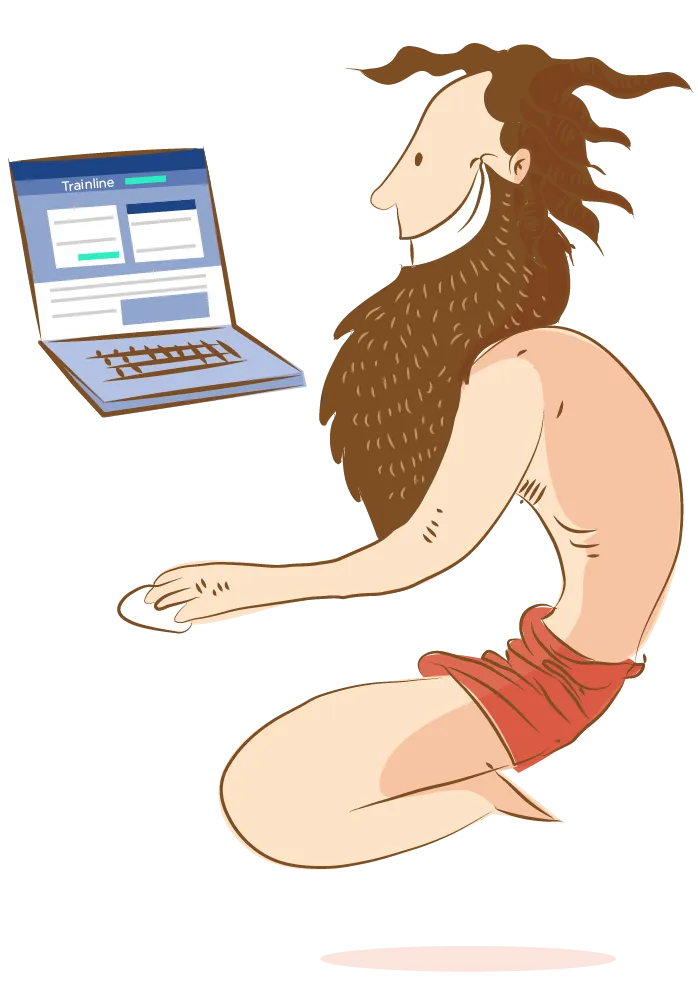 Our Favorite Train Ticketing Platforms for Mainland Europe
Both platforms are great — much better than the purchase experience on national European train operators' sites.
Trainline comes out on top in nearly every respect. In our tests of complex trips it finds cheaper routes and fewer stops and train changes. It particularly saves money by offering routes with Europe's competing high speed train operators, unlike Rail Europe. And Trainline has bus and bus/train combo options. Overall you're much more likely to get a better fare.
But Rail Europe is a fine option to check too if you're interested in travelling purely with national operators (not private budget high-speed train operators). Rail Europe's interface is just as smooth and we like the small map illustrating possible routes in search results. If you're taking a complex trip and have a moment, it's worth checking here too—in a couple of our test cases it has offered us better routes.
Update history of this article
Original version published: August 15, 2018. Updated concerning booking fees on May 10, 2019. Updated concerning Loco2 name change and fees on November 20, 2019. Further updates concerning the Loco2 integration in Rail Europe sites on July 16, 2021. Completely overhauled after some new testing of both platforms on July 19, 2022. Completely updated on March 2, 2023.
First off: Why Either One of these Platforms is Far Better than National European Train Company Websites
As we've covered in our previous studies of how European train platforms compare, both Rail Europe and Trainline are far more useful than booking directly with the national train companies like SNCF Connect (France), Deutsche Bahn (Germany), Trenitalia (Italy), Renfe (Spain), and the rest.
First and foremost, while they offer the same dynamic pricing as those operators for any particular route, both platforms can actually quite often save you money for international train trips with changes. This is for two reasons:
Both platforms are more clever with complex routing, and often find cheaper and faster ways to get from A to B, with fewer changes, than Europe's national train operators themselves.
Both platforms offer the same rates as each national train operator, but these operators still fail to do this for each others' fares (e.g., Trenitalia seems to always have big markups on France's SNCF and vice-versa).
In addition, Trainline can save you 50% or more by offering routes on the various high speed budget train operators that now compete with the standard national train companies—it searches everything all at once.
Finally, both Trainline and Rail Europe are very intuitive and easy to use — which is hardly how we would describe the error-ridden and poorly translated European national ticketing websites.
Our Test Results: How Trainline Beats Rail Europe for Complex European Train Trips
We ran a test of over two dozen of the most popular Europe train routes, as well as some of our favorites and some off the beaten path, like cool scenic Swiss routes.
For simple trips within a single country or international trips that didn't require changing trains, both platforms generally performed great, offering the same rates as the national operators as described above.
Trainline offers better and cheaper routes, as well as more options like budget train lines in France and Spain
But for more complex trips,
Trainline
(formerly Captain Train) seemed to have a smarter search and routing engine; it offered us much better results. For international trips like Dortmund to Warsaw or Rome to Nice, Trainline came up with cheaper routes that Rail Europe didn't offer. And Trainline also offered a cheaper route in France from Paris to Marseille on
France's budget high-speed train Ouigo
.
In fact, Trainline's access to the ultra-cheap Ouigo trains in France, Catalonia, and Spain—as well as newer competitors like Iryo and Avlo—is a huge advantage over Rail Europe, which doesn't have any of these. These budget train options tend to be marketed only to residents of each country (the France Ouigo website for example is French-only), so Trainline offering these fares is a major coup for helping travellers from outside of these countries save serious money on trains.
But even for complex trips on regular national operators' trains, there can be a big difference. In total, Trainline found cheaper route options than Rail Europe in five of our 25 cases and the total difference for these trips was substantial: €578.80 to €397.6. This means on average Rail Europe cost 46% more than Trainline for these trips. Rail Europe was better than Trainline only for an epic 26-hour Madrid to Berlin trip that we tested, offering a savings in that case of 4.4%.
An Example Test Case In Detail
On our search for trains from Paris to Venice, Trainline suggested an option that takes 10:18, costs €58.90, and involves a 1:11 stop in Turin. Rail Europe's cheapest selection was an 11:42 trip that would involve a 38-minute stop in Basel and a 59-minute stop in Milan, and would cost a total of €106.90 — almost twice that of Trainline! (Rail Europe's shortest trip was 11:17 and also involved two changes.) Manually entering the route info from Trainline into the Rail Europe search engine for each leg of the trip brought the Rail Europe total price down to €68.90. (For comparison, searching in French on
SNCF Connect
showed a cheapest route with one change totalling 9:59 and €119. And
Trenitalia's
cheapest suggestion was an 11h23 trip with two changes totaling €201.90.
Bahn.de
showed a 10:11 trip with one change but couldn't offer it for sale on its site.)
Again, both Rail Europe and Trainline are offering their tickets at the same prices as the national rail lines' prices on any given day; it's just that Trainline's routing engine is smarter about finding useful, cheap routes, and that Trainline has access to the full range of budget options within these systems.
Results were similar when we instead chose the shortest trip options from each platform (instead of focusing on price). In most cases the proposed routes were of similar length, arriving within 10 minutes of each other (often they reported just slightly different timings for the exact same trains).
But in cases where the proposed routes differed by more than ten minutes, Trainline showed much shorter routes three times (on average one hour and 7 minutes shorter, costing on average 21% less) and Rail Europe showed a shorter route option once (20 minutes shorter, but costing 29% more).
Note that in this article we're addressing only train tickets for mainland Europe. Trainline also offers train tickets in the UK and is generally well-loved for that compared to the complex regional UK train systems. However, the UK train options for both of these platforms was not our focus for this article, which is for those travelling in mainland Europe.
F.A.Q. about Trainline and Rail Europe
Which is cheaper: Trainline or Rail Europe?
Both Trainline and Rail Europe offer the same dynamic train fares as the national train operators themselves.
However, in our tests Trainline often found cheaper routes than Rail Europe, mainly because it includes the many competing high speed budget train options from both private and national companies. Rail Europe does not. Also, as explained in detail above, Trainline often finds smarter route options, saving money and time on complex trips, especially across borders.
On travel forums, this question of the platforms' prices is one people often wonder about. Fortunately, since both platforms are easy to use, it doesn't take more than a few minutes to check both sites to be sure you're getting the best fare.
What are the booking fees on Trainline and Rail Europe?
For both Trainline and Rail Europe, the booking fees are small in comparison to the ticket prices and the savings generally found through finding smarter routes on the sites. (Since many train operators don't provide commissions to the platforms, the fees necessary for powering these businesses.)
Trainline sometimes has no booking fee and sometimes charges a small percentage (often around 3%). So usually, in total, Trainline's booking fee is cheaper. Unfortunately, the company is not very transparent about what these fees are and for whom — you only find out exactly what your particular booking fee will be on the final payment screen, which is hardly fair or ideal. That said, the fee is small and well worth it.
Rail Europe's is much more transparent about its booking fees, even including them in search results alongside prices. The company has a standardized per-basket fee that varies only depending on the currency you've chosen: £6.45, €7.45, CA$9.95, AU$9.95, or US$8.45.
So for most trips, Trainline will work out cheaper in terms of fees, but if you're buying a lot of tickets all at once on national carriers, Rail Europe may be cheaper with its flat rate. Very cheap train tickets (those costing less than £15, US$15, €15, CA$20, or AU$20 do not have a booking fee on Rail Europe.
What is the difference between Trainline and Rail Europe?
Trainline can often find you cheaper fares than Rail Europe by showing more options for European trains, but both booking engines are otherwise easy-to-use, similarly reputable, and have decent support. Trainline is a public company based in London and listed on the London Stock Exchange; Rail Europe is a privately owned company based in Paris, which previously was part of the French national rail operator SNCF and acquired the booking platform Loco2.
Other Reasons We Prefer Trainline Over Rail Europe
Aside from generally saving us money on trips, there are other reasons we think Trainline is the better mainland European train ticketing platform:
Trainline has greater reach, covering far more European train systems and offering much more complete access to all of the train options within those countries. In a nutshell: Both platforms cover Western Europe well, but Trainline covers a few more complete networks than Rail Europe, like those in the Netherlands, Belgium, Luxembourg, Ouigo in France, and Switzerland. And, crucially, it offers the tickets of budget train operators that compete with each other and with the national operators.
Trainline shows the first class ticket possibilities in the first search result, right next to second class. This is nice to have even if you don't usually take first class, because sometimes the first class option can be nearly as cheap — and in rare occasions cheaper.
Trainline has much more complete bus options and shows them at the bottom of your train search results. Sure, we greatly prefer trains, but sometimes the pricing for certain train trips is completely unreasonable — and it's nice to see this other option.
Trainline's more complete bus offers also allow it to propose more and better train and bus combo routes that can save money, and in some cases a lot of time too.
Trainline offers more complete access to discounts, where relevant, and automatically steers you toward them to make sure you're getting the best deal. These are often only applicable to people who travel frequently in countries like Spain or France and drop about €50 on an annual discount card, but if that sounds like you check out our full coverage of European train discounts for seniors and for children and teenagers.
At last check Trainline was available in 13 languages (plus a few localized versions of some languages) compared to Rail Europe's 6 languages.
Both platforms offer add-on tickets for bikes where necessary for some French trains. Both unfortunately do not yet have this capability for other national train systems where on certain occasions this is required (check whether bicycle tickets are needed here for your destinations).
In its search results, Trainline is better about showing additional add-on options when offered, such as supplements for in-train WiFi and taking your pet with you on the train. Rail Europe doesn't have these. Both platforms are pretty good at allowing you to choose your seating preferences when this is possible.
Trainline shows more complete information in the main page of search results about whether a ticket is refundable or exchangeable.
Trainline accepts more payment methods: Visa, Mastercard, Paypal, American Express, Maestro, Diners Club (for the UK), Google Pay, and Apple Pay. Rail Europe accepts fewer methods, though you're pretty likely to have one of these: MasterCard, Visa, Visa Electron, Maestro, and American Express. Many European train companies have trouble accepting credit cards from outside of their own countries and especially from outside of Europe, so buying from either one of these platforms saves a lot of headaches versus buying directly from the train networks.
In those cases where the national train company (especially in Germany) tacks on a separate price for a seat reservation, this is transparent on the first search page of Trainline as an optional add-on, whereas it shows up later in the process for Rail Europe, and you have to uncheck a box to avoid this extra fee.
There Are a Few Advantages to Rail Europe, However
There are a few small things that I personally prefer about the Rail Europe interface:
Trainline is super-easy to use and makes sense, but RailEurope is simpler. Yes, this is partly because it actually offers fewer add-ons and options, but it's nice to have less to look through for a slightly faster booking process.
I like the small Google Map next to the search results in Rail Europe; it gives a quick, and handy indicator of each route and where you'd be changing trains.
Note that the Rail Europe completely changed technology after the French SNCF (official railway company) bought the train booking platform Loco2 in 2017. Rail Europe subsequently transitioned to using the technology it acquired from Loco2 (which was great) and so now Rail Europe essentially works like Loco2 used to. So if you tried Rail Europe pre-2017, or previous versions of RailEurope.co.uk, note that the new experience is nothing like the old (terrible) versions.
Carbon Footprint Calculations Differ between Trainline and Rail Europe
Both sites rather prominently show the carbon footprint of each train route you consider (Rail Europe expresses it as carbon saved compared to flying; Trainline just shows the carbon footprint of your trip). But we found it odd that they each calculate rather different results for the same trip. For example, a London-Paris Eurostar is shown as using 5.17 kg CO2 on Rail Europe, whereas Trainline gives 4.2 kg CO2 for the same exact ticket.
Obviously this is a difference in how the calculation is made, as where you buy your tickets doesn't affect your carbon footprint. Ecopassenger.org estimates this same trip at 15 kg CO2 — but in any case the point is that the train is far better than driving (48.4 kg CO2) or flying (122.1 kg CO2). Of course, it's faster and more fun too.
Wrap-Up: The Best Platform for Online Booking of Your European Train Escapades
The top performer in our tests for purchasing mainland European train tickets continues to be
Trainline
. It offers the smartest and cheapest routing options for trains out there, as well as add-on options and comparisons to budget high-speed trains and pan-European bus routes. In short, it's easy to use and can often save us a bit of cash.