Looking to choose the right backpack for overnight hikes or treks? I'm here to guide you with my 10+ years of backpacking experience in all kinds of terrain, including climbing ascents and glacier travel.
A pack that is uncomfortable, breaks, or otherwise fails you can ruin a trek
You wear your backpack for hours and it is heavy, so it has to be a good fit for your body. Trekking with the wrong backpack could ruin your outing. This is a rather lengthy treatise about choosing exactly the right pack, but we think it's worth our time and yours; your back and neck are worth it.
We'll stick mainly to Osprey packs, which I use myself and are the most widely recommended brand (more on why below), but I will also mention a few other, cheaper options.
If you're looking instead for a smaller pack for a mere day-long outing, check instead our in-depth analysis on choosing between Osprey daypacks.
Update History of This Article
This article was first published on January 24, 2020. We have updated it in 2022 and in February 2023 with changes to the Osprey lineups and sizes available, especially for the Sirrus/Stratos.
Osprey Trekking Backpacks: Quick Side-by-Side Comparison of the Best Series
Click on the cute little green plus sign

for more details on each series.
Overall Pros and Cons of the Osprey Brand for Trekking
There are other good brands out there, but I use and recommend Osprey because they have earned their reputation through years of making excellent trekking-specific backpacks. They have great engineering, useful features, and a diverse range of products to fit everyone's needs.
FYI: Neither Osprey nor other brands have ever sent this site a dime. We buy our own packs outright, and our too-meager revenue comes from Amazon and other stores, meaning we can recommend any brands we like.
What's to Love About Osprey Backpacks
Comfort: Osprey backpacks come with a unique suspension technology and padded and ventilated hip belts, shoulder straps, and back panel. If you pack right, it's guaranteed comfort. I always feel good with my packed Aether AG 70L. Women say they get top comfort as well as Osprey has been making female-specific backpacks for 25 years (more on this below).
Ventilation: Seamless mesh used on the shoulder straps, back panel, and hip belts give Osprey packs excellent ventilation when carrying the appropriate weight. This is a must in the mountains, and adventure racer Ben Clark shows us.
Storage: Accessing gear is easy with most packs reviewed. They have a separate compartment for camp gear that you won't need during the day. Good hip belt and water bottle pockets make it easy to access snacks or your camera on the go. You will have room for everything you need (as climber Neil Gresham notes) while also achieving a snug fit for your activities.
Materials: The main material is nylon of varying weights and types depending on the model and the part of the bag. The frames are made of aluminium or LightWire, a light and flexible alloy. Osprey uses tough materials, which are a bit heavier, but also ensures that the packs won't fail in mid-trip. Mine barely has a scratch despite many overnighters and flights. Legendary thru-hiker Andrew Skurka has spoken highly of the Exos/Eja's durability. And all of the other backpacks I review here are even tougher!
Warranty: Osprey quickly repairs or replaces damaged and defective backpacks (and has an excellent history of actually following-through); there is also good customer service.
Incidentally, we've long recommended Osprey carry-on wheeled backpacks for minimalist travel and even larger Osprey wheeled backpacks for much the same reasons; they've held up for a variety of us writers at this site over many years of constant travel.
The Drawbacks to Osprey — but They're Not Weighing Us Down
People into technical sports will find flaws, but Osprey mainly makes packs for backpacking, trekking, and overnight camping. Osprey backpacks don't have a lot of cons for typical backpackers, but here are some factors to consider.
Cost: Quality and excellence come at a cost. There are cheaper packs, but most of them are of an inferior quality. The backpack is what spreads your heavy load on your body. Getting a good one is a worthwhile investment. Gregory and Deuter also make good backpacks that are sometimes cheaper, depending on the model.
Weight: While they are definitely not the heaviest, Osprey trekking backpacks are not the lightest either. Their material, features, and frame make them great in terms of comfort, but generally average in terms of weight. But I do review two of Osprey's lightweight options below.
Rain cover: A rain cover is not always included. In those cases, they are available separately, but at the price these bags cost, it's a feature you might expect to get. An Osprey Ultralight Rain Cover will set you back another $20-40.
Women's vs. Men's Osprey Backpacks: What's the Difference?
Your trekking backpack is a critical piece of equipment you will wear for many hours. When you have so much weight on your back, it's important to have a backpack that fits your physiology to increase comfort, avoid injuries, and make you want to keep doing the activity.
The gendered differences are not mere marketing; they allow you to choose a pack that is closer to your physiology and best transfer weight to the shape of your hips
Most lower-end brands make unisex backpacks. Some are decent and most are attractive pricewise. However, they have limitations in terms of fit at the shoulders, chest, or hips. When you try to fit both women and men, you aim somewhere in the middle and often end up short.
Typically, unisex backpacks tend to fit men better than women. My first trekking backpack was unisex and made by an outdoors retailer's house brand, MEC. I still use it occasionally for day hikes in winter, but I have never taken it on an overnighter since purchasing my Osprey Aether. The quality simply can't compare.
Osprey offers a line for men and one for women. Women-specific backpacks are usually narrower and have a smaller frame as women tend to be smaller than men. Shoulder and sternum straps are also contoured with the female upper body in mind. Finally, hip belts are efficient in transferring weight to the sometimes rounder hips.
Of course you can use this information to choose the pack to best match your body type, wherever you fall on the gender spectrum.
How to Measure Your Torso for Osprey Backpack Sizes
Measuring your upper body is important for choosing the right trekking backpack. Each series has different volumes available (40-70L, etc.), but then each of those packs also generally come in different sizes (S, M, L, XL). Getting the right size allows you to adjust the pack better, thus increasing comfort. Here's what you need to do to get the right measurements:
Locate the level of your hip bones
Identify your C7 vertebra (it's the bone that sticks out at the base of your neck when you bend your head down to your chest)
Measure the distance between the two
Use that measure to choose your size

We've included the size ranges (there's a bit of overlap) for each size backpack in each series description below.
How to Pack your Osprey Backpack for Outdoor Trips
First, fill the bottom compartment. It's usually advertised as being for the sleeping bag. You can put your sleeping bag in there or anything light and bulky, such as clothes, mittens, gloves, etc. You don't want something heavy pulling you down.
Put the rest of your gear in the main compartment, keeping the heavy items close to your back. Make sure to pack carefully as opposed to stuffing everything in.
Use the compression straps to stabilize your load, removing air or dead space. Your pack will become less bulky and look more like a cylinder. This will be easier for you to wear as the pack will be more stable and the center of gravity closer to all ends.
When you put the backpack on, clip the hip belt so that it sits just on top of your hip bone and tighten it until you are comfortable. Make sure it's not rubbing your skin and hurting you. Your hip belt is not a decoration, so use it appropriately.
The shoulder straps should be tight, but not putting too much weight on the shoulders. Otherwise, you will feel discomfort and risk injury.
The anchor points of the shoulder straps to the pack should be about two inches below your shoulders. Your sternum straps should be one inch below the collarbone and allow you to move freely.
Many larger backpacks have load lifters, a small strap linking the top of the back panel and the shoulder strap. Tighten them so the angle between the strap and the top of the back panel is roughly 45 degrees.
In a nutshell, make sure everything feels comfortable before going out. Remember that your hips are strong and should carry a fair share of the weight. When you are on the trails, it's normal for your straps to loosen. Check your fit every few hours.
How to Choose the Volume of Your Backpack
An important part of choosing your backpack is identifying the right model and volume for your needs. Your options start at 40-45L and go up to over 100L. It's not always easy to know which one is the right size for your gear, but I will cover a few questions to help you think about it.
What Will I Use the Backpack for?
It sounds obvious, but ask yourself this seriously. Most people don't have the budget or the space to buy more than one daypack and one trekking backpack. Also, most backpacks are not versatile to the point where they are perfect for hiking in the desert, and winter sports, and urban trips, etc. (though the Atmos/Aura comes close).
If you plan to use the backpack mostly for two-day camping trips for example, your backpack should fit that need. Think of the equipment you will carry and choose a pack that allows you to carry it efficiently. Some backpacks have features that are interesting for camping, but useless if you stay in huts.
What Is My Fitness Level?
Consider the weight you can carry. If you buy a huge backpack, you are likely to fill it, which means it will weigh more. Do you have the fitness level to bring a full 70L backpack on an overnighter in the mountains and still have fun? Lugging a backpack that is too heavy can turn your hike into a death march.
What Equipment Do I Need to Bring?
I went on my first backpack 15 years ago. I was young, in excellent shape, and loved the outdoors. I was an experienced hiker, but only doing daytrips. I planned a 2-day 32-mile loop around a cape with a friend. The elevations were low, but there were many ups and downs.
I had a lot of cooking gear, but when we stopped, I didn't feel like cooking. I brought my tripod, but I was too tired to take any photos. I had a lot of spare clothes, but didn't change. By the end of the weekend, I realized I had packed wrong and my heavy pack had destroyed me.
Before choosing your pack, think of the equipment you really need. Only bring things that are absolutely necessary or can double as something else. Your pot can also be your plate, bowl, and cup. Your change of clothes can also be your dry pajamas.
If you buy a 70L backpack, you will likely fill it. You will have space left and will want to bring that extra down jacket or bowl to eat your pasta. If you think well about what you really need, you will buy the right pack, shed a few extra pounds, and have a more enjoyable outing.
Remember: Shedding weight from your backpack means leaving things that are not necessary. Safety gear is always necessary.
Should I Get a Lighter Backpack?
Lighter backpacks are lighter for a reason. They usually have a smaller frame (or none), less padding, and less features. In other words, they are typically less comfortable when loaded and are not the fanciest.
Not an issue? Then go for it. Your load will be lighter and you will likely enjoy your outing more. I use a 40L backpack on overnight alpine ascents. That means I have what I need to camp, a rope, climbing gear, glacier travel equipment, extra clothes, food, and safety items. Yes, it all fits in a 40L pack and usually nothing hangs or dangles from the sides. How do I do it?
It requires smaller and lighter equipment, and only bringing the essentials. You can also split the weight with your friends. If there are three of you, you don't need three stoves. Think of other items you can share and then stay together on the trail so that you all always have access to everything.
The Top Backpacks for Regular Weekend Adventures
These packs will appeal to the majority of readers. If you do overnight hikes once in a while, sometimes pushing them to two nights, this is the section for you.
Kestrel 48L (Men) / Kyte 46L (Women): Small, Comfortable, Perfect for Trekking to Huts and Lean-Tos
At 48L or 46L, the Kestrel/Kyte are the smallest backpack series in this category. They will appeal to trekkers who don't need a lot of room, but are also interested in durability and features.
These are of a similar size to the backpacks covered next in the "lightweight" series. One of the main distinguishing features of the Kestrel/Kyte is that they have better back panels and better overall suspension. This means they will perform better with heavier loads.
They also come with AirScape back panel technology, which keeps the weight close while allowing airflow. These features increase the weight of the pack, but this category is about comfort.
These packs are perfect if you have small and light gear, but want the comfort a full frame provides. They are also excellent candidates if you will hike from hut to hut, like in the famous treks of Europe, the Tour du Mont Blanc, Chamonix to Zermatt, or the Camino de Santiago. Their size also makes them good options for backpacks in warm and nice weather even if you don't have the lightest equipment.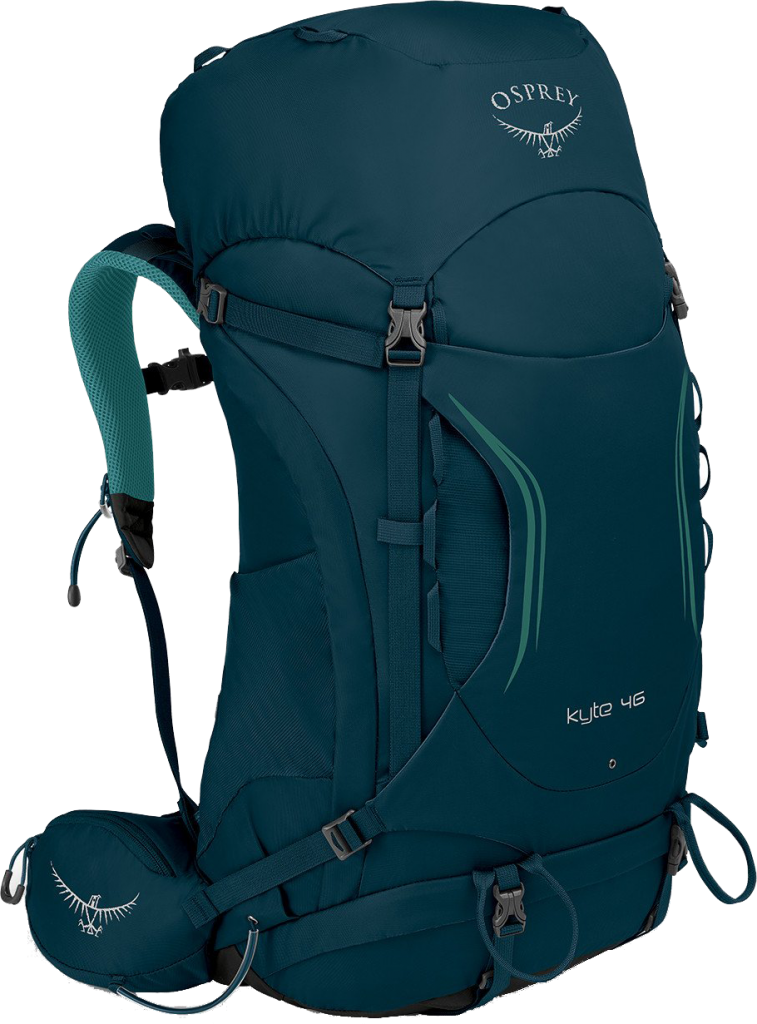 You are ready for wet weather these packs come equipped with rain covers.
The top lid cannot be removed, however. If you hoped to take it off once in a while to reduce weight or use it as a fanny pack for short side trips, the Kestrel/Kyte will not be good fits, and you should consider the Stratos/Sirrius just below.
The Kestrel also comes in 58L and 68L, and the Kyte also comes in 66L. But if you are interested in those sizes, I recommend looking into the Atmos/Aura AG 65L and Aether/Ariel AG 70L described later, as they are superb backpacks.
Torso sizes for the Kestrel (men's):
Small/Medium: 16-20 in / 40.5-51 cm
Medium/Large: 19-23 in / 48-58.5 cm
Torso sizes for the Kyte (women's):
Extra-small/Small: 13-17 in / 33-43 cm
Small/Medium: 16-20 in / 40.5-51 cm
Stratos (Men) / Sirrius (Women) 36L: Smallish, Tough, and Comfortable
The Stratos/Sirrius are perhaps the Kestrel/Kyte's siblings for wet weather with built-in rain covers.
Like all backpacks featured here, the Stratos/Sirrius offer excellent breathability; they have AirSpeed technology, a mesh net that keeps the pack away from your back. This suspension is strong and allows you to carry a good load without issues. The straps offer excellent padding. These features add a bit of weight to the pack, but you gain comfort.
This Stratos/Sirrius offered sizes are smaller than in the Kestrel/Kyte's size range.
I would recommend these packs for trekkers who have small and light gear or those who pack light, for example during summer trips when little gear is required. These are also excellent if you are backpacking using huts or lean-tos for sleeping.
And finally if you want to get into mountaineering, these are good options. They're big enough to carry gear and to still be comfortable for the more technical sections. No one likes to spend much time on technical terrain with a 65-70L on their back.
Torso sizes for the Stratos 36 (men's):
Torso sizes for the Sirrus 36 (women's):
Atmos (Men) / Aura (Women) AG 65L: Osprey's Versatile Classics
These are perhaps Osprey's most popular and versatile trekking backpacks. With legendary comfort, excellent breathability, and the brand's anti-gravity (hence the AG in the name) suspension, the rave reviews are hardly surprising. The AG system is a seamless trampoline-like mesh pad that covers the back panel and the hip belt to distribute the weight and eliminate pressure points.
If you think the two other packs covered above would be too small, or if you like having extra space just in case, consider the Atmos/Aura 65L (also available as a 50L). For one extra pound, you get a backpacking workhorse and 15L of extra space.
The top lid is removable and doubles as a fanny pack. This is perfect for side trips to lakes or to nearby peaks. You can hide your pack along the trail and go light with only a snack, water, and an extra layer of clothing.
The pack's hip belt is interchangeable and adjustable to ensure maximum comfort. This means that if you need to, you can change the hip belt that comes with the packs for a smaller or bigger one to better accommodate your waist.
The rain cover is not included, which is a bummer.
I recommend these packs for weekend adventures. You can even stretch them to a few nights if you want. Packs of this volume give you a lot of freedom and options, even if your equipment is not the smallest, and that's why they're so popular. Out of all the packs I've reviewed here, these are the most versatile as trekkers from all levels can use them and have an excellent experience.
The Atmos/Aura are very comfortable, but a bit heavy. They're also not the best for very heavy loads (45+ pounds). Over that weight, the shoulder straps start moving and the suspension system underperforms. For heavier loads, consider the Aether/Ariel AG below. But for loads under 45 pounds however, the Atmos/Aura AG are the most comfortable options on the market.
Torso sizes for the Atmos (men's):
Small/Medium: 17-20.5 in / 43-52 cm
Large/XL: 19.5-23 in / 49-58.9 cm
Torso sizes for the Aura (women's):
Small/Medium: 13.5-17 in / 34-43 cm
Large/XL: 16-19.5 in / 40.5-49 cm
Candidates from other brands
The Top Lightweight Osprey Backpacks
If you want to reduce the weight you carry, don't need a lot of space, and don't mind simplicity, these packs are for you. They are also excellent for thru-hiking (end-to-end hiking in a single direction).
Talon 44L (Men) / Tempest 40L (Women): The Affordable Lightweight Packs
The Talon/Tempest are good no-frills backpacks for budget-conscious minimalists. When I say no-frills, it's by Osprey's standards. They still come with aluminum frames for better suspension and large comfortable padded hip belts and shoulder straps to distribute the weight. They also have loops for an ice axe if you use it. I recommend the 44/40L sizes, as the other volumes are simply too small for backpacking.
If you are looking at these backpacks, you likely already have smaller and lighter gear and are interested in carrying the lightest load possible while still having a frame. I have used a light frameless non-Osprey 40L pack to go on some ascents wished I had a frame.
These packs are top-loading, which is common for lightweight backpacks. They also have hip belt pockets. They don't have many more features, but if you are considering this pack, you likely don't care. Features add weight and you want to reduce it. Another good reason to invest in this pack is that its smaller size makes you think carefully about what you bring.
I also like the size because you can easily use this bag for long day hikes or for winter outings, especially if you remove the lid — I do it. Packs of 50L or more are too bulky and uncomfortable for day hikes. The Talon/Tempest are very versatile purchases and they win points in my book.
In a nutshell, if you are a backpacker or thru-hiker looking for a light pack with a frame to increase comfort, these are for you. The next packs, the Exos/Eja, have better suspension and ventilation systems, but they are also more expensive. If those are not critical to you or if your budget is limited, I suggest getting the Talon/Tempest and saving a bit of money for another piece of gear.
Torso sizes for the Talon (men's):
Small/Medium: 16-20 in / 41-51 cm
Medium/Large: 19-23 in / 48-58 cm
Torso sizes for the Tempest (women's):
Extra-small/Small: 13-17 in / 33-43 cm
Small/Medium: 16-20 in / 41-51 cm
Exos (Men) / Eja (Women) 48L: The Luxury Lightweight Packs
I consider the Exos/Eja 48L to be small upgrades from the Talon/Tempest if you have the extra cash. They score extra points because of their comfortable shoulder and hip straps and good frames. The padding is minimal to reduce weight, but sufficient. The shoulder straps are perforated, ensuring great ventilation.
As with all lightweight packs, suspension is an issue with heavier loads due to the smaller frame. If you get this pack, make sure it is not loaded with more than 30-35 pounds for best performance.
With all these features, the Exos/Eja are like luxury models in the universe of lightweight packs, for those who are weight-conscious but unwilling to sacrifice comfort. These packs are perfect for backpacking treks — if your gear fits — and thru hikes. But I wouldn't bring such a big pack on day hikes, even with the lid off.
In terms of features, the sleeping pad straps are small and foam mattresses might not fit. If that's your case, you would have to invest in a new pad, cut your current one, or find another way to store it. Also, the Exos/Eja do not have hip belt pockets. I don't really use them, but that could be a major con for some.
So if you want a light pack with a frame that can carry decent weight and still have good ventilation, these could be for you. Trekking with a lighter backpack is easier and more enjoyable.
If you think you will carry more than 35 pounds often, consider a sturdier option, the Stratos/Sirrius above or Atmos/Aura AG also above, for example. Those are not lightweight options; your back will thank you for using them to increase your comfort if you're carrying a bit more.
Torso sizes for the Exos (men's):
Small/Medium: 17-20.5 in / 43-52 cm
Large/Extra-large: 19.5-23 in / 49-58.9 cm
Torso sizes for the Eja (women's):
Extra-small/Small: 13.5-17 in / 34-43 cm
Medium/Large: 16-19.5 in / 40.5-49 cm
Candidate from another brand:
The Best Osprey Backpacks for Longer Expeditions: Aether Plus 70L (Men) / Ariel 65L (Women)
I recommend the Aether Plus 70L/Ariel 65L to support heavier loads. These packs are a bit heavy, but they haul heavy weight like few others. They also feature an anti-gravity suspension system for increased stability and comfort.
The Aether Plus/Ariel is available in smaller and bigger sizes, but I recommend the 70L/65L. The other sizes are good as well, but if you are interested in a smaller pack, look into the Atmos/Aura AG above instead. And the average backpacker won't need more than about 70L. If that is not enough, you are bringing too much gear!
I frequently use my AetherPlus on overnight hikes. I often carry over 45 pounds, either my overnight gear plus my climbing or wife's equipment. I have yet to feel discomfort and the pack always has good breathability. It is also durable and barely has a scratch after having taken some abuse in all seasons.
There is plenty of storage and the organization of the compartments makes it easy to reach practically all your gear without having to go take your pack apart. I'm able to fit all my camp gear in the bottom compartment. There are plenty of loops, pockets, and straps for technical equipment. I use the front mesh pocket for wet equipment I want to dry.
The top lid is removable to reduce weight or use as a small backpack. It is not very comfortable however, so it only works for short side trips. A flap jacket covers the pack when the lid is removed.
Torso sizes for the Aether Plus (men's):
Small: 16-19 in / 40.5-48 cm
Medium: 18-21 in / 46-53 cm
Large: 20-23 in / 51-58.5 cm
Extra-large (70L model only): 22-25 in / 56-63.5 cm
Torso sizes for the Ariel (women's):
Extra-small: 15-17 in / 38-43 cm
Small: 16-19 in / 40.5-48 cm
Medium: 18-21 in / 46-53 cm
Large (65L model only): 20-22 in / 51-56 cm
Wrap-up: And the Very Best Backpack for Your Outdoor Adventure Is…
The backpack you should get depends mainly on your objectives, the gear you carry, and your needs in terms of features and comfort.
If you target performance, want a very light but comfortable option, and can afford it, get the Osprey Exos 48L for men or Osprey Eja 48L for women.

If you backpack once in a while and want space, features, and comfort get the classic Osprey Atmos AG 65L for men or Osprey Aura AG 65L for women.

If you do long treks or activities that require extra gear, get a reliable workhorse: the Osprey Aether Plus 70L for men or Osprey Ariel 65L for women.
Get a pack that is sized right, allows you to bring everything you truly need, has a little extra room for safety gear — an extra layer for example — and fills up to a weight you are comfortable carrying for your planned distances.
Happy trails!