What is the best full-sized luggage with both wheels and backpack straps? We've analyzed all available options as well as the reviews put out by consumer testing organizations, travel bloggers, and professional critics.
This is more than just an obsessive research exercise; after 20-plus combined years of living around the world out of suitcases and backpacks, all of us are rather passionate about having just the right luggage companion that both rolls and perches on our backs when necessary.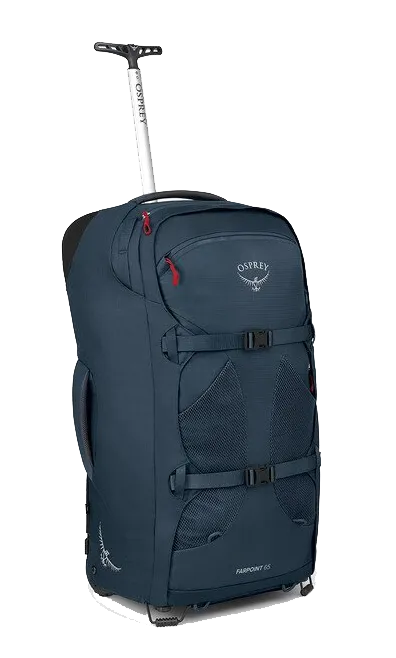 The Best Large Rolling Backpack
We think the best larger (that is, needing to be checked on airlines) travel backpacks are the
Osprey Farpoint 65 (for men)
and
Osprey Fairview 65 (for women)
. They hit the sweet spots in terms of being light, well-built, comfortable, and full of smart, thoughtful features:
Very light for full-sized luggage at just over 6 pounds/just under 3 kilos, with fully padded shoulder harnesses and hip belts making for easy, comfortable carry over distances when needed
Two large wheels with good clearance for gliding over rough terrain
The front panel zips open completely, so there's no need to unpack to get at something in the bottom of the bag
Compatible with the clip-on Osprey Farpoint Fairview Travel Daypack for carrying a large laptop and daytime needs (also works as your carry-on/personal item)
Durable materials, sturdy construction, and with a lifetime guarantee from a company with good follow-through
Update history of this article
Originally published: July 31, 2017. Updated on July 13, July 14, and July 17 2018 with latest info, removed outdated material. Completely rewritten with new recommendations on Feb. 27, 2023. Links were updated for in stock items on May 18, 2023.
This article focuses on all-in-one rolling large-wheeled backpacks for travel. If that's not what you're looking for, we also have articles focused on:
Why Are Rolling Backpacks Best for Travel?
We firmly believe that wheeled travel backpacks are the best way to move your stuff through the world, whether in airports, on European city streets, in Brazilian small towns, or out deep on Chilean trails. We roll them whenever we can, and that isn't just about laziness and saving our backs; not being strapped under a load makes us much more willing to take interesting detours or to drop off our stuff on arrival and still have energy for a night of dancing.
And when the road gets too rough to roll on, full convertibility into a backpackers' pack is a lifesaver. We do this when going off-road, up a staircase, or even hopping onto a city rental bike to get to the final destination.
We (like most seasoned vagabonds/digital nomads) travel as light as possible, and those who are up to going even lighter should check out the rolling backpack carry-on that we recommend. But if you just can't whittle your load down to a carry-on, or if you are travelling in a two-or-more-some and want to carry one consolidated bag, a large rolling backpack is a convenient and comfortable delight.
Our Top Pick: The Osprey Farpoint / Fairview Wheels 65
Osprey is a popular brand among the very well-traveled and among traditional backpackers; our top wilderness trekking backpack picks inevitably tend towards Osprey as well. The company has built up a reputation for serving us well post-sale through follow-up on its "All-Mighty" guarantee, which covers just about anything that could go wrong, for life.
Osprey's packs are thoughtfully designed, lightweight, and durable — but this is also true for packs from a few great backpack competitors. Osprey really stands out from them though in its dedication to providing a small range of seriously well-designed packs with wheels.
Osprey excels in particular by offering both full, comfortable shoulder-and-hip harnesses for long periods of carrying and sturdy wheels with high clearance for pulling over rougher terrain.
Key Advantages of the Osprey Farpoint / Fairview Wheels 65 Travel Packs
Durability: Past Osprey wheeled travel packs that I have used have held up for many years of my constant on-the-road nomadism. (I would still be recommending those same packs, but they have been discontinued in favor of these very similar Farpoint / Fairview models.) From what I can tell so far with using the Farpoint Wheels, it is just as sturdily built and so I expect it to hold up for a long time too. As with other new models, Osprey has switched the Farpoint / Fairview series to 210D and 500D recycled high tenacity nylon in an eye to its sustainability goals. I do not notice a difference in quality with this material change and remain pleased. The waterproofing treatment is PFAS-free, which is better for both humans and the environment. The construction appears to be just as sturdy as with all Osprey packs I've used. If something does nevertheless go wrong, there's a lifetime warranty that Osprey has a good history of following through on.
Easy rolling: With a 65L-capacity you can carry a serious load (enough to travel for years in my case), and you'll probably thus want to roll it whenever you can. The Farpoint / Fairview wheels are large and the housing is slightly raised so that you have good clearance on rough roads—a lesson I learned the importance of using a standard wheeled suitcase long ago in São Paulo, which quickly destroyed the tiny wheels on the stupidly heavy load I then carried. I've found that Osprey's wheel design makes their packs easy to roll on sidewalks and side streets in Latin America and Italy where the only other wheels to hit such pavement are often motorcycles.
Comfortable backpack carrying: When I'm on the streets of Maputo, going up and down the stairs of the Paris metro, and ascending streets in Alfama, Lisbon, however, I carry my pack on my back. For the Farpoint and Fairview Wheeled Travel Packs, Osprey has used essentially the same wonderful padded harnesses as you see on its trekking packs, which can be worn comfortably all day if needed. They fully adjust to various torso sizes and shapes, are well padded and ventilated for air flow, and distribute weight lower to keep it off of your shoulders. If you get the compatible Farpoint Fairview Daypack you can clip it to the front of the shoulder harness, keeping your valuables within view and helping to balance the weight. The whole shoulder harness system zips quickly and safely out of the way when not in use.
Minimalist organization: There is a top pocket for easy access to a toiletry bag or other items you want to get to quickly as well as an internal mesh pocket which can be good for separating dirty laundry as you travel. Other than that you divide the space as you wish, likely using packing cubes. Internal and external compression straps can help cinch the pack down (and distribute the weight properly if used as a backpack). There are external lash points for additional gear.
A Few Disadvantages to Be Aware of
As with any wheeled backpack, having both wheels and backpack straps takes up a bit of extra space/weight. They're very light and unobtrusive with Osprey's design, but if you don't actually need the flexibility of both, consider instead Osprey's wheeled travel packs or else the Osprey trekking bags we compared here.
Osprey's bags are more expensive than some of the cheap, non-branded options you sometimes find on Amazon. After quickly breaking a couple of wheeled backpacks in my travels, I'm happy to spend a bit more. But if you rarely travel, Osprey's options may be overkill.
Personally, I would prefer to have inside side pockets on the walls of the luggage for small items, rather than relying only on packing cubes for organization.
There is no laptop/document sleeve. This is why, again, we recommend pairing this with a daypack, especially the compatible Farpoint Fairview Travel Daypack, which has space for a large laptop and is a good place to keep valuables closer at hand when checking your larger pack.
F.A.Q. and Quick Specs
Q: What is the difference between the Farpoint Wheeled Travel Pack 65 and the Fairview Wheeled Travel Pack 65?
A: The Farpoint series is marketed to men and the Fairview to women. But both wheeled backpacks have exactly the same external size dimensions, internal volumes, and weights. As with Osprey trekking packs, the difference is in how the shoulder harness and hip straps are designed.
The Fairview series is designed for the somewhat shorter torsos women frequently have as well as for their hips, necks, shoulders, and chests. The Farpoint is designed for men's often longer torsos. Note however that both packs' harnesses are quite adjustable and the differences are really minimal.
Q: Can you take the Osprey Farpoint / Fairview Wheeled Travel Pack 65 as a carry-on?
A: In most situations, no. The top-to-bottom height (27.6 in. / 70 cm.) in particular makes the 65-liter versions of the Farpoint/Fairview Wheeled Travel Packs too large for airline and European budget train carry-on size restrictions. If you're looking for a carry-on, downsize to the quite similar Farpoint/ Fairview Wheeled Travel Packs, which do generally fit global carry-on requirements. Or check your 65L pack and use the clip-on Farpoint Fairview Travel Daypack as your carry-on (my recommendation).
That said, gate attendants often let it go when someone enters carrying a trekking backpack as a carry-on, since they tend to be able to squish into sizing containers anyway. So you could try taking the 65 liter packs and see what happens.
Q. Are the Osprey Farpoint / Fairview Wheeled Travel Pack 65 good for trekking?
A: These make excellent trekking packs, as the shoulder harness and hip belt are comfortable for long periods of carrying. However, serious trekkers like to reduce their weight, and will find the wheels on these packs to be rather unnecessary. If you're looking for a pack only for trekking (not rolling), check out instead the other, non-wheeled options in the Osprey Farpoint / Fairview series.
Q: Which Osprey full-sized backpacks have wheels?
A: The only currently produced Osprey backpacks with wheels are the Farpoint / Fairview Wheeled Travel Packs that we're reviewing here. Previously, we have liked, used, and recommended the large wheeled Osprey backpacks from the (now apparently discontinued) Meridian, Ozone, and Sojourn series.
Q: Is Osprey a luxury brand?
A: Osprey packs' pricing is at a midpoint between cheap (and shoddy) materials and zippers in wheeled bags from places like Walmart and high-end expensive suitcases, which tend to have excellent materials but be heavier and less practical.
Osprey focuses, excellent materials, lasting construction, and practicality and a simple aesthetic for serious travellers. So we would not call it a luxury brand, and that's a good thing.
Specs in detail
Use the

below to expand for more info. Note that the specs for these bags are the same.