For years we've been travelling with and recommending a few key Osprey pieces. And we think it's important to travel with a detached daypack; they serve to keep key valuables close at hand while in transit as well as to accompany us on long city or countryside daytime outings.
The Daylite series from Osprey has three very similar daypacks. From smallest to largest, they are: the Osprey Daylite, Osprey Daylite Plus, and Osprey Daylite Travel Pack. The Plus and Travel also tack on a few extra features that can make them more worthwhile for some, especially if you're planning to carry tech gear like a laptop.
Note that we also recommend Osprey's wheeled bags/backpack combos that come with their own excellent, quite similar detachable daypacks. If you think that may interest you, take a gander at our small (carry-on) rolling backpack recommendation and favorite large (checked bag) wheeled backpack.
But if you've already got a favorite Osprey wheeled piece or backpack, the Daylites are excellent add-ons as they attach to a broad variety of Osprey luggage (see the chart below). They can for example clip onto a range of Osprey's hiking and trekking backpacks (reviewed here).
We've found Osprey's own descriptions of the Daylite, Daylite Plus, and Daylite Travel to be a bit vague and jargony, so we're happy to better explain their features. Here we offer our own quick side-by-side comparison and then dive further into our thoughts below.
Update history of this article
Originally published February 28, 2019. Completely redone on September 10, 2020 to update info, add photos, and add the Daylite Travel.
Quick Comparison Table: Osprey Daylite and Daylite Plus Daypacks
Why These Daypacks are Great — Despite a Few Downsides
Osprey packs are generally at the top of our lists for great lightweight luggage — and we use them ourselves as we wander the world while writing for this site. Packs like the Daylite series straddle the line well between classy urban and rugged adventure in both style and features.
In terms of cost, the Daylite, Daylite Plus, and Daylite Travel are in the middle. They're not the most expensive (showy, fashiony) bags out there, nor are they the cheapest.
They have quite a lot in common; here are the pros and cons of the Daylite daypacks.
Pros of the Osprey Daylite daypacks
Lightweight at just under (Daylite) and just over (Daylite Plus and Daylite Travel) a pound; you're not carrying around a lot of extra weight for the packs themselves.
Thoughtful pockets with good day-to-day features, without extra unnecessary pockets
Quality, durable materials and construction; the 210D nylon and 400HD nylon have held up well over years in reports from customers and long-term reviewers, as have the zippers, stitching and buckles. At last update I've had my Daylite Travel for 9 months with no visible wear; my other Osprey packs have survived many years of constant road abuse with no issues.
Backed by Osprey's excellent lifetime warranty and reputation for follow-up with customers who do have eventual complaints
All three are quite comfortable to carry. The shoulder straps are padded and ventilated, as is the back panel, walking the line between offering generous padding and letting as much air-flow as possible.
Cons of the Osprey Daylite daypacks
There are a few downsides to be aware of.
The Daylite and Daylite Plus have a very thin hip strap but it's not padded and not useful if you really needed to support weight on your hips. This is unlikely in any case with small daypacks. Rock climbers or those in other very energetic activities may have a use for this strap to keep the pack in place, but otherwise you'll likely just not use it — it's removable, fortunately.
They both can clip onto a variety of Osprey packs as listed in the table above, but they do not fully zip into packs the way that integrated packs do, for example the Osprey Meridian 75L with its daypack.
The Daylite is not suitable for carrying a laptop as its interior slot is small and not padded; if you'll be carrying a laptop go instead for the Daylite Plus or Daylite Travel.
The quick-access pocket is easy for villains to get into as well. Don't stash valuables there when in crowded city environments; use the inside sleeve instead or a nifty money belt like this one. The Daylite Travel has a hidden interior pocket that is a lovely solution designed just for such valuables.
Best for Super-Light Daytime Adventures: The Osprey Daylite
Osprey Daylite Daypack
is its slightly smaller size and lighter weight. But we emphasize
slightly
here, as all three bags are about the same height and the Daylite Plus and Travel are just progressively a bit wider and deeper, and weigh a few ounces more.
The bag, as we noted above, is quite well built and other reviewers found that it held up well too, even after a lot of abuse. Osprey bags are quite practically designed and comfortable to carry and this is no exception.
Having less space to pack can also itself be an advantage, as I've discovered in my years roaming the globe with just a carry-on. Give yourself just the 13L space of the Daylite, and you're less likely to take more than you need for day on the town or out hiking. It's more than enough space for most practical day trips.
The Daylite also runs a bit cheaper than the Daylite Plus; check above in the table for our best links to the latest pricing.
The slick video review below goes methodically through the Daylite's features with good close-ups of each.
A Bit Larger, Can Carry a Laptop/Tablet, Still Outdoorsy: The Osprey Daylite Plus
Osprey Daylite Plus Daypack
is like the Daylite but just a bit wider and especially deeper. Because Osprey uses such lightweight 210D nylon this really doesn't make much difference on the final weight of the bag itself.
The Daylite Plus also has a few extra features that we think are key. While both have inner sleeves, the Daylite Plus' sleeve is padded and can fit any normal mid-sized (15-inch) laptop. Due to the padding we're also more apt to trust it with other electronics like tablets.
Another feature, unique to the Daylite Plus, is the "shove it pocket" on the back, a surprisingly useful place to stash a neck gaiter, small umbrella, or bread roll. There is also a zippered pocket built into this pocket.
While we're obviously minimalists around here and stress travelling as light as possible, we don't think it's a crime to move up to the space allowed with the 20L daypack for your daylong travel adventures. Sometimes you pick more things up during the day, and that extra space can come in handy.
We'd opt for the extra space of the 20L Daylite Plus in particular if you're in environments with changing temperatures and might want to have an extra sweatshirt or light jacket on hand.
The following is the best video review we've seen; it opens up the Daylite Plus and shows its guts and features close up.
The Best for Travel with a Laptop: The Osprey Daylite Travel Pack
Osprey Daylite Travel Pack
is like the Daylite Plus but with features a bit more geared for the traveller rather than a hiker.
The Daylite Travel Pack has a fully featured interior padded hanging laptop sleeve with two organizational mesh pockets for tablets or Kindles. Just above the laptop area, there's a tucked away, quite subtle but still accessible "hidden pocket" for a passport and cash and the like.
The thing that makes the Daylite Travel stand out from the other two Daylite daypacks is the zip-around accordion that allows the pack to expand when necessary. This is a lifesaver in a pinch; I usually leave it zipped to keep the pack thin but it's nice to expand when I need to.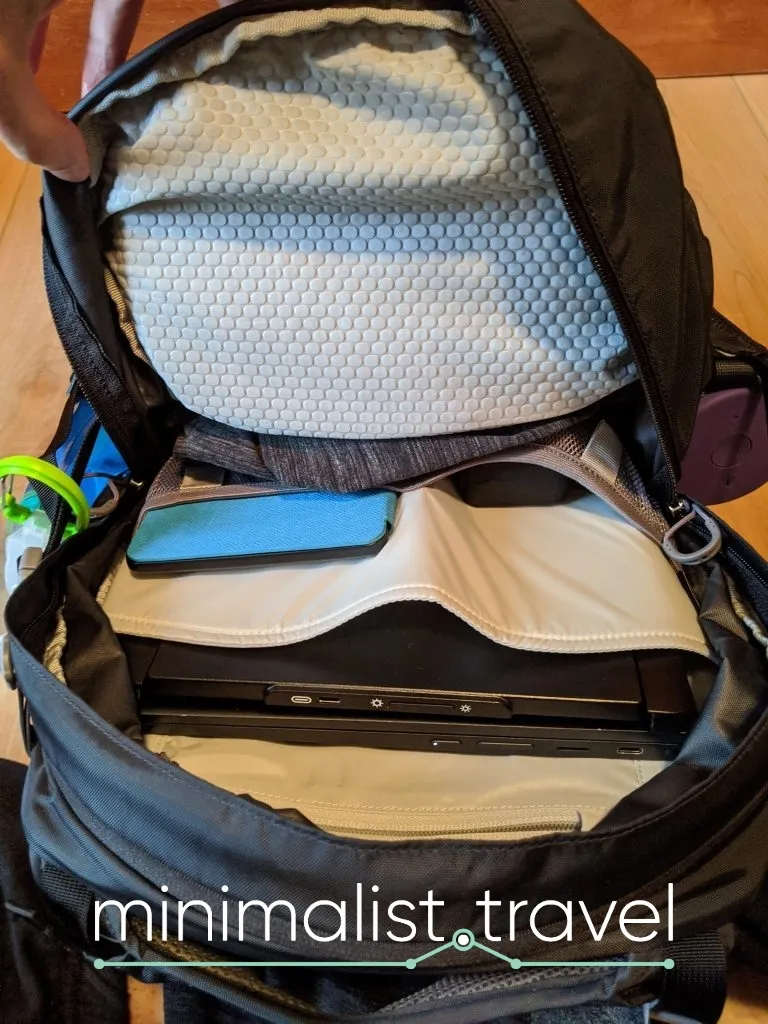 The Daylite Travel Pack is my favorite and it's the most fully featured of the three; it also tends to run just a bit more expensive. But for just slightly extra weight and cost, you get a more fully featured, travel-ready pack that you can use on the road; the Daylite and the Daylite Plus are more specifically suited for hiking.
Roundup: Which Osprey Daylite Backpack Is Best for You?
They're all great; we'd get the Daylite for easy outdoor hikes, the Daylite Plus for all-weather outdoor hikes or when a bit more gear is needed, and the Daylite Travel if carrying electronics such as a laptop, and for any general travel use.
Osprey Daylite Daypack
A feature-rich but very light and durable daypack; the inner sleeve is smaller and not padded
Osprey Daylite Plus Daypack
The same but with 35% more interior space, a padded laptop sleeve, and an extra outer open pocket and zip pocket on the back
Osprey Daylite Travel Pack
More roomy than the Plus when expanded, a padded laptop sleeve with tablet pockets, a hidden inner pocket for passports, and other travel features