A good daypack makes travel a lot easier. It keeps a few essentials—a water bottle, snacks, a book, an umbrella, an extra clothing layer—close at hand, but is light enough that you forget you're wearing it.
It's also easy to carry alongside the rest of your luggage when it's time to move on, preferably by attaching to it.
I have updated my daypack after trying out quite a few, and am happy to recommend what I'm currently using for juants around Europe.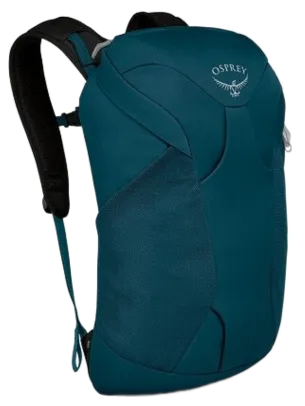 My Current Favorite Travel Daypack
A sleek option for porting day-to-day essentials while traveling is the
Osprey Farpoint Fairview Travel Daypack
. I use it because it:
Can carry a large laptop or hydration reservoir in its padded sleeve
Holds gear close to the body; it's not too big nor too small
Has a practical set of pockets and other features, keeping things accessible and yet protected
Is lightweight and extremely well built
I use it on its own in daily activities, and attach it to rolling luggage or backpacks on travel days.
At Amazon
At Osprey USA
This article gets updates from real, sweaty, human travel writers
This article was first published on June 27, 2023. We'll update with the condition of the bag as it gets more use.
Why I Chose the Osprey Farpoint Fairview Travel Daypack as My Favorite for Travel
After a couple of decades of constant nomadism, I have gone more and more minimalist, but still always travel with a daypack that is separate from my main luggage.
Here's why, what I need from a daypack, and how this particular Osprey option is so gravy in meeting my needs:
On daytime travel adventures, having a separate daypack allows me to have on hand what I need without completely unpacking everything from my main pack (even when my main pack could be small enough to work as a daypack). On arrival in a new place, I can hang my main luggage from a travel hook, take out just what I need for the day, and leave the rest neatly ready to go.
On travel days (bus, plane, train, whatever) the daypack can always stay by my side, for example if I have to check (or gate check) bags for a flight, or place luggage on the racks at the end of a French train car. The daypack should be small enough to go under the seat in front of me as a "personal item" on a plane or train.
While traveling (and sometimes while visiting sites) the daypack is for carrying valuables. Any good travel daypack should have an inside pocket that is suitable for securing money, a wallet, tickets, and a passport.
A good daypack should have a laptop sleeve for travel with a laptop, tablet, or even books or a paper notebook or documents. The Farpoint Fairview's sleeve is suitable for 16″ laptops, and also functions as a hydration sleeve, which I've never used but is great for folks who do a lot more outdoorsy stuff with the pack.
A daypack should attach to my main luggage piece for easier carrying; either to the front if using a trekking backpack or to your rolling luggage piece. The Farpoint Fairview does both. We travelers should be able to carry our luggage easily, and for as long as needed.
A daypack should be stylish, comfortable, and convenient enough that you're happy to have it with you throughout the day (and remember that daily companion will likely sneak into some of your travel pictures too).
Key Advantages of the Osprey Farpoint Fairview Travel Daypack
• The Farpoint Fairview is very light at 1.2 pounds / .5 kilos, adding very negligible weight to your total travel gear and making it easy to carry for long stretches.
• The daypack is nevertheless quite sturdily built. I've used Osprey packs for more than a decade of nearly constant travel and I have yet to have one give out on me. But should you have issues, there is a worldwide guarantee, for life, and Osprey has a reputation for making good on it. I will update this article going forward with how this particular bag holds up on the road. This daypack is made top to bottom from 450D recycled twist dobby polyester.
• The daypack's structure is a bit flat and wide, which is perfect for a daypack. It keeps a laptop and other items closer to your body, lightening the load on your shoulders. The 15L volume is smaller than a typical high school backpack but large enough for most daily needs while visiting a city or tourist sites. The back panel has a mesh material that supposedly allows some air flow, though it's not going to do any miracles on a hot day.
• There are organizational pockets for key travel functions, without any overkill:
There is an outside top pocket for quick-access items; it is quite deep and could even hold a small toiletry kit like this one.
There is an inside pocket on the laptop sleeve that is suitable for passports, wallets, a phone, and other things that you want to keep away from pickpockets but nevertheless not difficult to find when you need them. It has a key fob to hold your keys, but release them easily from the clip.
The laptop sleeve doubles as a hydration sleeve with two subtle access points (on either side) for those who use a water reservoir. Obviously you should not put water and a laptop in there at the same time. I am able to carry not only a laptop but also my portable second screen in that sleeve, which I use for my digital nomad-style standing desk.
The two outside vertical mesh pockets appear to be quite sturdy and reinforced (this is a common failure point in other backpacks). They are deep enough for tall thermoses or just about any pocket umbrella; they are also good for separating wet items like a small rain jacket or swimsuit.
• The Farpoint Fairview Travel Daypack is designed to clip onto other compatible Osprey packs' shoulder straps with two small clips that pop out of the daypack's shoulder sleeves. This allows you to carry the daypack on your front while carrying another bag on your back—balancing your load and keeping your valuables in sight in front of you and in reach. Osprey says that it is compatible with all other Farpoint (for men) and Fairview (for women) travel packs and, my favorite, their large and carry-on-sized wheeled backpacks. I have checked these shoulder clips, and they are exactly the same as previous Daylite daypacks, so the Osprey Farpoint Fairview should also be compatible with all Osprey packs in the Aether/Ariel, Porter, Sojourn, and Volt/Viva series. I have tried carrying the daypack on the front and a Farpoint on my back, and it's comfortable—and super easy to get on and off, which is key.
• I'm lazy, so I'm more likely to roll my pack whenever I can. In those cases, I can slip the Osprey Farpoint or Fairview Wheeled packs' external compression straps through the passthrough points on the back of the pack and it is ready to be rolled. This is my favorite way to go, though there is a small risk of tipping if the main pack is too light and the daypack is too heavy. The daypack can also attach to any main luggage piece with such straps (or attachment points where you can add two straps). The daypack's passthrough points are also convenient for attaching other things.
• The daypack is Bluesign approved (meaning that it meets standards for the environment and for people making the pack) and uses PFAS-free DWR (water protection).
• There are a few other small, practical features: the sternum strap doubles as a safety whistle (and it's very loud) and the zippers are lockable with any luggage lock.
• There are a variety of muted-but-shimmery color options. I've got a blue-grey one, and it doesn't scream for attention but it does, in my opinion, look classy.
• I don't like the bright red zipper pulls. I find the color detracts from the otherwise sleek appearance, though their color does make them easy to find, which is presumably the point.
• There is no pass-through sleeve for placing the daypack on top of a rolling luggage piece with a telescoped handle. For similar options from Osprey that have a pass-through sleeve, consider Daylite Expandable 26+6, Transporter Boarding Bag, or the Ozone Boarding Bag.
• While much cheaper than most Osprey backpacks, this daypack is still a bit expensive, and there are cheaper, generic options that won't hold up as well (the fabric and zippers are not as durable) but could be worthwhile if you don't travel a lot.
Alternatives to the Osprey Farpoint Fairview Daypack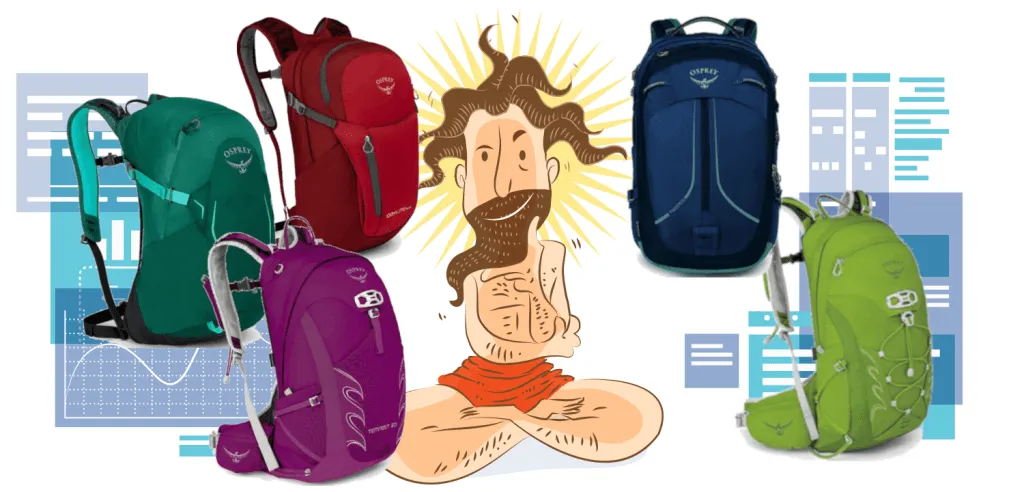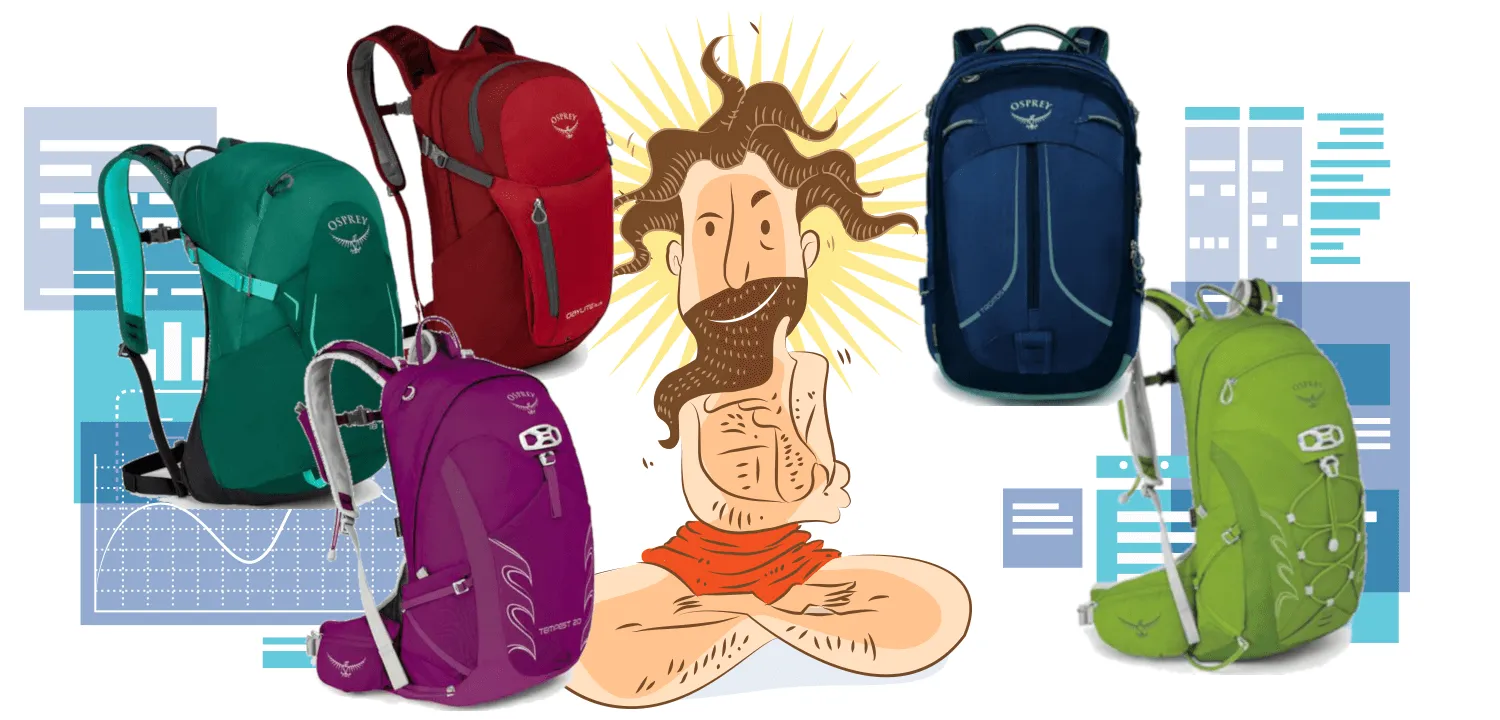 We have written about the enormous range of Osprey daypacks and while I think the Farpoint Fairview Daypack is the best option for almost any travel use, we cover other options for daily use that can hold more gear, be used for climbing, and other specific goals.
Osprey Farpoint Fairview Daypack: Specs and Shopping Options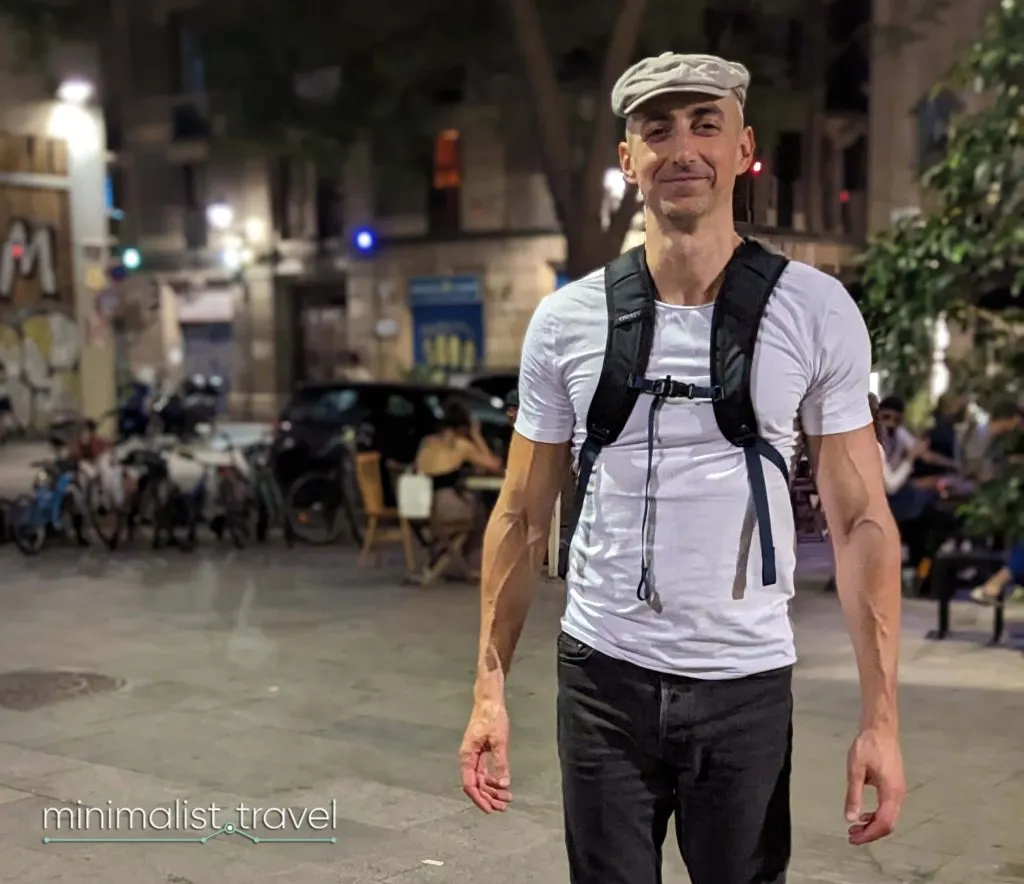 Feel free to share your relevant daypack recommendations, experiences, and questions in the comments; we do our best to respond and this helps us keep our reviews relevant and up-to-date.