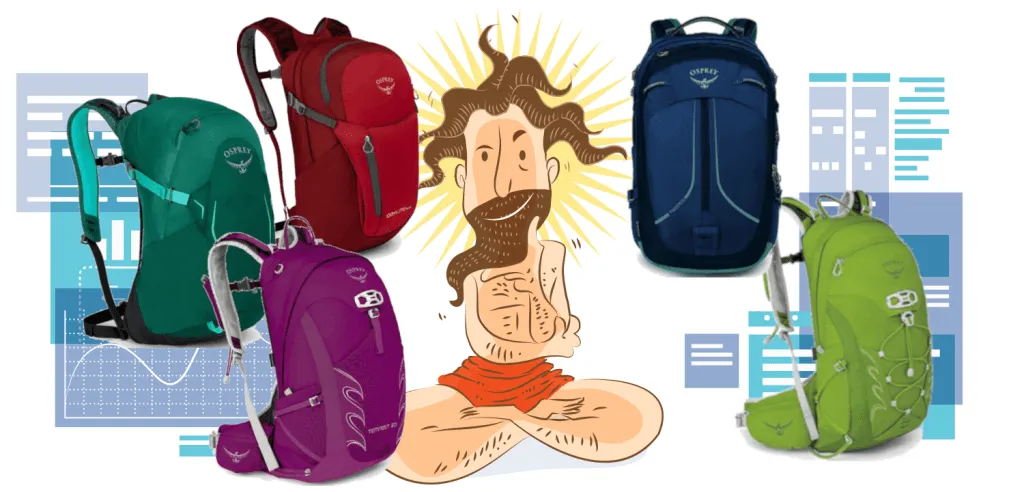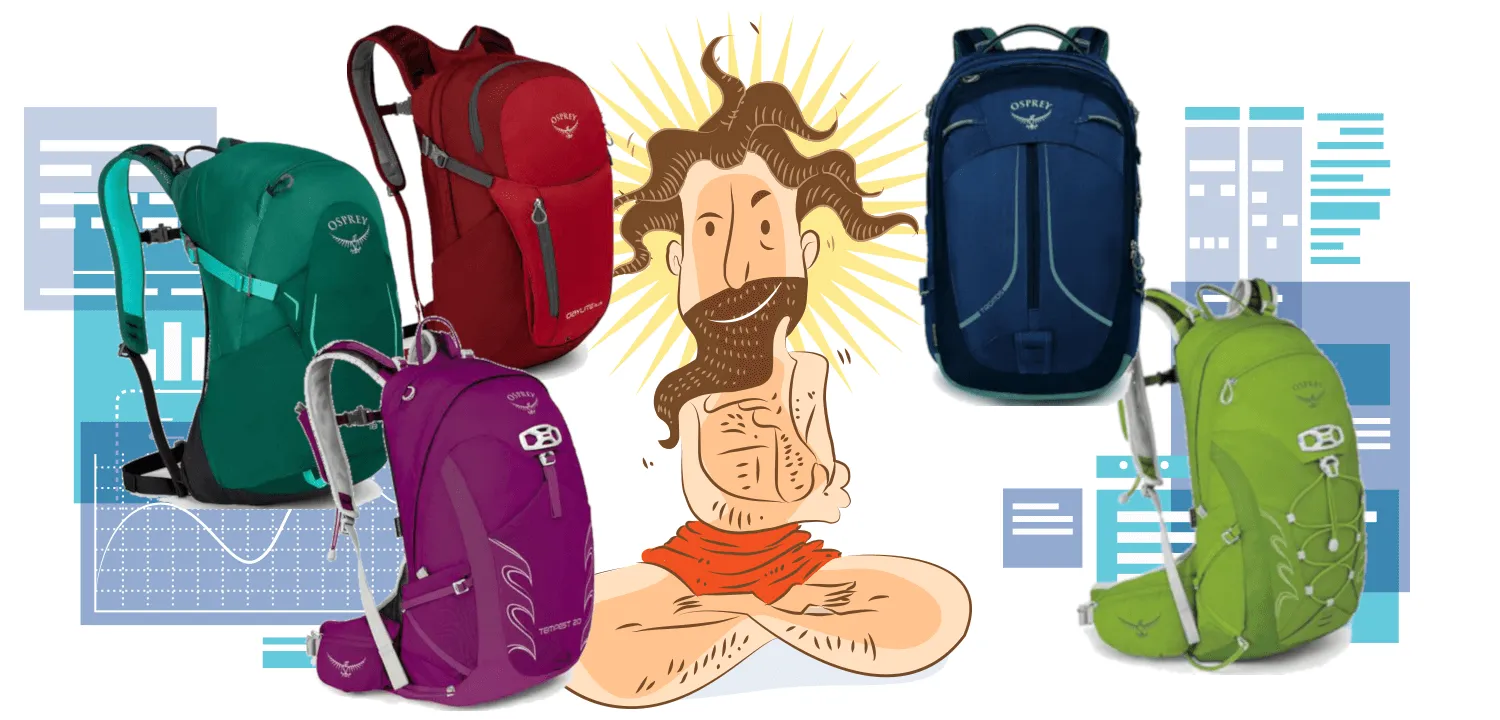 I'm obsessed with lightweight travel and have been using Osprey packs and daypacks for years. I also think they're very much worth recommending for school, hiking, cycling, outdoor sports, shopping, carrying laptops and gear for work, and more.
I'm now here with my tiny team of researchers and adventurers to help you decide which of the wide range of Osprey daypacks is right for which use — this based on our experience of them and absorbing every quality review out there (which we link to in this post).
Unfortunately, Osprey's over-the-top creativity in naming, e.g., Daylite, Hikelite, Heritage, Apogee, Aphelia, Centauri, Arcane, and Transporter, don't really help much in determining which daypack is for which whom. And the guidance that comes directly from Osprey is maze-like and repetitive without actually providing much concrete insight. (Hey kids, here's an example of truly awful product copywriting: "Its lightweight [sic], simplicity, durability, comfortable carry and price has proven to be wildly popular, and today their popularity is undeniable.")
Fortunately, Osprey's actual bags are much more carefully thought out than their writing—and are expertly built and durable. So we're here to give you the real low-down. We've picked the top Osprey daypacks (the bestselling and our favorites) and put them side by-side with mini-reviews of each option and explanations of whom it might be for.
What we don't cover in this article are bags for extended travel. If you're going on a trip, consider instead either the Osprey wheeled carry-on backpacks or the full-sized wheeled backpacks — both come with their own excellent detachable daypacks. And if you're going on multi-day jaunts, check out our review of the full range of larger Osprey trekking and hiking backpacks.
FAQs on Osprey Daypacks
What is the best Osprey daypack?
This depends on what you're using it for, silly, but our favorites are:
What is the best Osprey daypack for use while travelling with other Osprey packs?
The Daylite series packs explained below are compatible with and can be clipped onto the major lines of Osprey backpacking packs or have a luggage handle pass-through sleeve.
Which Osprey daypack is best for big laptops?
The Arcane Tote, Flap, and XL below have padded laptop sleeves advertised for a 16-inch laptop, and depending on your laptop's specific dimensions may be able to handle one that is a bit larger. Likewise, the Transporter Roll Top below can carry a large, 16-inch laptop in a relatively compact and very weather-resistant package.
Are Osprey daypacks worth the (somewhat) higher price?
Osprey does not make the cheapest backpacks, but given the quality of their materials, design, and construction, the prices are excellent. They come with a lifetime warranty and Osprey has a reputation for making things right if the daypacks ever fail.
We consider Osprey daypacks a worthwhile long-term investment—having a quality day pack prevents us from having to buy another one a few years later, and also from damaging our gear. Most of the daypacks discussed here—particularly the Heritage series, are also quite versatile, so one daypack can fulfill multiple uses.
Do Osprey daypacks fit carry-on requirements?
The Osprey daypacks covered here are all well within nearly all international and USA carry-on standards, though of course airline size requirements will vary. The sleeker, 20-25L bags will often be acceptable for USA airlines' "personal item" size standards and so can be carried alongside a fuller-sized carry-on.
These are general guidelines; it is always necessary to check particular airlines sizing standards when flying. We ourselves have never been stopped and asked to check the size of our Osprey daypacks when flying with them as carry-ons in a number of countries.
Overall Pros and Cons of Osprey Daypacks
I have no qualms in recommending Osprey as I've been using the brand's packs myself for years as I travel the globe writing for this site.
Osprey daypacks vary between themselves depending on intended use, but they do share some overall features, quality build, and the singular Osprey aesthetic.
Pros of Osprey Daypacks
Osprey daypacks are extremely lightweight, with the standard daypacks ranging in our selection from just under a pound (half-kilo) to just over two pounds (one kilo). The packable, simple Ultralight Stuff packs are even lighter.
The pocket situation generally offers a good balance for each type of bag depending on activity — and since there are so many different options you're sure to have a bag that offers the right level of organization and device protection without any confusing pocket overkill. (Too many pockets will add weight and also make it harder to figure out where you have stashed things when you're on the go.)
Quality materials: Osprey daypacks generally use 210D nylon bodies and even tougher 400HD or 420HD nylon for their bottoms, they are tougher than the cheap PP or polyester used in cheap bags and lighter than the waxed cotton canvas that was once popular. In a move towards better sustainability, some of the newer packs (e.g., the Heritage and Arcane series) use Bluesign-approved recycled high tenacity nylon, or (as with the renewed Daylite series) Bluesign-approved 300D and 600D recycled polyester. The zippers and buckles are of very high quality and tend to hold up well over the years. Backpackers like me buy an Osprey for life and expect it to last. We're generally pleased with the results.
All daypacks are backed by Osprey's excellent lifetime warranty and reputation for follow-up with customers if something does go wrong.
These daypacks are comfortable to carry; they offer good ventilation on the back panel and shoulder-friendly padded harnesses/shoulder straps.
Cons of the Osprey Daypacks
There are a few general downsides, though they generally haven't held us back from recommending and using these bags.
Not the cheapest backpacks out there: While Osprey is also not most expensive daypack designer, and we don't consider the brand to be overpriced in most cases, you can definitely find good-enough generic backpacks out there without all that Osprey charm and perhaps overkill in terms of rough-and-tumble durability. Here's a list of the top-rated cheapos from Amazon.
Only the Daylite bags can attach directly onto Osprey's other backpacking packs. For longer travel, another option is to buy a larger pack that comes with a detachable daypack (doubling as the head of the bag), like the Aether/Ariel series of backpacking packs.
The sportier bags are not suitable for carrying laptops (as detailed in the tables); the Daylite Travel Plus is OK for smaller laptops and the Nebula/Nova, Heritage Series, Arcane Series, and Transporter series are the best choices for medium to larger laptops and tech gear.
There are a variety of quick-access pockets on many of these bags which can be targets for pickpockets in crowded places. Such pockets are better for things of little value, not for your passport and money, which should be in the inside pockets. You can also wear the bags in front of your torso in crowded places and pick up a smart, modern money belt.
Are Osprey Daypacks Water Resistant or Waterproof?
To be marketed as "waterproof", backpacks would have to be shown to be submersible underwater and still keep their contents dry; no normal daypacks are built for scuba diving and Osprey's are no exception.
All Osprey Daypacks are made of highly durable materials, as noted above, and will provide a good degree of water resistance. Also, Osprey carefully constructs its reinforced seams and uses quality zippers with protective flaps over them that are key for protection from water in a downpour.
Osprey daypacks are much more likely to withstand a heavy rain than cheaper, lower quality polyester or PP bags, even when those materials have a water-resistant coating. Such coatings tend to wear off and in any case water gets in mainly through looser seams and crummier zippers on such bags. And older canvas bags, while well-built, will soak up water, especially after any coating has worn off.
Some of Osprey's newer bags made with recycled materials are treated with PFC-free DWR, which means "durable water repellency" treatments that do not use PFCs, the environmentally disastrous perfluorochemicals.
To share my personal experience, I'm not the sort of person to carry an umbrella; my Osprey Daylite has been caught in the rain with me a number of times and my papers and computer have come out dry and in good shape. I, on the other hand, came out a sopping wet idiot.
So for most people, the standard water resistance these Osprey Daypacks offer is likely enough. But if you're going to frequently be in long periods in heavy rain—urban bikers in the American Northwest, for example—you'll likely want to also get a rain cover or a daypack from the Transporter series, either of which will more completely protect your gear.
The Osprey Hikelite discussed below has a built-in rain cover. Otherwise, you can buy a rain cover separately; Osprey offers the following options:
If in doubt, choose a size larger, especially if you carry gear in outside pockets.
Here are other raincover options if the Osprey raincovers are out of stock at the moment.
Finally, for those who want a daypack that packs down quite small and is suitable for travel to very rainy environments, the best option would be the Ultralight Dry Stuff pack discussed below.
Women's vs. Men's Osprey Daypacks: The Differences
Osprey's are in a few cases gender-specific, though most are unisex. Broadly speaking, dedicated women's Osprey packs are designed with slightly changed angles in the padding around the hips, to allow women to use their often rounder hips to better support more weight there. Women's packs are also generally a bit shorter and narrower than the men's or unisex counterparts.
This does not make as much of a difference with Osprey daypacks, as they are not generally designed for carrying a lot of weight on the hips. The sportier packs with thin hip straps are meant merely to secure the pack if you're running, scrambling, or biking over bumpy terrain.
In any case, the main thing to note with gendered daypacks is size. If you're a man with a shorter torso, you may prefer a women's daypack in some cases, and likewise, if you're a woman with a longer torso you might prefer the daypacks marketed to men. In cases where these packs are not one-size-fits-all, we've listed the torso length ranges (see next section) so that you can get the exact right size.
You'll also notice in our tables listing each daypack's details that the women's packs are sometimes designed to carry just a few liters less than the men's counterparts — something to consider if you want to scale down or up just a bit from a particular pack.
And finally, Osprey hasn't quite caught on to post-gendered-color-consciousness and offers slightly different color options in some cases for women and for men.
The features and pockets on men's vs. women's Osprey daypacks are the same.
Guys, if you're concerned, there's nothing particularly "girly-looking" about Osprey's "women's" daypacks. If you have a shorter torso or want a slightly smaller pack, they may be a great choice.
How to Measure Your Torso for Choosing Osprey Daypack Sizes
Torso sizes are not super-important with daypacks; the main considerations are features, capacity, and intended use. But a couple of Osprey daypacks are offered in different sizes, so here's a guide to help you get the exact right one, should you choose a daypack with size options.
Locate the level of your hip bones.
Identify your C7 vertebra (it's the bone that sticks out at the base of your neck when you bend your head down to your chest).
Measure the distance between the two.

That's your back measurement for Osprey daypack purposes! The measurements for differently sized daypacks are included where there are such options in our descriptions.
The Best Osprey Daypacks for Travelling: The Daylite Series—Plus the Farpoint/Fairview Travel Daypack
Use the

below to expand for more info.
Osprey Daylite
and
Osprey Daylite Plus
are the daypacks to choose for accompanying you while travelling, particularly if you are also carrying large Osprey hiking packs.
These are the Osprey daypacks that are compatible with their kin, meaning they can easily clip into the following: the Osprey Aether/Ariel series, Farpoint/Fairview series, Porter series, Sojourn series, and finally the Volt/Viva series.
The Daylite and Daylite Plus daypacks emphasize lightness and have some basic organizational pockets but certainly don't go overboard. They're great for carrying sunscreen, a book, a phone, and something to keep you warm for when the sun starts to go down. Keys go on a neat little key clip in the front pocket, and there are side mesh pockets for a water bottle or coffee thermos. Other reviewers also generally admire their organizational design and build, and that they have been able to hold up over the years.
The Daylite Plus is better if will be carrying a laptop; the interior sleeve is padded (the sleeve for the regular Daylite is not). It can generally carry any 15″ laptop.
They'll easily work as a carry-on on any airline, and often even as a personal item. If you're stumped over which to get, check out the differences between the Daylite and Daylite Plus.
Osprey Daylite Tote Pack
is the version of the Daylite series to get if you also like to carry your bag over one shoulder—but it's much better, if more expensive, than a traditional tote bag, with a full range of the Daylite series features. There are convenient organizational pockets including easy access outside pockets for stuffing things in on the go (also a good place to hide the straps you're not using) and water bottle pockets.
Inside the Daylite Tote, there is a padded laptop sleeve for 15″ laptops and in a nod to the way people are more likely to carry and set down a tote bag, the sleeve hangs a bit higher off of the bottom of the bag so that you're less likely to damage a laptop if you plop the bag too quickly onto the ground.
A jack of all trades, the Daylite Tote is also set up for travel with a sleeve that allows it to slip over the handle of a roller suitcase and remain stable. This is not the daypack to get for backpacking in the woods; it does not clip onto the larger Osprey packs and it does not have a hip belt.
The Osprey Daylite Expandable Travel Pack 26+6 is the most suitable of the Daylite series as a travel complement to a suitcase, as it has a pass-through sleeve for a roller suitcase handle and it opens up fully with a wrap-around zipper for easy access to absolutely everything you're carrying.
Farpoint / Fairview Travel Daypack
. Its total volume sits in between the Daylite and Daylite Plus at 15L.
The daypack is branded with two names because it is compatible with both the Farpoint series for men and Fairview series for women; the very adjustable daypack is fine for any gender and body dimensions. These two series have both Osprey trekking backpacks and wheeled backpacks; you'll definitely want to choose this daypack as a compliment if you own or plan to purchase packs from this Osprey series. It can clip onto the front straps of the Farpoint and Fairview bags (which is more balanced, comfortable, and better for keeping an eye on valuables) and also be attached into the back of the bags (if you want to keep the packs as one unit).
The Farpoint / Fairview Travel Daypack is a bit narrower than the Daylite packs as it is really mainly designed as an accessory, and the main compartment is lockable. It is otherwise quite similar. The laptop sleeve is padded and can double as a hydration pouch, though you should never use it for both at the same time, obviously. As with other newer Osprey daypack models, the material is recycled 450D polyester with PFAS-free DWR, or water-repellent finish. There is an internal pocket on the laptop sleeve that is perfect for protecting valuable passports, money, and other such items, external mesh pockets for water bottles, and an external top pocket for quick access items.
I'd recommend the Farpoint / Fairview for those with a larger 16-inch laptop or who are using the Farpoint / Fairview series for travel (it comes with a few of those trekking packs). The clips are the same as the clips for the older Daylite packs, so, while Osprey doesn't announce this, the Osprey Farpoint Fairview Travel Daypack is also compatible with (that is, can be clipped onto the front of) packs from the Osprey Aether/Ariel, Porter, Sojourn, and Volt/Viva series.
The Farpoint Fairview Travel Daypack is generally a great travel companion on its own or with other luggage—I now use it on a daily basis and have given a full review here.
The Most Lightweight, Packable, Scrunch-Down-Able Osprey Daypacks
Use the

below to expand for more info.
The smallest, lightest daypack option is the Osprey Ultralight Stuff Pack, weighing just under 4 ounces / 100 grams. The chief feature is that it can be stuffed and scrunched down into its own built-in packing cube about the size of the palm of your hand. Otherwise, folded out for use there are not a lot of frills: just a simple water bottle pocket and a top pocket with a built-in key clip.
The shoulder straps are thinner than those of other Osprey daypacks; this is not designed to support serious weight, but the straps are still soft and quite comfortable.
The waterproof packable version is the Osprey Ultralight Dry Stuff Pack, which comes in at about twice the weight and doesn't fold down quite as small, but is still quite light and packable. A sternum strap with a built-in safety whistle is added, so this is suitable for carrying just a bit more stuff for longer periods.
The Best Osprey Daypacks for Adventure Sports, Mountain Biking, and Hiking: The Sportlite Series
Use the

below to expand for more info.
Sportlite
daypacks. They excel in stability for those who are carrying a small to medium amount of gear while hiking, running, biking, climbing, or otherwise bouncing about a bit.
All Sportlite packs are designed to be incredibly comfortable for an entire day of outdoor wearing, even when limber, athletic movement is required. The shoulder straps (and sternum strap on the Sportlite 20, 25, and 30) and the hip belts keep the Sportlite packs secured in place. The compression straps help keep the load supported by bringing it closer to your body. Meanwhile, there is a central channel in the back panel that supposedly allows some air flow, or at least won't trap much heat and sweat.
The smallest is the Osprey Sportlite 15, with that number meaning a 15L volume. Since both it and the slightly larger Osprey Sportlite 20 are for smaller loads, they don't have a full-on padded hip belt intended to carry the weight, but rather a thinner, removable hip strap that merely stabilizes the pack at the waist level—especially useful during dynamic movement. The Sportlite 15 is truly minimalist and lacks even the front stash pocket that is so convenient on the larger Sportlites for having a quick place to stuff a scarf, hat, sweater, or small jacket; it's also a good place to keep anything wet or smelly.
Osprey Sportlite 25
and
Osprey Sportlite 30
have fully padded hip belts that tighten at each side for stability and distribution of the weight to the hips. The hip belts have zippered pockets for quick access to small essentials. The Sportlite 30 has a lid with its own pocket as seen on Osprey and other brands' larger backpacking packs and loads from the top. (I prefer the panel loading of the three smaller Sportlites as it is easier to access everything in the bag without unpacking.)
All of the Sportlite packs are entirely equipped for serious hikers, with long and deep side pockets that serve for water bottles or other gear (some previous Osprey daypacks have water bottle pockets that were not deep enough to secure taller water bottles). There are loops for trekking poles, which are then secured at the top of the packs by the compression straps and can be quickly released.
If you bike, hike, or run near such a dangerous and awful thing as automobiles, you'll appreciate the attachment point on all Sportlite packs for a blinker light for visibility.
The Osprey Talon / Tempest vs. the New Sportlite Series
The main differences between the Osprey Sportlite series of daypacks and the previous, classic Talon and Tempest series (also for adventure hiking, and covered in the next section) are:
The Sportlite daypacks add some features that the Talon and Tempest lack, like a blinker light attachment point, improved Airscape breathable padding on the back, more flexible hip straps, deeper and more useful side mesh gear / water bottle pockets, and an additional top exterior quick-release compression strap. The organizational pockets are slightly different and depend on pack size.
The older Talon/Tempest series are sometimes available for a bit cheaper (we link to the best prices we can find in the Talon/Tempest table in the next section). You can also check the Osprey sale page where there are sometimes deals on older packs.
The Talon/Tempest daypacks come in a wider range of size options than the Sportlite series, including gendered options. This means that if you have a particularly longer/shorter or wider/narrower torso you may be able to find a more exact fit for your frame. However, with smaller daypacks like these, such exact sizing is not really necessary, so we're not surprised that Osprey has done away with the women/men distinctions and some of the volume options in the new Sportlite packs. The Sportlite shoulder harness and hip straps are quite adjustable for a range of body types.
In spite of these differences, the Sportlite and the Talon/Tempest series have quite a lot in common; they have excellent organizational pockets, quality 100D recycled nylon material, and very comfortable carrying straps and padding for long days in the wilderness.
Osprey's Classic Adventure/Hiking Daypack Series: The Osprey Talon (Men) and Tempest (Women) Series
Use the

below to expand for more info.
Talon
(for men) and
Tempest
(for women) series. While they are mainly supplanted by the Sportlite options just above; they are still excellent hiking daypacks and are still generally available.
All of these daypacks are quite lightweight and come in a large range of sizes. On the smaller end, the men's daypacks are the Talon 11-liter and Talon 22-liter versions, and the women's options are the Tempest 9-liter and Tempest 20-liter packs. There are larger versions available as well, though those are no longer really just daypacks.
Aside from the obvious capacity differences, the main difference between the larger (Talon 22 and Tempest 20) and smaller (Talon 11 and Tempest 9) daypacks is the front panel. There is a non-zippered "stash pocket" on the larger packs and instead of that a bungee cord on the front of the smaller ones. In both cases these are great for quickly stuffing wet gear, a bit of trash that you intend to pack out, or other items that you'd want to keep separate from your main compartment.
The backpanel's rigid suspension system ("airspace") manages to keep the packs stable and yet backpackers find it offers excellent breathability.
The harness packets and back stash pockets are made of a stretchy but quite tough mesh material that doesn't fall apart like the mesh used on cheaper packs (which can often be the first point of weakness).
Those who use trekking poles enjoy the quick access of having them under their arms, attached to the shoulder harness. You can also attach them to the back of the pack.
As we noted above, the genders of daypacks don't make a huge difference, but with the Talon and Tempest packs you will have size options so it's worth measuring your torso as we mentioned. When in doubt, go for your torso length and/or prefered-capacity pack, not your gender.
Talon daypacks ("men") small-medium size: torso length of 16-19 in. / 40.5-48 cm.
Talon daypacks ("men") medium-large size: torso length of 19-23 in. / 48-58.5 cm.
Tempest daypacks ("women") extra-small to small size: torso length of 13-16 in. / 33 – 40.5 cm.
Tempest daypacks ("women") small-medium size: torso length of 16-20 in. / 40.5-51 cm.
So: Tall women and short men will likely be more comfortable if they ignore the gendered marketing.
We have also seen good prices on these at Moosejaw.
The Best Small Packs for Long Days Out Hiking in Very Wet Weather: The Osprey Hikelite Series
Use the

below to expand for more info.
Osprey Hiklite 18
or
Hikelite 26
would then be the top choice for you. (Their main difference is that they hold 18 or 26 liters of your stuff, respectively.)
These are the Osprey daypacks with an integrated (but removable) raincover that slides out of the bottom sleeve and can be used to completely cover the pack, making it quite convenient to cover up when a downpour starts.
The other basic hiking and trekking elements are also there. You can stash trekking poles in the attachments on either side of the pack and secure them with the upper compression straps. There's a hydration sleeve that holds up to a 3L reservoir. And the scratch-resistant top pocket holds sunglasses or a phone without damaging them, and making them easy to access when needed.
The Osprey airspeed system provides a bit of a "trampoline" effect so that only a springy mesh rests against your back and air passes through in the curved space between this mesh and the pack itself, keeping you cool. It doesn't mean you'll never sweat, but it does help keep air flowing, and keeps heat from building up on your pack, and any sweat from soaking the pack. The shoulder harness also lets air through and is quite comfortable, as with most Osprey packs.
There are hip straps but they are not padded and not designed to carry weight, just to secure the pack to you if necessary, as the other Osprey daypacks. They are removable (and probably not useful for most people unless you're running, biking, or otherwise bouncing). Reviewers have found the pack to stay comfortable and not chafe after day-long hikes.
The 26L version also has a stash pocket on the outside, making it a convenient place to carry partially wet rain gear for example, should the sun come out.
And while it has an inner pouch that could fit a 15-inch laptop, the Hikelite 26 is still not very suitable for carrying electronics as this sleeve is not padded. If you're rough with your bag or regularly using it for a laptop, go for a more laptop-friendly hiker option like the Heritage series just below or else the more weatherproof and laptop-ready Transporter series daypacks.
Great All-Purpose Smaller Trekking-Style Packs with Urban Features: The Osprey Heritage Series (Simplex 20, Scarab 30, and Nanofly Versions)
Use the

below to expand for more info.
Osprey's Heritage series is playing hard on nostalgia for older Osprey designs—here completely updated for current tastes with features like laptop sleeves and recycled PFC-free materials. If you are into the hybrid look (modern+retro) and have hybrid needs (backcountry+city) these small backpacks may be perfect for you.
The Osprey Heritage Simplex 20 opens fully with a zipper that goes all the way around the sides and top ("panel loading") so that you can get at items anywhere in the pack without completely unpacking or trying to dig around blindly. The features you'd expect from a backpacker pack are there: excellent breathable suspension and padded hipbelt, outer attachment points for gear and a bungee cord to tie down a wet jacket or other items, a sleeve for a water bottle with a thread-through opening for the tube, and tough-but-lightweight material and construction.
For more day-to-day use the water reservoir sleeve is padded and designed to fit 15-inch laptops, and there is a key clip on the inside stash pocket. That inside pocket can also be accessed from the outside front panel, which is convenient for you but makes the pack less suitable for crowded city areas where there could be pickpockets.
The Osprey Heritage Scarab 30 is similar to the Simplex 20; the most immediately notable difference is the outer compression straps to help you cinch down the volume of your gear once the pack is closed. We're not so sure how necessary that is in a small pack, but it can help with balancing the pack a bit on a long hike.
Similarly to the Simplex 20, the Scarab 30 opens up fully with U-shaped zippered access to the main compartment so there is no need to unpack everything to get at something in the bottom of the pack.
The Scarab 30's padded hip belt straps can slide inside when not in use. The harness and back panel are padded and built for comfort on long hikes, but without the mesh ventilation suspension of the Simplex 20.
Overall the Scarab 30 is an ideal choice for a minimalist traveller that likes to carry a rather retro-looking small pack, but wants the modern convenience of a laptop sleeve.
The Nanofly versions of these packs are the same but with Nanofly fabrics, which Osprey says are more highly resistant to scratches and tears while maintaining the same lightness. The Nanofly versions are also, of course, slightly more expensive. Bear in mind that very high quality materials and construction (along with a lifetime warranty) are included with the regular versions; for most uses it is unlikely that the extra upgraded durability is warranted. But if it gives you peace of mind…
Full-Featured City/Laptop Backpacks: Tropos (Men) and Talia (Women)
Use the

below to expand for more info.
Note: These are older designs and the Talia is not available at our last check; the Tropos is still available but may be on the way out. They're still highly worthwhile in our opinion, especially if they're showing up discounted in the Amazon links below. The newer city/laptop backpacks to consider are the Arcane series covered in a later section.
Osprey Tropos
and
Talia
bags are meant more for "urban" use and are extremely suited for carrying large laptops and even a second portable screen.
Two main features distinguish the Tropos and Talia from other such bags. The first is the "kickstand" feature, which is a bit poorly named since it's nothing like a bike kickstand aside from keeping the whole unit vertical. What Osprey means is that there's an interior hard frame on the front and back of the back, and whether or not the pack is full of stuff this frame will always keep it standing up straight, rather than collapse over on its side as most bags would. Not exactly indispensable, but cool enough.
The laptop sleeve in these bags is roomy and entirely separate from the main compartment — the laptop sleeve is located just against your back and is both padded and has a hard shell on the back panel to keep it safe. The sleeve is also "hanging" so that your laptop is never jostled against the ground directly if you should drop your bag with a thump. There's another little sleeve in the laptop compartment for cables and such.
The main compartment is quite roomy; it holds 34 L for the Tropos and 30 L for the Talia. There are also side mesh pockets for water or coffee and a front panel pocket with very complete organizational options for cards, pens, and more, including also the key ring holder seen on Osprey's other daypacks.
Reviewers have found the pack to hold up well over time, and while it is larger than the other daypacks on this page, it remains relatively lightweight for its size. It's not quite as great as being able to roll your laptop bag, but it's the closest you'll get without wheels.
Note that if you don't need all that space you can reduce the size with the compression straps and get the feeling of carrying a svelter daypack that you can then expand again whenever you need to.
While this is an "urban" daypack it's quite adapted for active use, including biking. The back panel is suspended to allow for breathability and there are attachment points on the back that are suitable for a helmet and for a bike light.
In 2019 the Tropos was updated to be just slightly wider and less deep, presumably to fit even larger laptops and second screens; this added 2 L to the overall volume. We of course link to the current model and its correct current dimensions, but you may still see the older model from some other sellers.
More Basic City/Laptop Backpacks: Nebula (Men) and Nova (Women)
Use the

below to expand for more info.
Note: These are older options from Osprey but still available at last check. They're still highly worthwhile in our opinion, especially if they're showing up discounted in the Amazon links below. Otherwise, the newer city/laptop backpacks to consider are the Arcane series further down the page.
Osprey Nebula
and
Nova
are good-enough laptop daypacks that are just as durably built as the Tropos and Talia above, but lack some of their excellent features.
There is nice padding on the Nova's and Nebula's back panel that is raised a bit for some breathability, but these lack the excellent curved back and mesh combo that raises the Tropos or Talia completely off your back to allow airflow. The Nova and Nebula also lack the interior hanging laptop sleeve and kickstand features.
All that said, the Nebula and Nova are absolutely suited to urban use and protecting your laptop and other gear, with a stiff back panel and padding. They are 34 and 33 liters respectively.
One of their main selling points is that the laptop compartment opens completely flat to allow for airport screening without removing your laptop. In theory at least, for the TSA in the United States; most airport screenings in most countries will still make you take your laptop out, and this is still likely enough in the USA too. One reviewer also complains that the zippers can get a bit stuck when the bag is opened completely in this way.
The main compartment is separate from the laptop compartment, and has mini sleeves inside it for separating cables and for documents.
On top of the pack are a slash pocket for sunglasses or a phone, and on the front is an organizational panel with plenty of pockets for business cards, cables, and the like, plus a fob for your keychain.
There are attachment points at the front of the daypack for a bike light and helmet, and a quick access open pocket that's great for carrying wet gear until you get a chance to dry it out, or a sandwich.
As with all of the other daypacks on this page, the Nebula and Nova have held up over time quite well for customers and others who have reviewed them. In spite of their light weight they can hold quite a bit of gear, and have the largest capacity of the daypacks discussed here.
Streamlined, Everyday Student-Style Backpacks: The Osprey Apogee (Men), Aphelia (Women), and Centauri (Unisex, Smaller)
Use the

below to expand for more info.
Osprey Apogee
(designed slightly longer for men's backs) and
Aphelia
(shorter and slightly wider for women's backs) are marketed as "24/7" day-to-day backs. To me, these are student backpacks—with excellent organizational pockets and size for carrying a laptop, a few books, sunglasses, and a water bottle.
These packs have a smoother look to them than the typical student backpacks, however, and are suitable if you don't want a blatant studenty look. The water bottle pockets in particular are notable in that they are not notable—you slide a water bottle in the side and it is hidden, you'd hardly note it was there.
There are compression straps, which we really don't think are useful on such an already small, svelte urban pack for daily use, but they tuck away in any case when not in use.
If you don't have much to carry, you might opt for the Centauri version instead, which has about 30% less capacity (though at it's size and with nearly the same features you could consider the Daylite Plus, which tends to be cheaper, though is not as svelte looking as the Centauri).
The Best Full-Featured City Backpacks: The Osprey Arcane Series (Small, Large, XL, Flap, and Tote)
Use the

below to expand for more info.
Arcane Family from Osprey
emphasizes daily city use with a full range of organizational pockets and features, but in deceptively simple designs. The materials are durable and mainly recycled and sustainable.
The Arcane Series packs have laptop sleeves but also a separate sleeve to protect your documents—an excellent feature that is missing from many competing backpacks. I have inadvertently often crushed papers with my laptop when using the same sleeve for both—Osprey designers may have had the same issue and have solved it here.
Another important feature for city folks or students on the Arcane packs is the clip-off shoulder strap that allows you to quickly secure the pack to a chair or bar rail in a way that any bag snatchers will not be expecting.
The Arcane day packs use very comfortable foam padding on the harness and back panel, though it is not as breathable as what you have on the more outdoorsy Tempest/Talon/Hikelite options or the Daylite series. Arcane is going for a simpler, streamlined look and feel as opposed to being ready for rugged, outdoorsy, technical uses.
All Arcane day packs except for the Flap pack have an in-shoulder harness strap mesh sleeve to keep small items accessible without removing the pack from your back. This is great for bus/train/tram cards, chapstick, a work ID, and/or an earbud case. The shoulder straps do not, however, have a front sternum strap that connects them; this can help bring the weight forward and off of your shoulders. It is generally not a necessity for such smaller packs but if this is an issue for you, you may want to opt for other city pack options on this page, especially the Heritage series above.
Osprey Arcane Small Day Pack
, which doesn't look like much but has everything you might need for a full day in the city or at classes—except for a water bottle pocket (we think that's key, so for a small pack we'd opt instead for the excellent Arcane Flap Pack described below).
The Arcane Small can carry a 13″ laptop and 10L total of gear.
The Osprey Arcane Large doubles the capacity to 20L and is thus more suitable for most people; there is a 15″ laptop sleeve as well as a water bottle pocket.
Moving another step up in size to 30L, we find the
No products found.
, which still managed to look minimalist while carrying three times as much as the Small. This is the pack for larger laptops too—16″ laptops are no problem. I also happen to like it that here the laptop sleeve migrates around to rest just behind the foam padding on your back. This makes it secure from pickpockets, but also quite easy for you to access when you take the pack off without opening up the main compartment.
Osprey Arcane Tote Pack
is a version of the Osprey Large with basically the same features, but also tote straps for carrying the bag over one shoulder. One imagines oneself at a farmers' market picking up a few vegetables this way or doing other small errands. The tote straps tuck into a stash pocket (also quite convenient for wet items like a poncho). And yet this pack is ready to go on your back with fully padded backpack straps and a back panel.
The Arcane Tote can fit a 16″ laptop in its inside padded laptop sleeve and has a hidden water bottle pocket.
Osprey Arcane Flap Pack
is an interesting offshoot from the Arcane series that still maintains the minimalist-style-but-maximal-features mindset. Its 14L capacity is just a bit larger than the Arcane Small, but unlike the small it has a zipping, pop-out water bottle pocket and it can carry a 16″ laptop in its padded sleeve.
There is also a side phone pocket but I'd be a bit wary about putting anything valuable there in a crowded environment as it is also accessible to thieves.
The shoulder straps, unfortunately, lack the mesh transport card pocket that is present on the other Arcane packs. But overall, this is an excellent, complete day pack with a classy profile, and one of my favorites from Osprey.
Osprey Arcane Roll Top
is quite similar to the Arcane Large Day Pack but a bit larger at 24L and with a distinctive look due to its roll-up top. It's an option if you want to carry stuff on your back but don't want to
look
like you're carrying a typical backpack. I'd rather use zipper technology myself, but—even with Osprey's quality construction—an argument could be made that a roll-up and clip closure is likely to last even longer.
The Best Ultra-Rugged City Backpack for Cycling and Heavy Frequent Rain: The Osprey Transporter Series (Small Zip Top, Large Zip Top, Panel Loader, Roll Top, Flap)
Use the

below to expand for more info.
The rough-and-tumble Transporter series from Osprey includes a whole lot of things that are not daypacks, including large duffel bags with and without wheels. This is the Osprey series that's ready for truly serious outdoor abuse. As we noted above, all Osprey daypacks offer a good level of resistance to water and your precious documents and laptop inside are likely to come out better than you after a quick downpour. But if you frequently live and travel in very wet and/or dirty environments, the Transporter daypacks would be the way to go.
The key difference in these packs is their TPU (Thermoplastic Polyurethane) coating (in addition to a DWR treatment for water resistance). TPU-treated material lasts longer than and should hold up to even more abuse, and so we'd expect the Transporter series daypacks to survive rain, mud, and rough treatment even better than the other Osprey daypacks discussed here. And just like the newer Osprey series daypacks, Transporter daypacks use heavy-duty recycled polyester with a PFC-free treatment for a more sustainable impact.
While these are ready for the outdoors, the Transporter series daypacks (unlike Osprey's Hikelite/Tempest/Talon daypacks) are also ready to organize your day-to-day city needs, with organizational spots for laptops, pens, separate documents, water bottles, and more.
The Transporter day packs are also designed to distribute weight comfortably with a full padded and breathable shoulder harness with sternum strap and back panel. They're also great for travel along with a rolling suitcase as the top carry handle can function as a sleeve to slide over the luggage's extended handle.
Osprey Transporter Small Zip Top
and
Osprey Transporter Large Zip Top
are the classic versions in 25L and 30L capacities, respectively. We'd expect the bucket-style flip open top to be the best of any of the Transporter packs at protecting from water, though they should all be fine. The Transporter Small fits only a 13″ laptop in its internal sleeve whereas the Transporter Larger takes up to a 15″ laptop in its side-access zippered laptop sleeve.
Osprey Transporter Panel Loader
and the
Osprey Transporter Flap
at 20L capacity each. The Panel Loader opens around the top and sides like a traditional school backpack with a zipper, and the Flap has, of course, a flap that affixes with a buckle. They have only a single water bottle pocket (certainly enough). The Panel Loader fits a much larger 16″ laptop in its dedicated sleeve.
Osprey Transporter Roll Top
is the same size as the Transporter Small at 25L but fits a much larger 16″ laptop in its external padded sleeve. It has a rolling top that attaches with a buckle for those who enjoy that look.
Roundup: Which Osprey Daypack Is Best for You? And Where Are the Best Prices?
All Osprey daypacks are made of excellent lightweight but durable materials and have held up for years in our hands and those of other reviewers and customers.
For the best prices, be sure to check their different color options at the Amazon links to Osprey daypacks, as some colors are often deeply discounted there.
Throughout this article we try to link to the cheapest color options, but things often change so it's worth checking the different colors for a discount. At last check Amazon is much more likely to have all of the bags in stock, but Osprey USA of course sells its day packs (or "lifestyle" packs) directly too and sometimes it has sales. (Check here for Osprey European shoppers.)
We've also on some occasions noticed good prices at Moosejaw, though there can be less of a selection.
If you want a daypack for travel, and particularly a daypack that will clip on to other Osprey packs, go for the Osprey Farpoint Fairview Travel Daypack, the Osprey Daylite or the Daylite Plus; the Farpoint Fairview and the Daylite Plus are suitable for carrying a laptops.
The best daypacks for bouncing and jumping around (literally) in the great outdoors are the Sportlite series, and of these the one I'd go for is the intermediate sized Osprey Sportlite 25, which is both panel loading, like the smaller Sportlites and has a padded hip belt with a quick access pocket, like the Osprey Sportlite 30 (which is top loading, bleh).
While all Osprey daypacks offer some rain resistance, if you need an outdoorsy pack with an integrated rain cover for seriously wet climes (you poor thing!), the unisex Osprey Hiklite 18 or Hikelite 26 are your guys. They also have all the necessary storage features for trekking like attachments for trekking poles and a hydration pouch.
My personal favorites are currently the Arcane series as I'm a bit of a city boy. While I'm not about to give up my Daylite (I'm also a perpetual, minimalist nomad), if I were getting a new bag right now for city commutes I'd without a doubt go for the classy, svelte, full-featured Arcane Flap Pack.
If looking for a deal, note that some discontinued Osprey daypacks are still sometimes available and may be a good deal—although at our last check, they were out of stock.