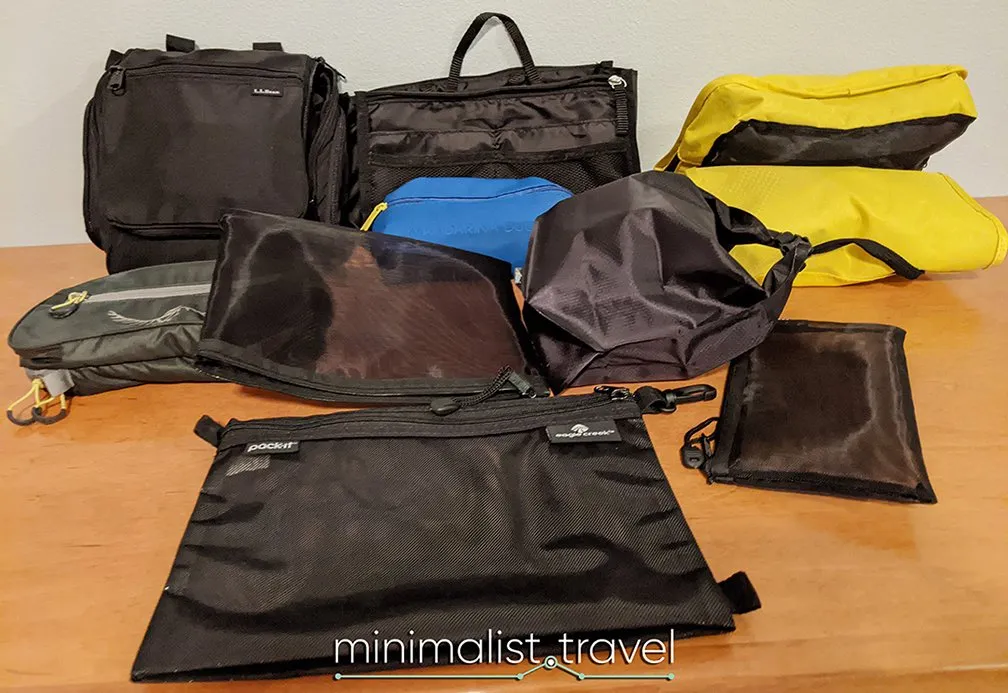 We got a bit obsessed with researching toiletry bags. That's because we've blown through lots of crummy ones in our decades of constant travel. Standard bags leak, fall apart, and aren't much better than a plastic ziplock bag. We're thus delighted to have found one that we can really get behind.
This article is mainly for those needing to carry a small to medium toiletry kit/dopp bag/washbag for short trips or for those who just travel light. We review larger toiletry bags here for those who can't whittle down their cosmetics and cleaning needs to a few basic items.

Our Top Pick for a Lot of Smart Features in a Little Bag: The L.L. Bean Small Personal Organizer Bag
The
L.L. Bean Small Personal Organizer Bag
is our favorite small toiletry bag at the moment for storing everything we need for personal grooming while travelling. The key features for us:
A large swivel hook when the unit is folded out—much larger than competing bags and this really allows it to hang anywhere
A nice mix of large and small interior spaces for storing typically carried soaps, shampoo, toothpaste, nail clippers, etc.
Mesh and transparent inner pockets that allow you to quickly see where you've stashed small items
A removable shower caddy with a hook
Excellent durable construction from nylon packcloth and YKK zippers
The L.L. Bean Small Personal Organizer Bag is 8.5 x 8.25 x 3 inches (21.6 x 21.0 x 7.6 cm.) when closed and weighs 11 ounces (312 g.). That's certainly roomy enough for me, but check the size of your must-have toiletries. At the links, there are also larger options: medium, large, and family size—all with pretty much the same design.

Find it at L.L. Bean U.S.A.
At L.L. Bean Global
Update history of this article
This article was first published based on road-testing over six months of travel in 2016 and updated in February 2017. Products were updated on June 3, 2019, and several discontinued bags were replaced or removed. The article was again updated in November 2020 with brand new recommendations and observations after more years of travel.
The Key Features We Think A Good Travel Toiletry Bag Must Have
Here's what travel experience has taught us good bags must have to keep us organized on the road, save us from time and messes, and help us stay clean and spiffy.
Small Form Factor, Light Weight
However much you think you need, it's too much. The more you travel, the lighter you travel. Frequent travelers eliminate all but the most essential from their gear, and are content pick up things as needed on the road. If you've reached that level of light-travel zen, this is the size and type of toiletry bag for you. Your travel experiences will be better with less stuff.
Particularly in terms of toiletries, consider that:
It's hard to use more than 100 mL of any cosmetic product (especially since soap is provided standard at hotels and AirBNBs) on a trip of less than a month or so.
Even if you do run out, you can easily fulfill any additional cosmetic needs that come up on the road; even the most remote corners of the world now have many familiar brands, plus interesting ones you'd never heard of. Plus, how cool is it to try out a local brand and come home with toothpaste or shampoo decorated in fancy squiggles?
Durability
The most important feature we were looking for in a toiletry bag is durability — nobody wants to replace a bag after just a few trips. The consumer organizations that we usually go to didn't have much to say about toiletry bags, but Consumer Reports and Which? do have a lot to say about the reliability of luggage brands that also make toiletry bags. We also looked at what toiletry bags and luggage brands are recommended by travel bloggers and other website reviewers who performed real-world tests. A few brands were consistently high on all of these rankings: Osprey, Eagle Creek, Sea to Summit, Victorinox, Dopp, and L.L. Bean. From there, we narrowed down to our main pick, which was the best mix of the features on our list of requirements, born from decades of road experience.
A Hook, So You Can Hang Your Bag and Get at Anything Without Emptying it Out
Here's why your bag must be able to hang:
You're staying with friends. They have a crowded bathroom, and all of the shelf and countertop space is taken. Or even if it's not, as a guest you're better off leaving items in your bag and using them from there one by one, so that you don't end up scattering them, taking up space, and inevitably leaving them behind.
You're staying in a hostel or hotel. Often, especially in cheaper hostels with shared shower facilities, there's no space (or no clean, dry space) to even set down a toiletry bag. But there's always pegs or hinges or shelves or doorknobs of some sort to hang a bag from.
You're camping. You hang the bag from a tree branch while you bathe in a stream or brush your teeth, and you pop out the provided mirror to check your beauty against the other stunning works of mother nature.
We feel a bag's hook should also fold up out of the way and not snag on things when not in use.
For similar reasons, many travellers carry a carabiner or hook for their pack or backpack, and you could certainly get one just for a hook-deficient toiletry bag. The most convenient choice is the HeroClip—a great solution for hanging anything anywhere while travelling.
A Small Mirror for Camping, Crummy Locales, Etc.
A number of the smaller toiletry bags we checked out have a tiny detachable mirror. Not a necessity, but comes in quite handy at times when you're staying somewhere without one.
Mesh or Transparent Pockets so You Can See What's Where
It's important that whatever the design of your toiletry bag, you can quickly see what you have placed where. Otherwise, you're likely to constant spend time rummaging through too many pockets, nooks and crannies. Or worse, you'll think you're out of something that you actually have packed away.
Our New Top Pick: The L.L. Bean Small Personal Organizer Toiletry Bag
I've recently switched to the L.L. Bean Small Personal Organizer Toiletry Bag and am delighted to share the recommendation here.
It's not quite as small as my previous favorite Osprey option discussed below, which I used for years, and I'm appreciating the extra room.
But where this bag really excels is in organizing a lot of small and large items in a way that they're all easily accessible when the bag is hanging, but yet pack down incredibly small when the bag is closed.
The bag opens up fully when hanging in a way that makes absolutely every item, small and large, very visible and easily accessible. There are a mix of pockets with sturdy see-through mesh or transparent plastic coverings that all appear that they will hold up over time (we'll see, I'll report back!). This is particularly important for weeks or months on the road, when you might forget where you stashed your Tylenol or nail clippers.
The top flap has a quick stash pocket for smaller or flatter items that you want to have be immediately accessible.
The exception is the side pockets, which I don't particularly care for—I think I might just prefer more internal space. But right now one is serving as the perfect home for my travel hair trimmer, so maybe they'll work out.
The top mirror is large enough to be useful and velcros on and off.
There is a removable shower caddy that rests in the main compartment and is the right size for a bar of soap (I use a the Matador soap bag) and a small shampoo (or my favorite minimalist's packable liquid bottle).
The hook is also larger than that on the Osprey bag, and has a rubberized tip to help it stay in place should you hang this from the end of a shelf, for example. The practical effect is that it's much easier to hang it absolutely anywhere.
As you would expect from this manufacturer, the construction is top-notch. The material is a very strong nylon packcloth and YKK zippers; the inner mesh and plastic will probably be the first things to give out but I'm betting on them lasting quite a long time. L.L. Bean is generally well–regarded by travel bloggers who have reviewed their various luggage pieces, and consistently compliment their sturdiness and ability to hold up well for many, many years. There is an incredibly generous one-year return policy, and a guarantee "after that" (apparently lifetime) on materials and craftsmanship.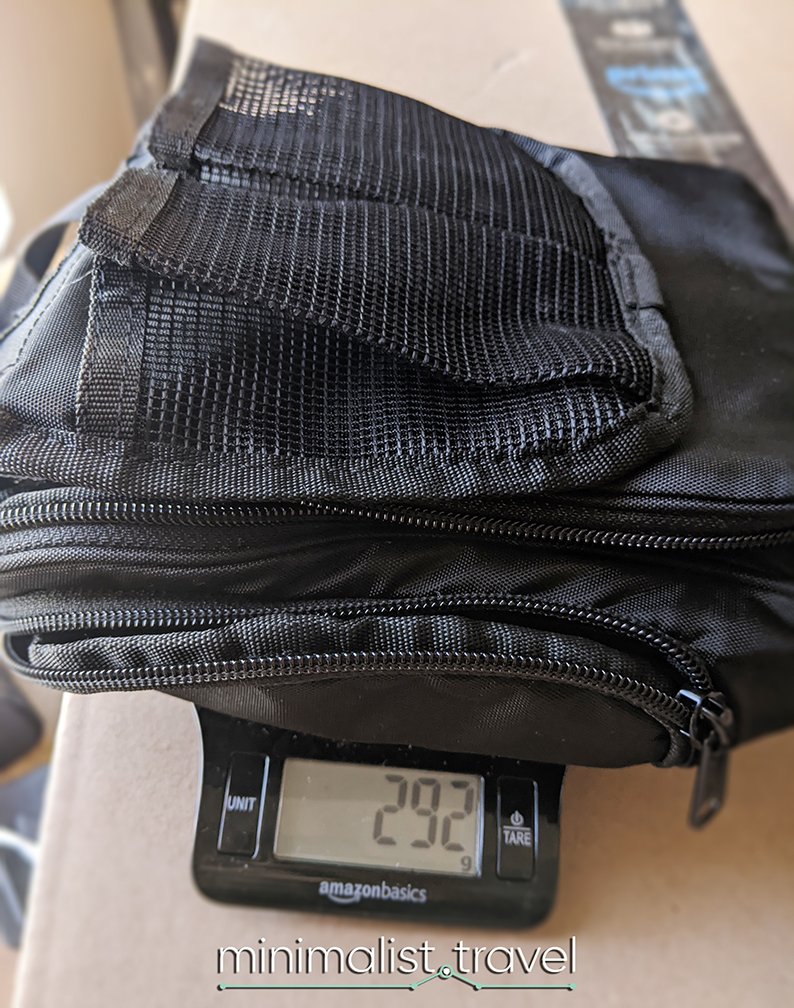 Other Small Bags Worth Considering
There are a number of other options from brands that deliver fabulously on quality and durability. The L.L. Bean toiletry bag is my favorite for its design: the ability to organize and see everything at once, plus the implementation of the key features above.
But if you have differing needs, the following are quality bags worth considering.
Osprey — Lighter, Full-Featured, Smaller Toiletry Bags
Osprey as a brand does exceptionally well with travel bloggers and other reviewers—particularly people who are obsessed with travelling light and hiking tend to go for their packs, which is why we have a full guide to the range of Osprey trekking packs as well as to Osprey's range of daypacks. We're generally fans of the brand too, and mainly travel with a small wheeled Osprey backpack.
As for the Osprey range of toiletry bags you can in our experience expect minimum weight and maximum durability.
Our previous top pick for toiletry bag (and still a close second, is the Osprey UltraLight Zip Organizer. It's smaller and much lighter weight than the L.L. Bean option above, and includes a mini transparent detachable bag for liquids bottles going through airport security. But many readers complained that it was too small, and even I, after four years of using it, have finally expanded to the slightly bigger L.L. Bean option, which also has a bigger hook and more convenient organizational layout.
But if you think this option could be for you, check out my review of the Osprey UltraLight Zip Organizer, which includes notes on how it held up over four years of constant travel—extremely well.
The Osprey UltraLight Roll Organizer is quite similar to the UltraLight Zip but can hold a bit more stuff, and lacks a transparent section for transporting liquids in flights. It has the same hook and a detachable mirror. If you want a bit more space and are not planning on flying with it, the Roll version could be a better choice than the Osprey UltraLight Zip.
Eagle Creek — Good Quality but Lacking Features in its Small Toiletry Bags
Eagle Creek consistently gets high ratings from travel bloggers and customers, and scored high in a Consumer Reports survey on long-term satisfaction. They have a number of great toiletry bags, but don't yet offer a small bag with all of the features above that we feel are vital (a hook, a mirror…). They're nonetheless great bags.
The Eagle Creek Pack-It Specter Quick Trip Toiletry Bag is in the style of a tiny duffle bag, with one main compartment and two side pockets. You will be tempted to hang it on pegs in a bathroom from its top strap when you lack clean, dry countertop space. And then your things will likely fall out when you halfway unzip it to retrieve an item. This could make for a solid, durable complement to your main toiletry bag, however.
The Eagle Creek Specter On Board Toiletry Organizer is roomy and lightweight, but lacks a mirror and it's easier to lose things in its cavernous interior. But at least there is a large hook!
Sea to Summit — A Good Toiletry Organizer for Backpackers and Trekking
Sea to Summit tends to get good reviews from travel bloggers for their durable, practical, very smart products directed especially towards those who are concerned about every fraction of an ounce that they are carrying.
The Sea to Summit Travelling Light Hanging Toiletry Bag compares closely to the Osprey Ultralight Zip mentioned above. Sea to Summit's bag weighs only 2.8 oz (80 g), making it one of the lightest options available. That's an ounce less than the Osprey UltraLight Zip, so if you're hiking with a pack and find that extra ounce important, this is an alternative. It has YKK zippers, but unlike the Osprey bag it lacks a transparent segment for liquids and unlike L.L. Bean's bag the hook is rather small. There is also a larger-sized version.
Victorinox — Only for Hotel Stays
A number of travel bloggers like the upmarket styling and solid construction of Victorinox luggage. The brand's toiletry bags are similarly well-made but lack some of the key features that would make them a top pick.
The Victorinox Slimline Bi-fold Toiletry Kit has a hook allowing it to hang. At 2.2 x 6 x 10 inches, it's a bit narrower than our main pick and customer reviews complain of not being able to fit much in the way of even small toiletry bottles in it.
The Victorinox Overnight Essentials Kit is slim but does not open flat, hang, or have a mirror. We don't think it's thus suitable on its own, but if you need a small supplementary toiletry bag, it could be OK.
And the Right Small Toiletry Bag for You Is…?
I'm now opting for the the L.L. Bean Small Personal Organizer Toiletry Bag (sold on the USA site, or this global site) for its dead-simple-to-use organization, large hook, solid construction, and mirror. There are larger size options and four colors at the link.
Drop a note with your choice if you like in the comments, or explain your sacrilegious favoritism for other options, such as a bag without a hook.