After a bit of failure, here's the portable standing desk setup that I've finally arrived on, designed to go anywhere and still work while standing up with good posture: the monitor at eye height and the keyboard just below elbow height.
My requirements for a portable standing desk were:
Two monitors (for vastly improved productivity)
As lightweight as possible; foldable and fits in luggage
A keyboard a bit below elbow height when standing for good posture
The screens at approximately eye height so I'm not bending my neck down but rather looking straight ahead
The pros to my setup are that it is:
Easy and quick to install on any table, and I can adjust the height
Light: The total weight of all elements pictured, except the phone and laptop themselves, is 3.65 kg or 8.05 pounds; the laptop tray is more than half of this unfortunately
Flexible: Can convert easily to a sitting desk
Cheap: Total cost without the laptop and phone is approximately US $300; most of that is the second screen.
It's really the only good solution I've found for two monitors + portability + standing up
The cons of my setup:
The mouse is not at typing height; I have to either reach down a bit for it or reach up a bit for the laptop's trackpad. I tend to alternate between both and enjoy the change of movement, although sometimes I find a small box to put the mouse on separately.
Ideally some smart product engineer will eventually build an all-in-one setup that is lighter and more stable than this cobbled-together solution. I haven't had any issues with this falling over, but a single solution would be much nicer and presumably more secure.
Elements pictured:
A Chromebook laptop: I've used a Chromebook as my sole laptop for more than five years. They tend to be fast, worry-free, and easily replaceable if something goes wrong on the road (you've got everything in the cloud). Pictured is the Lenovo Yoga C630 which is snappy and has a great large touch screen, but is no longer available and replaced by the similar (well, better) Lenovo Chromebook Laptop. (For lighter weight travel I've also loved the Lenovo Chromebook Duet, a combo tablet and computer with a detachable keyboard, but it's too small for this full standing desk situation.)
A clip for a screen/phone: Pretty optional but nice if you like to take video calls from your phone rather than your laptop, and save your laptop screens for whatever is being discussed. But not a good idea if having the phone there tempts you to multitask and get distracted with phone alerts. I'm using this side mount clip and it works great though note it covers a bit of the phone's screen.
A phone: My Pixel 3a is still working great. (An unlocked phone is essential for international travel and Google Fi is the best worldwide plan by far for those with a USA credit card address—I've discussed this here.)
A laptop stand (0.238 kg. / 8.395 oz.): This stand is lovely for seated work as well. Notice below how the laptop is moved over to one side a bit, rather than in the middle of the stand. This is to balance the weight of the second screen. Yes, I was worried at first, but it's pretty stable and I haven't knocked it over in three months of use, nor has the sometimes strong wind outside. I'm using the Nexstand which is sturdy enough for this two monitor setup and yet folds up light and small for convenient carrying.
A portable folding laptop table (1.93 kg. / 4.2 lbs.): I purchased this laptop table, which is designed for people who use their laptops on a sofa or bed, but this one works well enough for standing. Importantly, it is adjustable in height. Ideally I would find a tray that is a bit more square-shaped to accommodate both the Nexstand and a mouse. And lighter, and that folded down smaller. Or an all-in-one standing portable laptop stand, if any engineers out there are listening…
A portable external keyboard (0.417 kg.or 14.71 oz.): The Logitech K380 is the best tradeoff I've found between portability and a full typing experience. Ideally I would like to find a more ergonomic portable keyboard, but the only truly portable "ergonomic" keyboard I've tried was too cramped to do useful typing on.
A portable external mouse (0.132 kg. / 4.656 oz.): I'm more likely to use this when seated than standing, though I do use it some standing. I use the Logitech M720, which is snappy and light.
A travel adapter (0.126 kg / 4.45 oz.): My favorite is the Epicka (reviewed here), which allows you to mate any plug with any socket, wherever you end up.
My Portable Standing Desk All Packed Up for Travel
The elements of my portable standing desk all packed up can go in any daypack or carry-on (like my favorite wheeled backpack carry-on), except for the laptop tray, which is a bit big for that.
This table is by far the largest element and you could leave it behind and look for a box or other surface at your destination—though I find it's difficult to get just the right height.
Here's another picture of the ensemble packed up next to my Osprey Sojourn 80, one of Osprey's excellent line of larger wheeled backpacks (and one of our favorite larger rolling backpacks for travel).
Seated Version: Two Monitors at Eye Height on a Portable Stand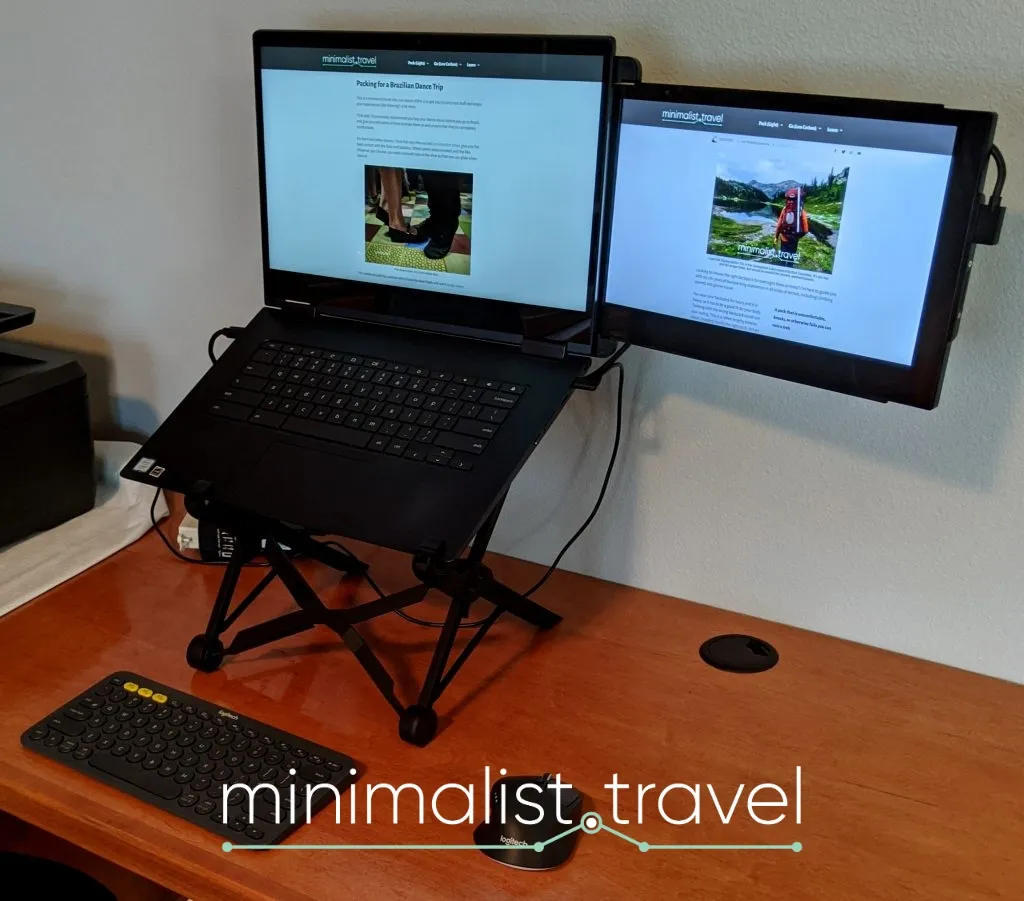 Just slide the laptop tray out from under the setup and you're in business to work while seated on your lazy, weak derrière. If your chair is not adjustable, your Nexstand is, so you can get your screens at just the right height.
Update After 18 Months of Travel: Still My Workhorse Setup
Update as of Dec. 2021: All of the elements are in great shape except for the laptop, which I busted and replaced with a Google Pixelbook. The durability of the Duex screen has been excellent (explained further here).
I have switched in the past three months to travelling personal item only, however, which meant that I had to leave the small table behind and work for a few months mainly seated when I can't find anything at the right height to put my setup on (unfortunately often this is the case in temporarily rentals).
With the seated setup I have gotten really into using the Duex as a vertical monitor for reading longer documents—I didn't appreciate when I first bought and used the screen how nice it is to also work vertically when needed. I'm glad the case/stand also functions in that mode.