Want to keep your trekking pack from getting dirty on the ground in a train station?
Need a way to hang your small toiletry kit so as not to take up your host's limited bathroom space?
Want to attach a travel water bottle to your daypack?
Would you like to be able to hang your purse by your side at any bar table?
The solution for all these and many other little day-to-day travel problems is a combo carabiner and hook that looks pretty freaky, but is a lifesaver. Even some of the most minimal minimalists pack one—and use it in daily life—because it solves so many little problems all at once.

A Hook/Carabiner for Travel
A weird, cheap, well-designed little gadget that more travelers should consider is the
Gear Aid Heroclip
. It is available in four sizes that support different weights; the
small Heroclip
is the best size for most travelers as it supports up to 22kg / 50 lbs. and is thus sufficient for hanging most bags, purses, toiletry kits, etc. The Heroclip:
Functions just like a carabiner and takes up the same space
Also has a hook the swivels out enabling you to hang a clipped item
Has a rubber tip that grips surfaces, allowing you to also hang stuff from a table edge, door frame, etc.
Is lightweight and ends up going with you everywhere, ready for use
There are a few other travel-oriented carabiners covered in this article, but none that match this smart, smart, smart design. I get a little randy for it, yes.
Check out Heroclips on Amazon
This article gets updates from real, sweaty, human travel writers
This article was first published on June 27, 2023. We plan to update based on our own and readers' reports of issues/successes hooking stuff to stuff.
Why We Should Hang Things When We Travel
The raison d'être of the Heroclip is that our surroundings don't have enough places to set stuff down. Especially when we're on the road, with a (hopefully very small) bit of stuff. That stuff needs to go somewhere and many places, especially the cheap, funky, and delightfully oddball ones, don't have pre-designed solutions for us vagabonds to place our stuff.
When we travelers hang stuff, we:
Take up less space in our environments (on counters/floors/desks/bathroom shelves/sinks/shower caddies/camp grounds/etc.), often making us better guests for those who are gracious enough to take us in
Keep our stuff from getting dirty and/or infected with ants, bed bugs, cooties, etc.
Are more organized, especially with bags that open out to let you see contents while hanging; we have less of a need to unpack and spill everything out on the floor, making us also more ready to pick up and continue our travels
These general rules apply to lots of different sorts of situations, as we're about to see…
Travel and Life Problems We Can Solve with a Heroclip
So in this endeavor to take up less space, stay clean, and be organized, here's what the Heroclip—with its sturdy carabiner clip on one side and its rotating hook on the other—can do:
You can hang an entire trekking backpack or other luggage from its top handle; this can be useful in a hostel next to a bunk bed, but I've used the Heroclip for this purpose as well when staying in hotels, apartment rentals, and friends' places. In particular if your pack completely opens up in the front panel (like the rolling backpacks we recommend), this prevents you from needing to unload everything while also not taking up floor or table space.
In bars, cafés, and restaurants, it's easier to hang a daypack or purse from a counter or table edge with the Heroclip, thanks to the hook's rubberized tip. This ensures your bag stays close at hand, where it won't get stolen, and that it doesn't get dirty on the floor or take up space on your table or lap.
When anywhere, you now have an instant coat hook.
Hanging up your toiletries in a bathroom ensures easy access while also making them easy to carry away. If you're sharing a bathroom, you don't want to take up too much shelf/sink/counter space in order to be a good guest. And regardless, hanging your toiletry kit keeps it from getting wet or dirty in such situations. All of the large and small toiletry bags we recommend of course come with built-in hooks, but I have still used my Heroclip on occasion when a larger hook or one with a rubberized grippy tip was called for.
For an improvised party, particularly outside, a good travel Bluetooth speaker like this one can kick out sound in all directions evenly, and so a Heroclip is useful for hanging the speaker in a central spot.
While not a substitute for a good travel clothesline, the Heroclip can be useful on occasion to hang dry a wet item like shoes.
When camping or on wilderness adventures, you often need to hang all sorts of things: lanterns, food and trash (in areas with bears and other animals), etc. Those doing hunting, fishing, and some sports and games use them to hang gear.
I clip my favorite collapsible water bottle to the outside of my daypack; it is generally useful to have a clip for such add-ons that you end up needing to attach outside of your pack for convenience.
Clipped to the top of a child or teen's backpack or rolling backpack, the Heroclip can be used to hang the youth backpack from a tree, playground equipment, etc, ensuring that it remains close at hand while playing and less likely to get lost. In high schools, the Heroclip can help if a locker's interior hooks are too small for the backpack's top loop.
Parents of young children use the Heroclip to hang purses, diaper bags, etc. from strollers.
The mini Heroclip works as a key clip, meaning you can hang your keys on any door or object, say at eye level by an exit, if you're the kind of person to forget them. It's the ultimate way to never lose your keys.
Downside to the Heroclip
It's a bit expensive. There are cheaper carabiners and clips designed for travel as discussed below, though nothing comparable with the Heroclip's smart design and solid build.
Fortunately, you likely only need one or two Heroclips for travel. If you have a lot of things to hang, get a set of cheap carabiners.
How the Heroclip Works
It can take some users a moment to figure out how the Heroclip opens up, though once you see the company's instructional video below, you'll never forget what to do.
Note especially the closing instructions at 1:06 in the tail end of the video.
Alternatives to the Heroclip
The following are cheaper options that can fulfill some of the same needs as the Heroclip:
smart travel and outdoorsy gadgets
, has a
Set of Three Dual-Locking S-Biners
in various sizes. They're not good for hanging things from surfaces that don't already have a post, ring, or hook, but they are good for connecting one thing to another and are solidly built.
adjustable velcro straps with carabiners
are marketed as being for baby strollers but are really suitable for hanging all sorts of things, and are cheap. Velcro is not going to hold super heavy weights, but it is a flamboyantly loud, useful, flexible, and yet somehow underrated technology.
Tacray Carabiner Multitool
has a carabiner, loop, bottle opener, mini-ruler, and screwdriver.
8Timber Gear Hook
is a simple plastic hook with a cord loop for hanging things anywhere. It claims a max load of 50 lbs / 22 kg.
Is the Heroclip Right for Your Journeys? And What Size to Get?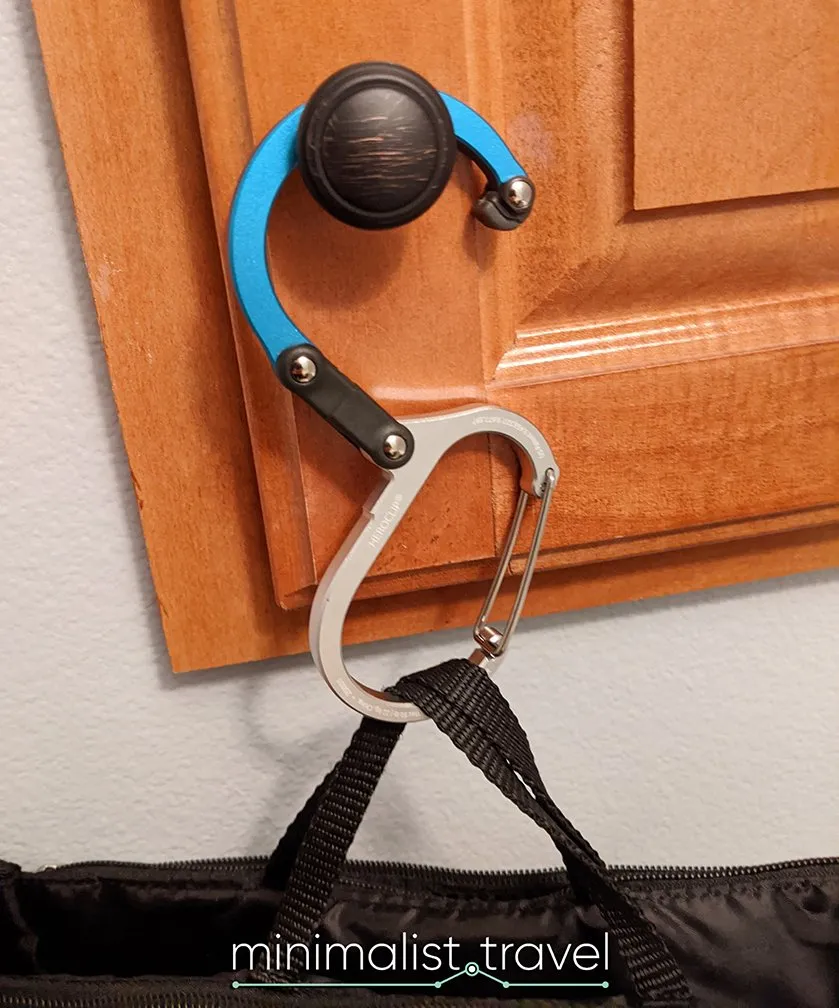 For general travel, the small Heroclip is just fine; it fits around most luggage loops and handles and supports up to 50 lbs. / 22 kg. But there are four options, shown below.
Heroclip Mini
: Holds up to 40 lbs / 182kg; measures 1.8 in / 4.6 cm wide, 2.25 in / 5.7 cm tall (closed), 4.25 in / 10.8 cm tall (open), weighs 0.7 oz / 19.8 g;
suitable for water bottles, towels, bike helmets, mugs, drying lines, keys, kids' backpacks and wheeled travel backpacks, etc
.
Heroclip Small
: Holds up to 50 lbs / 22kg; measures 2.4 in / 6.1 cm wide, 3 in / 7.6 cm tall (closed), 5.6 in / 14.2 cm tall (open), weighs 1.1 oz / 31 g;
suitable for large trekking bags and larger wheeled luggage, dry bags, large portable speakers, etc.
Heroclip Medium
: Holds up to 60 lbs / 27kg; measures 3 in / 7.62 cm wide, 3.75 in / 9.53 cm tall (closed), 7.25 in / 18.4 cm tall (open), weighs 2 oz / 56.7 g;
suitable for bikes, wetsuits, water filters, very large luggage, etc.
Heroclip Large
: Holds up to 100 lbs /45kg; measures 4.1 in / 10.4 cm wide, 5.24 in / 13.3 cm tall (closed), 9.1 in / 23.1 cm tall (open), weighs 3.3 oz / 93.6 g;
suitable for kayaks, coolers, storing strollers, etc.