I get thirsty, but I hate buying plastic bottles of water.
And I hate taking up extra space in my pack; I'm a minimalist travel packer, after all.
The solution is collapsible water bottles. I've tried a number of them and nothing is perfect, but there are some good options to recommend, depending on your needs.
All collapsible water bottles featured here are suitable for use on airplanes; they can be emptied before and refilled after going through security checks.
The Best Collapsible Water Bottles for Travel
This article gets updates from real, sweaty, human travel writers
This article was first published on June 20, 2023. Better, wetter pictures were added on June 27, 2023. We will update this article further with reader feedback and as I see how this bottle holds up over time.
My Favorite Travel Water Bottle Overall: The Hydaway Line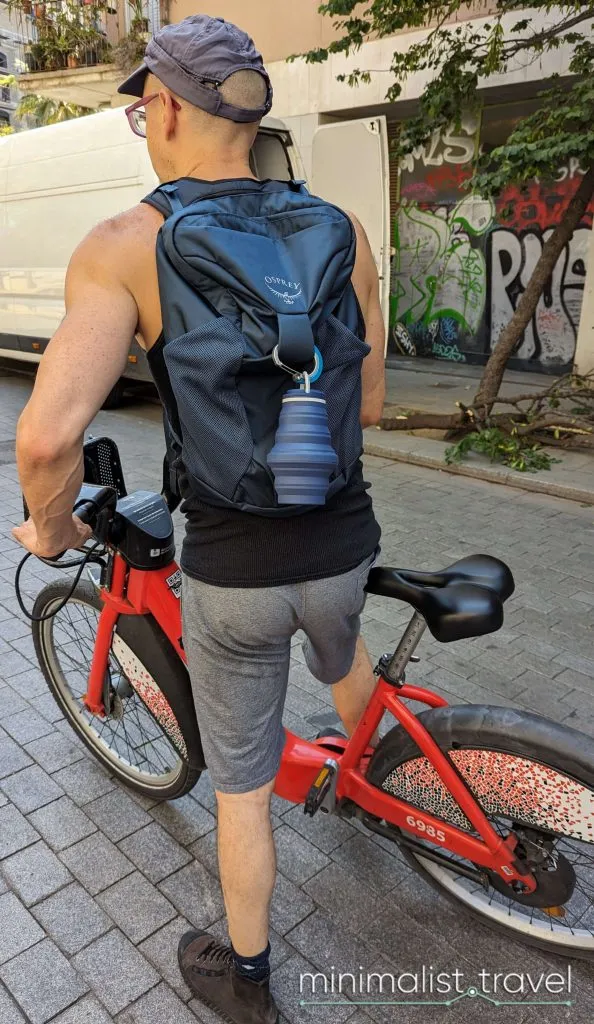 Since I purchased a Hydaway I've always had it with me—and not only while traveling. The fact that it folds down so small makes it a no-brainer to take everywhere. And this is key; having a quality and well-designed water bottle encourages me to take a few good actions for myself and for the planet:
I am less likely to buy beverages in single-use plastics.
I am likely to drink more water. The CDC recommends carrying a water bottle throughout the day; there are plenty of established health benefits.
I am less likely to opt for less-healthy beverages (caffeine, alcohol, soda, and other high-calorie, sneaky, obesity inducing drinks).
I spend less money. A good water bottle pays for itself after just a week or two, as opposed to being out and about and purchasing drinks constantly.
For me to really start to harness these advantages, it was imperative to have a water bottle that I actually am motivated to carry with me. And that's how the Hydaway has actually broken through and changed my habits.
There are a couple of different versions of the Hydaway to choose from.
Key Advantages of the Hydaway
Unlike other collapsible water bottles, the Hydaway doesn't flop around (whether full or empty).
The material is non-toxic food-grade silicone, so the Hydaway is completely free of the industrial chemical BPA, which is found in lots of plastics, which may cause issues with the brain, prostate, children's behavior, etc.
The bottle is very easy to clean since the opening is much larger than most such collapsible bottles, and unlike others is dishwasher safe, which, incidentally, encourages you to clean it more often.
Folded down, it is a small and convenient disk, a bit over an inch thick, that can go in just about any pocket, purse, or backpack. Its shape is neat and easy to slide into a small space without it catching on anything.
The Hydaway appears to be quite well built and in my experience does not leak, even though I've been quite rough with it.
loop on the top of the bottle allows you to hang it from anything, particularly with a carabiner (for travel, we have reviewed and highly recommend the Hero Clip). The loop folds neatly away when not in use.
The drinking spout makes me feel a little like I'm a baby. I dislike straws for the same reason, so maybe I'm weird. (Why do people over the age of two like to suck on drinks?) In any case, to be clear, the Hydaway has a spout, not a straw; it keeps the liquid from spilling but you tip the bottle to drink.
Because of the foldable design, when full even the smaller Hydaway water bottle can be a bit too wide (at 3.75 in / 9.5 cm) for some water bottle pockets of backpacks. If you're planning on using your bottle that way, measure your backpack pocket first. The small Hydaway just barely fits in the exterior pocket of my Osprey daypack, but a better solution in any case is to hang it from the outside loop with a carabiner (as pictured with me on the bicycle in the intro to this article). The large Hydaway would be even more unlikely to fit in such pockets.
I haven't personally felt this way, but others have complained that the silicone material's taste is noticeable and prefer plastic collapsible bottles such as the one below, instead of silicone.metal or glass water bottle; they take up more space when empty (they don't collapse of course) but are a pleasure to drink from and completely flawless in terms of taste.
I actually measured and weighed the small Hydaway water bottle and the manufacturers' indications, as follows, are accurate.
The small 17oz. / 500 mL Hydaway bottle measurements:
When collapsed into a disk shape: 3.75 in / 9.5 cm diameter and 1.5 in / 3.8 cm thick
When expanded into a bottle shape: 6 in / 15 cm and still 3.75 in / 9.5 cm diameter at the widest point
Weight: 5.5 oz / 156 gm when empty
The large 25 oz 750L Hydaway bottle measurements:
When collapsed into a disk shape: 4.25 in / 10.8 cm diameter and 1.5 in / 3.8 cm thick
When expanded into a bottle shape: 8 in / 20 cm and still 3.75 in / 9.5 cm diameter at the widest point
Weight: 6.4 oz / 181 gm when empty
Cheaper Options Using Plastic Instead of Silicone: Vapur Water Bottles
Prior to switching to the Hydaway water bottle, I used a Vapur Flexible Water Bottle during a few years of constant travel. It was also excellent and held up well. There are various sizes available at that link, ranging from 16 oz / 500 mL up to 50 oz / 1.5 L. Since they all roll up to about the same size when not in use, the bigger sizes may have more appeal.
Compared to the Hydaway, the key advantage of the Vapur for some is that it is made of plastic. This means it's generally a lot cheaper, and those bothered by the Hydaway's silicone may find that the plastic material imparts less of a smell/taste. When empty, the Vapur rolls up neatly and its plastic clip can hold the unit rolled up. As with the Hydaway, the Vapur is BPA-free, but it is still made of flexible plastic, and I do wonder what harms are left to be discovered from BPA-free alternative plastics. But it's certainly safe as far as we know.
Collapses down quite small and can be stored flat or rolled up
Made from tasteless BPA-free plastic
The cap completely covers the drinking spout, keeping it clean
Didn't leak during my years of road use
Prone to slouching over, especially when less full
Marketed as dishwasher safe, but due to the small opening, a dishwasher is not actually going to do a proper job of washing the inside of it.
We've experimented with a few other collapsible or foldable or scrunchable water bottle options in the past but most are not ideal as they don't actually fold up all that small.
A classy, older collapsible drinking vessel that is fun but less practical is the Spanish goat skin drink sack, the bota. I enjoy bringing one for wine for picnics, mostly because of the mishaps that ensue when the uninitiated attempt to hold it up and take aim at their mouths. Wine, as with other pleasures, can be surprisingly fun when it squirts.
Wrap Up: And the Best Fold-Up Water Carrying Solution for You Is…?
Vapur Flexible Water Bottle
This is a plastic alternative that rolls up quite small when not in use. It is available in a variety of capacities and is a bit cheaper.
Are we missing something important in terms of easy, practical, environmentally friendly ways to stay hydrated on the move? Drop us a note in the comments!