At this point we've spent decades on the road — as well as decades uncorking wine.  It was finally time to take a good hard look at our road uncorking options.
All too often we have wound up in some cheap tourist apartment, hostel, or campsite sans that most basic of basic necessities: the corkscrew. But carrying a corkscrew in our carry-on could run us afoul of the TSA / EU / etc. airport security.
Thus our complete guide to dealing with the ornery pieces of cork that can get between a thirsty traveller and a fine wine.
The Best Travel Corkscrew
The best corkscrew for your carry-on is the
True Utility TU 48
or Macupan Multi-Tool
, (they're the same, get whichever version is cheaper at the moment). It's so simple and unassuming that even the most officious airport security personnel won't try to steal from you. It's also so small that you won't think twice about keeping it in a carry-on, or for that matter a purse, wallet, or on a keychain. The tradeoff is that it doesn't have a lever mechanism, so with a tougher cork you may end up putting the bottle between your knees as you pull. (We also detail fancier travel wine openers below, for those who want the easiest opening experience).
Update history of this article
Originally published: August 3, 2017. It was completely updated on June 4, 2019, reflecting current availability for several recommendations. It was updated on Dec. 7 concerning Luton Airport incident.
Do I Really Need a Travel Wine Opener?
Yes. Or do you want to always be resorting to the more savage, spilly ways of opening wine? Or worse, drink beer or water or something?
This Is the Best Travel Corkscrew: It's Tiny, Non-Confiscatable, Effective
This cute, cheap little tool simply works. For an average bottle of wine, it does its job smoothly; a gentle tug and the cork pulls right out. If the cork is older or more firmly stuck for whatever reason, it may be necessary to put a dish towel over the handle when pulling up to provide padding for your fingers. But we've never had it fail to open a bottle of wine.
More importantly, we've found reports from various travel bloggers of the other travel corkscrew options failing. For example, Heels First Travel recommended the Boomerang saying that it is "unconfiscatable" but then later posted that she had it confiscated in Italy. Other commenters write of similar experiences with other travel corkscrews, especially in Europe. The main issue is that they all have some sort of sharp blade or corkscrew, and even if it's short enough to be officially permissible it will sooner or later be blocked by security folks who aren't clear on the specific rules and afraid to take the chance in letting something through that they shouldn't (they are tested).
TSA rules for carry-ons state that multitools (like the Leatherman Juice CS3 we discuss below) with scissors having blades of less than 4 in. (10.16 cm.) are permitted, and corkscrews are allowed. Knives are not. EU cabin baggage rules say that sharp tools (blades, scissors) are allowed only up to 6 cm (2.362 in.). But these rules are still no guarantee, especially for world travel, and in the end individual, human, fallible security agents make the final call. Also, anything that looks like it may contain a blade (a corkscrew or a multitool) may trigger closer inspection. We prefer to glide through security unquestioned.
In our personal experience, the corkscrew we recommend is so small that it has never even been given a second glance at a variety of American, Canadian, and European airports (including in Italy), who if they even see it probably don't understand what it is. Perhaps one day it will be
— a very creative interpretation of the prohibition on blades could be stretched to include this piece's cute, twisted, metal spiral. But I've been carrying it through the world's airports without issue for more than two years of constant nomadism as of this most recent update to this article. If it ever does get confiscated, I'll post an update here.
UPDATE (December 2019): Gosh darn those officiously vigilant folks at Luton Airport! My little travel wine opener was recently confiscated at this airport and a reader in the comments seems to have reported the same, same place. A corkscrew is not specifically mentioned in the UK tool restrictions for hand luggage, plus it's such a tiny tool that this is surprising. So I'd possibly avoid having this in luggage when leaving the UK especially Luton — and I know of no other option. Anyway, up to now it had flown worldwide with me without incident for years, and I'm already buying a new one.
Also since we recommend travelling with only a wheeled carry-on backpack, space is always a consideration. This corkscrew is the smallest we've found, even small enough to slip into a wallet. Generally I attach it to the keyring holder inside my Meridian daypack; such key holders are found in most other Osprey daypacks as well. We're incredibly conservative packers, but we don't ever hesitate to have this corkscrew along, just in case.
The Best Upscale Travel Corkscrew/Multitool: The Leatherman Tools with Corkscrews
and
everyone
else
) love Leatherman multitools. They come with 25-year warranties that you will never need, because they're so well made. I personally used one in the years I worked as a theater technician, and many other technicians of various stripes do as well; the tools are lovely pieces of design and last forever. But they have knives and so can't be used in carry-on luggage. If you're checking your bag, I highly recommend grabbing a Leatherman such as the
Leatherman Juice models
.
The Competition: Other Travel Wine Openers
There are a number of other travel options, none of which we feel handle the requirements of oeno-nomadism quite as elegantly as the two options above.
Munkees 3-in-1 Keychain Corkscrew is a cool compact integrated keychain with knife and corkscrew. But the knife blade is very unlikely to pass airport security.
Munkees Mini Keychain Corkscrew
is similar to our main pick but the cap covers the corkscrew, supposedly to prevent it from catching on things. We've never had a problem with our main pick catching on anything in a luggage or a pocket either, though, and the Munkees Mini solution is just slightly bulkier, and hey, we're minimalists. But the Munkees Mini is also more comfortable to pull since it's a bit thicker, and may be a nicer experience.
Pink Pocket Corkscrew
is fine, but no better than the simpler, smaller, more compact main pick at the top of this page.
The KeyGear Multitool is very big (5.5 inches/14 cm) and contains a blade that wouldn't get it past security. Also, even if you're considering it for purely ground travel, at that size it couldn't really be expected to function as a keychain as it is advertised.
Jetsetter TSA Compliant Corkscrew
attempts to convince airport security to let itself through with big red wording "TSA approved" stamped on its side. 
Amazon reviewers
say that this works out at American airports, but not at European ones. If you're only checking luggage in America and don't mind a slightly bulkier tool than our main pick, this tool is nice because the jointed arm gives you extra leverage.
If you really need a foil-cutter and you're willing to risk your tool being confiscated, especially at European airports, you could get the Black Boomerang Corkscrew. It has a clever half-moon "non-blade" for foil-cutting.
Travel Wine Openers: A Side-By-Side Comparison
Travel Wine Opener
Weight (oz.)
Dimensions (in.)
Features
On Amazon
Pink Pocket Corkscrew
0.3
4.5 x 0.8 x 0.8
• Simple plastic and metal tool
True Utility TU48
0.6
2.6 x 0.4 x 0.4
• Identical to the tool above; get whichever is cheaper at the time of purchase
Macupan Multi-Tool
0.6
2.6 x 0.4 x 0.4
• Identical to the tool above; get whichever is cheaper at the time of purchase
Leatherman - Juice CS3 Multitool
1.4
2 x 2 x 2
• Four tools: Spring-action scissors, can opener, bottle opener, and corkscrew with assisting arm
• Aluminum handle and a blade crafted from 420HC, a high-carbon stainless steel
• 25-year guarantee

3 in 1 Wine Bottle Opener, Corkscrew and Foil Cutter
1.6
4.9 x 1.6 x 0.5
• Stainless steel and rosewood
• Has blade
Jetsetter TSA Compliant Corkscrew
4.2
6.7 x 2.3 x 1.2
• Provides jointed leverage for very easy opening
• Likely to be inspected, but but ultimately accepted for American airport carry-ons
How to Open Wine WITHOUT a Corkscrew in an Emergency
wooden spoon
.
Put the wine bottle in a sink and put a towel over the spoon as you force the cork into the bottle. Do this little by little; however, you'll likely spill a bit of wine. In the years preceding my purchase of the tool we now recommend, I did it this way many times, and only had a bottle explode once.
The other, more ridiculous ways of opening wine without a corkscrew are not exactly convenient (this video suggests hammering in and pulling on a nail, and even adding pressure by inserting the tube of a bike pump).
Wrap-Up: The Best Corkscrew for Travel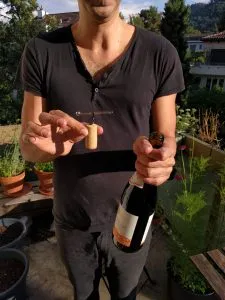 We think that the best solution for opening wine while on the road is the True Utility TU 48 or Macupan Multi-Tool. Just go for whichever of those three links has the best price at the moment, as the products are the same.
Macupan Multi-Tool
The best solution for vagabond wine lovers. Unassuming, practical, functional, and very, very small.
Leatherman Juice CS3
A more expensive and much nicer option, though there is a small risk of it being confiscated from carry-ons at airports, particularly in Europe.
If you're flying out of the UK, it seems sadly possible that no wine-opening tool will pass muster at security. In that case I suggest making sure you have a one-way ticket and then buying a tool once arrived at your destination, so you can enjoy a life of better wine, and better wine opening.