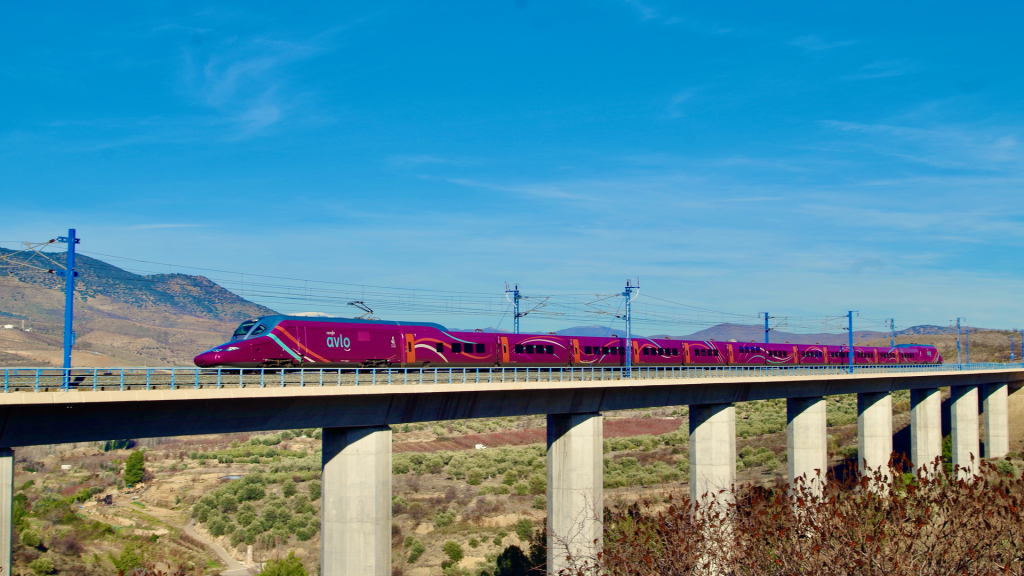 I tested out the Spanish national railway's new ultra-cheap service for a trip from Barcelona to Madrid and was pleasantly surprised with this modern (though no-frills) rail experience.
In this article I'll offer my review of what Avlo offers, the best way to get tickets, and a few things to watch out for based on my experiences and those of other travellers.
Update History of This Article
This article was first published on April 3, 2023. Better photos from our May 2023 trip were added on May 18, 2023.
What is Avlo?
Avlo is a modern budget high-speed rail service offered by Renfe, Spain's national railway company.
Avlo trains made their debut in the summer of 2021. The 350-seater trains go at speeds up to 186 mph / 300 km/h and can get you from Madrid to Barcelona in two and a half hours, serving stations in between. Avlo also travels at the same speeds from Valencia to Madrid and points in between.
Avlo is currently one of the country's three budget high-speed train operators—making Spain currently the most competitive European market for this service. So far, that has translated into excellent prices and options for travelers.
Avlo comes from the abbreviation for Alta Velocidad Low Cost and is pronounced AH-blow—sounding exactly the same as the first word in "hablo español" ("I speak Spanish"). That is because the H is never pronounced in Spanish and the B and the V have the same sound (closer to the English B in this word).
Avlo tickets
Purchasing options for Avlo
Avlo tickets are available up until 15 minutes before trains depart, though for the very best prices you'll want to search a few months in advance.
Our recommendation is to purchase e-tickets for Avlo from the independent booking platform Trainline, as, unlike with Renfe's site, it allows you to compare Avlo prices alongside the competing high-speed budget options Iryo and Ouigo (as well as all AVE and conventional Renfe trains and even buses). Trainline searches for your route and shows you all the best options at once. It has, in our testing, the best search and routing functions for Spanish train networks. This means that you are more likely to find the cheapest, fastest way to get where you're going.
Trainline accepts Visa, MasterCard, American Express, Maestro, Google Pay, Diners Club, and Apple Pay. There is often a booking fee of about 3%.
If you are certain that you only want Avlo and do not wish to compare it against other budget train options, you can also book via the official Avlo Renfe site or at Renfe.com, which at least shows Avlo alongside Renfe's other trains. Unfortunately, the English translations are poor (and sometimes absent) and there are many errors that make the Renfe site extremely difficult to use, whatever your language.
Unlike the tickets for competing Iryo and Ouigo, which are only available online via Trainline or their respective sites, you can also purchase Avlo tickets in Spanish train stations. At self-service ticket machines, you use your credit or debit card. The machines offer instructions in multiple languages.
And if you want to use cash, go to a train station ticket counter. Be ready to muddle through if you don't speak Spanish. Staff tend to be helpful, but language barrier issues can still arise. I once ended up with some rather expensive first-class tickets I didn't need due to poor communication at a train station in Valencia. (With Avlo at least, that won't be a concern—there are no first-class tickets.) Note that Google Translate or another translation app can make communication a little easier. (Although anecdotally, this site's editor—who speaks fluent Spanish and Catalan—has often found communication with Renfe staff to be a rather bizarre challenge.) If you speak decent Spanish you may also purchase Avlo tickets by phone at +34 91 232 03 20 (cost of a regular call to Madrid).
Avlo Pricing
Alvo prices are dynamic (as with airline fares) and start as low as €7 (around $8 USD). An average trip from Madrid to Barcelona is around €19. All fares are básico, or economy class. There are no first-class options on the Avlo lines.
If you have kids under 14, there's good news. For every adult, you can have two children ride on a fixed fare of €5 each. This is generally better than the child discounts on conventional Spanish trains and similar to the other budget train discounts for children. All babies are included in this pricing; they also pay €5 and get their own seat. You can bring a baby carrier/seat for free.
Large Spanish families can get an additional discount of 20% or in some cases 50%. This discount requires documentation that is provided by the government to only to Spanish residents.
There are no senior discounts on Avlo. It is possible to get senior discounts on standard Renfe trains in Spain, but you have to buy a discount card annually while in Spain and it is only really worth the hassle and money if you travel frequently in the country.
My Personal Experience with Avlo: A Clean, Convenient, On-Time Ride
I'm obsessed with finding a combination of the best and most affordable European train travel. I want to save money while avoiding the hassle of flying and the time lost in grungy buses and even grungier bus stops.
So Avlo was a good match for me. I was surprised by the cleanliness of the new trains. Even the bins on the back of the seats lacked the dirt, drips, or smudges that you might expect to see.
The trip also went by incredibly quickly. We actually arrived four and a half minutes ahead of schedule, which was nice. I would definitely add Avlo to my "would use again" list alongside competing Ouigo.
Avlo Compared to Spain's Other High-Speed Options: AVE, Iryo, and Ouigo
If you simply seeking the cheapest trip, your best options for high-speed trains in Spain are usually the three budget operators Avlo, Iryo, or Ouigo. Avlo is a subsidiary of the Spanish national train service Renfe, Ouigo is owned by a parent company of the French national SNCF, and Iryo is owned by a private company whose owners include Italy's national Trenitalia. They are in competition with each other, and that helps to keep their prices down. The deluxe (more expensive) high speed option is the AVE service from the national train operator Renfe. We've done a quick side-by-side comparison of all of these Spanish high speed options to help you decide which one is best for your travel needs and comfort.
Prices are dynamic on all of them, but Alvo is often the most affordable of the budget trains, with tickets at about a quarter of the cost of the standard Renfe AVE trains. But for any specific trip, it's wise to check all of them with a price comparison platform that shows all of the options as mentioned earlier. For example, on a recent trip our site's founder took, Ave was actually cheaper than the "budget" options.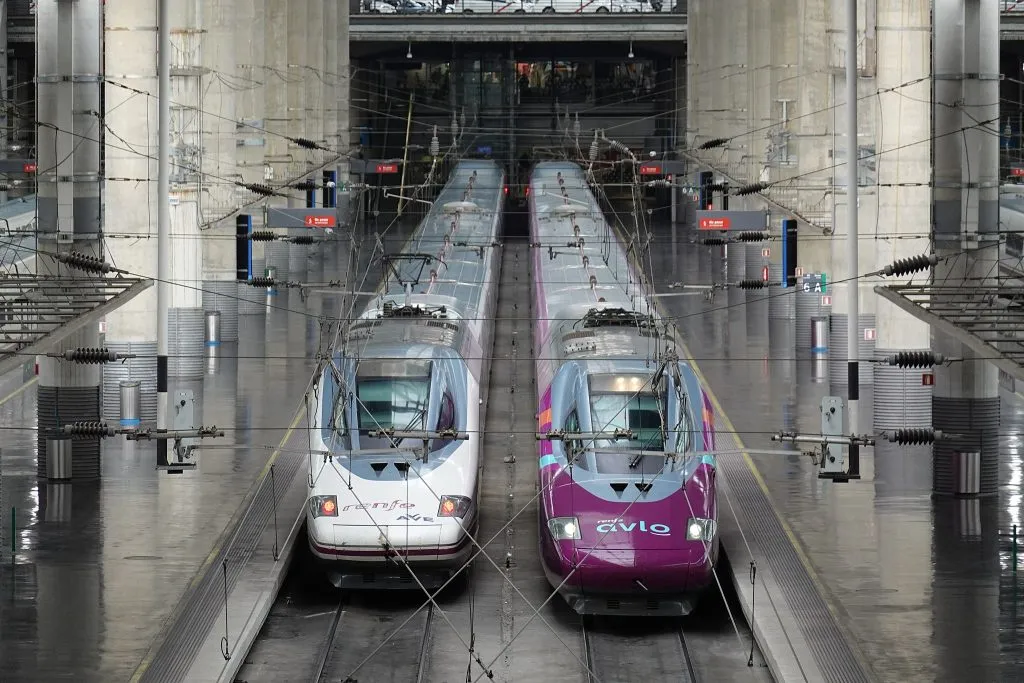 Advantages to Ave over Avlo are that you get a café/bar carriage, the option of a quiet carriage, the option of first class, more luggage allowance, entertainment (movies), and the option of bringing a small pet (under 22 lbs. / 10 kgs. and in a carrier) along for the journey.
Luggage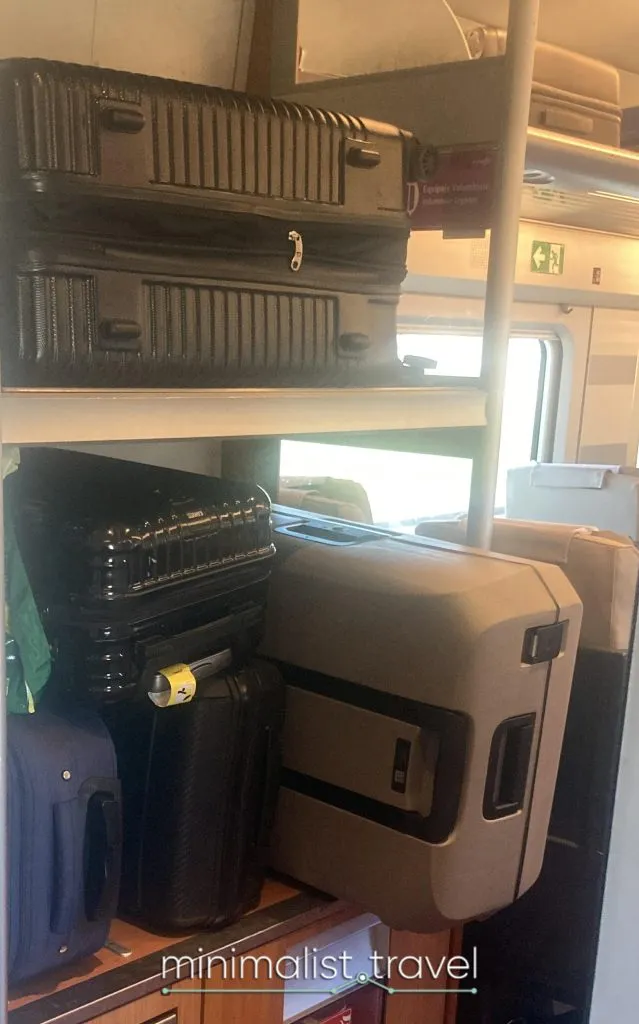 Avlo has more strict requirements than conventional Renfe trains; if you don't want to pay extra you are limited essentially to the equivalent of an airline's carry-on and personal item:
One piece of hand luggage, up to 14 x 10.5 x 10 in. / 36 x 27 x 25 cm.
One standard carry-on-sized bag or suitcase, up to 21.5 x 13.75 x 10 in. / 55 x 35 x 25 cm.
There are no weight limits on these.
If you need to bring more luggage, make sure to pay for it in advance when purchasing your ticket. An additional piece of larger luggage (up to 33.5 x 23.5 x 13.75 in. / 85 x 60 x 35 cm. or measuring no more than 70.5 in. / 180 cm. in total) costs €10 in advance, €15 at the station ahead of time, and €30 if you wait to purchase in the thirty minutes before the train departs.
While packing your luggage, don't forget your passport or other ID. You may need it to confirm that your ticket is yours. 
Arriving at the station
Tickets
If you have purchased your ticket on Trainline, you will simply show the emailed e-ticket that you have received (printed or from your mobile phone). All Avlo tickets are personal and you may be asked to show your ID.
If you have purchased through Avlo/Renfe and don't have your ticket, you can use one of the automated machines to print it. If you do not have your ticket reservation number, you can use your credit card number to call up your ticket purchase.
Security
With your ticket in hand, pass through the turnstiles and follow the signs and schedules to the via (platform) where your train will depart. In larger stations, you must go through security and have your bag X-rayed, like at airports. However, unlike in airports, they aren't concerned about whether you are carrying liquids. 

Departure
Departure lines may begin up to an hour before trains leave, and Avlo encourages you to arrive at least 30 minutes beforehand. But in my experience at smaller stations, you can still get in line just a few minutes before boarding closes and still manage to get on the train. Boarding closes five minutes before departure. 
Make sure you get on the purple train.
On the train
Find your seat
All tickets are economy and come with assigned seating. For an extra €8 when purchasing your tickets, you can choose your seat.
Stow your luggage
There is an overhead luggage area for smaller bags. There are also areas directly by the doors at the end of each coach for storing your larger luggage.
I have to admit, the first time I had to leave a large piece of luggage unattended at the end of the coach, entirely out of sight from my seat, it made me nervous. It's relatively safe to do so, but if you're anything like me, keep your valuables in a daypack close to you and pack light to avoid the trauma. Besides, less luggage makes for better adventures. 
What is the Avlo experience really like?
I found Avlo to be better than I expected for a budget price. Avlo trains have modern features and there are a few perks.
Free Wi-Fi
There is free Wi-Fi on all trains, and in my experience, it works, although the speed seems to vary along the route. It's fine for reading email, but you may want to download that movie ahead of time rather than streaming it on the train. I couldn't get any videos to load all the way.
Seating
As for the reclining seat feature, I've had better, but this isn't first-class luxury. They go back just far enough to count as reclining without offering any real additional comfort. The reclining seats are available for all passengers unless you are unfortunate enough to end up with a seat that is backed against a wall.
Seats are four to a row and about as roomy as most Spanish trains.
There are fold-out trays, and each seat also has a small bin for trash. There are European-style two-hole plugs by every seat for recharging your devices on long journeys (bring a universal travel plug adapter if needed).
Refreshments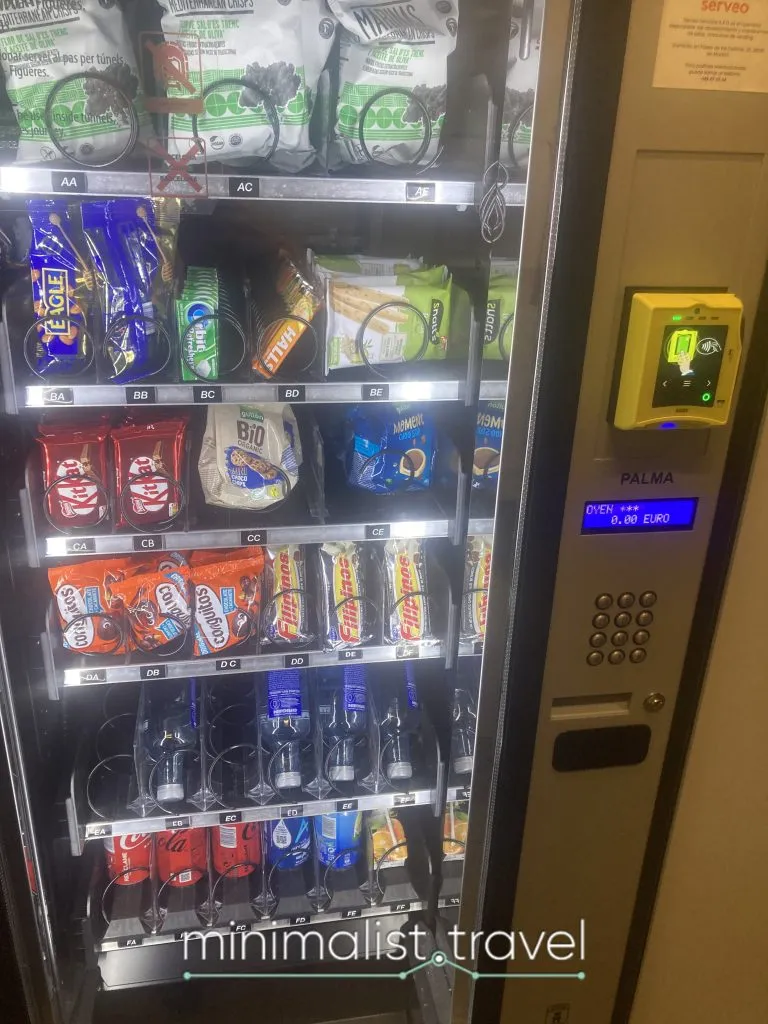 Drinks and snacks can be found in vending machines at the end of some carriages. There is no bar car, no in-seat service, and no special seating area for eating.
The vending machines only take plastic, so if you're worried about using your card for small transactions, bring your own drink and snacks with you. Drinks and snacks are allowed through security. 
Toilets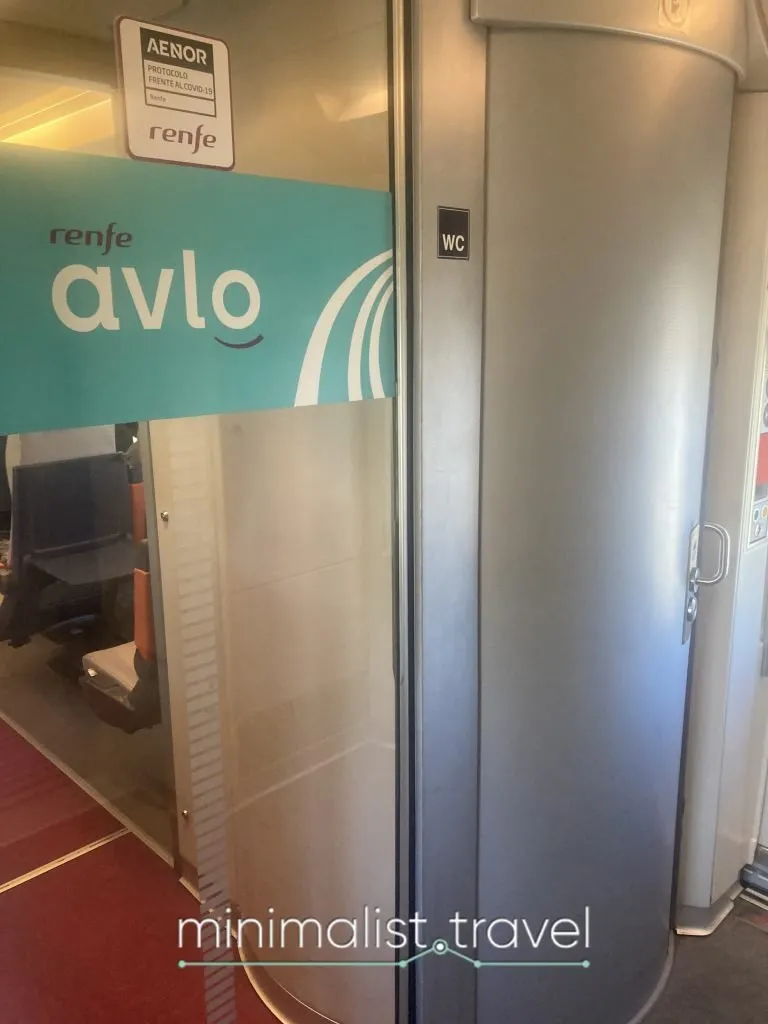 Restrooms are at the end of cars and they're marked as WC. They're maintained, oddly round semi-claustrophobic rooms. 
They have the absolute basics, including running water in a sink that is activated by holding your hands under the tap, a baby changing station, a toilet, and (hopefully) toilet paper.
As for the lock, it's a simple common metal one that you flip, so at least there's no concern about being trapped in there by some bizarre complex lock with three pages of instructions in Spanish.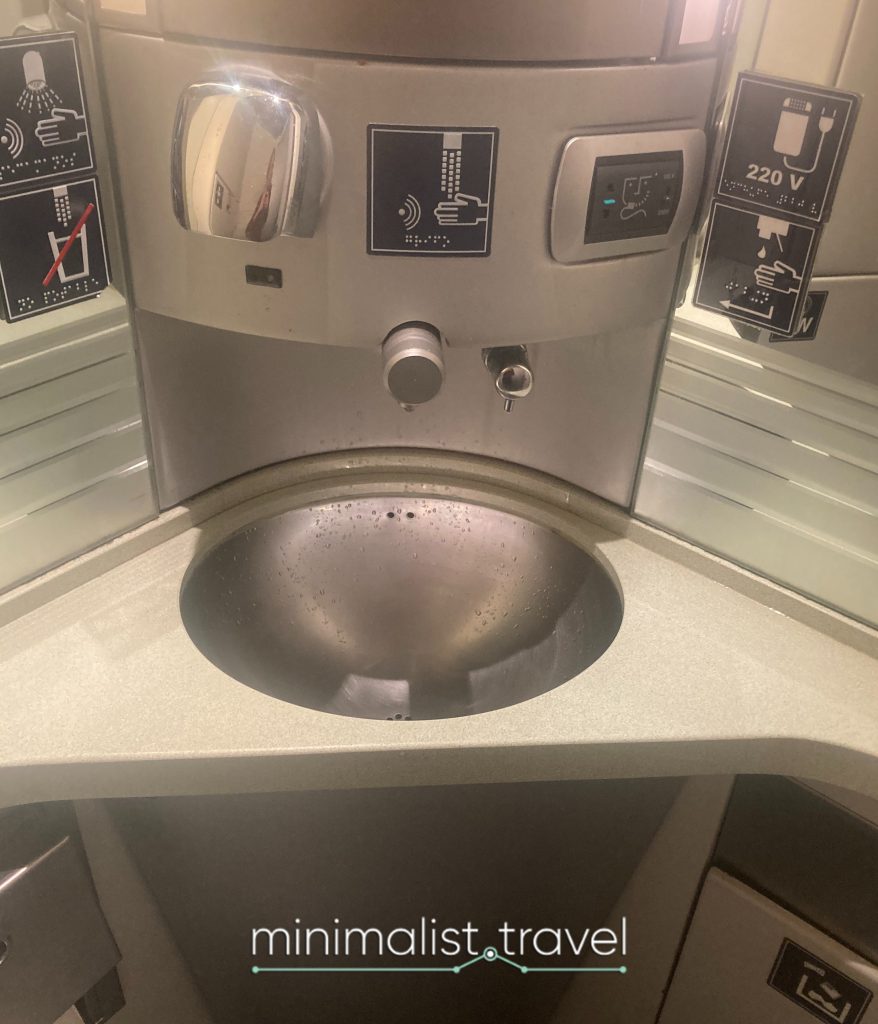 Pets
If you have a small pet, you can still travel by train in Spain, but not with Avlo (if your pet is under 10 kg and in a carrier, look into traveling with AVE). For more, check out our guide to pets on European trains.
Getting off the train
While some announcements are not in English, the important ones (like approaching station announcements) are in English. So don't worry about missing your stop. 
Where can you go with Avlo?
Avlo essentially serves major cities in Madrid, Valencia, Catalonia, and in-between. The current Avlo destinations are:
Barcelona
Valencia
Calatayud
Camp de Tarragona
Cuenca
Figueres
Girona
Requena-Utiel
Guadalajara
Lleida
Madrid
Zaragoza
Other domestic routes are expected in the future. It has been reported that the Costa del Sol may be next.
Begin your journey!
Avlo is a great option if you are looking for a modern high-speed train to get you to your Spanish destination for a fraction of the cost. On board, you will find free Wi-Fi, snacks and drinks (via vending machine), and reclining seats.
We don't particularly prefer Avlo over its competitors Iryo and Ouigo, however, and we usually check all three for the cheapest/best route by grabbing our tickets on Trainline.