Trains are hands-down the best way to get around France.
If you're not used to France and/or to European train travel, the ticketing options can seem a bit overwhelming. But I've been traveling the French rails for the past two decades, and I'm here to assist with the basics and give you tips to get the best deals, seamlessly.
First, some quick basics; then we'll give details on the more complex questions that tend to come up.
Quick Guide: Booking Tickets on French Trains
Trains are absolutely the most comfortable and convenient way to get around France; and a beautiful, scenic experience in their own right.
Decide on an itinerary (see below) involving a few key places you want to experience; most people try to see too much in too little time. Less is more.
Book your trip as far in advance as possible (up to about four months) for the best prices. The easiest way to do this is with Trainline (especially if paying with a non-French payment card and/or crossing borders); you can also try directly booking with SNCF Connect (more tips on booking options below).
If you've purchased online, you'll receive an e-ticket that you can show on your phone and/or print (more below). No more searching for ticket validation machines!
Give yourself extra time to get to the train station (and perhaps get lost on the way there, especially in Paris) and to your platform; for Ouigo trains you should get to your platform 30 minutes ahead of time.
This article gets updates from real, sweaty, human travel writers
This article was published on May 24, 2023.
Deciding on a Train Itinerary for France
You get to decide what to see; it's hard to give recommendations because what you will enjoy in France varies so much from person to person. But I can tell you what I've seen work out great, and terribly, for the many, many friends whom I've seen come through this weird and fascinating place over the years.
Travel slow; give yourself time to really enjoy each spot you visit and get to know it. Hoping on another train every day or every other day gets to be a bit of a grind.
If at all possible, skip the sites you've already seen hundreds of photos of. Yes, that means skipping the Eiffel Tower and the Mona Lisa. You can have better experiences, more unique to you. Your Instagram photo in front of some monument will not be better than anyone else's stupid Instagram photo in front of the same thing.
Go to places that allow you to do the things on your French holiday that you enjoy in your normal life. Go dancing, eat good food, drink good coffee, go sailing…all the while being open to experiencing the very different French ways of doing these things. Do you like punk rock? Check out a French punk rock show… etc.
The opposite advice is also true: Go to places and delve into situations that you would not ordinarily experience.
If you want to save money, visit spots on current Ouigo routes in France—these high speed budget trains are nearly always much cheaper than regular trains; when searching in Trainline or SNCF Connect you'll see Ouigo next to conventional train options for such routes.
You've surely already got some ideas of French spots that pique your interest; explore them! France has had an outsized influence on the world with its books, paintings, films, and more—it can be fun to explore the locations you have seen portrayed. You can also consult Unesco's World Heritage list for France.
When to Buy Train Tickets
Most long-distance train tickets in France (TGV INOUI and INTERCITES, as well as Thalys) go on sale four months in advance, and this is the best time to buy for the cheapest tickets. As you get closer to the date of your travel, tickets become more expensive based on demand—very sought-after dates can cost several times what the trips cost when first released.
It's often worth buying tickets ahead of time even if you're not completely sure of your dates, as the SNCF's policies about refunding and exchanging tickets have become a lot more flexible; you'll be shown specific details when searching in Trainline or SNCF Connect. You don't usually lose anything if you exchange at least a week ahead of your departure.
For special events and the French vacation period (August), tickets may go on sale either more or less than four months before the date of travel. Ouigo tickets can be available for purchase a lot more than four months before travel. Eurostar tickets go on sale 11 months ahead of travel. TER (regional) train tickets go on sale anywhere from three to five months ahead of travel, though there isn't a particular advantage to booking ahead on these trains as prices are fixed.
Tickets for local commuter trains such as the RER in Paris are purchased in the station at the moment of travel from the ticket machines (which have English and other languages—but you'll need to know the exact French name of the destination train station) or from humans in ticket windows (when available).
The Easy Way to Buy Train Tickets: The Top Online Platforms
In a separate article we reviewed the variety of competing platforms that sell train tickets for France; some are good and some are not so good, the same as for airline comparison sites. They sell tickets at the same dynamic prices. In brief, we recommend: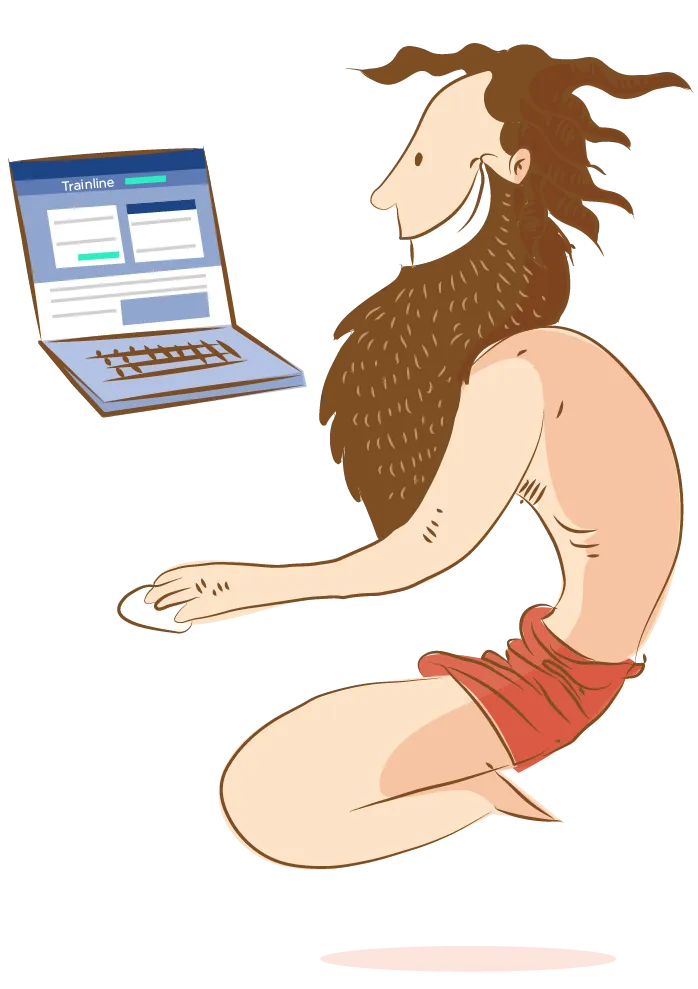 Trainline is the best of the private platforms we tested; it finds smarter routes and can save you money if you cross borders or take a complex trip. It finds the best combinations of routes and gets you the local prices from each operator's system when leaving France. It also shows Renfe and Trenitalia routes that operate in France ("mysteriously" missing on the SNCF website); these can also save money. Lastly, Trainline has a flexible dates feature that can show you whether it's cheaper to travel a day or two before or after your dates . The only downside is that sometimes a booking fee of ~3% of your total order is tacked on at the end.
SNCF Connect is the national train operator's own booking website; it has lots of errors that make it difficult to use but there is no booking fee, so you can give it a shot and maybe save a few Euros on simple routes if you're patient.
Both of these sites allow you to use e-tickets (discussed later), which you simply show on your phone and/or print out in advance.
Both of these sites (as well as the other competing platforms discussed in a separate article) pay us a teensy commission if you book your trip through the links above; that money keeps our little travel and research projects going.
How to Use SNCF Ticket Machines in Stations
You can buy your French train tickets from ticketing machines in train stations and/or use the machines to print out e-tickets purchased online (from Trainline or SNCF Connect) if you want to have a hard copy (rather than showing your ticket to inspectors from your phone).
The advantage of machines over human-staffed ticketing counters is that they are available in English and there is usually no wait. However, these ticketing machines are much worse than buying online because the translations are very incomplete, the machines produce errors, they are finicky with foreign credit cards, and they're not exactly intuitive to use.
The prices are the same and it's much easier to buy your tickets online on a computer or phone as recommended above. But if you find yourself using a ticket machine, here's how to do it.
---
Purchasing from a Ticket Machine
After purchasing, your ticket will be printed out as a paper receipt with a scannable QR code as shown in the next section. The older-style, longer, rectangular tickets on card stock are no longer issued.
Printing an Already-Purchased E-Ticket
Here's how you collect a ticket which was previously purchased online. You'll get a paper ticket from the ticket machine and won't have to show the electronic copy on your phone.
Switch to English (as shown in the previous section) and choose "Collect a ticket". Enter the ticket information and your trip will be displayed on the screen.
Kiosks should print tickets purchased on SNCF Connect using a foreign credit card, but they may not be able to if they can't read the card. If that happens you'll need to go to a staffed train station window (and allow time for this). I'd suggest avoiding all this and just using the e-ticket from your phone.
Buying and Using E-Tickets (Recommended)
Tickets from either of the above-mentioned platforms can be used as e-tickets. These are generally preferable to old-fashioned paper because:
You can show them to ticket inspectors on your phone or print them out yourself.
You don't need to wait for them to be mailed to you.
You don't need to validate e-tickets in the train station (insert them into a machine that stamps them) before boarding trains.
Exchanges and refunds (when allowed for your ticket type) are simpler.
If you lose your printout (or your phone, for that matter), you can easily access the ticket again by logging in to the platform you bought them from.
If you use an e-ticket you can display it in the ticketing platform's app (SNCF Connect or Trainline) or display a PDF (zoomed in on the bar code) of the ticket on your mobile device.
You can also print the ticket yourself; a printed copy is a nice backup but not truly necessary. European A4 as well as American 8.5 x 11″ paper are both fine for printing your French train tickets.
Personally, I like to have printed copies of everything during my travels to refer to quickly, rather than rummaging through my phone, but some people find that more complicated. It is also true that the battery never dies on a piece of paper (though I also always travel with an external USB-C battery).
Finally, you can use the reference code to print out your tickets at train station kiosks if you purchased on Trainline (payment card not needed) or SNCF Connect (payment card may be needed and may cause problems if not French).
(Rarer) Paper Tickets—Ticket Validation No Longer Needed
While e-tickets are what most travelers now use in France, it is still possible to travel with paper tickets, and the SNCF says that these are not going away completely (article in French).
If you're buying a ticket at a train station ticket window or from an automatic machine in a station, you can still get your ticket as a piece of paper. The old-style card stock tickets are no longer used, instead you'll get a simple piece of paper with a scannable QR code.
This means that ticket validation machines will soon be eliminated (article in French) and validating your ticket is no longer something you need to worry about with these new paper tickets.
1st Class, 2nd Class, and Other Fare Options with the SNCF
Whether booking with Trainline or SNCF Connect, you'll generally have a few options to choose from, though these vary by train. The options are thankfully much more straightforward than they used to be.
Standard class (2nd / French: "seconde classe" or "2de"): This is the main, cheapest option. On TGV INOUI, the seats are four to a row, spacious enough and comfortable.
If you buy your standard class tickets early enough, you may see they are designated as Prems or Prem's. This designation no longer really means anything other than you're getting a good deal — cheaper prices on the same 2nd class seats.
Standard/second class TGV INOUI tickets in France can be fully refunded or exchanged up to seven days before departure; you'll have to pay any difference in price between the old and new tickets. From six days prior to departure, you pay €19 for this privilege. From 30 minutes prior to departure, tickets can only be exchanged for another journey on the same day.
1st class (French: "première classe" or "1re"): This is usually (but not always!) more expensive than 2nd class and on TGV INOUI trains. These seats are a bit roomier, with more foot room and seating generally three to a row. Exchange and refund conditions are the same as for 2nd class.
Within this 1st class, you'll see a much more expensive option noted as "Flexible" in Trainline or as "Business Premiere" in SNCF Connect; it offers the same seating but with a few extras like in-seat service (rather than going to the bar car) and access to the business lounges "Salons Grand Voyager TGV INOUI" in major train stations (listed here in French). These Business Premiere tickets can be exchanged or refunded free of charge up to 30 minutes after departure.
Ouigo tickets in France are all one class and are non-refundable; changes in the departure station, arrival station, or date are possible for €19. The Ouigo Plus option isn't really for a different class of service; it simply allows you to choose your seat, carry more luggage, and arrive at Paris stations up to only 5 minutes ahead of departure.
Seat Selection on French Trains
When booking TGV INOUI and other fast trains, you can request in Trainline and in SNCF Connect to be on the upper or lower level and have a window or an aisle seat. Seats are roomier than on airlines and so aisle seats have less value, in my opinion; I always opt for upper level window seats to maximize my enjoyment of the views.
In some cases it is possible to select forward-facing seats. If this is the case this option will be available in both Trainline and SNCF Connect.
Whether your seat preferences are fulfilled depends on availability.
Both Trainline and SNCF Connect also allow you to select your exact seat in certain cases, like when traveling on TGV INOUI first class. The option comes up on both sites after you select your train; you can choose the train car, the bottom or top deck, and the exact seat from those still available.
During the booking process, I think that SNCF Connect's seat map is a bit easier to understand than Trainline's, and shows the location of luggage storage, tables and the bar car in relation to the your chosen seat. Remember that it's never guaranteed that you'll get the seat you have chosen.
This is a very quick summary of the main train types to know.
TGV INOUI: These are the cream of the crop: the flagship, comfortable, high-speed trains that criss-cross the country serving over 200 destinations.
There are also similar high-speed services with different names that connect France to other countries: Eurostar (connecting London, Paris, Lille and Brussels), TGV Europe (for travel between France and Belgium, Spain, Italy, Luxembourg and Germany), and Thalys (for travel to/from Brussels, Cologne and Amsterdam).
INTERCITÉS: These are the standard-speed trains that still fill in some gaps in the high-speed and regional services, there are daytime and some night services. Some of these require reservations (dynamically priced and can sell out) and some do not (fixed price, do not sell out).
OUIGO: This is the SNCF's answer to budget airlines. We've written about the Ouigo experience, but in a nutshell its trains are slightly more cramped than standard offerings and almost always a lot cheaper. The vast majority are high speed, getting you around the country just as quickly as TGV INOUI. There are also now a few "Ouigo Classic" routes that offer cheap service at standard speeds to smaller destinations between Paris and Nantes and between Paris and Lyon.
If booking on Ouigo pay careful attention to the baggage restrictions as these are tightly enforced; pay for a full-sized luggage piece if you have more than a carry-on.
TER: These are small, regional trains. There are no class distinctions and tickets can be purchased at any time for the same price. For the Paris region, the local service is called Transilien.
The (Rarely Worthwhile) Interrail, Eurail, and Other Passes and Discount Cards
You can get one-country Interrail (for European residents, including the UK) and Eurail (for non-Europeans) passes for France, though most people will find that they are no longer worth it, even those who like to travel by the seat of their pants and visit a lot of destinations in a very short period.
A Eurail/Interrail pass does not include journeys on Ouigo trains (the very convenient and cheap high-speed trains). The French trains you're most likely to want to take, such as TGV INOUI, require seat reservations to be paid, and sometimes other supplements. If you're patient, you can check out our article about how to compare whether Interrail / Eurail is worth it. Then check prices for point-to-point tickets by putting the same itinerary into one of the ticketing platforms mentioned above, and see what actually works out cheaper.
There are also Global Interrail and Global Eurail passes available for travel beyond France and across the continent, though the same basic caveats apply and it's hard to make them worthwhile either.
If—and only if—you spend a lot of time in France and travel frequently on non-Ouigo trains, it could perhaps be worth investing in a discount card. These are purchased and mailed to you and are valid for one year. We've written more about these discount cards for children, adults, and seniors; if you do get them the discounts can be applied when buying tickets in either Trainline or SNCF Connect. Here is the SNCF's page with details on the various discount card options. Do be wary about the many exceptions for when they can be used; in my personal experience they did not end up actually saving money.
Getting Refunds and Exchanges on SNCF Tickets
If you've purchased your ticket on Trainline, go to the "Manage my booking" section of the site to see your options for replacing or exchanging your tickets—it's just a few steps.
Tickets purchased with SNCF can be changed / refunded at the point of sale (if allowed), i.e. in the SNCF Connect booking section, at SNCF offices or self-service kiosks, or by calling +33 1 84 94 36 35 (or just 3635 from a French phone).
Key French Phrases for Train Stations and Buying Tickets
First, relax. You don't really need French to buy French train tickets; the online ticketing platforms recommended above have English versions. And even if you're waiting until the last minute and in a French train station, you can always purchase via the ticketing kiosks, which have English and multiple other languages.
Also, the odds are low that your poorly pronounced attempts at French phrases learned in a guide like this are going to save you from confusion in a French train station. French people working in trains are used to speaking English and may also have a bit of Spanish, German or Italian.
That said, French people tend to be embarrassed of their own self-perceived poor level of English, prefer speaking their own language, and value foreigners who at least attempt a bit.
So whether you speak a bit of French already and want to have some key vocabulary ready for train travel, or you just want a few basic words for communication, this guide is designed to focus on the words you might actually need and use.
The Most Important Vocabulary for Trains and Train Stations in France
You absolutely must know the following general items before boarding a French train.
| | | |
| --- | --- | --- |
| bonjour | This means "hello" or literally "good day"; it is considered very important as a measure of politeness to say this to anyone you speak to in a train station before you begin asking for directions, buying a ticket, etc. French people often complain about the "rudeness" of foreigners who don't say bonjour before whatever other subject they want to address. | |
| bonsoir | good evening; say this instead of "bonjour" after about 5-6pm | |
| s'il vous plaît | please | |
| merci | thank you | |
| je suis perdu(e) | I am lost | |
| Parlez-vous anglais? | Do you speak English? | |
| SNCF | The national French railway operator, an abbreviation of Société nationale des chemins de fer français (The National Company of the French Railways) | |
| tchou tchou | choo choo (the sound of a train chugging along; see here for more on how inanimate objects make noise in French) | |
Train Station Vocabulary
| | | |
| --- | --- | --- |
| Où est… ? | Where is…? | |
| la gare | the train station | |
| le guichet | the ticket window | |
| la machine à composter les billets | the machine for validating (stamping) paper tickets; remember that if you've purchased an e-ticket (as recommended above) or a paper ticket with a QR code, this is no longer necessary—these machines are being eliminated | |
| le métro | the metro (subway) | |
| mon quai | my platform | |
| la sortie | the exit | |
| l'ascenseur | the elevator | |
| un aller | one way ticket | |
| un aller-retour | a round trip ticket | |
| départs | departures | |
| arrivées | arrivals | |
| gare routière | long-distance bus station, sometimes attached to the train station although often a bit out of town (see our advice on booking these European long-distance buses in advance) | |
Vocabulary in French Trains
| | | |
| --- | --- | --- |
| ma voiture | my train car | |
| la voiture-bar | the bar car, serving not just alcoholic drinks but also coffee, snacks, sandwiches, and sometimes basic meals | |
| l'espace bagages | the luggage storage area at the end of the train car | |
| mon siège | my seat | |
| arrêt | stop | |
| mes bagages | my luggage | |
| mon sac à dos | my backpack | |
| mon sac à roulettes | my wheeled backpack (we use and recommend a backpack that rolls for French travels) | |
| contrôleur / contrôleuse | male/ female conductor, ticket inspector (check out the advice from a French ticket inspector working in Switzerland) | |
That's all you really need, but if you want to go further and amuse yourself chatting to fellow passengers, we have a handful of articles on fun, flirty, and explosive vocabulary building in French, as well as, I think, the internet's best strategies for true communicative language learning.
F.A.Q. On Booking French Train Tickets
Do I need to print my tickets for trains in France?
Tickets purchased online through the platforms mentioned above do not need to be printed; you can simply show the e-ticket on your phone (either use the PDF you will have received by email or use the app).
How can I buy train tickets in Paris?
If you're looking for long distance trains (leaving the Paris region) you'll want to purchase online as discussed above or else go to any train station ("gare") in the Paris or SNCF ticket office.
If you're traveling in the Paris region (known as "Île-de-France") you'll use the commuter network RER and buy tickets at vending machines (usually less waiting if you know what you're doing) or from ticket windows. Here is trip planning and more information in English on Paris region trains (run by the Transilien SNCF).
How are French train tickets priced?
Long distance train tickets in France are dynamically priced, meaning that the prices go up and down based on demand, as with modern airfare pricing. For the best prices, you generally want to book about three to four months ahead of your trip.
The exception is fixed-price regional trains (TER). Tickets for these trains can be purchased in advance but you will not gain anything by doing so.
Wrapping Up and Answering Further Questions
It's my hope that this article has demystified French trains to the point that you're ready to give this low-carbon option a try.
Drop questions in the comments if you wish and we'll do our best to answer them—this also helps us know how to improve these articles as we do updates.