If you're Australian and looking to book train tickets for a jaunt through Europe, there's a good chance you'll wind up redirected to more expensive booking sites like Rail Europe (formerly Rail Plus).
Or you'll attempt to buy tickets from SNCF Connect but hit website errors, from Trenitalia but not understand the Italians' quasi-English, from Spain's Renfe site but have your credit card blocked… Each European country's national system seems custom-designed to frustrate travellers from down under.
Australians who've done pan-Europe trips tell us that they also have issues with tickets being mailed and not arriving in time for their travel; this is unnecessary as our recommended site below does not ever mail tickets.
And many Australians have reported that the famous Eurail pass no longer is such a great deal; you have to spend so many days out of your vacation travelling that you don't get time to really dig into places. Plus, some the exclusion of some fast trains and the higher overall prices can make it no longer work out any cheaper.
At this time we're recommending for Aussies the same tools that we have been suggesting for Europeans themselves for train bookings — sites that avoid a lot of payment headaches and often offer smarter train routes.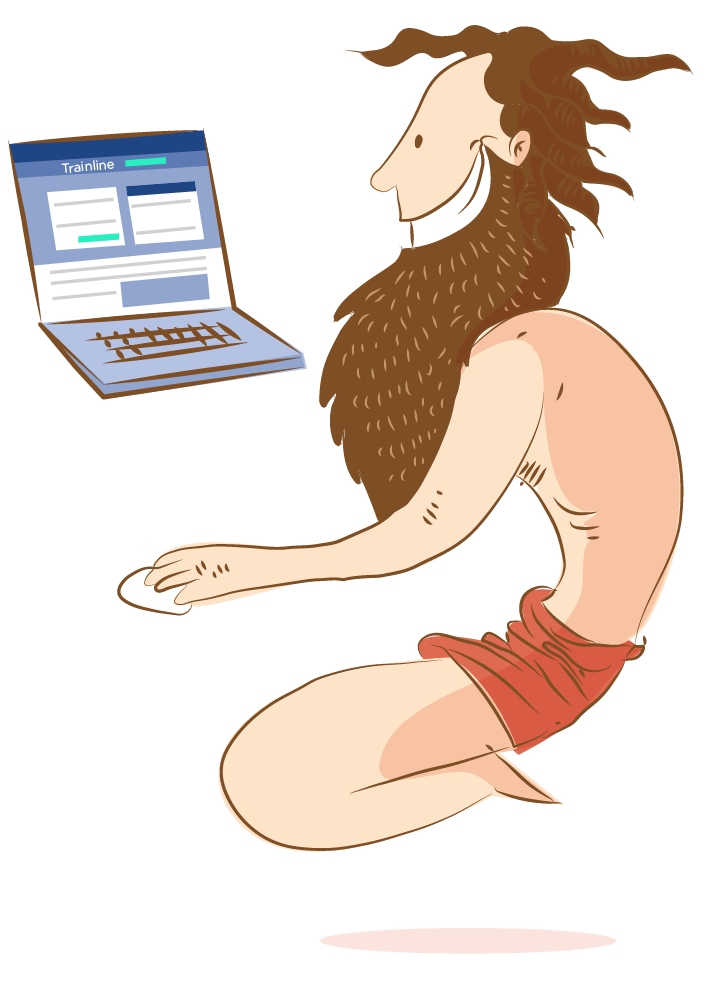 Heads up, Aussies: European Train Ticket Booking, and without the Payment Headaches
Most national European train systems accept international payment cards, but there are lots of issues. The easiest way for Australians to avoid those, but still fair prices, is by booking via
Trainline
. You'll pay the same dynamic rates with a small surcharge, and for long trips across countries you will likely get even better routes than the national companies themselves offer, saving you both time and money.
The exception is if you're looking to book Ouigo (French budget train) tickets; no platform is currently selling those to Australians due to Ouigo rules. Our discuss ouigo more here.
Another option for much of Europe is Raileurope (formerly Loco2 — and not to be confused with the overpriced sister site RailEurope.com.au). The co.uk version works as well as Trainline and has a nice map on the search results. However, its booking fee generally works out a bit higher at €5.95 per shopping basket.
The various national train companies such as Renfe, SNCF, Deutsche Bahn, and Trenitalia also sell their tickets online, but their platforms are generally poorly built and tend to reject many Australians' credit cards. If using those sites, be particularly careful not to be re-directed from their sites to other platforms for non-Europeans with high markups.
Update history of this article
Originally published: January 31, 2019. Updated concerning Loco2 and Ouigo on April 21, 2019. Further updated concerning this on May 15, 2019. Updated for new fees and Loco2's name change on November 22, 2019.
The Problems Aussies Face with European Train Websites and Rail Europe
One of the most popular sites for Australians buying train tickets for France and the rest of Europe is Rail Europe.com.au (whose Australia-only version was once called Rail Plus). You might end up on those sites due to forced redirects from the French national sites, from a search, or just from the long tradition of Aussies using them to book their European holidays.
The problem is that those cost more. We ran lots of tests of European train booking platforms, and Rail Europe with the .com.au was one of the worst in terms of prices. Funny, since it's actually a subsidiary of the French national train company, SNCF — which has now also taken over Loco2 and converted it to RailEurope followed by co.uk. Oh the headaches!
We've also looked at the problems that Australians have when trying to book directly with the national train companies in Europe. Credit cards often get rejected by French, Dutch, and other websites. And for some of the countries (Denmark, Spain, Italy come especially to mind), the websites' English versions are very nearly incomprehensible, or serve a mix of the local languages and English on the pages.
Our Top Pick for Australians Booking Train Tickets in Europe: Trainline
Trainline has been our top pick, narrowly beating out RailEurope, which we also like. Above all, both platforms avoid the higher prices of RailEurope and other platforms that we analyzed. Add to that that they're both easy to use, executed in perfectly comprehensible English, and accept Australian payment cards.
In a bit more detail, here's why were recommending Trainline.
Trainline pricing mirrors the major national train companies' own dynamic prices, though there is an added surcharge of about 3% depending on your computer's IP and the type of ticket you are booking. The 3% charge is quite low compared to what other private platforms, travel agents, and ticket brokers charge to Australians.
For complex trips and those crossing borders, Trainline is generally even better than the national rail operators' own prices, because it finds smarter routes and avoids the large surcharges that the rail operators charge each other.
Trainline has a straightforward interface, without the clutter of hotel ads, pop-ups, and other annoyances of most platforms.
Trainline's English is just fine. And unlike Spain's Renfe, the Netherland's NS, or Italy's Trenitalia sites, you don't need to translate to the local, non-English place names in order to get the English language sites to work.
Trainline offers a direct comparison to bus routes, which can be much cheaper.
For some countries, especially France, Trainline offers complete access to extras like tickets for bikes or WiFi where necessary, or senior or youth discounts.
Trainline is the only private operator to offer tickets for France's budget trains (Ouigo), which are nearly impossible for foreigners to book on the Ouigo site itself. (See here for more money-saving options for French trains.) Unfortunately, though, Ouigo tickets may be impossible for Australians to book even with Trainline as Ouigo sets limits on selling its tickets to credit cards from certain countries (basically USA and Europe). We suggest that Australians, Canadians, and others attempt to book via Ouigo via Trainline using Paypal, and would love to hear feedback from you as to whether this particular workaround works for these tickets.
With Trainline you don't have to wait for the hassle and confusion of receiving tickets by post, as sometimes happens with other platforms. All Trainline tickets are E-tickets. (Depending on the country and ticket, you may show an emailed E-ticket on the train, or else print your ticket at the train station prior to your trip.)
RailEurope's coverage of European routes is not quite as complete. Notably it lacks the French budget operator Ouigo.
Payment Options for Australians Booking  European Trains
As noted above, Trainline is flawless with non-European payment methods (accepting Visa, MasterCard, American Express, and PayPal).
Users of Australian credit cards have reported problems with  various European national rail carriers, and it's a frequent complaint on travel forums. Those websites are often  set up for only their own nations' cards, addresses, and payment systems.
So Trainline is a nice workaround for Australians. Both the searching and payment can be done directly in Australian dollars.
As a side note, we have been recommending Paypal as a backup payment method for travellers, as sometimes cards can fail or get blocked by over-vigilant security controls. Paypal can be particularly useful for paying on foreign websites and apps (like Uber and other taxi apps) while travelling.
We have currently not found any  way to use POLi payments, Mobiamo, or Mint for European train tickets.
Wrap-Up: The Best Way to Book Train Tickets for Mainland Europe
Trainline is our favorites hands-down:
It offers the same fares from major European rail operators, plus a small booking fee.
It generally finds much cheaper fares for complex trips across European borders.
It actually works and uses gorgeous, correct English (unlike many European sites).
It accepts Australian Visa and MasterCard.
You don't have to receive tickets in the mail.
Prepping for your jaunt across Europe? Also check out our full guide on what to pack for European train travel.