I have long used trains as the most cost-effective and convenient way to get around Germany. I go by car and bus as well at times, but I find the experience on Deutsche Bahn trains offers better views, comfier seats, and good service while often cutting hours off of total travel time.
There are some downsides to Deutsche Bahn as well—in this article I'll cover what's great, what to watch out for, how to get the best deals for riding the rails in Germany, and more.
Update History of This Article
This article was first published on April 3, 2023.
What is Deutsche Bahn?
DB, or Deutsche Bahn, is Germany's national train operator; the enterprise is owned by the government. Its various companies offer passenger and freight services, rail infrastructure, and logistics.
Deutsche Bahn runs a variety of different types of passenger trains (described below) and the services are generally on-time, comfortable, safe, and reasonably priced.
Deutsche Bahn now competes with the much cheaper private company FlixTrain, which runs only limited routes between major cities. Both are good options; just keep in mind that they are completely separate companies operating on some of the same tracks.
Buying Tickets and Getting the Best Deals on German Trains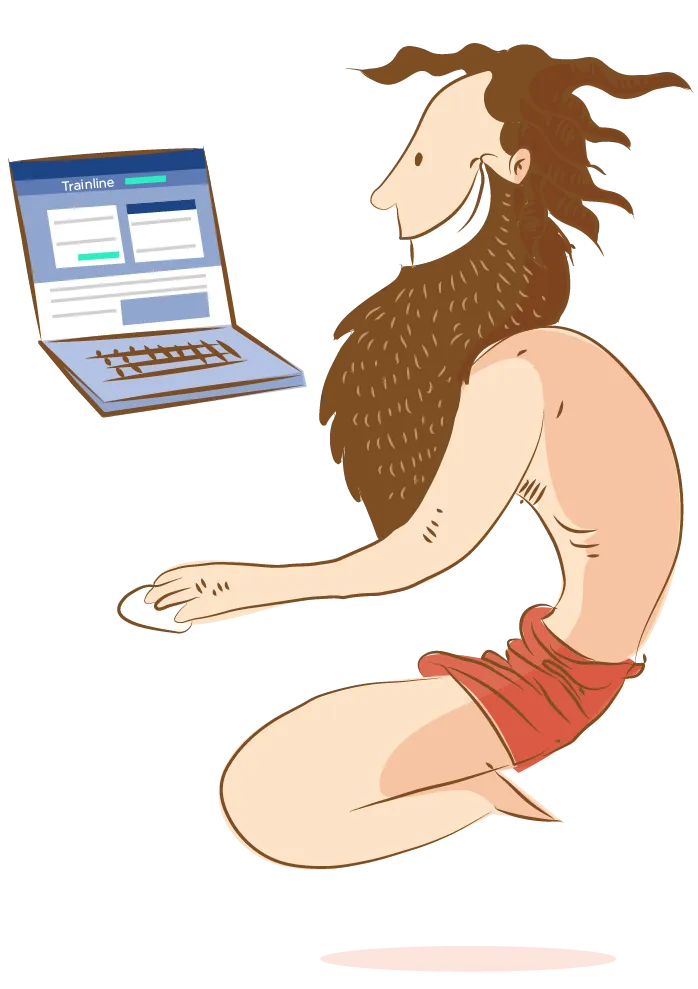 The best way to scope out cheaper train tickets in Germany is Trainline, according to our site's own review of European train booking platforms. My colleague Mose that as compared to national operators' websites and other private platforms, Trainline delivered mostly smarter routes for complex trips, saving on money and total travel time.
For Germany in particular, the main advantage of searching for tickets on Trainline is that it shows both Deutsche Bahn and the competing, private, FlixTrain options side-by-side. Trainline also shows bus and bus-plus-train routes to save a bit more money. It offers the same dynamic pricing as Deutsche Bahn's site, though there is sometimes a small (~3%) booking fee tacked on at the end. Trainline is also dead-easy to use and free from the errors that plague many European train operators' sites. (Another option of course is to book FlixTrain-only trips on FlixTrain's booking site.)
And if you're not interested in other options and need to plan a simple trip on Deutsche Bahn, the official Deutsche Bahn site in English works great and has no booking fee.
For international trips involving Deutsche Bahn combined with other operators outside of Germany, Mose's review found that Trainline tended to work better for trips to/from France, Switzerland, and Italy, and Deutsche Bahn tended to work better for heading east—though you may need to just book separate trips there with Eastern Europe's own train operators.
And if you have a last-minute change of plans and you're already in the station, the automatic DB ticketing kiosks allow you to purchase international, national, and local train tickets. You need to type your current location and destination into the ticket kiosk and then purchase the tickets using cash or a credit or debit/EC card.
You should not board Deutsche Bahn trains without already having purchased a ticket; purchasing from a train inspector comes with a large fee and the added risk of being disembarked. The Germans are not big on excuses.
As a backup, I recommend taking a photo of any physical ticket with your phone. That way, if you lose your ticket along the way, you have proof of purchase. And if you have purchased an e-ticket from Trainline or from Deutsche Bahn, I'd do just the opposite; print a copy as backup in case your phone gets lost or the battery runs out. Tickets purchased via Deutsche Bahn and Trainline are also always available by logging into your account for either service from any device, and will be in your email as well (provided you know your passwords). When traveling with a companion it's also wise to email each other your tickets and photos of your passports as backups.
Get the Most Out of Deutsche Bahn by Knowing Some Basics
What Are the Different Train Types in Germany?
There are a variety of government-run train services in Germany; in addition to the national Deutsche Bahn services, there are local and regional trains that run through the same stations. While not all of them are run by Deutsche Bahn, DB does have access to, and the ability to book on these supplemental rail systems. The local trains are run by companies like KWB, VRS, and/or SWB.
Here are the key terms to know about German train types.
Intercity Express (ICE): For us, the top choice for most German train trips. These are the high-speed trains that first launched in 1991 and have seen various generational improvements since (the first ICE1, the detachable/re-coupled ICE 2, the speed-record setting ICE 3, the roomy and comfy ICE 3neo, the ecological ICE 4…). ICE trains generally travel at a top service speed of 205 mph (330km/h). (A few decades ago, ICE trains even held the world record by reaching up to 252 mph (406 km/h), though this has since been surpassed.) Many ICE tickets come with a city-ticket included in the price.
ICE Sprinter: These fast trains run express with fewer stops between major cities, especially at times of heavy travel in the morning and evening.
Intercity 1 (IC): These are the classic passenger trains; while they have been in service since the 1970s, they have been continuously re-outfitted for comfort and modern conveniences, including improved toilets and the addition of WiFi.
Intercity 2 (IC 2): These improved classic trains are double-decker and use a fifth less energy than their predecessors.
Eurocity (EC): These are passenger trains connecting to cities outside of Germany.
Interregio-Express (IRE): These express regional trains carry you between various regions with few stops.
Regional-Express (RE): These are local trains, filling the gap between long-distance and S-Bahn trains.
Regionalbahn (RB): These serve small, out-of-the-way rural destinations.
S-bahn: These are trains that reach through and into the outskirts of major German cities. They are primarily above-ground.
U-bahn: These are big-city metro/subway systems, often running underground. They will often be what takes you to your final destination after your inter-city Deutsche Bahn ride.
1st Class Travel
The majority of train travelers opt for 2nd class, so 1st class may be less crowded.
There are a few other perks:
Three seats to a row (instead of four), meaning roomier seats, luggage storage, and aisles
A seat reservation included with the ticket purchase
Priority travel advice with shorter wait times
WiFi without data limits
In-seat food and beverage service
Free daily newspapers
Also included with your 1st class ticket is access to a separate area in the DB Lounge at select stations. If you find yourself in one of these stations with a 1st class ticket in your hand, you can rest in a leather armchair, treat yourself to complimentary hot and cold drinks, and recharge your devices at one of the many outlets available throughout the lounge. Some of the lounges also offer snacks and alcoholic beverages for purchase.
Seat Reservations
With the exception of 1st class seating, German train tickets do not include a seat assignment. You are permitted to sit anywhere that is not already occupied or reserved by another ticketed customer. There is no additional fee for a seat reservation in 2nd class whether you make the reservation at the time of ticket purchase or following.
While not required, if sitting is important to you, reservations are recommended during high-traffic times and days, such as weekends, holidays, and in the summer.
You can book your seat up to six months in advance at the same time or after your ticket purchase. First class bookings come with a seat reservation automatically.
Overnight Trains on Deutsche Bahn
When booking a night train, you can reserve a 2nd class seat or you can choose the Nightjet service, that is, Deutsche Bahn's sleeper car ticket, which is a better way to arrive well-rested at your destination.
Sleeper car tickets include an evening mineral water, wake-up service, and a small European breakfast of butter, bread, meat and cheese, and a beverage. If you're American, think of it as sandwiches for breakfast.
The standard Nightjet compartments sleep 4 or 6 people. A blanket, sheet and fresh pillow is provided. Washing facilities are provided at the end of each cabin. But there are other options:
There are women-only compartments that must be booked at least four days in advance.
You can book your own private compartment by yourself or for two or three people travelling together.
There are also wheelchair-accessible compartments with adjoining bathrooms.
Meals and snacks can be ordered from the train crew. Menus are provided in all train compartments.
Some trains have coaches for car and motorbike carriage. Car and motorbike shipping can be arranged with night train ticket purchases.
How Far in Advance Should You Book Deutsche Bahn?
Deutsche Bahn pricing is dynamic, as you're likely already used to seeing with airlines. This generally means that the further in advance you buy, the better your price. Waiting until the last minute to purchase may double what you end up paying.
So as soon as you know your date, book it to lock in the pricing. You can also reserve a price on the Deutsche Bahn site for up to 21 days without a purchase. Or, you can pay more for a changeable and/or cancellable ticket (for more, see the next section).
Deutsche Bahn Fare Types
When booking you'll likely see a few different options, depending on the route.
Super Saver Fares: These are the least expensive fares available. There is no cancellation option and you do not get a city-ticket included. That means that travel on local transit must be purchased separately. Your travel is also restricted to the specific train time/date purchased.
Saver Fares: This is also 2nd class travel. This ticket can be canceled but a 10€ cancellation fee will be withheld from the refund. Saver fares includes a city-ticket but your purchase is only good for train-specific travel.
Flexible Fares: These individually priced fares offer free cancellation, include city-tickets, and are not restricted to a specific train.
Group Saver Fares: The group minimum is 6 people and seat reservations are included. These tickets are available up to six months in advance. Unaccompanied children over the age of 6 pay half price.
Rail Passes for Trips with Many Stops in Germany and Beyond
Rail passes give you a pass for a set amount of travel within a narrow frame of time (a few weeks or a month or two. They tend to be only worthwhile for those planning to hit a lot of spots in a short window; they thus tend to go against our ideal of slow, minimalist travel. With rail passes you spend a lot more time in trains and less time soaking up German culture in specific places.
However, if you're looking for super-quick hits of many German spots in a short span of time (say, to fill out your Instagram with tourist shots), check out the German Rail Pass and to go beyond Germany the Eurail Pass (for non-European residents) and Interrail Pass (for European residents).
Luggage Considerations for German Trains and Train Stations
Luggage travels free on Deutsche Bahn trains with no specified size and weight limitations. If you bring a large piece of luggage, you must be able to handle it yourself.
You are responsible your own belongings during travel, so you may wish to lock them and/or keep them in sight.
Luggage storage is available above and below seats. The above-seat storage is much roomier on Deutsche Bahn trains than what you'd find in planes; it's generally no problem to place trekking backpacks like those we have reviewed in the storage above seats and thus be able to keep an eye on them.
Luggage racks for larger bags and suitcases are generally located either in the middle or at either end of each train car. The standard luggage rack measures: 700 x 500 x 300 mm. You are permitted to stand with your luggage but you must not block paths or exits.
Pushchairs, folding bikes, scooters, and sports equipment are all permitted.
Non-folding bicycles are only permitted on long-distance trains that are marked for such travel. You will need to purchase a bicycle ticket and reserve a space for your bike in advance. The overhead displays show which cars allow bikes with an icon of a bicycle. There is also a bike painted on the side of the appropriate train car.
Most train stations have elevators but they tend to be at the far ends of platforms and run incredibly slowly. This can be frustrating if you have a tight connection. I recommend not traveling with anything you can't comfortably carry up a flight of stairs by yourself. My colleague Mose recommends wheeled full-sized backpacks for European travel that roll most of the time, but have very comfortable backpack straps that slide out for use on stairs and cobblestone streets. He uses an even-smaller rolling backpack carry-on for long-term one-bag nomadism. Regardless of what you choose, beware that those with roller suitcases that are difficult to lift and you may quickly be frustrated with European streets and transport.
In train stations' escalators and moving walkways, remain on the right side and out of the way if you are not moving, and have your luggage in front of you so that people can get past.
If you would like to send your luggage ahead and not have to carry it yourself, you can do so by courier through Deutsche Bahn (this part of the site is in German only, but works fine with the Google Translate extension).
Food Service
All fast (ICE) and InterCity trains have some form of food service available. Menus change often. Keep in mind that Germans eat their largest, warmest meal of the day in the afternoon and options may be more limited in the evening.
On-board meals are reasonable, but more expensive than purchasing something beforehand at train stations. I recommend stopping at a local grocery store on your way to the station. Many larger stations even have grocery chains attached to, or built into, the station. There are also in-station bakeries where for around 3€ you can get a sandwich with lettuce, tomato, sliced boiled egg, and butter or mayo on a roll. Many bakeries also offer discounted bulk purchases. Rolls from a bakery plus a package of cheese and some fresh fruit from the grocery can feed you for a day-long train ride for 5€.
Toilets in Deutsche Bahn Trains and Stations
Toilets are located at the front or back of each car in long-distance Deutsche Bahn trains.
Bathrooms are free on the trains but cost between 50¢ to 1€ in German train stations, which do however provide vouchers that let you use this cost of the toilet toward a purchase at one of the station stores.
Smaller stations may not have facilities available and larger stations may have lines. Larger stations may only have one bathroom and it may not be near your tracks, so allow for extra time.
Finding Your Train Platform, Your Train Car, and Your Seat
On arrival in a German train station you'll first look at the posted board of departing trains to find your train by its time and train number; this tells you what platform to go to.
Once you get to your platform, you'll see a board above it with an image of your train. This helps everyone know where to place themselves on the platform while waiting for the train for quicker boarding once it arrives. These trains do not stop for a long period of time so it is vital you know where you belong.
This posted image of the train shows where to board. If you have a seat reservation, you have a specific car and seat number. If not, you have to know at least where to board for first- or second-class. The image shows the different cars and where they will stop on the platform, which has letter areas posted from A to H.
You might see that for your train, second class compartments board at letters C to F, for example, and so if you are in second class with no seat reservation you wait for your train on the platform between C to F.
Every train car is also marked with a 1 or a 2 on the outside to indicate first or second class. When in doubt, look at the car as you board because the numbers are always to the left or right of the door.
The German train system does run on time so expect to hop on fast and don't expect to get seated before the train gets moving again. If you are carrying bags, make sure you can handle them by yourself. People may not have time to help you and you will be in the way if you are struggling.
I highly recommend, when you only have a few stops to go, that you simply stand out of the way because, by the time you settle in, it will be time to hop off the train. ICE trains in particular are smooth, so you won't notice the pull-out/pull-in process.
Children on Deutsche Bahn
When searching for tickets, whether using Trainline or Deutsche Bahn, you'll be asked to enter the ages of all travelling in your group and automatically be pointed to the relevant discounts/freebies listed here.
The main thing to know is that children basically travel for free up to and including the age of 14.
Accompanied children under the age of 5 never need a ticket and therefore have no seat reservation, so they are expected to sit on the lap of an adult. If you would like them to have their own seat, you must reserve a seat for them.
Six- to 14-year-olds have to be ticketed but travel for free. This is for headcount purposes only. Any child over the age of 6 can travel unaccompanied but then has to pay 50% of the adult fare.
You can arrange for a boxed lunch for children in advance that includes a fruit squeeze, soft drink, and a sweet with the meal. All meals come with a toy and the box unfolds into a play area too. Kids' box meal options have a range of prices.
Disabilities
To arrange assistance for disabilities, check the Deutsche Bahn's Mobility Service in advance of travel. DB offers help with boarding, transfers and aligning travel reservations.
Pets
Pets are permitted so long as certain restrictions are followed. For more, see our article about traveling in European trains with pets. Small pets, no larger than a domestic cat, are free of charge as long as they are in a carrier. The general policy is animals small enough to fit in luggage are considered the same as luggage. Larger dogs, or animals traveling outside of a container, are considered passengers. The ticket for a traveling pet is charged as a child traveling alone fare, which is 50% of the adult fare. Working service animals travel for free and do not require a muzzle.
Posted Schedules in German Train Stations
Schedules printed on yellow paper are hung on station walls. They show all the arrivals/departures for every train going through that station. They are marked ICE for Intercity Express or RE for Regional Express trains.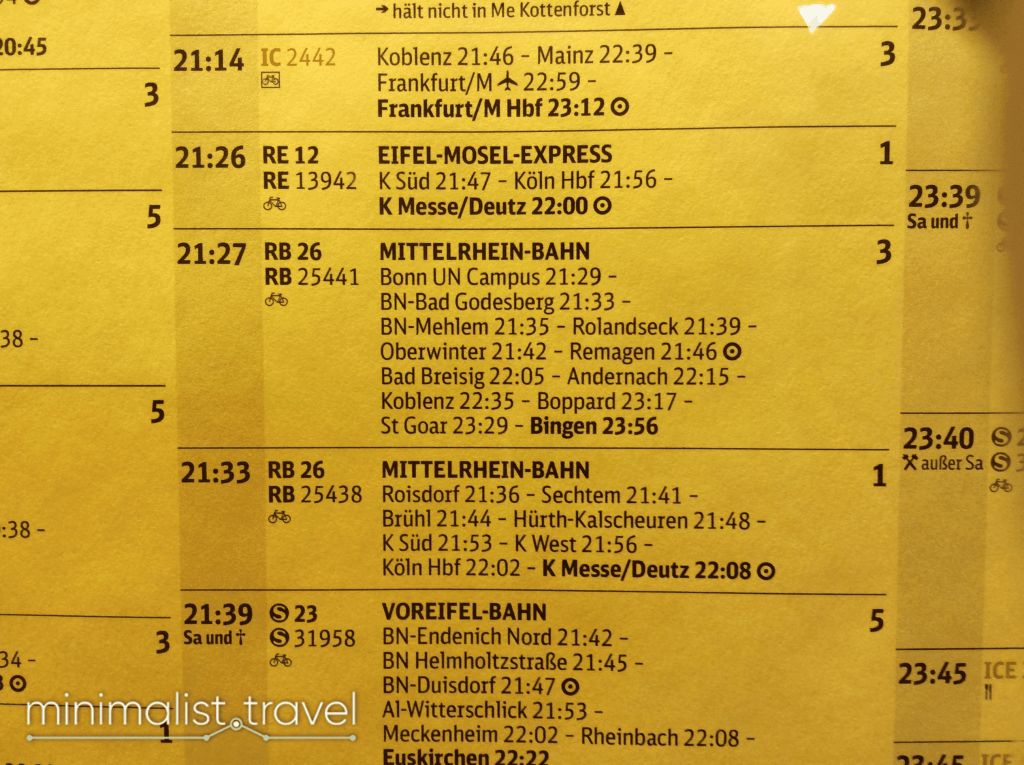 Many times, you won't see these maps unless you are by the tracks for the German Rail system. The yellow map indicates you've reached the German Rail, or ICE, concourse.
If you travel through a station without personnel, usually in a small town, it is helpful to know that there are two schedules posted at all stations. The white schedules are local and are usually indicated at the top by their line number. Some regionals follow, also on white. They are generally posted next to a local map under glass.
The yellow schedules show all the trains that go through that area including ICE, RE, and international trains and are posted wherever these types of trains are boarded. These schedules, particularly, are invaluable for missed connections.
What to Do if Your Deutsche Bahn Train Is Running Late—and You Miss a Connection
According to Deutsche Bahn's rules on passenger rights, any train running behind by 20 minutes or more entitles a ticket-holder to jump-on privileges, without a reservation, for any other train headed to your destination or its connecting locations.
This means that if there is another train on the system going through your area, you can hop onto it. If trains are running late, the train staff knows this and are happy to let you ride where needed.
This is where those posted schedules help because not all cities are listed on the overhead boards.
Let's say you're in Frankfurt and you want to get to Bonn, but ICE trains have stopped running that route for the day. You can go to Cologne instead, which passes Bonn without stopping, and then take the regional or local trains, that are still running, back to Bonn. Look for such connections on schedules or ask train staff for advice.
There are electronic screens inside the trains letting you know what track you are arriving on and the exact time of arrival as it changes throughout the trip. If your train is running late, this is incredibly helpful for connections.
If you are aboard a train and realize you are going to miss your connection, the on-board staff can help you sort out your alternatives. For example, sometimes you can connect with the same train a stop ahead of your initially planned station. Staff are especially aware of any track repairs on your journey that may cause delays.
Dealing with German Train Strikes and Repairs
Generally-speaking, strikes are planned and publicized on local media channels at least two weeks in advance. An easy place to check for such news in English is DW.com's Germany section.
The worst part of strike season is that it often happens that both the local and national services are negotiating their contracts at the same time. To help them negotiate better contracts they may strike separately, back-to-back, and during the height of a major travel event.
Human Assistance in Deutsche Bahn Offices
The websites and kiosks mentioned above are the fastest ways to get tickets. But in-station Deutsche Bahn offices are where you can learn about other trains if you miss a connection, get printouts of schedule options, and get tourist information. They are great for old people like me who don't like to rely on technology as some of the automated kiosks are confusing (depending on local vendor).
There may be only one DB office in a large station. In Cologne for example, the station has three floors and four major sections. Shaped like a giant rectangle, there are two major halls running parallel with three levels of tracks. The only office sits on the middle floor at one end, between these two halls. There are information desks and ticketing kiosks on each level as well, but this main office both provides help and sells tickets in one go. You may have a 20-minute wait time in line, depending on the day. Also note that not all stations have offices and those that do tend to close them after business hours, even in major cities.
That's why having your tickets purchased in advance is important and we greatly prefer planning—even if it has to be the same day of travel—with the ticketing websites listed earlier, rather than relying on kiosks and ticketing offices in stations.
Safety on German Trains and Lost Items
In Germany you will be astonished how, even in bigger cities, your things are relatively safe. That is not a reason to let your guard down, but it is a relief for weary travelers.
If you do lose something on a station platform, say a favorite scarf, there is no lost and found in Germany. It is common practice for people to pick up and place items at eye level, right where they are dropped, so that when the person retraces their steps, they come across their missing item.
If you lose something on the train, there is a good chance a cleaning crew will find it. If you call the DB customer support lines (listed below), make sure to have your train number and day/time handy. If you can remember where you boarded or your car number, that will be useful as well. All the doors on the trains have small stickers with numbers on them so if you note that, they'll be better able to retrace your steps.
Shuttle Services: https://www.bahn.com/en/offers/shuttle-service
– I have not experienced the service but, as a female who travels alone and has missed appointments waiting on disconnected trains and cabbie lines, I would like to have known this was available for booking so I thought it was important to at least let people know the service existed.
In cooperation with Talixo, DB offers fixed-price shuttle services from the train station to your final destination. Enjoy a 10% discount over local taxi fares for rides longer than 5km.
Drivers wait for you when your train is delayed. Vehicles and drivers are quality-verified. Exchange and cancellation are possible. Trips confirmed by SMS 30 minutes ahead of ride. Book online and confirm payment by providing driver with a PIN at the end of your trip.
Basic German for Riding Trains
Train booking for Germany is no problem online, whatever your language; Deutsche Bahn comes in a handful of languages and Trainline has even more. The English on both websites is almost always complete, well-written, and up-to-date (and much, much better than other national European operators' sites).
Most major cities have human train station assistance in English and sometimes Arabic, but at smaller stations and aboard the regional trains you may find only German speakers.
On ICE trains one of the conductors is generally multilingual but they may not be in your section of the train so you may have to wait a while for help. You can ask, "Verstehen Sie oder ein Kollege Englisch?" which means, "Do you or a colleague understand English?"
Many Germans are shy about their level of English so they will tell you they understand but cannot speak—even when their English is exceptional. They may point and provide information without speaking in English.
Bus: Bus
Track: Gleis
Entrance: Eingang
Exit: Ausgang
Left: Links
Right: Rechts
Departure: Abfahrt
Arrival: Ankunft
Ticket: Fahrkarte
Train: Zug
Main Station = Hauptbahnhof (abbreviation: Hbf)
Door = Tür (sounds like tour)
Help = Hilfe (hill-fa)
Information = Information
Bathroom = Toilet or WC (V-see)
ATM = Geldautomat
You will get used to hearing phrases like, "Ausgang links" as a train pulls into a station. This is telling you to exit the train on the left-hand side.
If you're connecting to a bus service, know that drivers of international public transit in Europe are trained to say certain things in English over the PA. This doesn't mean they know the language. Most only memorize or read a script. Your bus driver might sound fluent when in fact she can only tell you to be back on the bus in 10 minutes or she's leaving without you!
Dealing with Motion Sickness on German Trains
If you get motion sick there are curtains on the windows that you can easily close. The trickier issue is finding seating facing forward. This is because German trains change directions quite frequently.
If you have a travel companion and they do not get motion sick, I highly recommend that you sit across from one another. This will make trading seats as the train switches direction quite simple. On a slow travel day you can easily do this while traveling alone as well, but in busier times people will throw questioning glances your way. To explain travel sickness to a German say, "Seekrank". This literally means "seasick" but is the commonly understood term for all forms of motion sickness.
As a sufferer who travels solo quite frequently, if I sit, I make a policy of finding a seat near a door and letting my conductor know. They have to track all passengers and usually do so by seat numbers. On a commute that is relatively quiet, they aren't going to mind and will appreciate the explanation.
On regional trains there can also be window seating between the cars. With such seating you can face looking out the window as the countryside rolls past. If you get motion sick this is a bad spot.
If you plan to stand, find the corners near the bathrooms or the catering cars. These are the only places you're likely to find space without windows. You can also always stand just inside the doors, so long as you remain out of the way of foot traffic boarding and departing the train.
Wrap up: Get Ready to Enjoy Your Travels on Deutsche Bahn!
We hope that this guide has been enough to encourage you to hop on Deutsche Bahn and give it a shot yourself. Remember to pack light, book as well in advance as possible, and give yourself a bit of extra time to find your way around the train station.
We expand and improve our articles based on reader comments, questions, and suggestions, so feel free to add comments; we read and appreciate them.