Eurail and Interrail passes seem like a bit of an anachronism, now that there are ultra-cheap competing train services and some other smart ways to get around Europe—trains that are not available with these passes.
And yet, the Interrail system (for European residents) and the Interrail system (for non-Europeans) have been around for so long, they're cultural touchstones, and for many people seem like the way to get around Europe, especially with a trekking backpack while staying in hostels and seeing lots of sights over the course of a summer.
But are these passes really worthwhile? I made a comparison, using Eurail's suggested itinerary for taking in ten important European cities. I compared the total cost of the passes versus point-to-point tickets purchased just one month in advance.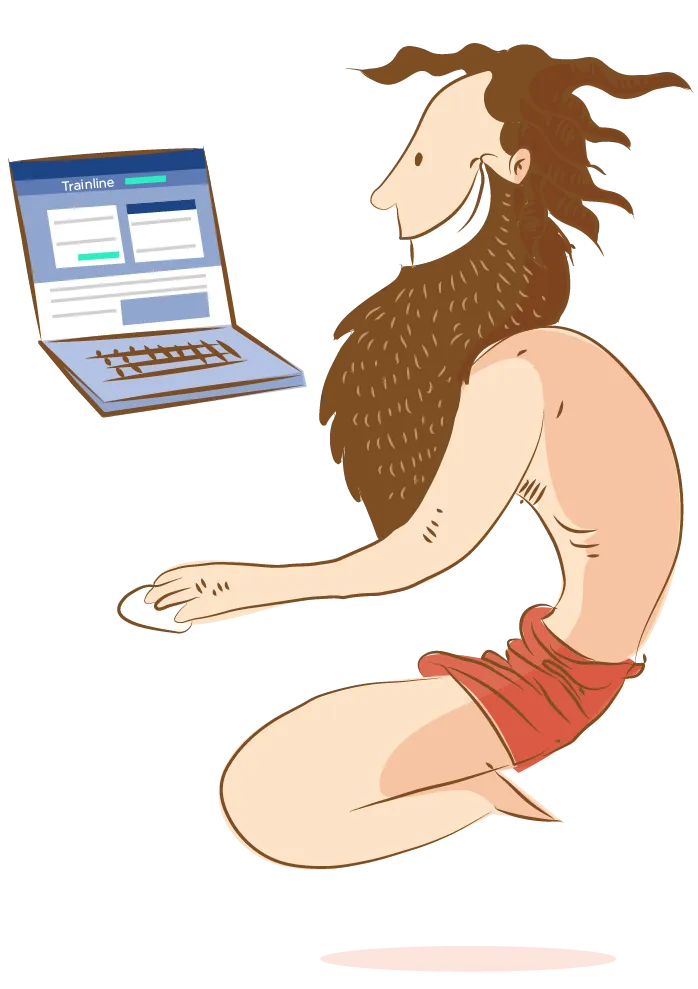 Eurail / Interrail Pricing: In a Nutshell
Eurail / Interrail passes are classic, but almost never the cheapest choice, even on a spontaneous, whirlwind trip. If you want to compare options for your European train adventures:
Check your itinerary on Trainline, where a quick search shows the cheapest point-to-point tickets on all operators, or alternately, if you wish, search each country's train operator (SNCF, Deutsche Bahn, etc.).
Check the price of Eurail (non-European residents) / Interrail (Europeans) for your trip length/travel days and add in the supplements and needed seat reservations, nothing that you will not always be able to take the same trains as on your Trainline itinerary (such as budget trains).
In our experience, point-to-point is almost always cheaper, more flexible, and less of a headache. Find out more about why in this article.
The Test Trip: Europe's Famous Cities
For my test case, I chose the Eurail site's first example itinerary. It seems perfectly suited to show the advantages of what people usually say Interrail / Eurail are best for.
This trip lets you see a lot of places in a very short time frame—in this case, ten cities in just three weeks, thus traveling every other day, a true whirlwind.
It covers a variety of countries: seven total, in both the East and West.
The costs of seat reservations / supplements for this itinerary was not unusually high; just €84 / $91.96 in total for the nine trips (I calculated from Eurail's page for domestic and international reservations; Interrail's appear to be similar).
It includes some fast trains, for which individual tickets can sometimes be expensive.
I ran the test itinerary less than a month before travel, when individual tickets start to become much more expensive.
I ran it for June, the start of the tourist season—so likewise, when individual tickets are a bit more expensive.
Here is the route proposed by Eurail. I think it's a great introduction to a variety of killer European cities:
1. Milan, Italy
2. Venice, Italy
3. Munich, Germany
4. Vienna, Austria
5. Budapest, Hungary
6. Prague, Czech Republic
7. Berlin, Germany
8. Amsterdam, the Netherlands
9. Paris, France
10. Nice, France
I also think that's a crazy way to travel, as in 21 days it works out to one day visiting and one day in transit, alternating for three weeks. I picked faster options and it's still a total of 21 hours and 40 minutes travel over the three weeks, averaging 5 hours and 4 minutes per travel day. You'll spend a lot of time in train stations and staring out train windows.
But lots of people do it. They want to quickly fill their Instagram with photos everywhere. They have very little vacation time. And they're not perhaps quite as obsessed with slow, minimalist travel as I am, that is, in: staying in a place for a while, learning the language and dances, smashing a sheep's skull with a fist at dinner time, flirting, and making forever friends.
There are many ways that such a case could be calculated; I chose what seemed like the most reasonable trip options for someone looking to save money but not suffer too much:
I chose morning travel starting at 8am, not before.
For individual tickets, I chose the recommended trip from Trainline, which is a good combination of short travel time and the cheapest price.
I also calculated the bus travel alternatives using Trainline and in one case Omio.
Here are the details:
| | | | | | | | | | | |
| --- | --- | --- | --- | --- | --- | --- | --- | --- | --- | --- |
| | Date | Supplement | Reservation | Total fees | | Recommended train individual ticket price | Train travel time | Recommended bus price | Bus travel time | Notes |
| Milan to Venice | June 3 | | 10 | 10 | | 24.9 | 2:27 | 6.99 | 3:10 | |
| Venice to Munich | June 5 | 10 | 6 | 16 | | 49.9 | 7:45 | 53.99 | 6:50 | |
| Munich to Vienna | June 7 | | 4 | 4 | | 39.9 | 4:09 | 21 | 6:30 | Bus not on Trainline; found on Omio |
| Vienna to Budapest | June 9 | | 4 | 4 | | 22.9 | 2:47 | 9.99 | 3:05 | |
| Budapest to Prague | June 11 | | 3 | 3 | | 32.4 | 7:23 | 34.99 | 7:30 | |
| Prague to Berlin | June 13 | | 4 | 4 | | 29.9 | 4:34 | 19.99 | 4:30 | |
| Berlin to Amsterdam | June 15 | | 4 | 4 | | 44.9 | 6:16 | 29.99 | 8:00 | |
| Amsterdam to Paris | June 17 | | 4+25 | 29 | | 96.5 | 4:37 | 21.99 | 7:40 | |
| Paris to Nice | June 19 | | 10 | 10 | | 69 | 5:42 | 35.98 | 14:45 | Ouigo train for Trainline; TGV for pass |
| | | | | | | | | | | |
| Eurail global pass price | | | | $459.00 | usd | | | | | |
| | | | | 419 | euro | | | | | |
| Total fees in usd | | | | $91.96 | usd | | | | | |
| Total fees in euros | | | | 84 | euro | | | | | |
| | | | | EURAIL | | INDIVIDUAL TRAIN TIX | | INDIVIDUAL BUS TIX | | |
| GRAND TOTALS IN EUROS | | | | 550.96 | USD | 449.12 | USD | 257.14 | USD | |
| GRAND TOTALS IN USD | | | | 503 | EURO | 410.3 | EURO | 234.91 | EURO | |
The prices for Interrail and Eurail for this trip are nearly the same; the required Interrail pass for this trip is 10 days travel in two months for €421 at the standard adult price versus the equivalent of €419 for the Eurail pass used for this trip.
In some but certainly not all cases, Trainline may charge a booking fee of 1-3%, which is not included here but could add slightly to the total for individual tickets.
I tried to pick the most reasonable options that would be used by most travelers throughout the process. But there are many options that could save money both on the individual ticket side of the calculation and the Eurail / Interrail side (see the savings section below).
Results: Eurail / Interrail Isn't Worth It
Even with this supposedly ideal test case to advantage Eurail or Interrail, the passes end up being much more expensive than just buying individual tickets for the whole trip via Trainline.
Here are the results for this ten-city, three-week tour:
Total for traveling with a Eurail pass with supplements and reservations factored in: €503 / US$ 550.96
Total for traveling with an Interrail pass with supplements and reservations factored in: €505
Total for traveling with individual train tickets reserved one month in advance: €410.30 / $US 449.12.
Total for traveling with individual bus tickets reserved one month in advance: €234.91 / $257.14
This, remember, is for a trip recommended by Eurail! So even their own trip doesn't actually save money with a pass here.
Results will vary, of course, depending on all the factors discussed above. But most of the factors, as used by most travelers, would, I think, tip the scales even more towards individual tickets being advantageous over the Eurail / Interrail passes.
For example, a dream and potentially very cheap itinerary of mine might go from Seville to Copenhagen and take a lot of the ultra-cheap budget trains (Avlo, Ouigo, and Flix) as well as an overnight bus or two when crossing borders to really cut down on costs.
And if you're able to purchase a few months in advance, you'll also possibly save quite a bit more than I did in this test.
Potential Additional Ways to Save in Either Scenario
With Eurail or Interrail passes, additional savings could come from these tactics:
Taking slower trains can mean you avoid paying for reservations.
Eurail / Interrail passes for youth and seniors are a bit cheaper. I've written more about Eurail / Interrail passes for youth and children; in particular note that each adult pass allows you to have two free passes for children aged 4-11.
In some countries reservations are not required for Eurail / Interrail, which can lead to a bit of savings.
With point-to-point tickets, additional savings there are also savings to be had:
Booking individual trips further in advance (~3 months) would likely lead to a lot more savings than what I found in my test.
Being willing to travel at very odd hours such as very early or late can result in even cheaper individual tickets than shown in my test (I didn't opt for the ultra-cheap 6am rides).
Combining bus and train travel for parts of routes, especially on more expensive routes, saves on individual tickets.
Taking slower and local trains rather than high speed trains is usually cheaper; Trainline points these options out when available.
Choosing routes served by budget trains like Ouigo, Iryo, Avlo, and FlixTrain can save a lot and not add to travel time since they are often high speed; there are discount routes on national operators' trains too in some cases. Trainline covers all of these and compares them to the national operators.
Travelling more in Eastern Europe usually means much cheaper train tickets (though there I would often recommend more reliable bus services instead).
There are youth and senior discounts for point-to-point tickets with the purchase of annual discount cards, though these are rarely available to or worthwhile for non-residents.
The "Advantage" of Interrail and Eurail for Spontaneous Travel
I asked fellow travelers on reddit for their thoughts on this and the main response I got was that while you don't save money on a planned trip, Eurail / Interrail should be cheaper for unplanned bouncing around Europe by the seat of your pants. Travelers say that they end up paying back the pass after just a few trips—though I have to wonder if they are actually checking Trainline or Omio for the cheapest train on their day of travel to see just how low the prices actually could have been.
In any case, I thought maybe they have a point: If you're a spontaneous traveler, is it actually cheaper to use these passes instead of booking individual tickets at the last minute?
So I ran the same test again as if the trip with the same ten-city itinerary starting today, on the day I am searching for tickets, May 10, 2023. Here's what I got.
| | | | |
| --- | --- | --- | --- |
| | Date | Price | Notes |
| Milan to Venice | May 12 | 21.5 | |
| Venice to Munich | May 14 | 93.9 | |
| Munich to Vienna | May 16 | 27.9 | |
| Vienna to Budapest | May 18 | 17.9 | |
| Budapest to Prague | May 20 | 22.4 | |
| Prague to Berlin | May 22 | 49.9 | |
| Berlin to Amsterdam | May 24 | 46.9 | |
| Amsterdam to Paris | May 26 | 149 | most trains this day already fully booked; this price is for a 6am train; booking a bus as an alternative would be 37.98 |
| Paris to Nice | May 28 | 49 | Ouigo |
| | | | |
| TOTAL IN EURO | | 478.4 | |
To my surprise, even booking just before travel like this, the results are not all that much more expensive. The €478.90 total for individually purchased tickets on the day the trip starts is still €24.10 less than the total for a Eurail pass trip.
The annoyance in this itinerary would likely be Amsterdam to Paris; the Thalys trains for that day, a Friday, were very nearly sold out and if I waited any longer to buy that option would perhaps be gone. This would prevent using a pass as well. If I were forced to or chose to take a bus instead on that day for that leg of the trip, it would reduce the total cost of the individual tickets version by more than €100 and it would increase the cost of the Eurail pass travel by nearly €40. The trip time by bus would of course be longer and less pleasant than the fast train.
So it's hard to see how Interrail / Eurail actually saves money on improvised travel. It's still certainly possible, however, if you're taking a lot of otherwise expensive trains like the Thalys or Eurostar and doing so on days when they are almost but not quite sold out.
My recommendation for cheaper, spontaneous European travel in most cases would thus be to buy individual tickets for trains with the occasional bus when you really want to save, and only pick up a Eurail / Interrail pass for very short bursts with a lot of travel on otherwise expensive trains—and even then only after comparing to an individual ticket search to see whether it's truly worth it.
The Train Operators that Work with Eurail and Interrail—and More Importantly, Those that Don't
The list of operators working with Eurail and with Interrail include basically all of the national operators and cross-border operators Thalys and Eurostar, as well as ferries.
But, importantly, the newer systems that compete with these standard national operators and with budget airlines are not included in Eurail and Interrail passes. These include Ouigo, Iryo, Avlo, and FlixTrain.
Take especially the example of Spain, where there are essentially four competing high speed train services. With all the competition, trips from Barcelona to Madrid and between other major cities are quite affordable. A Eurail or Interrail pass in Spain, which would only give access to Renfe's Ave trains, doesn't seem to make much sense any more.
Comparing Eurail / Interrail Passes for Your Trip with the Cheapest Point-to-Point Tickets
Results will vary. Once you have a strong idea of your trip, and especially if it's a whirlwind trip with a lot of stops in a short time frame, and if you like traveling spontaneously, it could still be worth checking out the passes for yourself and calculating if they could save you anything. Go to Eurail (non-European residents) and Interrail (Europeans) and choose the duration of your trip and also see the rather-buried pages on the required/recommended reservations and supplements.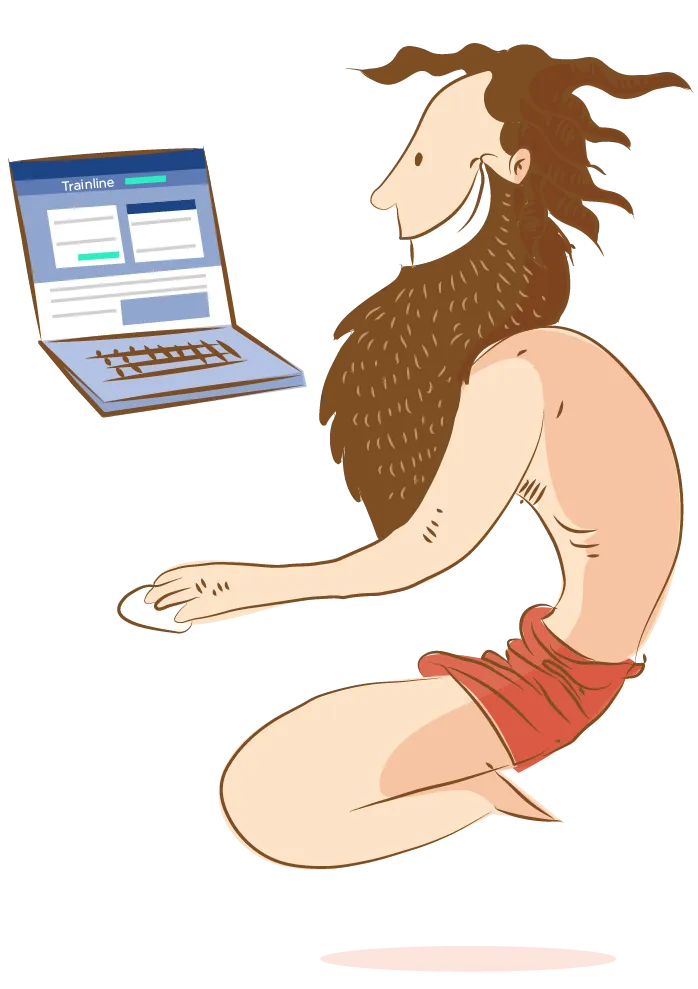 For the other side of the scale, by far the easiest way to calculate your point-to-point train ticket prices is on Trainline, the platform that integrates and compares train operators all over Europe in a simple interface, quickly pointing you to the best price and shortest trips among all of them. Trainline is a bit like Google Flights or Skyscanner, but for trains. We've compared it to other such European train platforms and found that Trainline tends to offer the best routes when crossing the maze of the European train networks.
A similar platform that works quite well for much of Europe is Omio. It also shows budget flights, which can be useful in Europe when covering larger distances, though I urge you to take trains wherever possible, for the experience, comfort, and reduced carbon footprint.
Finally, to get an even wider view on the bus options for Europe, the best place to search is BusBud. It covers more bus operators than Trainline and Omio and so it may deliver better deals for bus travel. Buses tend to take longer than trains, be less comfortable, and drop you farther from city centers—but they're often cheaper than trains.
And Your Take on These Passes?
I have been bouncing around Europe for most of the last two decades. So I have some opinions about how to get places and what's worthwhile. But I have actually never used Eurail or Interrail, as I tend to travel much slower than those passes supposedly make worthwhile.
So I might be missing some important factors—and I'd love to hear what they are. I'll be monitoring the comments and update this article with more tests if you all give me some good ideas, especially concerning where Eurail or Interrail could actually come out on top in terms of pricing or experience.