FlixTrain is generally much cheaper than what you'd pay for the national train operators—but whether it's right for you depends on a few factors about your destinations and expectations.
FlixTrain often costs around 25% to 50% of similar rides on Germany's national operator Deutsche Bahn or Sweden's SJ. FlixTrain passenger cars are modern, with comfortable seats, outlets, and WiFi. Below we'll dig deep into the details of how to get the best tickets, compare them to competing offers, and what to expect on the ride.
Update History of This Article
This article was first published on April 3, 2023.
What Is FlixTrain?
FlixTrain is a part of Flix SA, a German startup e-commerce company and transport operator. It also runs European and North American bus services (including both FlixBus and Greyhound), and offers Brazilian bus options that we have also enjoyed.
Flix began offering train service when German rail lines were opened up to private competition in 2013. In 2022, Flix expanded their network to Sweden train lines as well. Flix uses renewable energy and runs their trains on the same rail lines used by the national operators.
The main selling point for FlixTrain is the pricing—it is quite a bit cheaper than the national operators, as you can find through searches that compare the various options (discussed next).
Purchasing FlixTrain Tickets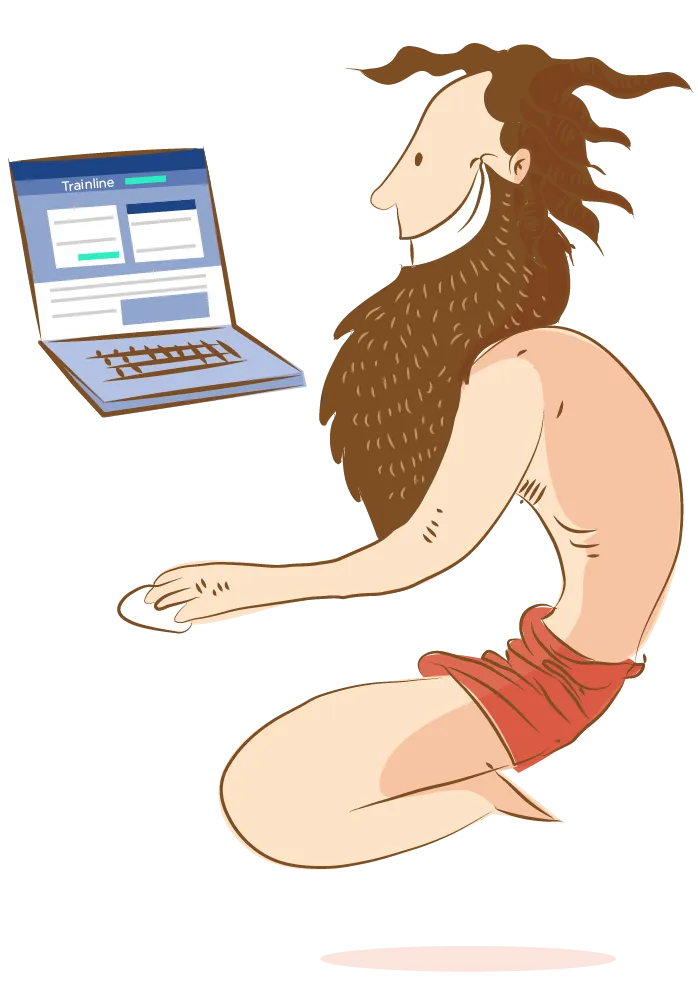 Trainline is a better way to search for a specific route because it allows you to compare FlixTrain and competing operators. It is also the top train ticketing platform in our tests for smarter, cheaper routes crossing Europe. If you run a search on Trainline for a route that FlixTrain runs, you'll see both FlixTrain and competing options. The dynamic pricing on Trainline is the same as buying anywhere else.
The FlixTrain/FlixBus Europe/global website (or the USA version, which also has European train tickets) is useful if you already know you want FlixTrain and don't want to bother seeing any competing options. The website is intuitive and simple; it shows the company's train as well as bus options. Payments can currently be made by credit card, Google Pay, or Paypal.
It is important to remember that while some operators in Europe allow you to purchase a ticket from a train conductor during the ride, FlixTrain is not one of them. If you board the train without a ticket, you will have to pay a much higher fare.
Pros and Cons of FlixTrain in a Nutshell
Yes, FlixTrain is a budget travel operator, but there are other advantages in addition to the obvious dirt-cheap fares.
Pros of FlixTrain:
Guaranteed seats with all tickets (whereas if you don't have the seat reservation add-on in second-class Deutsche Bahn, you may end up standing)
In-seat European (two-hole) power outlets (bring a universal power adapter if needed) and USB charging outlets
In-train WiFi, and the ability to connect to FlixTrain's entertainment system
A clean, well-maintained interior and basic, comfortable seats
Cons of FlixTrain:
FlixTrain has more stringent luggage restrictions than with Deutsche Bahn (see below).
There are reports of heating issues in the Swedish winter.
These are not high speed trains; there are sometimes faster German train options for certain routes with ICE (you'll see them, if available for your route, in Trainline searches).
What to Expect When Traveling with FlixTrain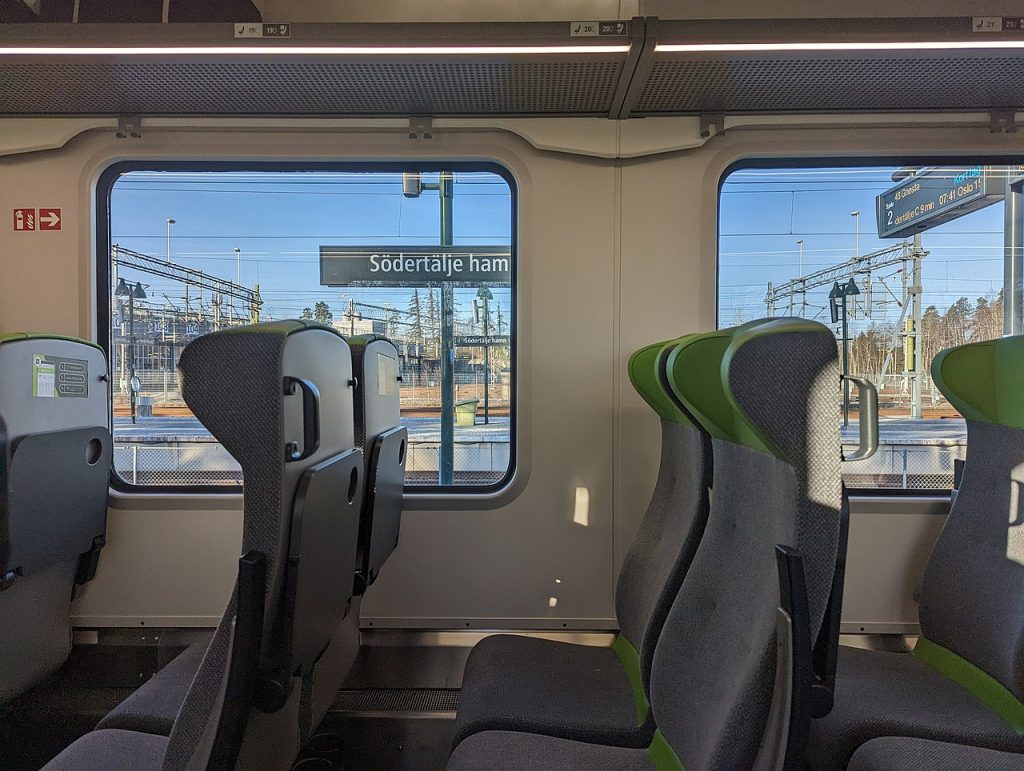 Classes and Seating
On FlixTrain there is no business or first class section, but rather only a standard class. The seats are basic and, in most travellers' experiences, quite clean. The trains are relatively new.
While Deutsche Bahn usually requires additional payment for a seat reservation, FlixTrain guarantees you a seat, no matter the ticket price.
In-Train WiFi
There is free WiFi when travelling with FlixTrain, though don't expect much in terms of speed.
The FlixTrain Entertainment System
Once you connect to the in-train Wifi, you will have the opportunity to connect to the train's entertainment system at www.media.flixtrain.com. Seats are equipped with outlets to ensure you will won't lose power if watching videos on your devices.
Children and group discounts
There are discounts for children and groups, however FlixTrain does not say what they are. You enter your children's ages and will be offered a slightly discounted rate when you search for you and your children (whether using Trainline or Flix's sites to search), but there's no final price breakdown so it is tricky to figure out what discounts are generally in play for children.
Food and Beverages
There is no bar car on FlixTrain and no food or beverages are offered. Pack a lunch and water!
Neighbor-free travel
If you don't feel comfortable in a cramped space with another person, you can always pay an extra fee to ensure that you will travel without anyone on the seat next to you.
Luggage Restrictions and Extras on FlixTrain
FlixTrain has limited baggage space on board, which is why you have to make sure that you are within your baggage allowance or else have paid in advance for extra luggage.
The carry-on bag should always be small enough to be stowed underneath your seat or in the compartment above. It cannot exceed 30cm x 18cm x 42cm (11.8in x 7in x 16.5in) and cannot be heavier than 7kg (15.4 lbs). Most travel daypacks like those we recommend fit such specifications.
One full-sized (on airlines, "checked") luggage piece can have dimensions of 50cm x 30cm x 80cm ( 19.6in x 11.8in x 31.4in) and weigh up to 20kg (44 lbs). You should be able to load and unload it from the overhead compartment yourself.
One piece of extra luggage is possible by paying an add-on fee; it can have the same maximum dimensions as your checked bag. You can get additional luggage during the online ticket purchase process or afterwards by going to "manage my booking".
You can bring one stroller free of charge per passenger. It must be no heavier than 30kg (66 lbs), and the combined dimensions cannot exceed 240cm (94.4 in).
For wheelchairs, FlixTrain says that you should call their customer service at +49 30 300 137 100 at least 36 hours before your journey begins so that accommodations can be made if you wish to travel while sitting in your chair. (FlixTrain says in some places that this is "encouraged" and elsewhere that it is "required"—just call to be safe. If you use a standard seat, your foldable wheelchair or walking aid is transported for free.)
For bikes, you will have to pay a 9-euro fee. Bicycles cannot weigh more than 20kg (44 lbs), and they cannot have any attachments. You can add your bike to the trip during the purchase process.
Animals are allowed on FlixTrain in Germany. Small pets must be carried in a transport container. However, when it comes to larger pets, you will have to purchase a ticket at the rate for a child. They will also have to be on a leash and wear a muzzle. Companion animals will be allowed on the train free of charge if you have registered them in advance and provided official documentation proving the need for their constant presence. If traveling with a pet you may want to check out our minimalist travel guide for pets on European trains.
FlixTrain Sweden does not allow pets. The only exception is a guide or companion dog.
Before boarding the train…
A good rule of thumb when it comes to travelling by bus or train is to arrive at the departure spot at least 30 minutes early. This way, you will not be in a rush and will avoid all unnecessary stress. There's no check-in process, as you will be required to bring and stow your luggage yourself. However, it is a good idea to have your ticket printed out and ready to go (or at least a screenshot of it on your phone). You never know when your mobile data or WiFi might stop working. You should also have your ID ready since it will be required upon boarding.
If you are like me and you experience anxiety when visiting a new and crowded place such as a big train station, then it is a good idea that you take a look at these four train station guides for Berlin, Cologne, Hamburg, and Munich. This way, you will have a general idea of what to expect, and your mind will be at ease.
FlixTrain Destinations
FlixTrain offers a few different lines connecting major German cities as well as Basel, Switzerland:
Trainline also runs a train in Sweden connecting Falköping, Gothenburg, Hallsberg, Skövde, Södertälje, and Stockholm.
Deciding Whether to Take FlixTrain and Looking to the Future
Overall, despite FlixTrain being a budget train operator, it still brings a lot to the table! It is reasonable when it comes to baggage, provides good discounts for children and groups, and does all of that at a very low price—the key factor for us.
Regular Deutsche Bahn and Swedish SJ trains are also often quite competitive though—and to really save money you can check bus options as well. The easiest way to compare the options side-by-side is Trainline.
This German and Swedish private rail option doesn't have as much competition as, for example Spain's competing rail operators (Ouigo, Iryo, Avlo, as well as the government's Renfe/AVE). Here's hoping that as Europe opens up its rails, we get more competition and options as passengers.