Iryo is one of Spain's very affordable train services and offers a comfortable, quick connections between key cities.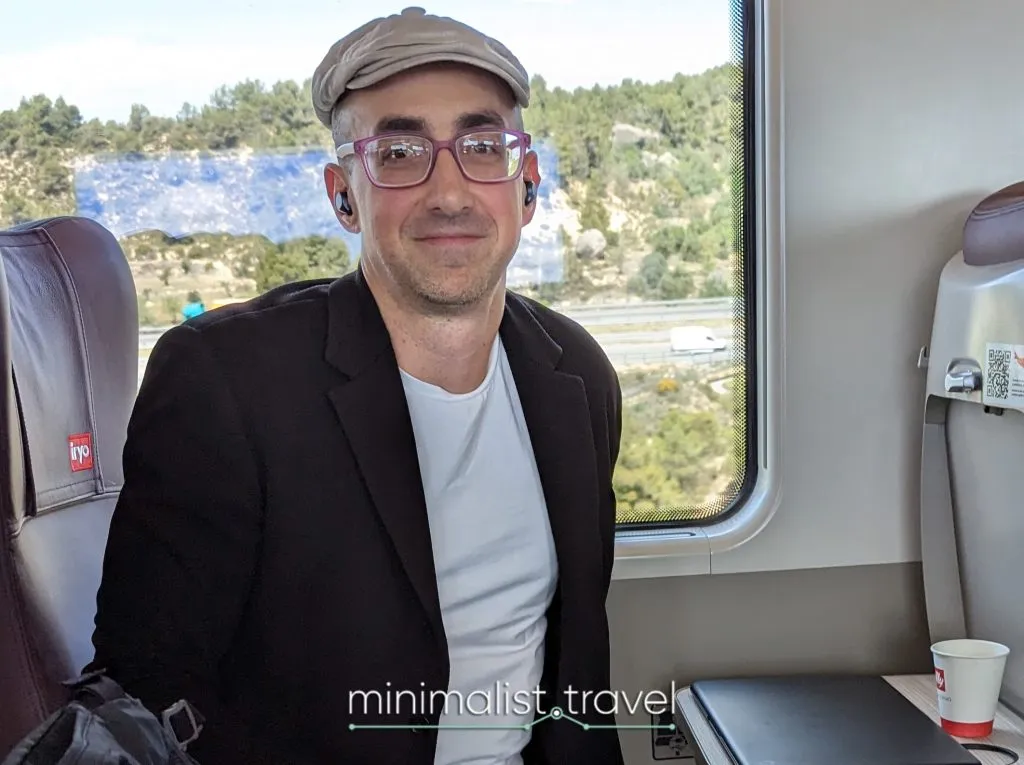 Iryo currently runs trains between Madrid and Barcelona more than a dozen times per day in each direction and also runs South and East from Madrid, serving Seville, Malaga, Valencia, and more. The pricing is excellent, likely because Iryo faces high competition in Spain, the only European country with four high-speed rail brands.
When travelling on Iryo's high-speed trains, you can expect to reach your destination safely and without much hassle while taking in the gorgeous Spanish countryside. We've found the Iryo experience smooth and just as good as on Renfe, and in a few ways even a bit better.
In this handy guide you'll discover what riding an Iryo train is like and how to buy a ticket for your next great adventure, whatever your language, home country, or destination plans in Spain.
Update History of This Article
This article was first published on April 3, 2023. It was updated on April 24 with better photos and info from a recent Iryo trip we took.
What Is Iryo? And How Much Does It Cost?
Iryo is Spain's first private high-speed rail operator; the company is jointly owned by Trenitalia, Air Nostrum and Globalvia. It made its inaugural journey in November 2022.
Iryo's fleet, known as "red arrows", are high-speed Hitachi-Bombardier ETR 1000 trains that reach speeds of 360 km per hour.
Tickets on Iryo's Madrid-to-Barcelona line (which only takes 2 hours 30 minutes) cost as little as €28, though travelling during peak times could set you back as much as €48—which we still think is incredibly reasonable and is cheaper than typical prices from the government operator Renfe, whose prices for the same route can be as much as €200.
That said, there are also even cheaper options for high-speed travel in Spain and Catalonia; Iryo competes against three other services, all of which we have reviewed: the Frenchy budget train Ougio, the national Spanish operator's budget option Avlo, and the national Spanish operator's more traditional Ave. But it's easy to find the best pricing for a specific day and trip on all four of these—discussed next.
How To Purchase Iryo Tickets—And Find the Best Deals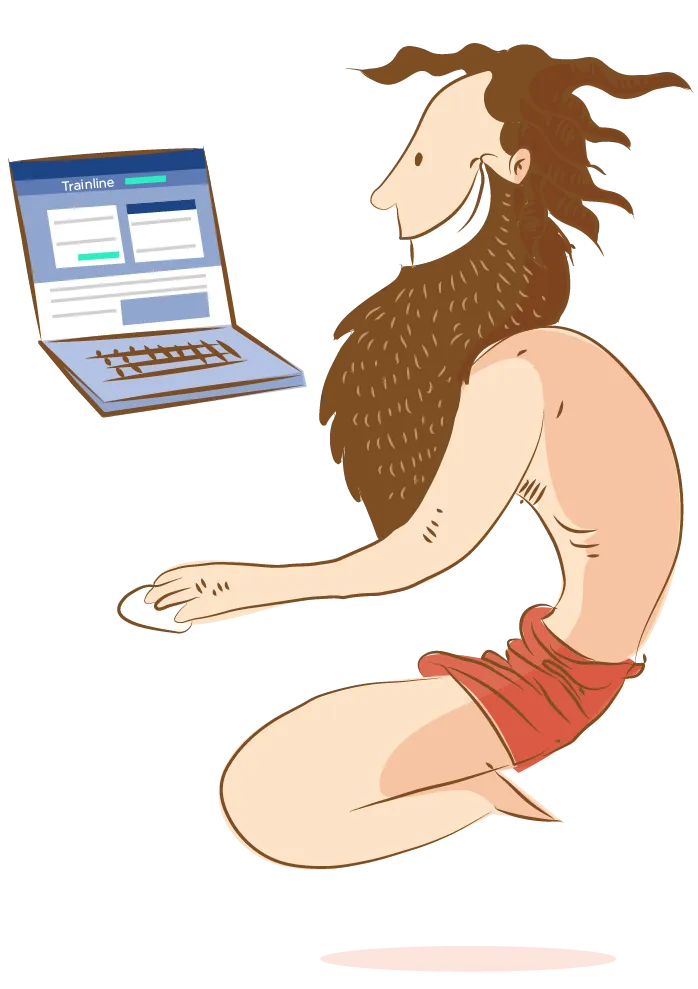 Trainline is the easiest way to both buy Iryo tickets and to compare all the budget train operators within Spain. Trainline will show all the budget train operators side-by-side for your chosen route, as well as the national operator Renfe, buses, and bus-plus-train options.
Trainline allows you to pay with major credit cards from anywhere in the world, Apple Pay, Google Pay and PayPal. Trainline is a better bet for travellers who are not based in Spain, as the site is user-friendly, comes in many languages, and can deal with a variety of world addresses and payment methods.
Tickets can also be bought directly from the Iryo website if you're not interested in comparing Iryo with other high-speed train options. It is also possible to purchase in Iryo offices in major train stations ("Casa Iryo / Iryo House").
Is Iryo Worth It?
Iryo offers fast, cheap train rides, but has a few downsides too.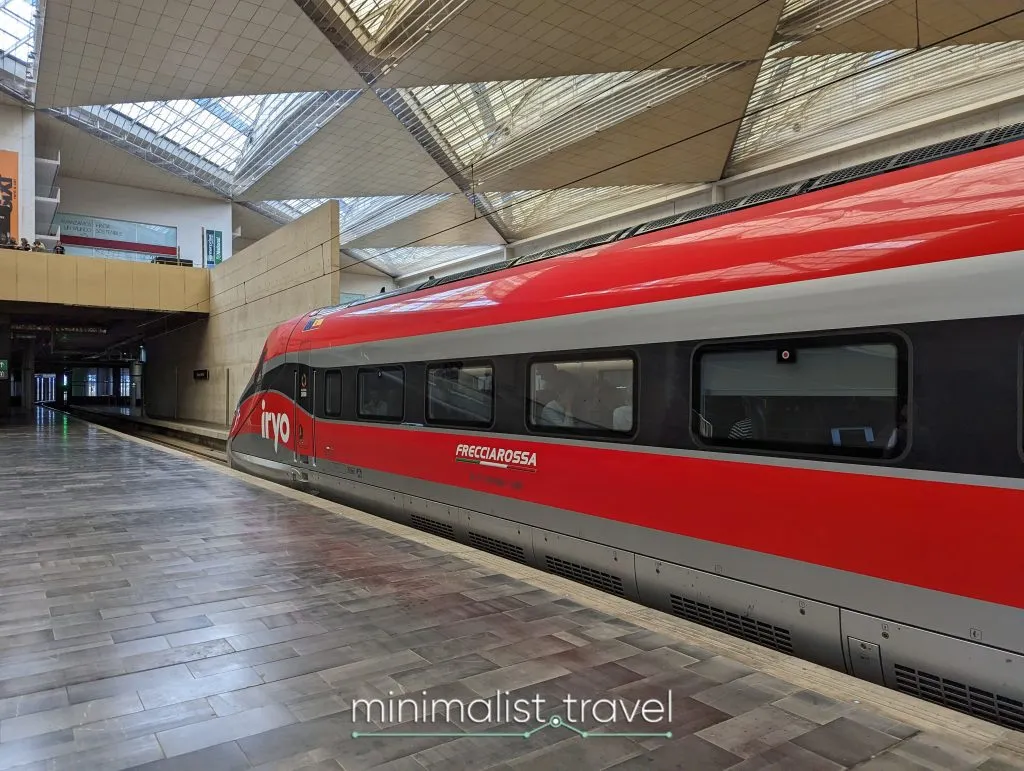 Advantages of Travelling with Iryo
Iryo offers cheap tickets—often cheaper than the national operator Renfe's Ave high-speed service.
Iryo has more classes of service and better amenities and extras than the competing budget high-speed services Ouigo and Avlo. This includes a bar car, in-seat food service, and much more permissive baggage limits (details below on all of these).
All Iryo trains are high-speed, meaning that you'll get to your destination hours quicker than if you traveled by regular-speed trains.
Children aged 0 to 3 years old travel for free.
Wi-Fi is included as part of all ticket types.
E-scooters are permitted on Iryo trains so long as they are disconnected, folded, and stored in a properly sealed bag.
Disadvantages of Travelling with Iryo
Iryo can cost a bit more than the other budget train options, though not by a lot; compare your options as discussed in the booking section above.
Iryo doesn't offer discounts for those aged 4 to 18, unlike its budget competitors in Spain. (When searching for tickets on Trainline you can enter the ages of any children and find the overall cheapest budget train route for your group—for families with kids it's unlikely to be Iryo.)
While its service covers more of Spain than Ouigo's or Avlo's, it's nevertheless true that Iryo only serves certain major cities. For other destinations, you may need Renfe trains. Fortunately, if you're headed to or from other corners of Spain (or into or out of Catalonia, France, Portugal, etc.), Trainline automatically calculates your options for combining Iryo, other budget train operators, the national train operator Renfe, and bus services.
What To Expect on an Iryo Train
Iryo offers a tiered system of tickets with different prices. The type of ticket you purchase determines the experience and amenities you can expect to enjoy. We have updated this section based on our own experiences riding Iryo in April 2023 and with information from Iryo's Spanish site (their English version is incomplete and has not been updated).
Iryo's WiFi Service
Iryo trains have free WiFi access (supposedly with a 5G connection) for all passengers.
On our recent trip from Barcelona to Zaragoza, we found that the WiFi was mostly very slow throughout the trip, and cut out completely as the train went through the many tunnels.
The service was good enough for sending some messages and reading a news website, but not fast enough to make watching videos worthwhile.
If you need to be sure of connecting as you travel in Spain (for maps, gathering info while traveling, connecting with those you meet…), you'd do better using the internet connection on your phone. If you have an EU phone plan it should work fine in Spain, and if not I recommend unlocking your phone and picking up a local SIM card. Americans can also use Google Fi; it works the same around the world so it's great for international travel.
For data privacy, we also use a VPN when connecting to WiFi in trains, train stations, and hotels. The one with great speed that's worked well for us over the years as we edit this site on the go is Nord VPN.
In-Seat Device Charging
All Iryo seats have a European power socket and USB connection for charging your devices; be sure to have a universal travel plug adapter if your devices don't have two round pins in their plug and/or if you want to charge more than one device at once. A good adapter also allows you to charge more than one device at a time with various USB-C out points; Iryo trains do have conventional USB charging outlets though.
Iryo Food and Drink Service
There is a bar car with snacks and drinks: the Haizea bar in car 3. The menu includes lots of typical Spanish tapas, as well as sandwiches and chips and other packaged snacks. There is coffee, water, soft drinks, wine, beer, and hard liquors. The menu is available online but in Spanish only.
On our recent trip the food did not look particularly appetizing so we didn't try anything ourselves.
There is also a Haizea Mobile Bar, that is, an attendant with a trolley who roves up and down the train offering coffee, drinks, and snacks. We only saw them once on our recent trip. But it's more fun anyway to get up and go to the bar car.
Iryo Restrooms
Iryo trains are quite new and on our recent trip we found them to be very clean too; this carries over to the restrooms, which were clean and in better shape than what we've experienced on, for example, Renfe.
The pictured restroom from our car in Inicial class (the cheap seats) was accessible, had lots of space, and was in good working order.
Inicial Class
The cheapest Iryo option is their Inicial class. You can still expect comfy seats, four to a row. The seats have fold-out tables, are able to recline, and have individual armrests.
Some flexibility is offered with Inicial but it will cost you extra:
Changes to tickets are permitted to a different time on the same day of travel by paying the difference in ticket price.
Date changes are possible when made more than 24 hours before departure. You will have to pay 15% of the ticket price plus the fare difference.
Cancellation is possible as well; if you cancel your ticket more than seven days before travel you'll get an 80% reimbursement, later than this and it'll be 70%.
Changing the name on the ticket costs €40.
Singular Class
This is essentially the same as the Inicial class, but offers:
Free changes to the time of travel on the same day.
You can change the date of travel by paying the fare difference (if changed 24 hours prior to travel)
Cancellation is possible; if you cancel your ticket more than seven days before travel you'll get an 85% reimbursement, later than this and it'll be 75%.
Changing the name on your ticket costs €20.
If you miss your train you can take the next available train by paying €30, as long as the change is made within two hours of departure.
Singular Only YOU Class
This disastrous word jumble is Iryo's attempt to market to business travelers in partnership with Only YOU Hotels. The key differences are the work space at your seat and the flexibility.
Seats are "extra-large" although still four-to-a-row, the difference is that they are all in clusters of four facing each other with large fold-out tables between them and so there is good space for a laptop and getting some work done.
Change and cancellation policies are the same as for the Singular class above.
You get 10% off accommodation at all Only YOU hotels.
Infinita Class
This is Iryo's version of first class. It offers:
Extra-large seats that are three-to-a-row
A welcome drink
Hazeia food service at your seat
Personalized attention from Iryo attendants while on board and before boarding
Access to Casa Iryo lounges/work spaces in Only YOU Hotels
The same change and cancellation policies as the Singular class above, but with a more generous cancellation reimbursement of 95% if cancelled more than 7 days in advance and 90% otherwise. The fee for catching a later train if you miss your train is reduced to €10.
Is There a Baggage Limit on Iryo Trains? Is it Enforced?
Iryo permits you to take up to three pieces of luggage on board.
Two items of luggage with a maximum size of 85 x 55 x 35 cm (33 x 21 x 13 inches)—most standard suitcases and backpacks are fine
A third item of no more than 36 x 27 x 15 cm (14 x 10 x 5 inches)—similar to a personal item on an airplane, like a purse or laptop bag
The total weight of the three items of luggage cannot exceed 25 kg (55 lb).
Iryo customer service has told us that there is no option to pay a supplement for any baggage exceeding these limits.
However, we have not seen Iryo staff measuring sizes and weights of luggage being loaded, so presumably as long as you can handle your luggage yourself and it is not obviously a big abuse of the size and weight restrictions, you will not have problems. That said, for a lighter, funner experience we always urge you to pack as lightly as possible.
In Spain, passengers on high-speed trains go through a luggage check that is much simpler and faster than what you experience in an airport. You simply place your backpack or suitcase on a belt and it goes through a scanner; you receive it at the other end. I have never seen any nonsense about removing liquids, laptops, etc. from bags. This check is performed by train station staff, not Iryo.

Arriving at the Train Station
Unlike slow, conventional trains, Iryo and other high-speed services in Spain ask you to be at the boarding gate at least 30 minutes prior to the departure time. Electronic or printed tickets are accepted when boarding the train.
Those with reduced mobility or a disability may seek assistance before their journey, upon arrival at the station, or after they've reached their destination.
Where Can Iryo Trains Take You?
These are the current destinations you can travel to on the Iryo network.
Albacete (from June 2, 2023)
Alicante
Antequera (from June 2, 2023)
Barcelona
Cuenca
Córdoba
Madrid
Málaga
Seville
Tarragona (coming in summer 2023?)
Valencia
Zaragoza
Iryo Customer Service
Iryo customer services can be reached on +34 910 150 000 or [email protected].
All Aboard: Let Us Know Your Experiences
If cheap tickets, comfortable seats and quick journeys are your style, Iryo is a fantastic way to travel around Spain—though so are the competing budget operators Ouigo and Avlo. And even the national operator Renfe's Ave service is often competitive. We like all of them and tend to just go with the best prices.
If you're still undecided, our recommended platform for comparing all of the options (times, prices) at once is Trainline.
We will continue to travel on Iryo and other Spanish trains and will update this article as things change. We also very much appreciate hearing about your Iryo experiences in the comments, which can be useful for other travelers and to alert us when we should update or make corrections.