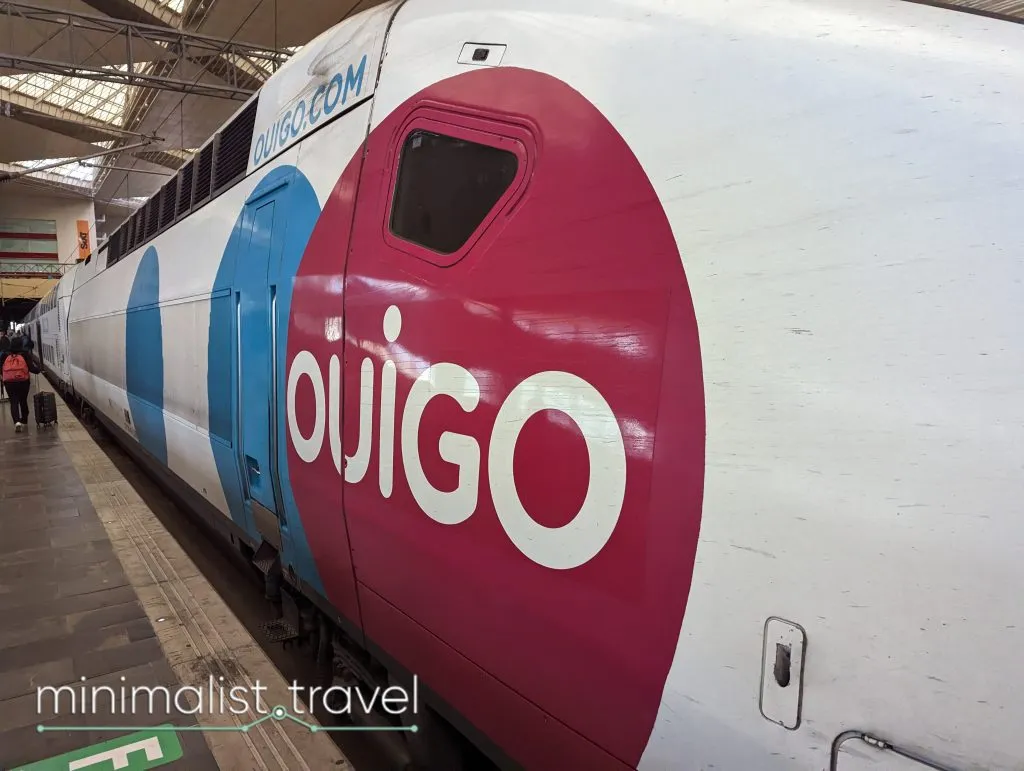 Ouigo, put simply, is a railway answer to the budget airline.
The tickets are cheap, and there are no frills, but you get to where you're going on lovely high speed trains while enjoying the beautiful countryside.
In terms of comfort, Ouigo is nowhere near as bad as a budget (or any) airline, though the experience is a bit more cramped than a standard high speed train ride. Ouigo's popularity continues to grow — reports show ticket sales increasing over its history and its routes have steadily expanded, at first around France and now into Catalonia and Spain.
I've taken Ouigo a number of times and it's certainly not as comfortable and carefree as normal (expensive) high speed trains. But I love it, particularly when I've been able to slip across France in a few hours for less than the cost of lunch in a Parisian bistrot.
Here then is a look at the advantages and disadvantages of the system, how to book tickets (including as a foreigner), and what to expect from the ride.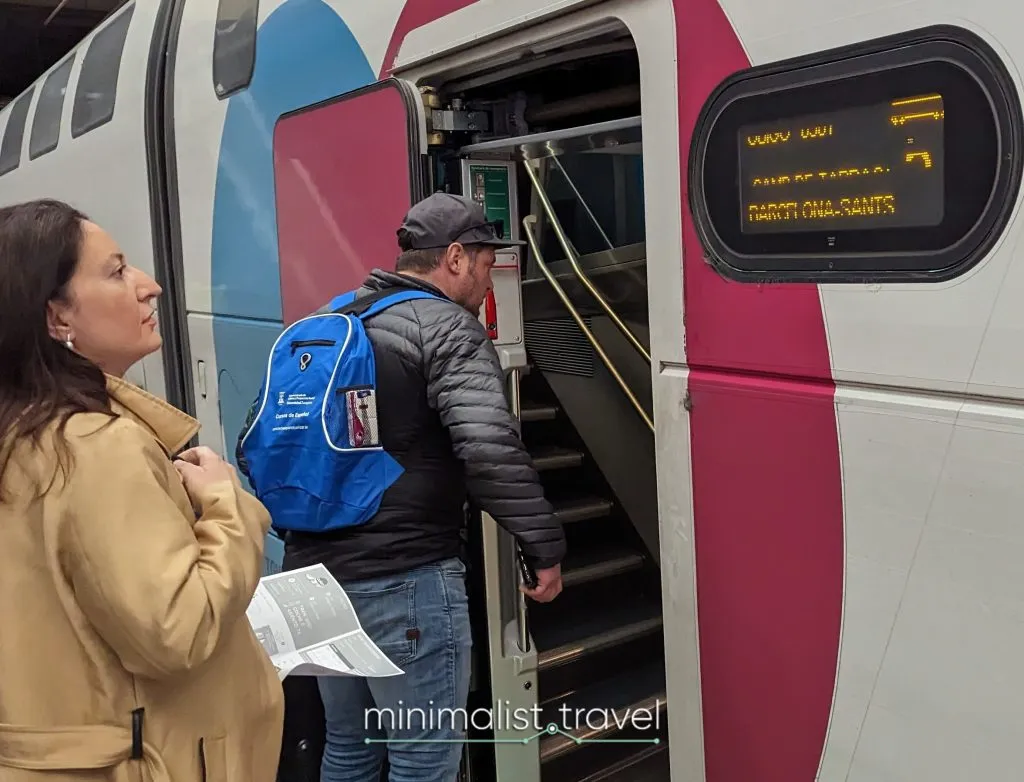 This article is continuously fact-checked and updated by savvy, sweaty, human travel writers
This article was first published on May 10, 2019. It was updated with boarding procedures on Sept. 11, 2019. It was overhauled with completely updated information, including on Spain, on Jan 25, 2023. Updated info and photos added on April 21, 2023.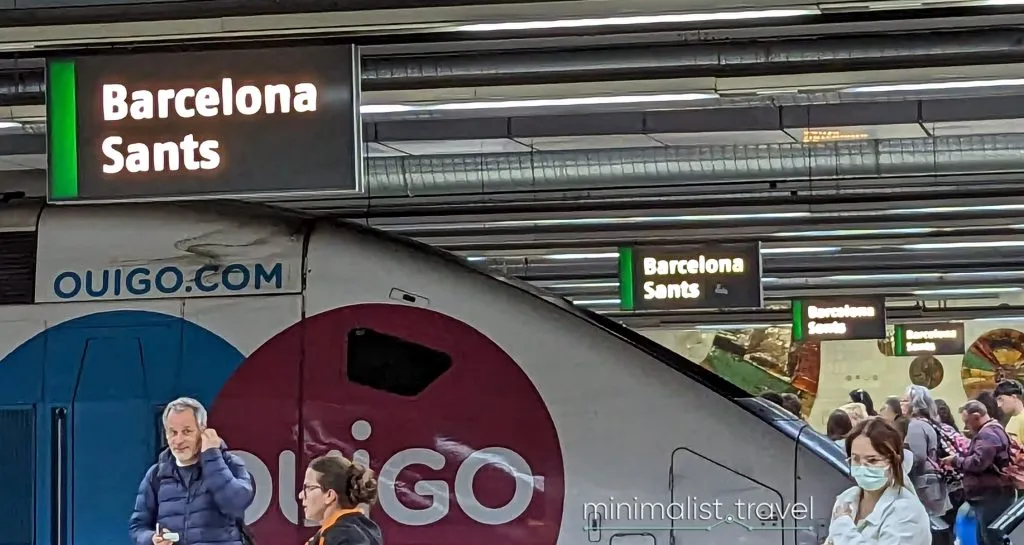 Ouigo is a subsidiary of the SNCF, the French national train company. It has been offering rides between major cities in France since 2013. Prices are much lower generally than on standard trains, starting at €10 but usually costing around €20 to €60.
The offer is simple, assuming that your priority is to get where you're going as cheaply as possible without much hassle. For the basic price, you're limited to a personal item and carry-on sized suitcase; regular-sized luggage costs slightly more.
In 2021, Ouigo began offering limited-city high speed service in Spain and Catalonia as well, through Ouigo España, which operates separately.
Ouigo trains are fast trains, just like the SNCF's TGV service, running at 270-320 km/hr (160-199 mph). The exception is the few Ouigo Classic train routes, which began in 2022, and run on regular (non-high-speed) routes in France and hit smaller towns and suburbs.
Ouigo is not effectively marketed to those living outside of these countries (the French Ouigo site, for example, is French-only), but we detail how to take advantage of these cheap tickets, whatever your language and your home country, in the next section.
How to Purchase Ouigo Tickets and Get the Best Deals
Ouigo tickets are only available for purchase online. There are three main options.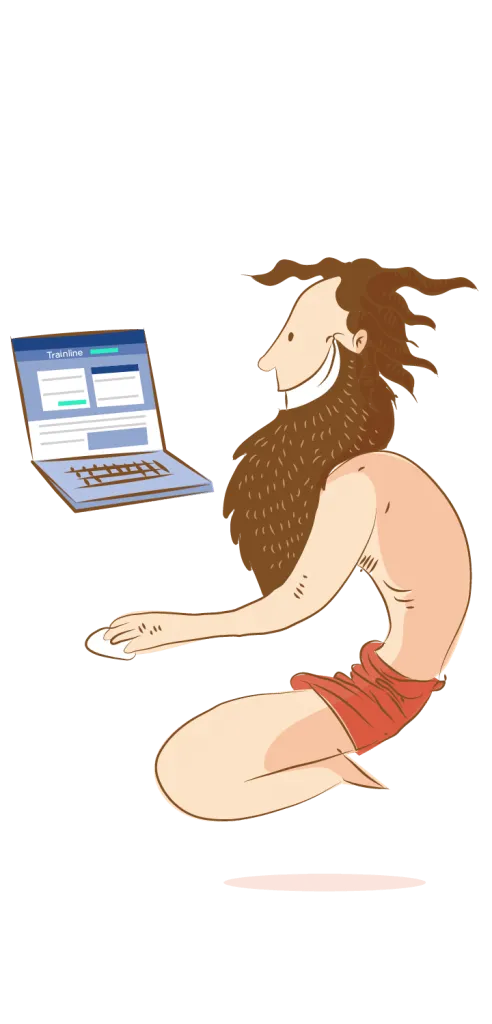 The booking platform Trainline is the easiest option for getting tickets for Ouigo. The website is functional and hassle-free, and the routing engine is the best overall for Europe. You'll see the Ouigo routes for your search as well as other cheap, competing high-speed train routes, traditional train offers, bus routes, and bus+train combos. If you're flexible, it shows which days are cheapest to travel on. The customer service is decent too. It allows more payment methods, including normal international credit cards, PayPal, Google Pay, and Apple Pay. The downside is that there is sometimes a small booking fee of about 3%. It sells tickets for both Spain and France.
The next-best option (for France only) is SNCF Connect, the French national operator's booking site; its chief advantage is no booking fee. This site undergoes a complete overhaul every few years but never really works properly. I have successfully purchased tickets from it, but just as often gotten error messages and aggravation from the official SNCF site. It is particularly difficult to use if you are in a foreign country, using a non-French credit card, or don't speak French (the language of the error messages).
Taking those problems to another level are the official Ouigo Spain (English, Catalan, and Spanish) and Ouigo France (French only) sites. The good thing is that they are simple and, like SNCF Connect, don't charge a booking fee. But they have lots of errors, are not designed for foreigners, and don't tend to be able to handle our addresses and credit cards. Most crucially for me, they don't compare route options to traditional trains and competing budget trains, which can lead to missing out on the better deals shown on Trainline. But if you absolutely want to take Ouigo and nothing else, these sites can help you see filter down to only the Ouigo options.
Note that Ouigo tickets are not available from physical train station ticketing windows and shops.
For Spain, note also that Ouigo is no longer the only budget high speed train option; there is also Avlo and Iryo. The standard high-speed trains Ave, Avant, and Alvia can also be cheaper in some cases. We have written a side-by-side comparison of the services, but in brief they're all comfy and fast and worthwhile. I tend to just take whatever is cheapest in my Trainline search for the day I want to travel.
Booking tips for Ouigo:
When booking in France, pay attention to which train station you are booking to and from. Carefully check which station is best for you; some stations are outside of city centers. This can be great if you're headed to a specific suburb or to Charles de Gaule Airport. But if you want to go to a city center make sure you're aware of which train station you're choosing. Google Maps is useful for determining the additional time and cost to take public transport to/from train stations in France and Spain.
Pay attention to luggage options, which are shown as you book. Know the size of your bags and know that your bags will actually be checked and have to conform to the restrictions.
Is Ouigo Worth It? Weigh the Pros and Cons
I like Ouigo and I take it. But I know what to expect. Here's what you should consider.
Advantages of Ouigo
Much cheaper: Tickets start at €10 and tend to be very reasonable compared to standard trains.
Fast: All Ouigo trains (except "Ouigo Classic") are modern fast trains (just like France's TGV or Spain's AVE), so travel times are quite short and the ride is smooth.
Kid fares: There are steep child discounts.
Disadvantages of Ouigo
Smaller, less-comfortable seats: They're not bad; just not as nice as regular high speed trains. You are usually four to a row with less leg room and a bit less vertical room too, since you're in a double-decker train car.
Luggage restrictions are more limiting and are tightly enforced (unlike in traditional trains), though you can purchase the right to take a large suitcase or two if needed.
You must arrive earlier: Ouigo insists that you must arrive at least 30 minutes before your train, during which time tickets are checked and you're herded en masse onto the platform.
Seating, Comfort, Restrooms, and WiFi Quality on Ouigo
Seating and Comfort
Ouigo feels a bit more cramped than standard TGV INOUI trains, though the designs are actually quite similar. Chairs are four to a row. There are some groups of four facing each other.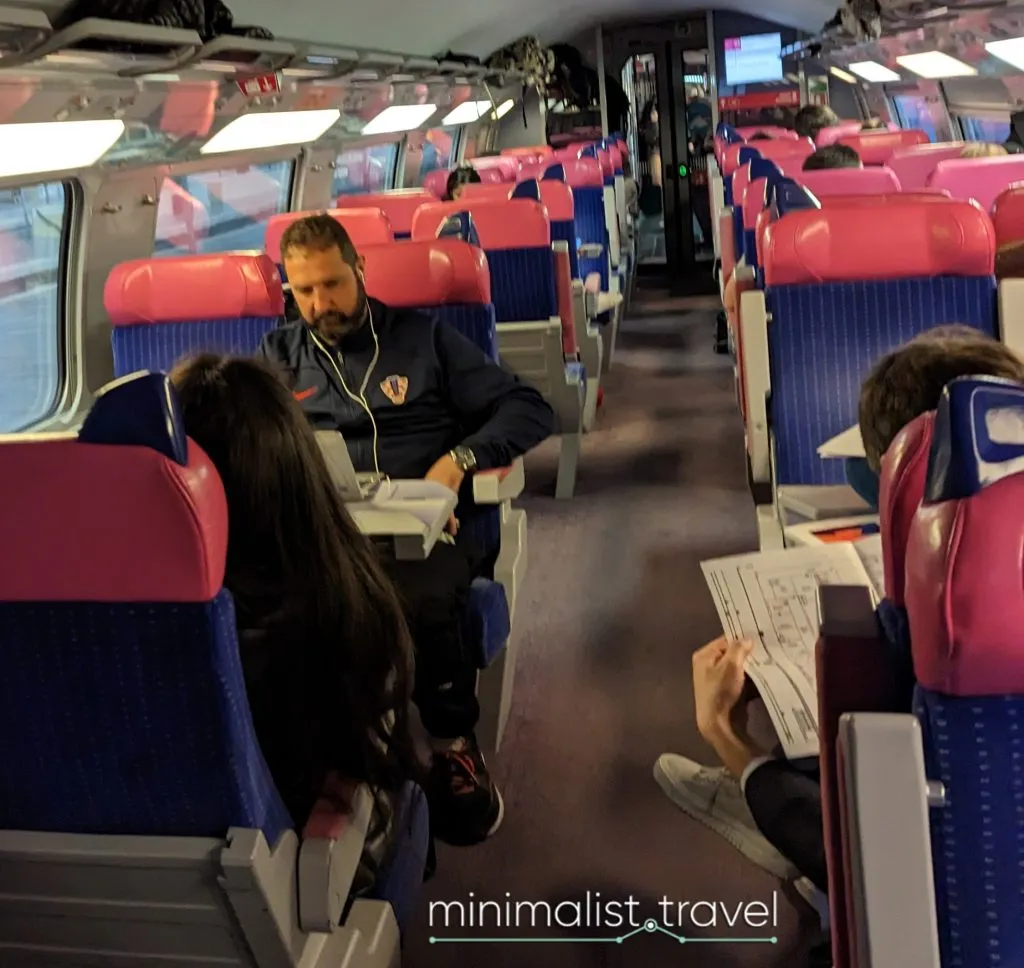 On Ouigo in Spain, there is also an option for an XL seat; see the Spanish options section below.
In between wagons you'll find luggage storage, an area for taking phone calls, and the restrooms.
Restrooms
The restrooms are located at the ends of cars and are a bit cramped but clean in my experience.
WiFi—or "Ouifi"
Ouigo has free WiFi in Spain and WiFi as a €3 paid extra in France (called "Ouifi", ha ha)—but it doesn't work all that well.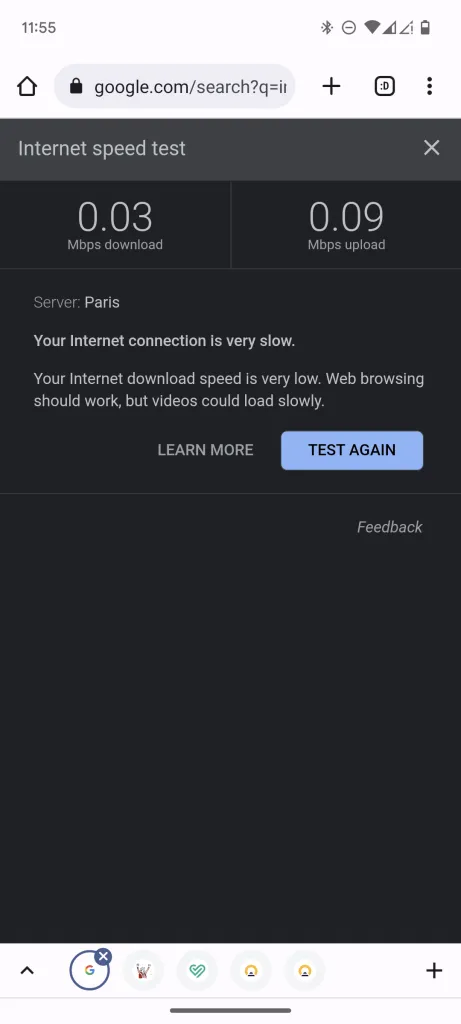 On a recent trip in Spain I was barely able to connect and it was really only fast enough to send messages, not to load web pages nor certainly not to watch videos.
It is better in any case to travel with a good internet connection on your phone, so that you can get maps, local info, and connect with friends you're meeting along the way (or traveling with). If you have an EU phone plan it will work fine in France and Spain, and if not I recommend unlocking your phone and picking up a local SIM card. If you're American you can also use Google Fi (I do); it works the same in any country.
There is also a OUIFUN service to connect to with films, TV episodes, music, and other content. It costs €5 extra in France and is available once on board the train or as part of the Ouigo Plus package.
The Extra Options to Choose From on Ouigo in France
These are the options in France when booking a Ouigo ticket on Trainline:
Large luggage: You pay €5 for each full-sized suitcase (up to two) and/or €5 for a bike (folded/dismantled and in a covering case). (Note that unlike with most trains, your Ouigo standard ticket does not include the right to a large suitcase; see the detailed restrictions below.)
Choose your seat: €3.
In addition to those options, if booking on SNCF-Connect you can also choose these options for Ouigo in some cases:
Use of an electric socket: €2
Solo seat: €7
Once on board the train, you can get WiFi service (OuiFi) for €3 or a WiFi and entertainment package (OuiFun) for €5.
Whether booking on Trainline or SNCF-Connect, you can choose from:
Essential: This is the standard Ouigo ticket; it reserves a specific seat for you (that you do not choose).
Ouigo Plus: This is the same as essential but with a package of the add-ons: You choose your seat placement, get priority boarding, connect to WiFi plus entertainment content (OuiFun), and can bring a piece of large luggage. You don't get more leg room or a better class of service in Ouigo Plus in France (but Spain is a different story, see below).
There is no dining car or bar car on Ouigo in France; bring your own cold snacks and drinks.
In France, children 0-11 years old get their own seats for just €5 (or €8 if starting/ending in the center of Paris). Each child ticket also includes its own luggage, with the same size restrictions as adult fares.
Previously French Ouigo trains had an optional quiet area ("place tranquille") for an extra fee; this has been discontinued.
These are the extras on offer when you book Ouigo via Trainline in Spain:
Large luggage: You pay €5 for each full-sized suitcase (up to two). (Remember that your Ouigo standard/2nd class ticket does not include the right to a large suitcase; see the detailed restrictions below.)
Extra flexibility: For €7, you can make changes in your ticket up to 30 minutes before departure, paying the difference in fares. Such changes otherwise cost €30 (that is, as much as many tickets themselves).
First class / Ouigo Plus: Both names are used in marketing. In Spain, this is a more expensive ticket option you'll see offering an XL seat (if available), a piece of large luggage, and access to the entertainment service. This is not to be confused with the Ouigo Plus offer in France described in the previous section.
If booking on Ouigo's site, there is also an option in Spain for carrying a small pet in a carrier for €10 per pet (up to two).
A few other things to know:
In Spain, children aged 0-3 ride for free on a parent's lap, and those aged 4-13 ride for €5 with their own seat. Each child ticket includes a free cabin bag. Two child tickets are allowed per adult ticket.
There is a "OuiBar" with junk food snacks like chips and candy, small sandwiches, a vegan snack box with humus, sodas, beer, wine, other alcoholic drinks, water, coffee, and infusions. Payment is only by card. Don't count on foreign credit cards working or any particular item being in stock.
There are electric sockets for use free of charge at the seats (be sure to have a travel plug converter if using non-European devices).
Ouigo Luggage Restrictions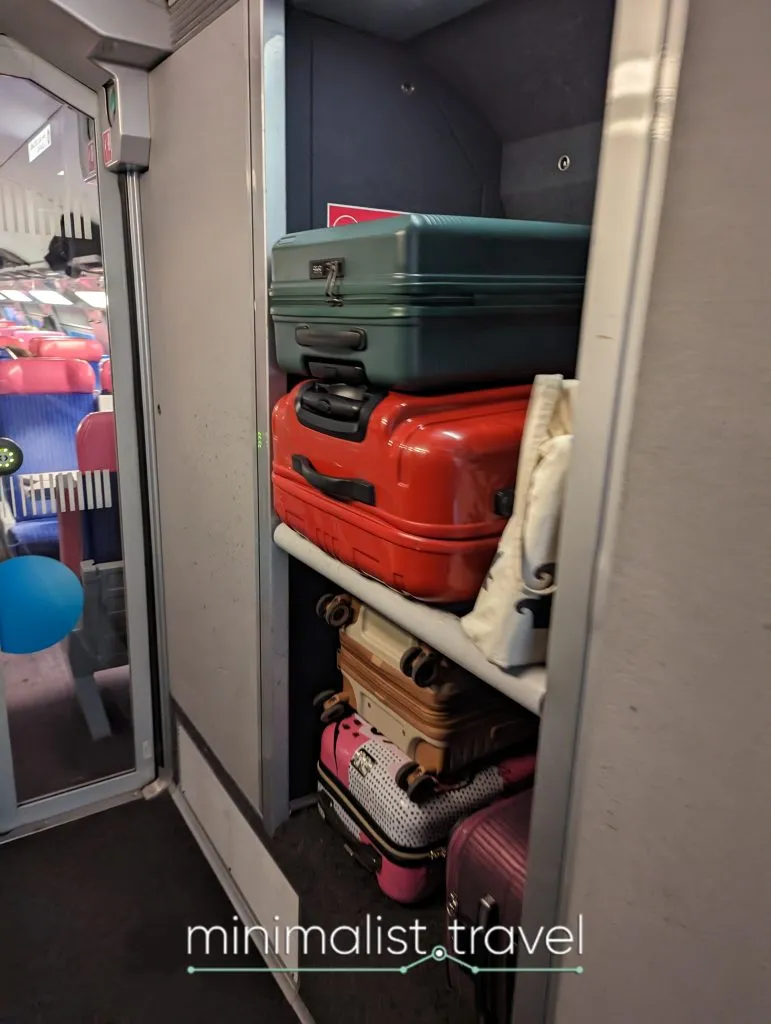 Yes, staff actually verify your baggage on boarding for compliance with Ouigo baggage limits. The wording is slightly different for Ouigo France and Ouigo Spain, but the actual requirements are the same. All passengers (including babies and children) can take, for free, either:
If travelling with a child, you may also take a stroller; it must be declared when making the reservation, and must be folded in the train.
Larger luggage pieces (maximum 2 meters (7 feet) and less than 30 kg (66 lbs)) can be booked paying a bit extra, and each person can take up to two such larger pieces.
It's cheaper to purchase an additional bag before boarding, if not you'll be charged €20 at boarding time and, from what I've seen, perhaps suffer some minor waits and antagonistic looks from staff.
You can take pets on Ouigo in Spain under 10 kilos if they are in a crate measuring up to 60 cm x 35 cm x 35 cm (23.6 in x 13.8 in) for an extra fee. We have a full guide to European train travel with dogs.
Arriving at the Train Station, Check-In, and Waiting for Your Ouigo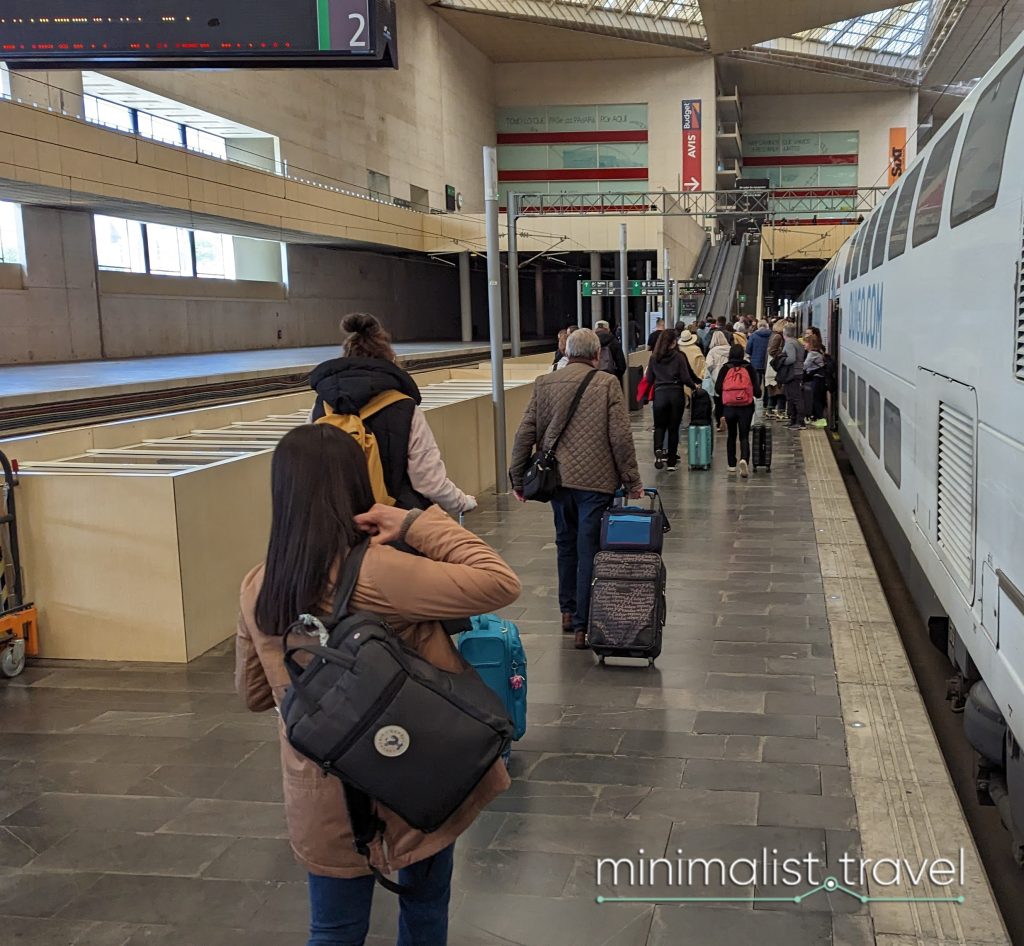 You must arrive at least 30 minutes before your scheduled departure for a Ouigo train.
There is no check-in process per se as with an airline. You move towards the area of the station with the quai / andana (platform in French and in Spanish/Catalan) for your train and you will generally go through a long line to actually access the platform. Only those with tickets may approach the platform, your non-traveling friends must stay back.
You show your ticket on your phone or printed out. I recommend printing out tickets when possible, as phones are still a rather funky, unreliable technology compared to paper, and you don't need to up a piece of paper.
You will also possibly be asked for a valid photo ID or passport matching the name on your ticket; photocopies of these are not accepted.
If you don't have your ticket or it is deemed "unreadable" you will be charged 5 euros by the staff. You will also be charged an extra 20 euros if you have exceeded the baggage limit.
Thirty minutes before the train arrives, everyone is thus crammed onto the same platform waiting for the train. It can be annoying. The boarding process for Ouigo is in my experience more crowded and chaotic than with a regular train, but thankfully not as tedious and annoying as boarding a plane.
Where Can Ouigo Trains Take You?
Ouigo does not connect between Barcelona and France, unfortunately, nor does it reach Portugal (which is mostly unconnected to Spanish railway). But there are plenty of routes within the French hexagon and within the Iberian peninsula.
Ouigo Destinations in France (High Speed)
These are the current cities served by high-speed Ouigo trains in France.
Aéroport Roissy Charles de Gaulle TGV
Agde
Agen
Aime la Plagne
Aix en provence TGV
Albertville
Amiens (Gare TGV Haute Picardie)
Angers Saint Laud
Angoulême
Antibes
Auray
Avignon TGV
Béziers
Blois
Bordeaux
Bourg-saint-maurice
Brest
Cannes
Chalon-sur-Saône
Chartres
Dijon
Grenoble
Guingamp
Juvisy (Gare RER)
La Rochelle
Laval
Les Aubrais (4km from the center of Orléans)
Le Mans
Les Arcs-Draguignan
Lille
Lorient
Lyon
Mâcon Ville
Marne la Vallée
Marseille
Massy TGV
Massy-Palaiseau (Gare RER C)
Melun
Metz ville
Montauban
Montpellier
Moutiers
Nantes
Nice
Nîmes
Paris
Paris Austerlitz
Paris Bercy
Paris Centre
Paris Est
Paris Gare de Lyon
Paris Montparnasse
Morlaix
Narbonne
Niort
Perpignan
Poitiers
Quimper
Rennes
Saint-Brieuc
Saint-Raphaël
Saumur
Sète
Strasbourg
Surgères
Toulon
Toulouse
Tourcoing
Tours (Gare St Pierre des Corps)
Valence
Vannes
Versailles Chantiers (Gare RER)
Villeneuve Saint Georges (Gare RER)
Classic (Regular Speed) Ouigo Train Destinations in France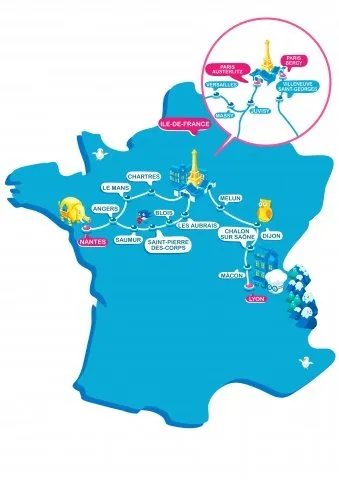 And these are the Classic Ouigo (that is, not high speed) train destinations. Their main advantage is that they cheaply serve more, smaller stops in between Paris and Nantes as well as between Paris and Lyon. They have several stops in Paris suburbs, so if you're going to or from a far-flung suburb there is no need to go into the city first only to go back out.
Paris-Nantes Route 1
Paris Austerlitz or Paris Bercy
Juvisy
Massy-Palaiseau
Versailles Chantiers
Chartres
Le Mans
Angers Saint-Laud
Nantes
Paris-Nantes Route 2
Paris Austerlitz or Paris Bercy
Juvisy
Les Aubrais (4 km from Orléans)
Blois-Chambord
Saint-Pierre-des-Corps (4 km from Tours)
Saumur
Angers Saint-Laud
Nantes
Paris-Lyon
Paris Austerlitz or Paris Bercy
Juvisy
Les Aubrais (4 km from Orléans)
Blois-Chambord
Saint-Pierre-des-Corps (4 km from Tours)
Saumur
Angers Saint-Laud
Nantes
Ouigo High-Speed Train Destinations in Spain and Catalonia
Ouigo in Spain serves (station names are in parentheses):
Barcelona (Barcelona Sants)
Madrid (Madrid Puerta de Atocha and Madrid Chamartín – Clara Campoamor)
Valencia (Joaquín Sorolla)
Tarragona (Camp de Tarragona)
Zaragoza (Zaragoza – Delicias)
Ouigo claims that it will someday soon also serve Albacete, Alicante, Málaga, Córdoba and Sevilla.
Coming Soon: Ouigo in Italy!
A very reliable inside source tells minimalist.travel that the SNCF is well on the way to preparing its service in Italy, where it will compete with Treno and Trenitalia.
As with Spain, Ouigo is expected to serve major cities in Italy, but not be able to offer cross-border services into France or other countries.
Why is Ouigo called that and how is it pronounced?
Yes, there's reason to this unseemly jumble of vowels.
The word "yes" in French is "oui" so the name for this budget train service is like "yes" plus the English word "go". Also, "oui" is pronounced like "we", so Ouigo is pronounced we-go.
Those who wish to mock this corporate naming may call the service YesAllons.
Ready to Get on Board?
Ouigo perhaps requires a bit more flexibility than some other modes of travel, but it can be one of the fastest and cheapest ways to cross Catalonia, France, and Spain.
Also note that in addition to Ouigo, there are plenty of other ways to snag cheap train tickets for France, including a few other high speed lines that are cheap, described at the link.
Overall, Ouigo is absolutely recommended. We always recommend travelling light anyway, and going low carbon wherever possible, so the overall Ouigo experience fits well with our Minimalist.Travel objectives.