We've spent weeks testing websites to find out how to efficiently book the cheapest tickets for Italian train travel.
We tested all kinds of routes and options, and looked at overall end purchase prices as well as the complaints about and defects with the national operator's website, Trenitalia and to the competing private train operator, Italo. We compared these to various private ticket booking systems for Italy.
The winner is a train booking site that's better for both foreigners and Italians that enables one to get the same prices while reducing exasperation with the official websites.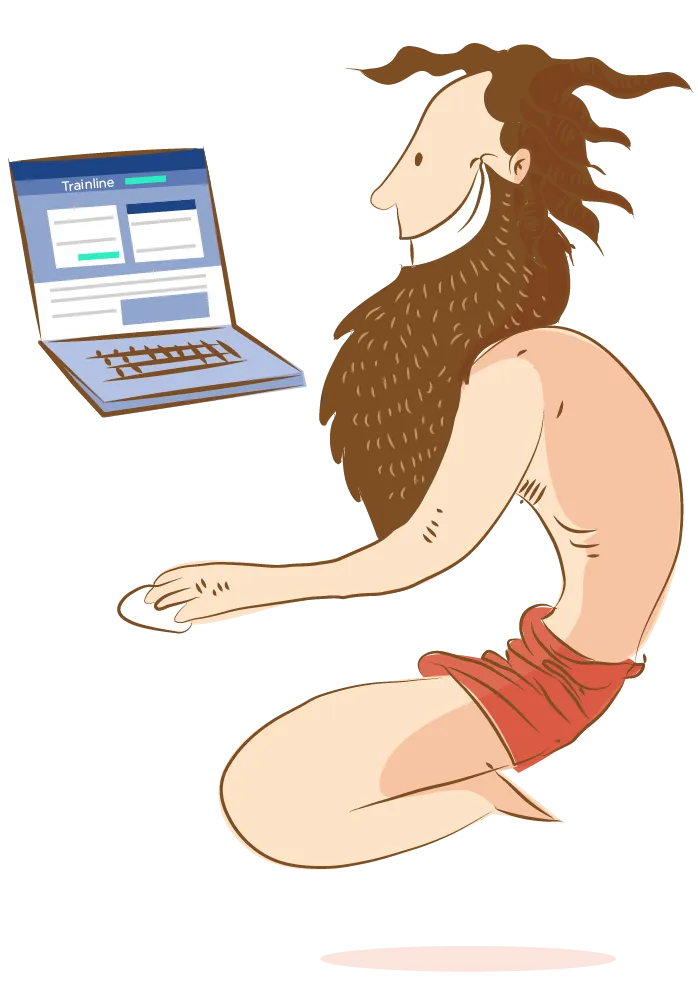 The Best Way to Book Italian Train Tickets
We found that
Trainline
is the best train booking option right now for Italy — it has the smartest search engine that comes up with cheaper and better route options than private competing portals, and even better in many cases than the official Italian train companies' sites themselves.
Trainline also helps avoid the obvious challenges of those sites, such as poor translations (and untranslated portions of the sites, such as place names), foreign credit card denials, surprise re-directs, incomprehensible options, and technical bugs that cause you to restart your purchase process. Plus Trainline searches both Italian train systems at once.
The downside: there is a few-percent booking fee tacked on at the end of the booking process. It's worth it for all of the advantages above, and only amounts to a couple of euros, but we wish Trainline were more transparent about exactly how much the fee will be for users, instead of just showing it on the final payment screen.
Customers are also generally reasonably satisfied with the level of customer service from Trainline when tickets need to be refunded or exchanged.
The other excellent private portal for Italian train tickets is Raileurope. It is just as easy to use, but doesn't have as many options as Trainline, such as senior cards for Italy. Its booking fee is transparent: £4.95, €5.95 or $5.95, depending on the currency that you choose. This is usually more than Trainline, but it is a fee per basket, so you may save money if buying multiple tickets at once from RailEurope.
This article is continuously fact-checked and updated by savvy, sweaty, human travel writers
This article was published on September 5, 2018, but includes some information we previously published elsewhere on Oct. 19, 2017, and in July of 2018. It was fully updated on May 14, 2019, with a new recommendation due to booking fees. It was updated, again with a changed recommendation due to booking fees, and the Loco2 name change, on November 20, 2019.
Why Search for an Alternative to the Italy's Rail Operator's Websites?
Ha! With just one experience with either of those sites you probably will too.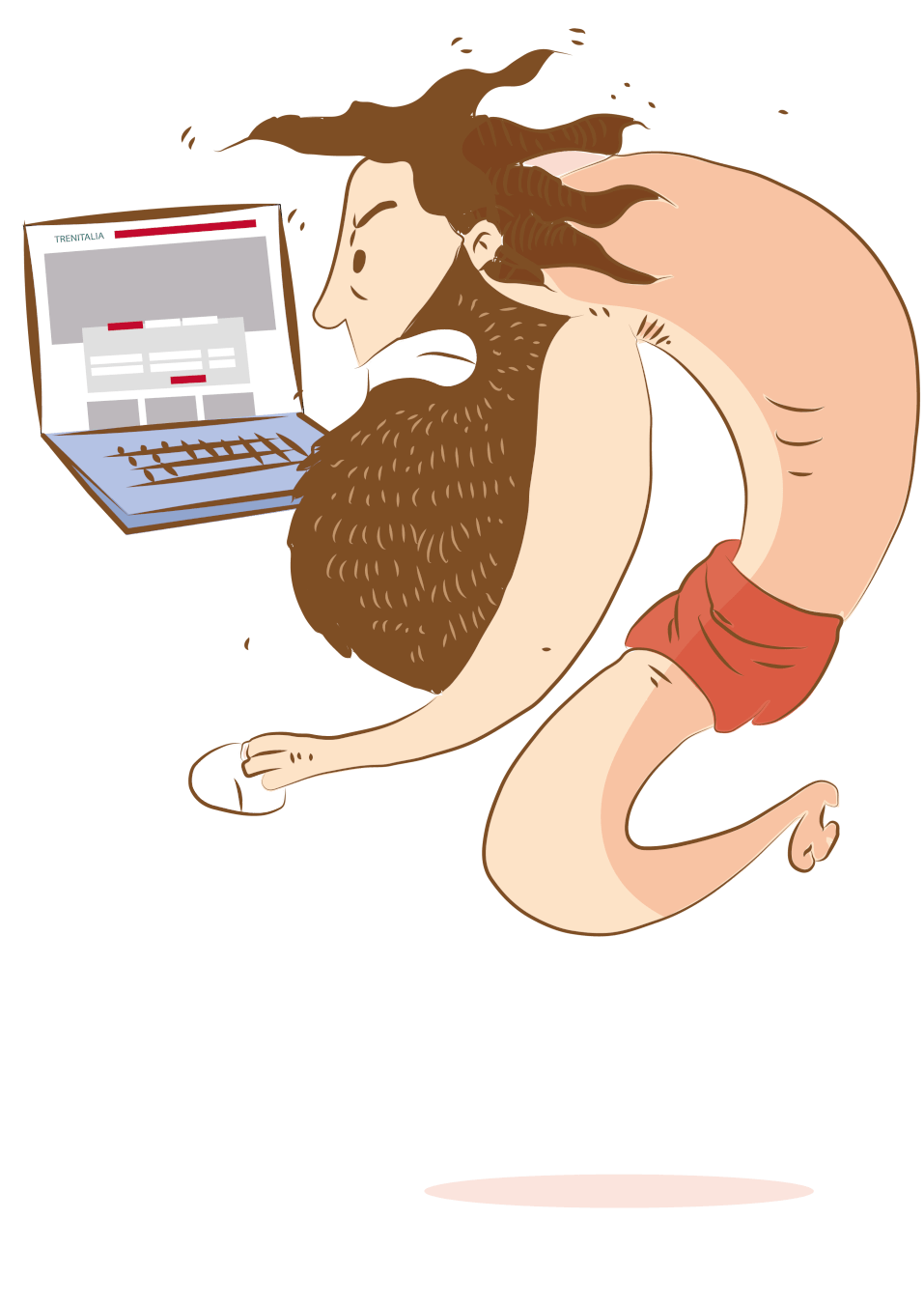 Trenitalia: The government's national rail service, Trenitalia, has a site so full of errors that we devoted an entire separate article to it. Those issues include poor translations (and untranslated portions of the site, such as place names), foreign credit card denials, surprise re-directs, incomprehensible options, and technical bugs that cause you to restart your purchase process.
Italo: The private competing rail service has a website that is a bit better than Trenitalia's, but still suffers from usability problems and incomplete translations. Since their service is much more limited, it's only relevant for certain routes. It's much easier to search both train services at once using our main train portal pick Trainline, which offers the same prices as both and is more user-friendly.
While Trainline isn't perfect, it's easily better and charges the same for Italian train tickets as either of these services at any given moment.
The Advantages of Trainline for Italian Train Tickets
There are a number of options out there and we tried all of them for multiple routes both within Italy and entering and leaving the country. Here's why Trainline came out on top.
You get the same prices on routes at any given moment (and sometimes a bit cheaper) as when booking directly from Trenitalia or Italo: Base prices for any Italian route are the same as the rail operators themselves. (The same is true with its tickets for Germany, Spain, Eurostar (Paris to London), France and more.) Other private booking sites have significant markups built into the ticket price.
Trainline works out even cheaper than the official national operators for complex trips: When you cross out of Italy during a trip, Trainline is likely to be much cheaper than Trenitalia, for example if going from Bari to Zurich. This is because Trainline can do combinations directly with other countries' ticketing systems (in France, Germany, and Switzerland) and so offers routes that Trenitalia either doesn't have access to or charges more for.
Trainline works with non-Italian international credit cards, accepting Visa, MasterCard, American Express, Apple Pay, and PayPal. Payment is as smooth as on any secure modern website, and you are immediately issued a completely comprehensible email with your itinerary and receipt.
Compare Trenitalia and Italo options side-by-side: The private competitor Italo runs limited services on a few of the same routes as Trenitalia and can be quite comfortable and in certain cases more convenient. With Trainline you'll automatically see both options when relevant, so you don't have to visit both sites separately to comparison shop. Trainline also automatically suggests a few limited bus options.
Snappy, clean website: Trainline's website is a nice bit of design and easy to use. It doesn't have the grating clutter of Trenitalia, nor the incessant advertising of other private options.
Quality and speedy customer support: Trainline excels as a hand to hold and mediator between customers and the complex and frustrating European train systems. Trenitalia is legendarily difficult to get ahold of, let alone deal with, should problems with your booking come up. Trainline's support comes from normal humans who respond quickly.
Indicate your seat preference: Trainline offers this option for long-distance trains (no such choice exists on Trenitalia regional trains). Some competing portals do not offer this option at all for Italy (though RailEurope also does).
E-tickets: Trainline means no waiting for paper tickets to be mailed to you. You can print your tickets, show them on your phone, or even just give your confirmation code.
Easy cancellations: If you've purchased tickets that are refundable or changeable, you can take care of this right from within Trainline.
Compare trains with bus options: For some routes buses can actually be better, and in almost all cases they're cheaper. Plus, Trainline searches for combo bus-train routes that can be great in certain cases. Though for the broadest array of bus options for Italy, head to Omio — just don't expect that site to offer good train options.
Age discounts for frequent travellers: Trenitalia sells discount cards for youth (12 to 26 years old) and seniors (60 years and over) — though they are only worth purchasing if you travel very frequently via the Italian rail system. If you have these cards, you can get the relevant discounts when purchasing via Trainline.
A Few Disadvantages of Trainline — But They Don't Derail Us
Here's where we think Trainline could still stand to improve.
Booking fees are not transparent: The booking fee of a couple of euros only shows up on the last screen, and Trainline says it experiments and charges different fees to different customers in different parts of the world. It also has ongoing dynamic fee experiments. It would be nicer to have a flat fee like RailEurope does; though in most cases Trainline's fee is smaller and saves money compared to any other platform.
No flexible dates option: Neither Trainline nor any other platform for Italian trains offers a Skyscanner-like feature to help you decide which date would be cheapest to travel on.
Other Private Platforms for Booking Italian Train Tickets
Raileurope: This site comes in a very close second to our top pick. It is also easy to use and offers both Trenitalia and Italo tickets at the same dynamic pricing as the carriers themselves. It has some coverage of buses and bus-plus-train options, though not as complete as Trainline's.
RailEurope should not be confused with RailEurope, which we do not recommend at all (it costs more and offers fewer routes). Both sites are both now owned by the French rail company SNCF, but the co.uk version was converted from the previous platform Loco2.
RailEurope charges a simple £4.95, €5.95 or $5.95 booking fee per basket, depending on your currency.
Omio.com: Our third-favorite site is very clean and easy to use. It isn't as clever with suggesting complex train routes as our main pick, nor does it offer as many options about seating and the rest. It also has search functions for buses and planes so that you can see all options side-by-side. There is a small additional booking fee.

ItaliaRail: This is a private booking portal that sells Trenitalia tickets with a website that is a bit smoother for foreigners to use than Trenitalia's. The design is simpler and the English version is more complete. However, unlike our main pick, it tacks on an extra fee, and its options aren't always quite as good.


Rome2Rio is a cool search tool that compares everything at once: driving, buses, planes and trains. But it doesn't actually sell the tickets itself, doesn't show very good/cheap train routes, and it seems to have rather incomplete coverage of Italy.
Wrap-up: Our Favorite Train Portal for Italian Tickets
We now generally head to Trainline for train tickets for Italy.
For simple tickets, prices are the same as the carriers themselves, and the booking process is much, much smoother. There is a booking fee at the end of the process, but it's quite small and well worth it for the better service and better routes.