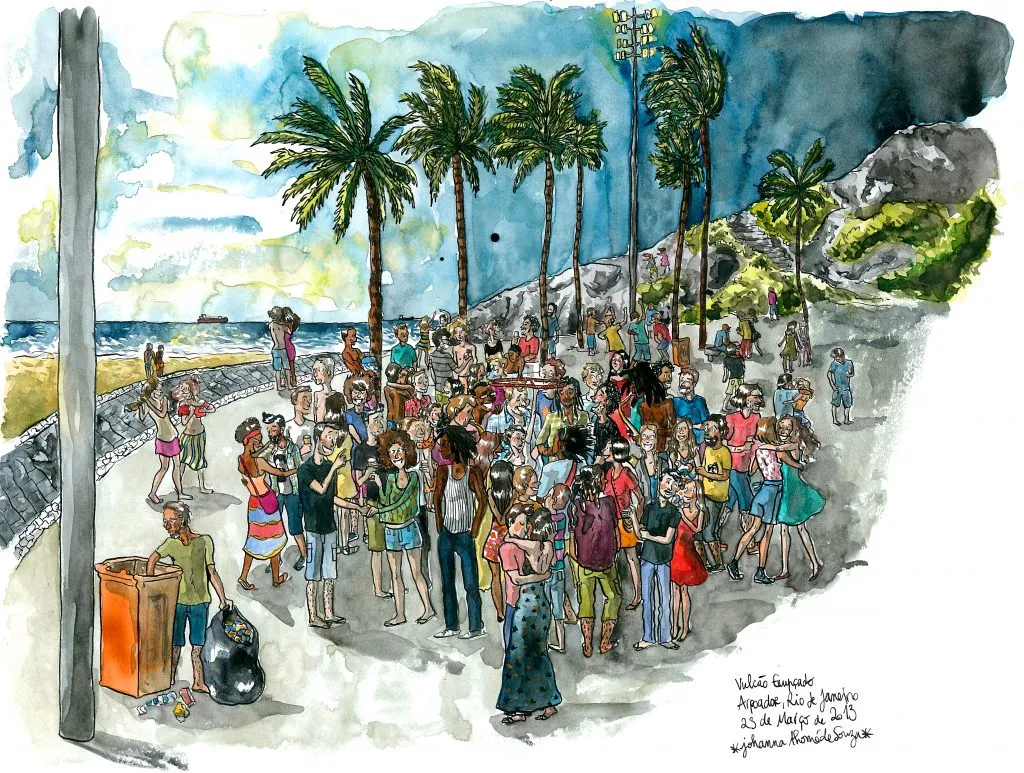 I've been going to Brazil frequently for more than a decade. When people ask why I keep going back, I invariably give my very top reason (of the many possible): to go dancing.
There are calculated to be upwards of 300 styles of Brazilian music and they are just fantastic—not surprising since Portuguese is the planet's most musical language. And Brazilian dancing is some of the most invigorating, beautiful, and joyous on the planet.
If you like dancing salsa, swing, tango, ballroom, or anything else, you will almost certainly love the very different but fascinating dance styles of Brazil.
And if you're considering planning a trip to Brazil for other reasons, I hope that you'll also consider focusing your trip around a specific activity like dancing, for all the extra human and cultural contact with Brazilians that dancing can bring.
So here it is: Everything you should know about where to go, what to dance, how to pack, classes to take, and more. If I've missed anything, throw me a note in the comments and I'll do my best to address it. Dancing in Brazil is an obsession for me; if I can't answer your question I'll be curious enough to go do more dancing there until I can.
Illustration by Johanna Thomé de Souza.
Research and Update History of This Article
This article was written in early 2020 based on more than 12 years of "research", but I didn't get around to publishing it until Aug. 26, 2020, when travel is unfortunately basically impossible! Terrible timing. But someday we'll all be travelling and dancing again.
Why it's more interesting to go to Brazil for the specific purpose of dancing
Any travel experience is much richer if you go with a specific purpose.
For example, go to southern Italy as a tourist and you'll eat the same pizza as everyone else, try to crop the other photographers out of your pictures of Pompeii, and have an interesting-enough time chatting with other tourists on a bus, sure. But if you go to take a workshop in pizzica dancing or learn some Neapolitan, you'll wind up interacting with all sorts of locals, eating pasta at their homes, flirting, arguing, bullshitting, and making friendships for life.
The same is true for Brazil. You can photograph the exact same spots and lounge in the same beach chairs as other visitors, or venture into real and interesting experiences. One way to enter into a culture — and one that is particularly pertinent in Brazil — is through dance.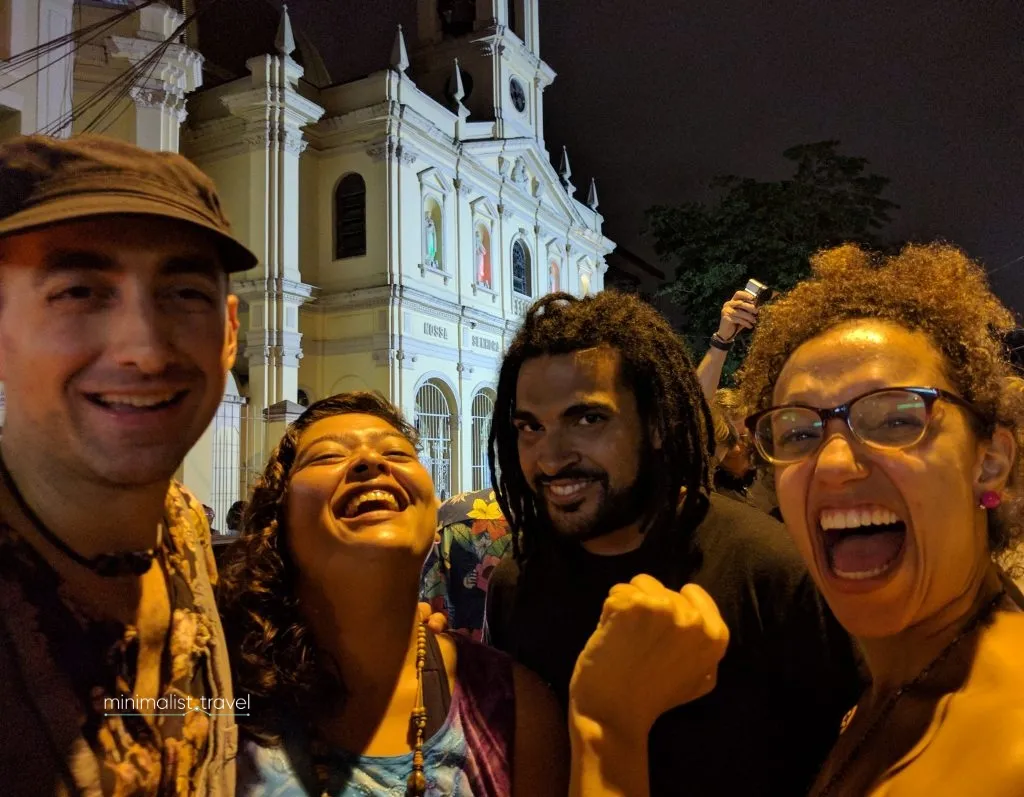 Understanding Brazil: Tourists tend to clump together around the corcovado statue, the beaches of Ipanema, and Pão de Açúcar, etc.. Fine spots, but not exactly intrepid adventures. It's so much more fascinating to see the wild parties and sexy outfits, taste each others' sweat and drool, hear the throbbing rhythms, and move your body as it's never moved before.
Interacting with Brazilians. If you're passionate about Brazilian music and dance, and take part in these things, you'll be putting yourself in situations where you meet other Brazilians — and those with whom you already have at least one thing in common. It's much more interesting to strike up conversations about a shared passion like dance than it is to have that standard conversation about where you are from. And if you don't want to chat or there is a bit of a language barrier, dancing with someone is another great way to interact all on its own.
Language learning. If you want to learn Portuguese while in Brazil, your time is much better spent in dance classes surrounded by other Brazilians than in language classes surrounded by other foreigners who are mangling the tongue.with a Brazilian teacher on Italki, and this excellent communicative language course and — if you're a language geek — this smart grammar of the spoken language.
Romance. If you are open to love/sex/flirting, it's much more interesting to meet your potential love-muffin in their own social settings, rather than for example meet the Brazilians who aggressively poach tourists on the beaches in Copacabana. (Brazilian men sometimes describe going after gringas in this way because they are "easy" and some Brazilian women court gringos with prostitution-adjacent offers mixing romance and "gifts". This is not everyone's experience, but enough tourists do experience these sorts of uncomfortable come-ons to make them worth mentioning.) It's much better to meet a potential special someone in a more natural environment. And while of course it's very important to note that forró and other dances should not be seen as pick-up spots, they are great for meeting a wide range of people and romantic interests do develop on and off the dance floor. Sure, you'll see that dating apps can also foster cross-cultural interactions, but dancing is more romantic and intriguing.
Adventure. Most people's Brazilian travel tales just stink. They talk about a bad breakfast in a hotel, a beautiful beach, a strange piece of fruit. Sometimes they talk about watching other people dance! But if you actually throw yourself into actually dancing, and especially learning and executing moves and dances that you'd never heard of and that are out of your comfort zone, you're much more likely to return with stories — and pictures! — that are actually worth sharing.
Trip Planning: When and Where to Go
The first step to planning your trip is figuring out where you want to go and when.
Where to Go Dancing in Brazil
I strongly recommend picking just one location and staying put, rather than travelling all over Brazil. Travelling days eat into your dancing time, and changing locations prevents you from establishing stronger connections and relationships with Brazilian dancers. It also simply takes time to find the styles and places to dance that you most enjoy, so the more time in one place the better.
So where to go?
Some regions serve as de facto capitals for certain styles of dance, and can thus make attractive choices if you're looking to go to Brazil for dancing.
In particular this is true if you're limited to a short trip of for example a week or two. If this is the case, you wouldn't want to end up in a town with only one weekly dance event, as you'll only get to dance one or two times.
For samba de gafieira, for example, you'll have the most opportunities to dance if you spend your entire time in Rio de Janeiro, which has various dance schools offering classes in the afternoons and early evenings (enroll in several!) and also a number of different parties and concerts each week devoted to that particular dance, so you can really develop your skills.
But you can also really get a lot out of dancing in regions that are lesser-known for a particular dance, but still active. I had a lot of fun at a Sunday-night forró dance when I happened to be in a small town well lost in the boonies of Minas Gerais recently. It was the only true forró event in the region, but the band was great, and the dancers were quite enthusiastic (some of them had carpooled and driven two hours to get there from other small towns). Everyone was friendly and delighted to meet and welcome a forrozeiro from a far-off land.
If you decide to do more than one location during your stay in Brazil, you can reduce your carbon footprint by opting for long-distance buses rather than flights. Buses in Brazil are surprisingly comfortable, though do keep in mind that distances are long. Here's our full guide on what to expect from Brazilian buses and some frequently asked questions, including on safety.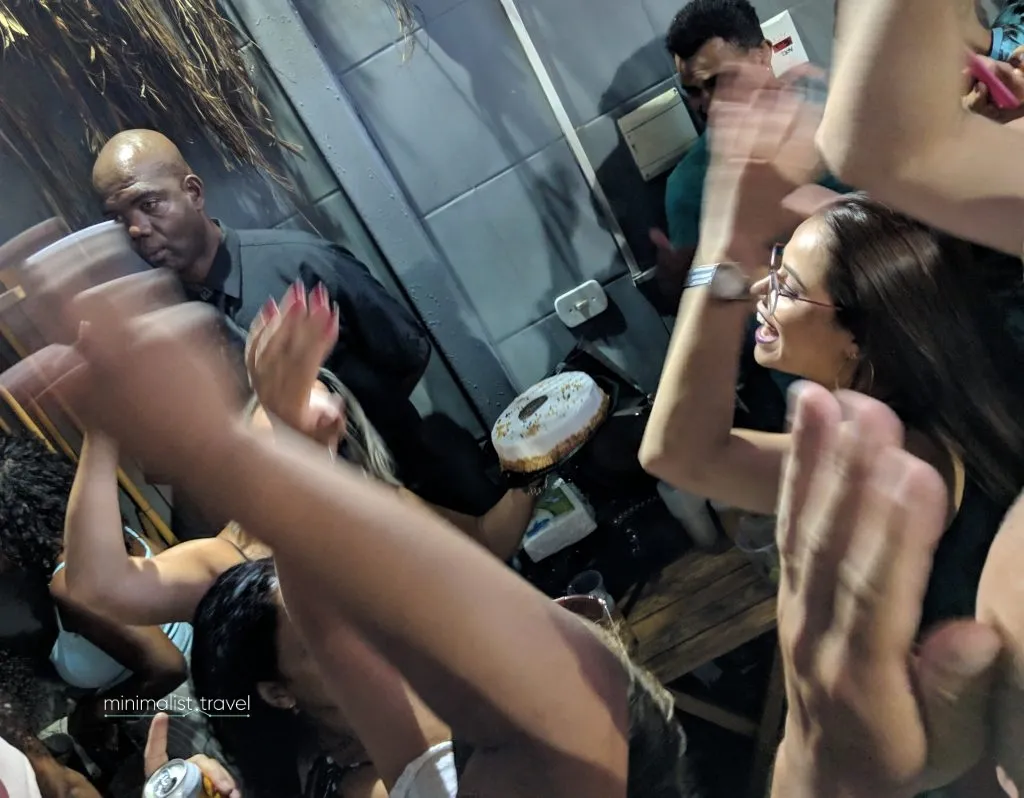 Contacting Dance Schools in Brazil to Plan Lessons
Facebook and Instagram are widely used; if you're against them good for you, but you'll want to set up an account just for the purposes of communicating with Brazilians and finding out about your dance events. (Also you'll definitely need WhatsApp.)
Brazilian dance schools rarely post correct and recent class information on their websites; sometimes these can be found instead on Facebook or Instagram accounts for the schools and especially the teachers. But usually you'll have to write or more likely call to actually accurate information, and in any case you'll definitely want to double-check before going anywhere. (And even with all that you'll be given wildly wrong information sometimes, as the dance school Pé Descalço did to me several times. Showing up for things that don't exist is part of experiencing Brazil.)
If you don't speak Portuguese it's easier to write an email or direct message (along with a Google Translate version), but often to get any response you'll have to actually call.
Plan ahead as much as you can but also realize that you're likely going to discover a totally different situation once you're there. And start times for concerts can be accurate, or one hour, or two, or even three to five hours after the time indicated. Even for Brazilians, it's impossible to know when to show up, unless it's an event or venue you've been to before.
When to Go Dancing in Brazil
Anytime is good for dancing, since most dance events are indoors. But in the southern parts of Brazil, where there are more marked seasons, you will have more outdoor events in the summer (December through February). And many schools run on irregular schedules around the Christmas and New Year holidays and around carnival, so it can be harder to find dance classes.
Also consider that the summer is very hot in places like Rio, and some dance schools and parties do not have air conditioning. You'll be bathed in your sweat, and not only your sweat.
Carnival, in my opinion, is not actually the best time to go to Brazil if you're serious about dancing. Sure, there is "dancing" during street carnival celebrations and in the sambodromos (stadiums), but it's generally of the more drunken variety. If you want to party, carnival can be OK I guess. If you're interested in dance for its own sake, other times of year are better.
Packing for a Brazilian Dance Trip
This is a minimalist travel site; our raison d'être is to get you to carry less stuff and enjoy your experiences (like dancing!) a lot more.
That said, I'd personally recommend you buy your dance shoes before you go to Brazil, and give yourself plenty of time to break them in and ensure that they're completely comfortable.
For forró and other dances, I find that very thin-souled jazz/modern shoes give you the best contact with the floor and balance. Others prefer salsa sneakers and the like. Whatever you choose, you want a smooth sole of the shoe so that you can glide when desired.
For samba de gafieira, women who choose to wear heels will want tango shoes.
Yes, you can wait and buy dance shoes from your dance school or specialists in Brazil, and some Europeans I know wait for their Brazilian dance trips to do so. I personally think that the quality of dance shoes on offer in Brazil is much worse than in the USA and Europe; the reason friends are buying shoes so often in Brazil is that they keep falling apart. It gives them a good excuse to go back, however.
There's so much more that I have to say about packing for Brazil; see that article for my full take on what to bring, and what not to bring.
What Are the Main Dance Styles in Brazil?
The list is endless, but the best Brazilian couples dances to know about are forró, samba de gafieira, and samba rock. The major solo Brazilian dances include samba (samba no pé), frevo, and Afro-Brazilian. Capoeira is on a continuum somewhere between dance and martial arts. But there are many, many more Brazilian dances.
Here are the main ones you might consider during a trip to Brazil.
Samba Rock: The Exhilarating Dance of São Paulo
I have never in my life seen more complete levels of group ecstasy than in a samba rock party (the only possible exceptions do not involve dancing but rather orgies or hallucinogens).
One of the main reasons for samba rock's pure delightfulness is the music. Imagine what James Brown or Prince might have done had they been born in Brazil, the land of polyrhythms and sweet melodical talent: surely they'd have done samba rock. Try this Clube de Balanço song for an example. Or Paula Lima singing below.
Or so many more. Jorge Ben is arguably the main innovator of samba rock with albums such as Africa Brasil.
Samba rock the dance style is only really present in São Paulo, and generally not even known to Brazilians from other regions. São Paulo is in any case a great and very underrated city to visit, especially for music and dancing.
Samba rock dancing was born in the peripheral, marginalized neighborhoods and retains its strongest presence there, but samba rock dances, parties, and classes now occur all over the city.
The dance's closest non-Brazilian reference point is lindy hop, particularly in the style known as samba rock estrela. Watching samba rock, the first thing you notice is the wild and complicated arm movements, which require some innate geometrical consciousness to execute without tying your arms in complete knots. Couples are generally separate and connected only at the points of their two hands, and seem to circle around each other.
Because of this disconnectedness, samba rock is not a sensual dance and generally in my opinion not even that beautiful. But it is by far my favorite Brazilian dance; it is a joyful expression of some of the best music on the planet, and it is a hell of a lot of fun.
Aside from samba rock music (Jorge Ben, Clube de Balanço, Sambasonics, etc.) the music you're likely to hear at samba rock parties is samba hip hop, rock, American funk, rap, and anything else with lots of attitude and swing.
Where to Dance Samba Rock
There is definitely no tourist infrastructure set up to invite you into the samba rock world, but that's partly what makes it all the more rewarding once you go.
Samba rock is almost exclusively danced in São Paulo. There are open-air events in the early evenings downtown and on Sundays sometimes on Avenida Paulista. There are also dance classes both downtown and in the (far) periphery. Check this Facebook page, this one, this event organizer, and this highly excellent teacher. This dance school has samba rock as well as other Brazilian dances. Above all, when you get to town go to the first event you can find and get some phone numbers of organizers and participants and ask them to add you to samba rock whatsapp groups, which are invaluable for knowing what's going on in a given week —and also when the events are, as often happens, delayed or cancelled.
Forró: An Approachable, Sensual, Very Popular Couples Dance
Forró is a couples' dance from the Northeast of Brazil and it goes with music of the same name. It has experienced waves of popularity that spread it throughout Brazil in the '80s and '90s, and then to major world capitals in the 2000s and 2010s.
If you're going to learn one couples' dance on a trip to Brazil, this would be it. Brazilians both love and hate forró (some think it's not very sophisticated). But even those (many!) Brazilians who don't really dance and have no rhythm are likely to be caught dancing a bit of forró at some point. They may even break out their forró moves with samba music, rock, or anything else. The rhythms don't quite fit, but they go for it anyway.
One of the big reasons for forró's popularity is that it's so easy to learn the basic steps. Hear that, wary, nervous, and uncoordinated people of the world? This is a couples dance that even you can do, I swear!
Salsa or bachata dancers can pick forró up on the dance floor if they can take a few hints on changing adapting to the postures and rhythms. And even the most rhythmically challenged newbie can usually get the basics down pat after a little introductory class or two.
Forró is also great in that you can dance it pretty much anywhere in Brazil. Even small towns are likely to have a forró party once a week and some enthusiastic forrozeiros (committed dancers to the form) who show up regularly and are generally more than happy to give tips to travellers from other parts of the world.
Favorite Places to Dance Forró in Brazil
Canto da Ema, São Paulo: A nightclub with a large dance floor and very good dancers, and the most consistent spot to hear the best forró bands in the world. Offers evening classes.
Remelexo, São Paulo: Also very good bands and dancers, sometimes known for having a crowd that's a bit more "popular" (working-class) than Canto da Ema, though there's not all that much difference. Also offers evening classes.
Rio de Janeiro has forró schools and concerts every night of the week.
Another city with jaw-droppingly good forró dancing is Belo Horizonte.
Recife and Olinda in the state Pernambuco have surprisingly limited forró options compared to Rio and São Paulo, in spite of the Northeast being the cultural capital of forró. Forró in the Northeast tends to be simpler, fun party music; further south people are more likely to take it as a semi-serious dance and define themselves as forrozeiros.
Samba de Gafieira: The Elegant, Funkier Cousin of Tango
This is not exactly an approachable Brazilian dance, but it's arguably the most beautiful.
The closest non-Brazilian reference point is tango, and indeed samba de gafieira was developing in Rio de Janeiro just as tango was developing in Buenos Aires. And samba de gafieira (a.k.a., sometimes confusingly, just known by its adherents as simply "samba", but not to be confused with samba no pé, or "gafieira") looks a bit like a funkier, more delightful and animated tango.
If you want to dance samba de gafieira you go without doubt to Rio; it's where the major gafieira dance schools are located, along with the big parties and a lot of professionals who are expanding on and innovating with the form.
But that said, there are also active samba de gafieira scenes in most other major cities; I've often danced it in São Paulo including at samba rock dances there, where gafieira dancers also show up.
Samba de gafieira should not be confused with ballroom samba (dancesport, competition partner dances), which is a stiff, silly looking thing that no longer bears any resemblance to anything Brazilian. And carnival samba or individual samba (no pé) is also something different, as described later on.)
Where to Dance Samba de Gafieira
Without a doubt, the place to go for samba de gafieira is its home, Rio de Janeiro. Top schools include: Casa do Jimmy, Jaime Aroxa in Ipanema and Botafogo, Casa de Dança Carlinhos de Jesus, Kadu e Vivi KVS Danças, and the Escola de Dança CCC.
All of the dance schools host parties, especially on weekend evenings, and generally you don't need to be enrolled in the school to attend (though you may pay more at the entrance).
Unfortunately, it's rarer to find good samba de gafieira dancing with live bands in Rio at this point, on my last visit there were no such weekly events, but there were one-off events from time to time.
There are dance schools in every major Brazilian city that offer samba de gafieira; a good way to find them is to search for the city name and "academia de dança" or "aulas de samba de gafieira".
Samba no pé: Brazil's Most Famous Dance, as Seen in Carnival
Generally when people use just the word "samba" all by itself, samba no pé is the dance they're referring to.
It's a solo dance, and the style that's generally seen on those videos of carnival floats with dancers sporting glitter and feathers and not much else.
No, not all or even most Brazilians know how to dance samba, but lots do so, anywhere in the country. If a samba roda (circle of samba musicians) strikes up, you can bet that sooner or later at least a few people will also be dancing samba no pé.
Rio de Janeiro is the world's home to samba but this is a dance that you can learn and do anywhere in Brazil.
Frevo: Recife's Awesome Acrobatics Come to a Boil
Frevo is a solo dance that was born in and is still most closely linked to the Northeastern city of Recife and its state, Pernambuco. It involves wild acrobatics, kicks, and a lot of crouching; it is not easily accessible to those whose knees have already aged three decades or more. So enjoy it while you can, kids.
The accompanying style of music is also called frevo, and can especially be heard during carnival in Recife and Olinda. So if you're going to these cities for carnival (recommended), show up early and get some frevo classes under your belt first.
I haven't taken frevo classes myself in Brazil, but based on the above video, I'd say the Studio Viégas de Dança would be a highly excellent place to start looking for a serious frevo education.
Afro-Brazilian Dance: Celebrating Black Brazilian Heritage and Movement
The broad family of dances known as Afro-Brazilian (danças afro-brasileiras in Portuguese) can be danced solo or in circles and groups, and often involve movements with strong, rooted connections to the earth as in African dance, though often their Brazilian counterparts tend to send that energy straight up, in a regal way.
The dances are energizing and a lot of fun, and important for communities seeking to value and understand their black roots. For some, the dances honor the orixás, or gods of Afro-Brazilian religions.
Afro-Brazilian dance classes and workshops can be found all over Brazil and welcome people of any background; be aware that they often involve a lot of contact between your body and the floor, so dress accordingly. The state of Bahia is a particularly important home for Afro-Brazilian traditions and dances.
Capoeira: The Brazilian Martial Art/Dance Mix
Capoeira was born as a set of fight-training techniques used by slaves in Brazil, who attempted to keep it under the radar by pretending it was a dance, as they could be killed or tortured for training in fighting.
Capoeira is now a major theatrical-dance-martial art export of Brazil, with capoeira schools and informal meetups held all over the world. It is often practiced in a roda, in which capoeiristas form a circle and chant as musicians lead with the berimbau (one-stringed instrument) in hypnotic chants that mark the rhythm for the participants.
Two capoeiristas enter the ring and face off, with their basic movements centered on the ginga, or rocking back and forth with arms held forward to block blows. They seek opportunities within this rhythm to show prowess in creative ways to strike the opponent, especially with kicks, quite often as part of cartwheels or handstands. The blows are typically not supposed to land; violence is not sought but rather skill and innovation, call and response.
The classic home to capoeira is Salvador de Bahia, which has schools for locals as well as those catering specifically to tourists. Capoeira is also practiced all over Brazil, however, and excellent schools can be found in whatever area you may wind up in. As usual with Brazilian dance, there's a myth that capoeira practice in Brazil is way ahead of that practiced elsewhere in the world, but in fact there's great capoeira everywhere. It's just more concentrated and centered on its homeland.
Is the Salsa Dancing Any Good in Brazil?
Yes, there is salsa dancing in Brazil in any city of decent size. But that's true of Poland, Japan, Iowa, wherever. Who cares! If you go all the way to Brazil and then go salsa dancing, that's like heading to Paris just to eat at a McDonald's.
While salsa dancing exists in Brazil, salsa is not Brazilian. Salsa is a world dance, with roots particularly in Puerto Rico, Cuba, New York, L.A., Colombia, and a few other places; those who care can fight over its "true" origins in the comments. But it is definitely not from Brazil. Some Brazilians do dance salsa, just as some Brazilians have taken up heavy metal, swing dancing, and all sorts of other foreign things. And I have danced salsa, swing, etc. in Brazil, strangely enough, when I wondered into lesser, non-Brazilian musical events.
There are salsa dance schools in Rio, São Paulo, and other cities, and most general dance schools have some sort of salsa offering. There are salsa nights at dance clubs in major cities too.
But if you want to dance something Brazilian, don't dance salsa. Salsa dancers who go to Brazil can in particular try forró (described above), especially forró universitario, which has similar steps to much of Cuban salsa and is quite easy for salsa dancers to get the hang of with just a few stylistic tweaks.
---
This treatise was "researched" for more than 12 years, but finally published in the midst of the pandemic, when I finally had time to do so, as neither couples dancing nor travel is particularly possible. I'll get back to updating it with more dances and places to do them as soon as it's feasible. Until then, your additions and comments are welcome.