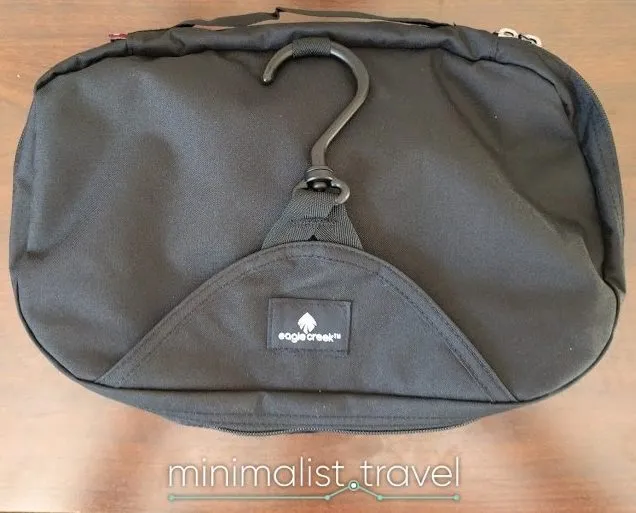 We pooled wisdom of a few long-term digital nomads, including especially women, who have somewhat larger arsenals of grooming products, soaps, and cosmetics that they carry for months on the road. The result: our recommendations for larger toiletry bags for travel.
In listening to those travellers who carry more toiletries, we've found that the main priorities are:
Durability—bags made from cheap plastics that break down or that don't protect and isolate leaking bottles are a particular pain
A large and useful hook and fold-out-flat hanging design so that all it takes is a peg or towel rack (not loads of counter space) to spread out everything so that you can see and get to what you have
Thoughtful organizational pockets that allow for easy access to everything without unpacking other things, and keep each item in its place
We have recommendations elsewhere for those who need the best small to medium-sized toiletry bag (we encourage packing light whenever possible!) and for those looking for more minimalist toiletry bags.
This article, then, is a concession to those carrying a bit more, whether because you have a lot of grooming products, or perhaps you're travelling light but as a couple or a family and combining toiletries in one bag.
Our Overall Top Pick for Organizational Features: Eagle Creek Pack-It Original Wallaby
An easy top choice larger toiletry bag for most travellers is the Eagle Creek Pack-It Wallaby Toiletry Organizer. It checks all the boxes above in terms of what most of us are looking for in keeping soaps, shampoos, makeup, deodorants, and everything else you might have in a travelling washroom organized and ready for use.
Eagle Creek is a often a pricier brand in terms of its packs and luggage (we'd often even say overpriced) but this toiletry bag, as of this writing at least, is actually quite a bit cheaper than comparable quality brands' offerings. Perhaps Eagle Creek is using a low price point on toiletry bags as a way to hook travellers into their universe of very well-constructed travel gear?
Regardless of price, here's why we use, love, and recommend the Eagle Creek Pack-It Wallaby Toiletry Organizer:
What really sets this bag apart from the others we have tried is the large (quart-sized) transparent detachable bag that hangs at the bottom; it's perfect for carrying travel liquids and for us at least has worked at most airport security checks (although a few have asked us to switch our liquids bottles over to a ziplock that was provided). When checking luggage, we also like to separate the transparent bag with a few essentials and place the rest of the Wallaby in the checked bag.
The large hook at the top swivels to comfortably hang in any direction, and tucks neatly into the back flap when not in use.
There is a lot of space; Eagle Creek claims a capacity of 6.5 liters. I'm not sure about that, but it does hold an awful lot, including full-sized shampoo bottles for instance. Folded out, it hangs about as high as an average person's head and torso to their waist. Folded down I've had it take up nearly half of the interior of a carry-on, but it can also squish quite flat and take up very little space when empty or containing just a few things. The dimensions are 13 x 8 x 3 inches (33 x 20 x 8 cm.) and it weighs 8 ounces (226 g.).
It's easy to find almost everything thanks to the upper mesh pockets, the hanging pockets, and lower transparent section all provide good visibility. Just don't forget what you have stowed away behind the zippered pockets.
The integrated mirror provides a bit of help when you're in a place that lacks one.
Eagle Creek is renowned for its durability and quality construction and this toiletry bag seems to be no exception. I purchased one four years ago, and while I've used it only on occasion (too big for my tastes) it's gotten a lot of use loaned to companion digital nomads. The zippers, stitching, pockets, and outer material have all held up quite well, and there's only a bit of discoloration of the bottom transparent bag, though it's not too noticeable. This Original Wallaby comes with Eagle Creek's impressive lifetime warranty.
There are a few downsides to be aware of however for the Eagle Creek Pack-It Wallaby:
The mirror does not detach and is rather small, so you have to get up closer to wherever it's hanging.
The hanging pockets are a bit loose cannot accommodate very large items without risk of them falling out—bigger longer items should go in the zippered pockets.
Both of these issues are solved with the L.L. Bean toiletry bag option discussed below, but the tradeoff is that you lose the much lighter weight of the Eagle Creek bag and the bottom detachable transparent bag.
There is also a thinner version of the same bag from Eagle Creek, but it lacks the transparent bottom bag. For a lighter version of basically the same thing, check out the Osprey option below.
Even Larger and Excellent Structure: The L.L. Bean Large Personal Organizer Toiletry Bag
Moving up from the Eagle Creek Pack-It Wallaby's 6.5 liters to a much roomier 9 liters is the L.L. Bean Large Personal Organizer Toiletry Bag (sold at their USA store and the global store).
Its advantages:
A large swivel hook with a rubberized tip that sticks a bit and helps secure it to a surface
A very smart organizational layout when hanging that gives you visibility and access to everything (except for…)
A zippered pocket on the top outside flap for small items that is easy to reach without pulling out everything (you may want quick access to a toothbrush and toothpaste for instance?). But when the unit is hanging this pocket is upside down and behind the bag.
An integrated detachable mirror that is large and quite useful for getting an up-close look for makeup, or for when you're lodging somewhere without a mirror
A shower caddy with pockets for soaps, shampoos, etc. with an integrated hook
The large version comes in a variety of designs but watch out, as the print designs are made of polyester; we'd opt instead for the durable nylon packcloth used for the solid-color options.
In addition to the 9 liter size linked to and discussed above, there are also very similar versions with the same features in small at 3 liters (USA, global), medium at 6 liters (USA, global), and family-sized at an enormous 16 liters (USA, global).
I discuss at much greater length the small version of the L.L Bean Personal Toiletry Organizer here, see that for a full overview of these smart features and design in action.
Victorinox Large Toiletry Bags—Well-Made but Fewer Features
This brand generally gets decent reviews from others for its durability but costs more and its options lack key features that we look for.
The Victorinox Hanging Toiletry Kit is large (11 x 7 x 3 inches, or 28 x 18 x 7.6 cm) and has a great, oversized hook—but it does not turn like those above. It does not have a transparent bag for liquids or a mirror, and is rather expensive.
The Victorinox Zip-Around Travel Kit is a medium-large hanging option with solid construction. But bottom detachable bag is opaque, so you'll have to dig around in it to find things, and you'll have to carry a separate plastic ziplock bag to use in airports. And the middle section opens in such a way that things could fall out when the bag is hanging.
A Very Lightweight Large Toiletry Bag from Osprey
Osprey's larger toiletry bag is the Osprey UltraLight Toiletry Kit, which is similar in design to Osprey's smaller bag that I have travelled with for years and reviewed, the Osprey UltraLight Zip Organizer. The Osprey UltraLight Toiletry Kit is for those who need to carry comfortably carry more (it measures 8.7 x 11.4 x 4.3 in / 22 x 29 x 11 cm). It lacks the clear plastic section for liquids that the Eagle Creek bag above has. But the Ultralight Kit does have a hook so that it can hang, a carry strap, organizational pockets, and some padding to protect bottles.
The Amazon-Branded Option
As of this writing, Amazon's branded option isn't much cheaper than our main pick above. And if you travel with any regularity, we think your money is well spent on the carefully chosen brands with good guarantees and reputations for durability that we've discussed previously.
That said, I haven't actually tried the AmazonBasics Hanging Toiletry Kit and it is well-liked by its Amazon purchasers. It does not have a mirror. But it's cheap and large and deep at 10.5 x 8.4 x 3.7 inches (26.7 x 21.3 x 9.4 cm). For some travellers with a smaller toiletry bag, it could be an OK secondary bag for the larger bottles that go in a checked bag.
And the Best Larger Toiletry Bag for You Is…
We'd opt for either of these two, depending on your design preferences. But you can share your lesser opinions in the comments, of course.
Smarter Organizational Pockets in a Variety of Sizes: The L.L. Bean Large Personal Organizer Toiletry Bag
If you don't want the separable transparent liquids bag, we'd recommend the smarter organization of the large (or other sized) options from L.L. Bean.
L.L. Bean USA
L.L. Bean Global