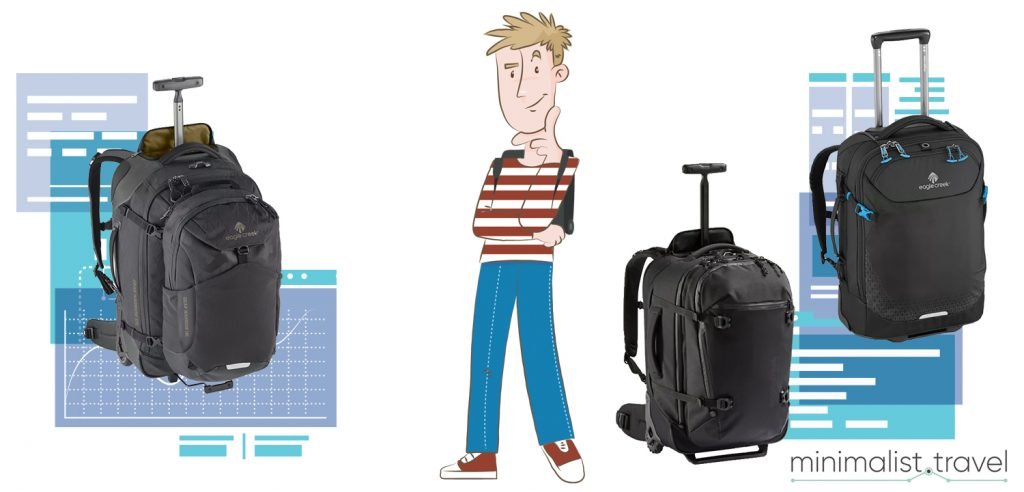 As someone who for for more than a decade has basically lived out of various convertible rolling backpack carry-ons, I feel like I know what to look for when comparing them.
So I recently took an interest in the Eagle Creek lineup of bags with both backpack straps and wheels that are small enough to serve as a carry-on. I wanted to see what the differences are, and whether any could potentially dethrone my current favorite rolling backpack carry-ons.
I'll start with a quick side-by-side comparison, followed by my takes on each.
Update History of This Article
This article was first published on December 23, 2020.
Eagle Creek Convertible Rolling Backpack Carry-Ons Side-by-Side
How to Choose Between These Eagle Creek Bags for Short Trips and Minimalist Packers
All three of these bags are designed to be excellent all-in-one solutions for those who can get everything they need into a carry-on. And as we've explained, such minimalist travellers carrying less tend to have much more flexible, comfortable travel and an easier time finding quality adventures. The more experienced you are, the less you'll carry—and you'll likely want the few things that you do have to be protected by a quality, functional bag.
All three of these certainly fit the bill in terms of quality construction. Eagle Creek has a long-standing reputation for building bags that last, as well as for following up on their lifetime warranty. In particular, things like zippers, wheels, handles, and pockets tend to break down over time, and we expect all three of these bags to last much longer than crummier, cheaper pieces.
The main difference then between the three is in features, and we'll explain each below and who and what they're for.
Better for City Travel (Especially if You Carry a Laptop): The Eagle Creek Caldera Convertible Carry-On
The Eagle Creek Caldera Convertible is the only carry-on of the three to have a true, padded laptop sleeve, so if you ever travel with a laptop your choice between these three is essentially made. The laptop sleeve is smartly located in the daypack, which means that you can leave the main bag behind and take your daypack to a café, for example, to pound away at your laptop while on the road.
The Caldera Convertible's daypack is simple and sleeker-looking than the roomier Osprey Meridian 60's daypack. Aside from the laptop sleeve, the Caldera Convertible daypack has internal accessory attachments, a key fob, and an outside front pocket (don't put valuables in outside pockets on your back in cities though!).
The daypack zips on and off the main pack, and while I perhaps prefer the speed at which you can clip the daypack on and off for the Gear Warrior convertible, the Caldera Convertible's zipping action is plenty quick too and makes for a more integrated unit when the daypack is attached. The daypack can also clip onto your front when you're wearing the main bag as a backpack, and this is incredibly important both for security of your most important valuables in crowded environments and for improving the weight balance.
Wearing the main bag as a backpack is made quite comfortable by the full backpacker-style suspension system that zips out of the back compartment. There is careful padding on the back and on the straps to ensure you can carry the bag over distances when needed. The padded hip belt and the sternum belt (with integrated safety whistle) are also key. When not in use the whole system tucks neatly away.
And that's good because most people roll their bags most of the time given the choice. And with the Caldera Convertible you're likely to save your back and roll quite a bit, even over rougher terrain, because the wheels are large, sturdy, treaded, and provide decent clearance from the road. The handle extends out and is lightweight, and zips into a protected pocket when not in use.
In spite of being the most full-featured bag here, the Eagle Creek Caldera Convertible is also the lightest. It's designed to work as a carry-on (including internationally), but of course with airline rules getting ever-more convoluted and persnickety, you'll have to double-check specific airlines' policies. I've found that zip-on and -off daypacks like this one are particularly good for getting around airline rules that sometimes do and sometimes don't allow personal items. Also, if your carry-on gets subjected to a gate-check (for example on smaller regional planes), being able to zip off the daypack allows you to ensure that a laptop and other values aren't taken from you at the last minute when boarding a plane.
The included NFC tag and TripSync technology and app all strike me as a bit silly. Eagle Creek says that this way you can track your bag's adventures and post where you're going on social media, but there are of course better apps for figuring out where you are and bragging about where you've been. Also, I'd think anyone who finds your lost bag is much more likely to make use of the label with your name than an embedded NFC tag to return it to you.
The main issue I have with the Eagle creek Caldera Convertible Carry-On is its price; particularly at full price it's quite a bit more than the other options. (Though as of this writing at least it's significantly on sale at the links at the bottom of this article.)
The Eagle Creek Cordera Convertible appears to be a new branding and revision of the No products found., which we also liked. The Switchback has nearly the same features and—if still available—can often be had for much cheaper, especially direct from Eagle Creek.
A Very Versatile All-In-One for Adventure Travel: The Eagle Creek Gear Warrior Convertible Carry-On
If you have no need for a padded laptop sleeve, the Eagle Creek Gear Warrior Convertible Carry-On is an excellent, full-featured choice for carrying all of your stuff on your back when necessary, and for rolling it when on smoother terrain.
The Gear Warrior's included daypack clips on and off the main bag quickly, which is quite convenient as you'll often find yourself wanting to switch from having it on your back to rolling it along with the main bag.
The Gear Warrior's daypack has water bottle pockets, which the Caldera's daypack lacks, as well a buckled easy-access front pocket that can be useful for quickly stashing food or wet items on the outside. There's also a much more secure internal zippered pocket, which is where I'd carry money and a passport, for example.
The Gear Warrior's zip-out harness and straps are as fully ready for carrying over long distances on your back as the Caldera Convertible's; there is padding, a sternum strap with an integrated whistle, and a hip belt. The wheels also look to be the same; they are large, treaded, and offer excellent clearance so you're likely to use them even on bumpier roads.
Rather oddly, the key fob is in the main compartment of the Gear Warrior Convertible Carry-On. There are also internal compression straps and an interior large mesh front compartment (as with the other bags here), which is excellent for easy access items or storing dirty clothes.
Both the main bag and especially the daypack of the Eagle Creek Gear Warrior are slightly larger than the Caldera Convertible (see dimensions in the table above), which probably explains why the Gear Warrior is marketed as simply as a "carry-on" (likely for plane restrictions in the U.S.A.), whereas the Caldera is marketed as an "international" carry-on that is more likely to fit more limited carry-on restrictions for some European airlines.
Strangely, Eagle Creek at last check is listing the combined capacity of the Gear Warrior Convertible Carry-On as slightly smaller than the Caldera Convertible International Carry-On, and I don't know how they calculated this but it is almost certainly a mistake (there are a number of other obvious mistakes on Eagle Creek's site, especially in calculating metric units). The Gear Warrior is a bit larger and will fit slightly more stuff, especially its daypack.
The Eagle Creek Gear Warrior Convertible Carry-On was formerly known as the Eagle Creek DoubleBack Carry-On, which is no longer available.
A Cheaper, Simpler, but Still High-Quality Rolling Backpack: The Eagle Creek Expanse Convertible International Carry-On
If the features described in the above two bags seem like overkill for you, and you want a cheaper-but-still-durable rolling backpack for travel, the Eagle Creek Expanse Convertible International Carry-On is the way to go.
The important caveat is that there is no included, detachable daypack as with the other two options. I personally love to have a daypack that attaches for easy carry when I want to roll it with everything else, and detaches for my daytime adventures.
But if you already have a daypack that you like, or if you want to use for example Eagle Creek's own squish-downable Packable Daypack and keep it on the inside of the main piece when on the road, the Expanse Convertible is a much more economical route to Eagle Creek's quality construction and lifetime guarantee.
This is not a major disadvantage however; in my many years of travelling with convertible carry-ons I have hardly ever carried a bag on my back for very long stretches. If there are wheels, I'll roll the bag whenever possible. Backpack straps come in handy when walking up a flight of stairs in a subway, for example, or going down an unpaved road.
The wheels on the Expanse Convertible are protected by sturdy housing which will keep them from breaking off. But the disadvantage of this housing is that it provides less clearance for the bag, meaning you're more likely to catch or bump against gravel or obstacles.
Best Prices, and Choosing the Best Eagle Creek Rolling Backpack for You…
We very carefully link to the real versions of these bags from a few different websites to help you quickly compare pricing; these open in new tabs.
---
Eagle Creek Caldera Convertible Carry-On
Overall, it's probably pretty clear that my personal bias is lies here for the slightly lighter weight, stronger overall features, and ability to carry a laptop. Check prices at:
---
Eagle Creek Gear Warrior Convertible Carry-On
But if you're not carrying a laptop and you want the slightly larger clip-on daypack, the Gear Warrior is great. Available only at:
---
Eagle Creek Expanse International Convertible Carry-On
Finally, if you want a simpler but still high quality option and don't need the integrated daypack, you can save a few bucks with this guy. Check prices at: