Sometimes we need to hop our luggage up on our backs, but when we can we prefer to roll it around. So what's better?A dedicated wheeled backpack, or a backpacker's pack accompanied by a separate, foldable cart? We ran a full analysis of the options.
We've previously run comparisons on some top wheeled carry-on backpacks as well as full-sized rucksacks with wheels. We've also taken a careful look at the best portable, foldable luggage carts. But until now we had never pitted the luggage categories against each other. So here we go.
Spoiler: In general, we strongly favor the integration of wheeled backpacks for their durability, portability, and features (here's the complete guide to the wheeled carry-on backpacks we recommend). But for some, the flexibility of a collapsible luggage cart can be useful, and so here we detail its advantages too.
This analysis is born of our own combined decades on the road, plus an analysis of what other frequent travelers have to say on travelers' forums, blogs, and in the press.
A few more notes to consider about luggage carts:
If you're planning on using a backpack, duffel bag or rucksack with a luggage cart, note that many bags sag in places and will scrape along the floor in between or around the luggage cart's wheels. Even if you make this partially work, you'll add wear and tear to your bag.
have a carry-on that will never get gate-checked in small planes
, the luggage cart plus tiny carry-on bag option is probably not going to save you. Sure, when they call on all wheeled carry-ons to get gate-checked, you can fold up your mini luggage cart and hide it in your bag. But if your bag is big enough to at all warrant wheels (and have space for a luggage cart), you're likely going to have to check it anyway. A better solution for keeping at least your most important stuff (laptop, etc) always right by your side is to have a
carry-on with a detachable daypack like the Osprey Ozone Convertible 22″
.
An Integrated Cart/Bag Alternative: The EC Lync System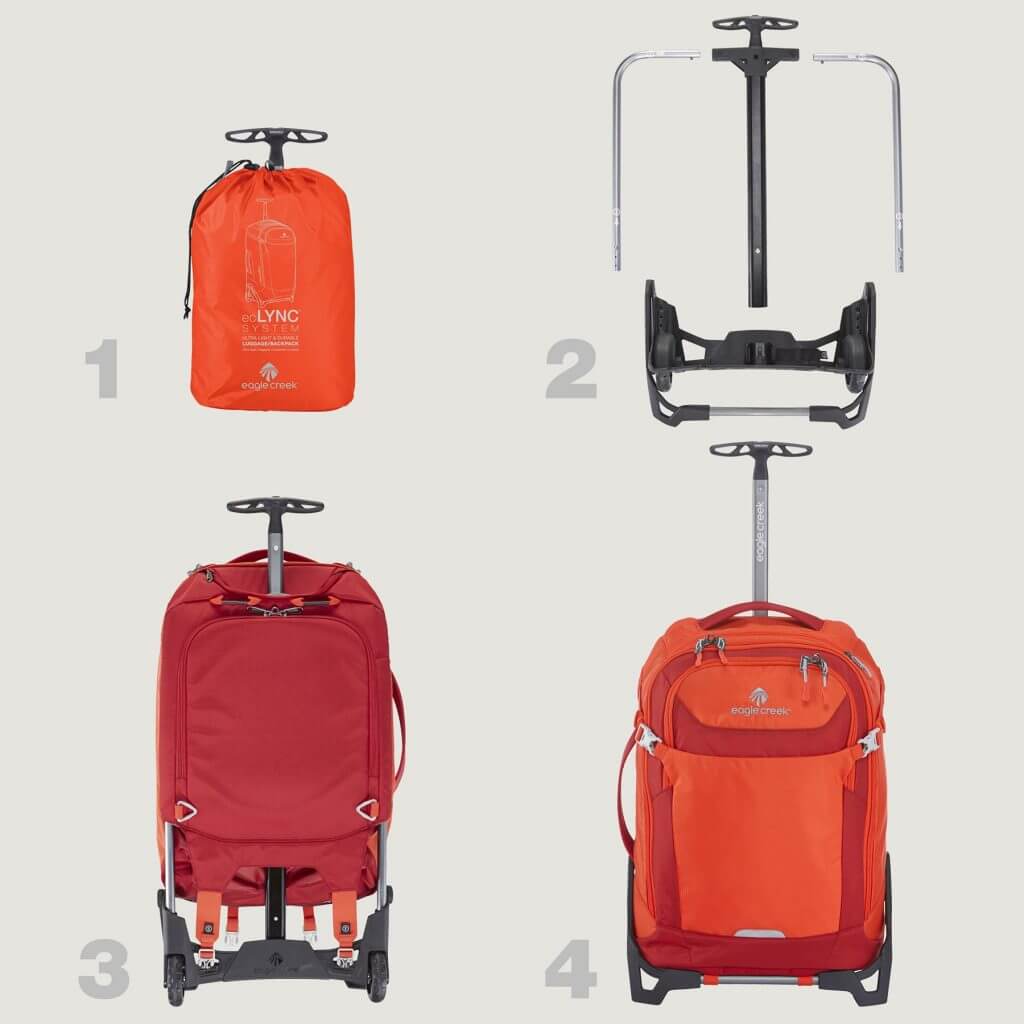 EC Lync System
from Eagle Creek
,
which has a detachable wheel system that you can use for trips where you want to roll, but just leave at home when you're happy to carry your bag as a backpack or need to fit strict airline weight requirements. The collapsed frame can be stored in in a small included sack. Eagle Creek tends to get excellent ratings from critics and travel bloggers and offers an excellent lifetime warranty that they have a history of following up on. There are a few differently sized models of the EC Lync pieces.
Direct Links for Samsonite Wheeled Backpacks
The Samsonite options for wheeled/back carry luggage are explored further at the links; availability depends on your country.
Roundup: Luggage Carts vs. Wheeled Backpacks
Opting for flexibility, or a cart to go with existing luggage? Check out our full coverage of top luggage carts.
Want an integrated system that optimizes durability, space, and weight? We have full coverage of the top wheeled carry-on backpacks as well as the top convertible full-sized backpacks.