The Best Large Rolling Backpack
We think the best all-around full-size travel backpack is the
Osprey Meridian 28″/75L
. For serious (longer, more frequent) travellers, this pack will absolutely improve the voyage. Key features include a detachable daypack with a laptop/tablet sleeve, water bottle pockets, an easy-access top pocket, and detachable backpack straps. Osprey also has a solid reputation and an established tradition of following up on its extensive warranty. But while it may be the best, it's not the cheapest; if you're on a budget or don't travel much, see our
cheaper recommendations below
.
Update history of this article
Originally published: July 31, 2017. Updated on July 13, July 14, and July 17 2018 with latest info, removed outdated material. The notice that the bag is no longer available was made on Feb. 27, 2023, and this article was moved to archived status and new recommendations were made.
The Osprey Meridian 28″/75L
Osprey excels in particular by offering an integrated daypack, sturdy wheels with high clearance for rougher terrain, and thoughtfully designed and placed organizational pockets.
The Meridian 28″/75L isn't the only Osprey option here; we've separately run a full comparison of all three large Osprey wheeled convertible backpacks. But to sum up, we found that the Meridian 28″/75L offered the best combination of features that most travelers will actually benefit from, at the most reasonable size.
Key Advantages of the Osprey Meridian 28″/75L
The Meridian 28 is a sturdily built bag that's ready to deliver over a lifetime of road adventures. Let's dig into what makes this bag so easy to recommend.
The Osprey Meridian 28's Detachable Daypack
A useful, thoughtful daypack that can detach from your main bag is arguably the most important feature on luggage like this.
Attach the included Meridian daypack (it snaps on with just three buckles), and you've got all your stuff in a single, easy-to-roll luggage piece. Detach it, and you have a separate carry-on bag or daypack. The daypack has a padded sleeve for a 15″ laptop in its 16L main compartment, a heat-embossed top pocket for sunglasses, phones, and other fragile items, an organizational front pocket, and two mesh exterior side pockets for water, snacks, or other quick-access items.
The daypack has a comfortable cushioned and ventilated back panel (to prevent your back from getting too hot), padded shoulder straps, and a sternum strap with an integrated safety whistle.
Solidly Built, High-Clearance Wheels
Wheels are a stress point where luggage tends to fail; but this is an area where reviewers of the Osprey pieces never complain.
The Osprey Highroad Chassis (also used on all of its similar wheeled luggage) provides a durable but lightweight aluminum frame and composite base with a fiberglass matrix inlay; the wheels are in sealed bearings. We've had one Osprey bag with the same wheels and housing in heavy round-the-world use for nearly two years, and unlike with other roller bags we've tried, the Osprey base barely shows a scratch.
It's great to have any wheels on your backpack, but with wheels like this you're ready for truly rough terrain and much less likely to feel the need to throw it up on your back.
It's great to have any wheels on your backpack, but with wheels like this you're ready for truly rough terrain and much less likely to feel the need to throw it up on your back.
Removable Backpack Straps
Osprey's prowess with backpacks comes into play on the main bag's padded fabric pack panel and padded shoulder harness (backpack straps and sternum strap with integrated safety whistle). These straps can be quickly folded up and zipped into the unit when not in use, or else removed completely to give you slightly more space. The straps' pocket also serves as a convenient exterior pocket for magazines and other quick-access items.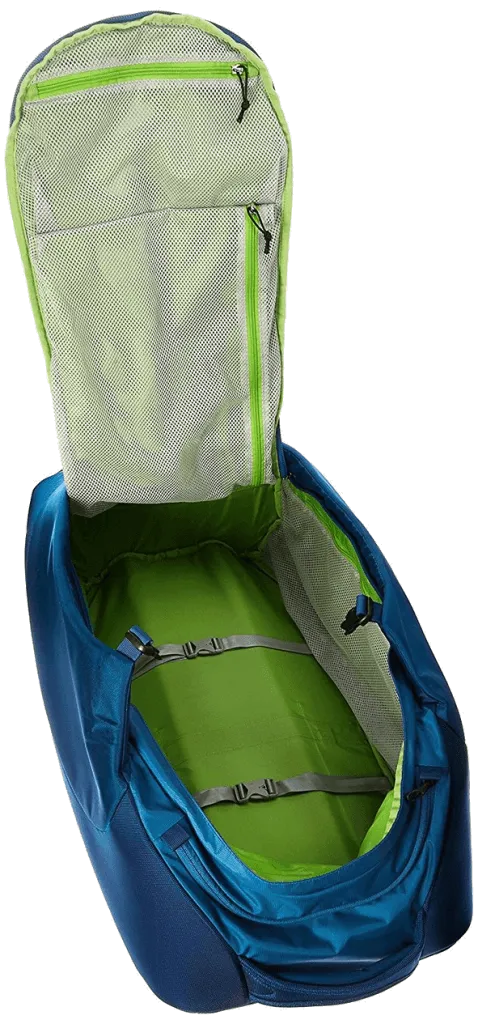 Fully Zip-Open Flap onto Main Compartment
The zipper opens the main compartment up completely to make it easy to access anything in the bag. There are side organizational pockets (one mesh, one solid) and compression straps. The zipper is lockable.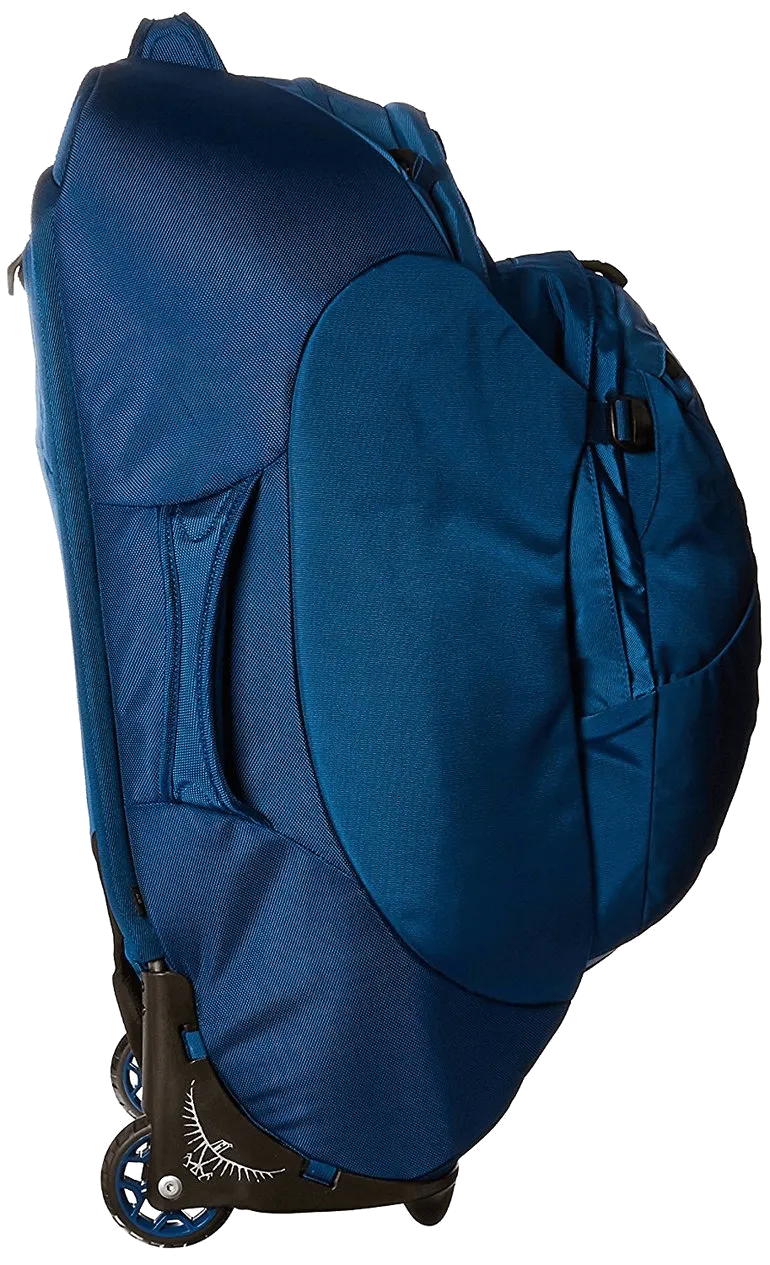 Tucked-Away Handles
The piece has padded, well-placed "low-profile" handles that stay out of the way when you don't need them (unlike some luggage handles that stick out and catch hold of passing obstacles). They're usefully placed and there when you need them, but out of mind when you don't.
Top Liquids Pocket
This pocket gives you an easy place to store anything that you need quick access to. It's built to fit standard toiletry bags (we recommend this one) or for Osprey's Airporter Travel Cover.
Opinions from Other Experts and Customers, and Osprey Brand Reliability
Osprey has long been famous with serious, outdoorsy backpackers for the durability and convenience of its packs. The more urban travel bloggers and journalists who tend to opt for wheels generally gush about the Osprey Meridian 28″/75L; they tend to feel that it holds up well over time and that its features get lots of practical real-world use. Amazon customer reviews are positive across the board (but it appears that some of them received free review items through Amazon's Vine program).
Osprey's bags are generally not the cheapest options; the company's strategy appears to be to excel in durability and any follow-up service if needed in order to maintain the brand's reputation with travelers and loyalty for when they then go on to purchase other types of gear.
Drawbacks to the Osprey Meridian 28″/75L
No hip belt: The Osprey Meridian 28″ underwent a bit of a redesign in 2016 in which the hip belt was removed as the designers felt that it just wasn't getting that much real-world use, and that it added unnecessary weight/clutter. Without a hip belt, the Meridian is less comfortable to carry on your back for long periods. It's true that most people will use the excellent wheel system anyway most of the time, but those planning on more extensive off-pavement use should instead opt for either sister Osprey bag that does have hip straps: the lighter and slightly smaller Osprey Ozone 28″/75L with included daypack, or the slightly larger, very durable Osprey Sojourn 28″/80L (for which compatible Daylite Daypacks are sold separately.) (All three are compared here.)
Tipping: If the daypack is attached and very heavily loaded, this can sometimes cause the entire unit to tip over. Unfortunately, this is also a complaint from customers and reviewers with every available competing wheeled bag with attached daypack. Solutions if the daypack is fully loaded and causing tipping: Lean the bag against a wall or a post when you stop rolling, carry the daypack on your back, or transfer larger, heavier items in the main bag.
Price: At around , the Osprey Meridian 28″ is pricier than most of its competitors. Cheaper alternatives to Osprey bags are detailed just below. The Meridian's price hurts a bit less when you consider that Osprey guarantees that it will fix any problem that should arise with the bag in your decades (!) of travel to come.
Recommended Cheaper Wheeled Travel Packs
We think it's better to spend money on experiences than stuff, so we had to think long and hard before recommending the Osprey Meridian, as it's frankly rather expensive. But for trips lasting a few weeks or months, in which one is living out of a travel pack, we think it's worth that extra cash outlay at the beginning, as a good pack that causes us no issues is definitely going to increase our ability to be comfortable, light, and free, and to get out and enjoy the experiences that matter.
You can do your own calculation; consider the ~$100 you could save with the cheaper options, and what would buy you in terms of meals, concerts, weird travel adventures and the rest (your mileage from $100 depends on where you're going and how you travel). If you are just going to be using your wheeled travel pack for the occasional short trip, you perhaps don't need the Osprey Meridian and your money would be better spent on adventuring itself.
High Sierra AT7 Wheeled Duffel with Backpack Straps
largest model of the High Sierra AT7 Wheeled Duffel
is 32″ long and costs about half as much as the Osprey Meridian 28″. This piece lacks an attachable daypack, which is for us a major drawback.
The 32″ bag is quite spacious and can be divided with a zippered panel. In general the reviews from bloggers and on Amazon are mainly satisfied with this piece, though there are complaints about the quality of the manufacturing (alignment of the construction and durability of the zippers and wheel housing).
There are simple straps that slide out but not much in the way of padding so this would definitely not be a pack to carry on your back for any extended period. High Sierra offers a simple warranty but not everyone is happy about their follow-up.
Other Large Wheeled Travel Packs
Other Large Osprey Wheeled Packs
full comparison here
.
To sum up, when compared to the Meridian 28″, the Osprey Ozone Convertible 28″ is lighter and a bit smaller.
The two Osprey Sojourns are more durable, and more built for serving more time strapped onto your back without making you feel it. The Sojourn 25″ is smaller and the 28″ has a huge 80L capacity; neither Sojourn comes with attachable daypacks but they connect well with the Osprey daypacks, which can be purchased separately and attached.
Comparable Wheeled Travel Packs from Eagle Creek and Lowe Alpine
We think that the main deal breaker for the following two packs is that they lack an attachable daypack; we've found this to be an incredibly convenient feature for travel. It allows us to have all of our luggage in one piece when attached, but then have a separate small bag to use as a carry-on or on a day out exploring. If you, however, don't care about that, then these might work for you.
Both Eagle Creek and Lowe Alpine are highly reputable brands with great satisfaction among reviewers and backpackers. They're also a bit expensive in terms of what you get for features, though the build quality is there and they offer excellent guarantees.
Eagle Creek Lync System 29 Convertible Luggage
is a durable piece from a brand with loyal customers,
pretty-good
reviews
, and great 
consumer-test organization rankings
. The piece lacks a padded laptop sleeve.
The concept of the Lync system bags (there are also smaller versions) is that you can remove either the wheels or the straps depending on the type of trip that you're taking. We think it's great to be carrying both, and that completely removing and going without the wheels especially is a bit silly.
Also, we think Osprey's large rolling backpacks are likely to be more durable than this Eagle Creek Lync System 29, because Osprey has integrated the wheels and straps so well into its single solid designs. The Lync system is a bit like having a snap-on luggage cart for your backpack (so if that's your style, see our full comparison of luggage carts).
Lowe Alpine likewise has maintained an excellent, lasting reputation with backpackers for the durability and thoughtful design of their traditional rucksacks. They have both 60-L and 90-L wheeled offerings, which we expect would hold up just as well. But since they're as expensive as the Osprey Meridian and don't have detachable daypacks, we think that most people will not find them as useful. But their metal buckles, tamperproof zippers, and abrasion resistant fabric should make them incredibly durable.
Rarely Available: The REI Co-op Stratocruiser Wheeled Luggage 26″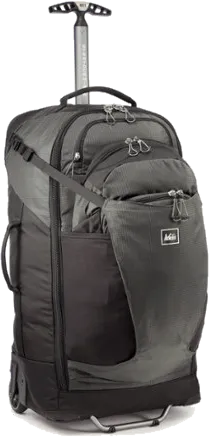 The REI Co-op Stratocruiser Wheeled Luggage 26″ was a cheaper alternative but appears to have been discontinued. .
While it's marketed at 71L, its dimensions are significantly smaller than the Meridian's. To summarize the chatter from backpackers on forums and travel bloggers, this outdoor gear store's own packs are excellent and only a slight step down in comfort, practicality, and good looks from Osprey packs. Reviewers of the Stratocruiser series generally adore the design, which is similar to that of our main pick, and there are some long-term users. However there are complaints as well about the comfort of the straps and weight distribution as a pack, the quality of the zippers, and the small size of the daypack (it's much smaller than the Meridian's).
The Stratocruiser 26″ is not just smaller but also a pound and a half lighter than the Osprey Meridian 28″ at 7 lbs. 12 oz (3.5 kg). The hip belt and shoulder harness system are fully detachable.
Side-by-Side Spec Comparison of Large Wheeled Travel Packs
Recap: Our Top Recommendations