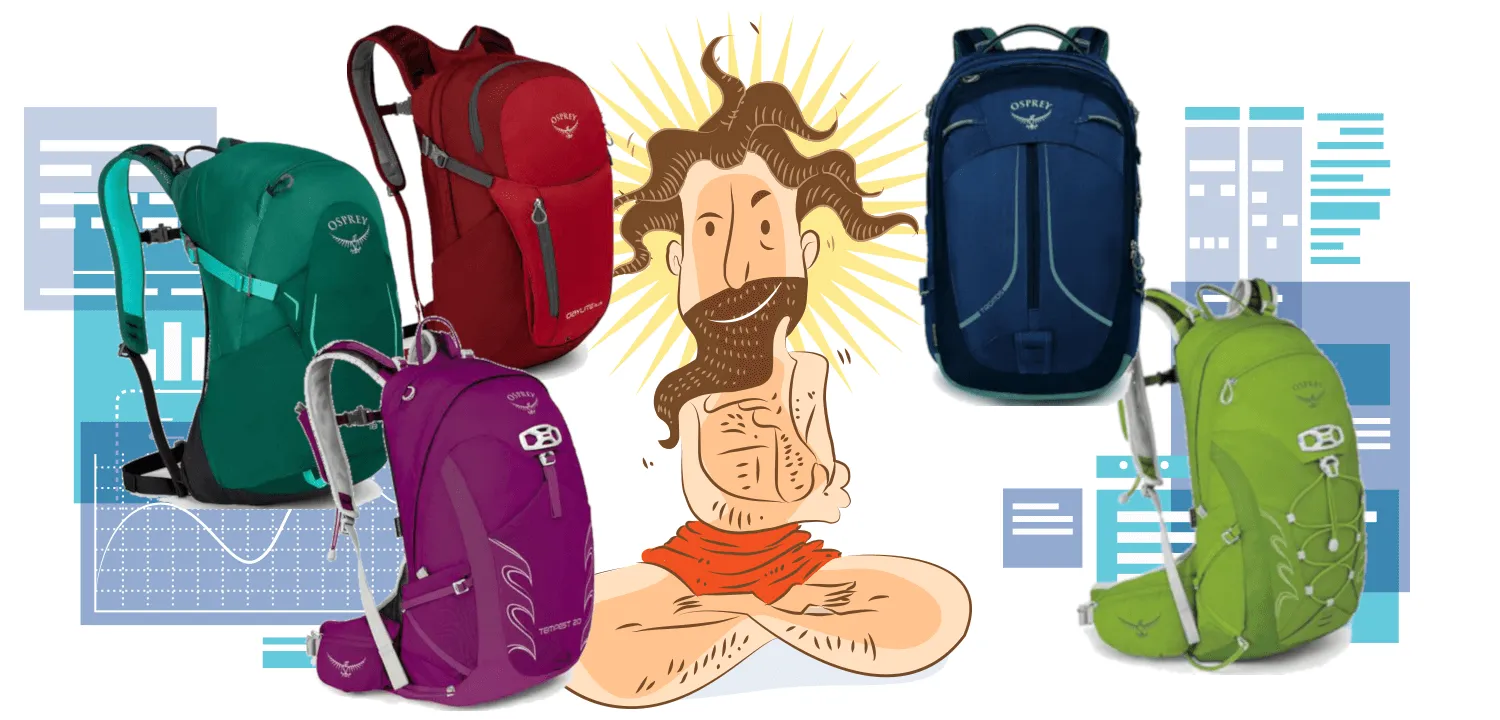 There are lots of great Osprey Daypacks—that is, the smaller backpacks for everyday use—that appear to no longer be in active production but are still available from some sources (including those we link to in the table below).
While in most cases we recommend the newest range of small Osprey Daypacks, and detail the differences between them in that article, some people may have very specific use cases, or nostalgia, or be looking for a deal. So below you'll find our coverage of those daypacks, many of which are still available.
Update history of this article
Originally published on June 8, 2022, based on content previously published about these older day packs in 2019 and 2020.
Daylite Travel: A Good Complement to Full-Size Backpacker Packs
Note: Use that cute little + sign (

) to expand the info.
This is the daypack I've been using for the past few years. It has more organizational pockets than the other Daylites. It can be thin, or it can expand to give you more space as an overnight bag with a wraparound zipper that allows it to accordion out for an added 6 liters, holding a bit more than the current Daylite and Daylite Plus.
The Daylite Travel is a good compliment to a full-size Osprey trekking pack as it can clip into the following: the Osprey Aether/Ariel series, Farpoint 80, Porter series, Sojourn series, and finally the Volt/Viva series.
Student-Style Backpacks: The Osprey Quasar (Men) / Questa (Women)
Use the

below to expand for more info.
These are student style backpacks and a bit cheaper than many Osprey day packs; they lack some of the features of the more elite urban day packs like the Osprey Arcane series.
If these are out of stock at the links above we suggest checking out our coverage of the other Osprey student-style day packs: the Osprey Apogee (for men), the Osprey Aphelia (for women), and the Osprey Centauri (for carrying a smaller volume).
Commuter day packs: The Osprey Comet and Metron
Use the

below to expand for more info.
These Osprey packs are excellent options mainly for urban/suburban commutes, especially biking in the case of the Metron.
At last check they are out of stock, if this is still the case at the links above we suggest checking out our coverage of the excellent urban-commute focused Osprey Arcane series, or for frequently rainy environments, the Osprey Transporter series. The variety of day packs in those two series cover all of the needs previously covered by the Comet and Metron quite well.